People who love to enjoy music to the fullest always try to build the perfect home theater system. In that home theater system, you will find a left and a right speaker channel that are used to handle sound effects and music. You will also find a center channel as well from where all the dialog comes out. Because of the size and location of the soundbar, you may think that a soundbar will be best for you to use as a center channel to make the dialogue clearer. So can you really make your soundbar to work as a center channel?
Yes, You can use a soundbar as your center speaker. To do this, you will need to connect your soundbar to the rest of your system. There are two ways to do it: in a single or three-channel format.
If each of the connections of your soundbar matches up with your receiver, then the answer is yes; you will be able to use a soundbar as a center channel speaker. But if you ask that, Should you hook up your soundbar to the center channel? Then, unfortunately, the answer is: NO.
If you use a soundbar as a center channel, it will not only ruin your sound, but also it can cause several damages to your equipment. If you are curious to know why using a soundbar to substitute for the center channel is a bad idea, at first, you have to know how soundbars work.
How Soundbars Accomplish High-Quality Audio?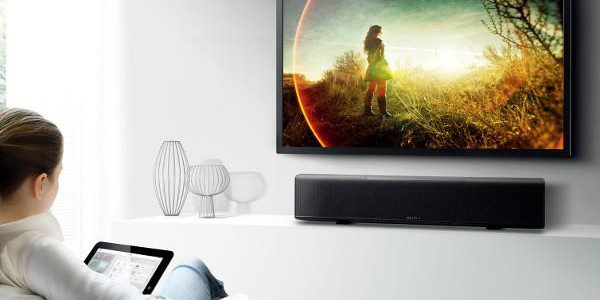 Most people think that soundbars are just like a normal speaker. The appearance and positioning are also mostly the same. Whatever soundbars use a few audio tricks, they can amplify sound and reproduce the immersive experience of a surround sound system.
The speakers that a soundbar uses to accomplish the surround sound environment are positioned in such a way that it is not suitable to work as a center speaker. A soundbar has its own left, right, and center channels as with a basic audio system.
In order to create the impact of surround sound, the left and right channel speakers are actually placed towards the sides of the soundbar. They use the walls of the room in order to create the theater-quality sound that everyone likes. The left and right channels actually bounce off the walls so that you can feel like the sound is really coming from your left and your right rather than in front of you where the TV is located.
Why Soundbar Won't Sound Good as Center Channel?
A soundbar usually has three channels (the amount is four, actually if you want to count the subwoofer), and you can use the soundbar in two different ways in your surround system. If you want to use the soundbar as the true center, then you have to connect all three channels of the soundbar with the center channel of your receiver. Again you can also take advantage of the three channels and hook up a left, right, and center signal into the soundbar. But you should know that both of these approaches have significant disadvantages.
If you use a soundbar as a center channel, the angled left and right speakers will amplify your center signal around the room that will ruin the full home theater experience. The left and right speakers will mix up your center sound with your left and right channels, which will make both the dialogue and the sound effects less clear.
Because of the three-channel approach, the left and right speakers will be out of phase with the surround sound system, causing areas in the room where the sound is significantly quieter. You know that sound travels as waves, and when waves meet each other, they cause interference. And the interference results in patches of space where there is sound cancellation and other patches where the sound is amplified.
So I am telling you again that hooking up your soundbar to your surround sound system is not a good idea. If you hook your soundbar up as a single channel on all of its speakers, then it will amplify the center channel to the left and right of your room and ruin the real surround sound experience. If you hook up your system to give the soundbar three channels, it may cause sound interference and make your sound quiet in some areas of the room and loud. With both settings, you will lose sound quality with little reason.
Active Soundbars: Amplifying Problem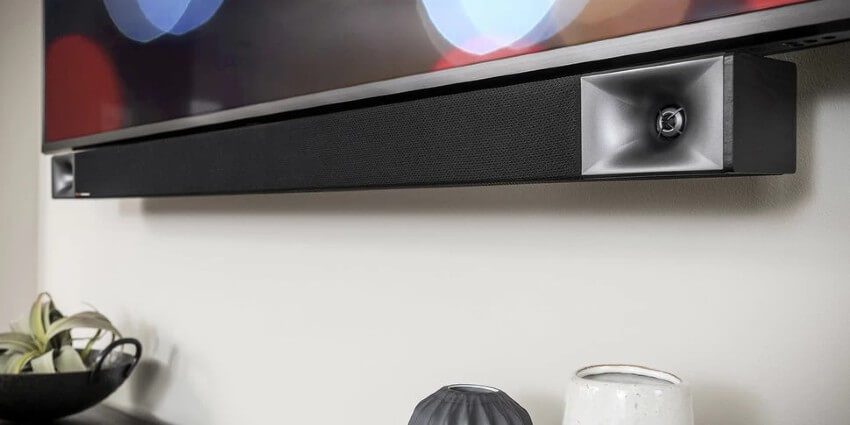 The issue of signal strength makes the problem more compound. When the sound comes out from your television, it comes out as a line-level signal. This signal is very low voltage so that it can save your television the power of emitting speaker-level sound. If you want to hook up your line-level signal directly into a speaker, you should know that it would only create a low buzzing sound if it creates any sound because the wattage is not suitable enough to move the speakers significantly.
Most soundbars do not face this problem because they generally come with a built-in amplifier. An amplifier can add electricity to the signal and boosts the line-level signal to make it strong enough to move your speakers and give you the output of a beautiful theater-quality sound. This is the reason why most soundbars have a power adapter or need to be plugged into a wall outlet.
A surround sound system also works in the same way. As with the soundbar, the surround sound system also boosts the line-level signal that comes from the TV and powers the speakers connected to your receiver. So if you hook up the amplified sound of the surround sound system to the already amplified soundbar, you will really face significant problems.
The speaker that can amplify the sound internally is known as an active speaker, and it requires an external power source to function. It is just the opposite of passive speakers that need an external amplifier like the ones in your surround sound system. Passive speakers are the most popular type of speakers, and they are less costly also.
Why Connecting an Active Soundbar to a Receiver is not a good idea?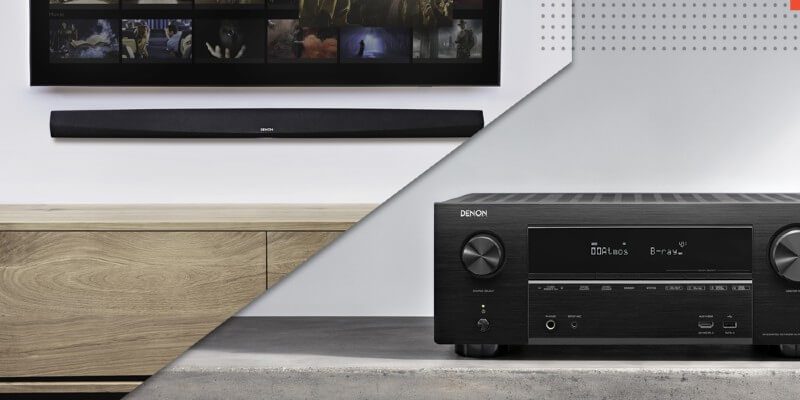 As With speakers, there are mainly two types of soundbars available. Active and passive. As we have mentioned above, most soundbars are active soundbars, so they obviously come with their own amplification. If you want to hook this kind of soundbar directly to a surround sound receiver, you would be first amplifying the line-level signal with the receiver and then further amplifying the sound with the soundbar. To get through this, you can use a line-out converter that you can easily find on Amazon.
Sale
Kicker 46KISLOC Car Audio Amp 2 Channel RCA Line Output Converter KISLOC New
Kicker 46KISLOC Car Audio Amp 2 Channel RCA Line Output Converter KISLOC New
But you should know that the amount of power is more than your soundbar is designed to handle, and that can even cause permanent damage to the speakers. If you really want to make the mistake of hooking up your receiver to a soundbar, you have to be sure that you are using a passive soundbar. However, you will still face sound quality problems, including sound cancellation or sound dilution noted above. Just because you know how to hook up your soundbar to your center channel does not mean you should do that.
So What is the Solution?
If you ever ask about "Should you integrate a soundbar into your surround sound system?" the answer will be a big "NO" as now. It ruins the quality of the sound and also can damage your equipment. So now you can ask that how you can give your center channel a boost without sacrificing the sound quality?
If you have an extra soundbar laying around and you want to hook up that one to your audio system, then we would recommend you hook that up to a different TV. Hooking up a soundbar to your audio system will make your sound louder than a standard center speaker, but you will lose the overall sound quality. Moreover, there will always remain a risk of damaging your equipment altogether.
Klipsch Reference Premiere RP-440C Center Channel Speaker - Ebony
The Reference Premiere RP-440 center Channel speaker provides clarity and accuracy to your home theater system with a stylish brushed baffle and four cerametallic copper woofers
1-Inch linear travel Suspension titanium tweeter. Quad 4-Inch Spun Copper Cerametallic Cone Woofers
90x90 Hybrid Tractrix Horn, All New Tractrix Port, Strong, Flexible Removable Grille.
MDF Cabinet with Brushed Polymer Veneer Baffle Finish.
All New Tractrix Port
However, if you like the sleek appearance of a soundbar and its placement right under the TV, you should know that you can easily find different kinds of speakers that look just like a soundbar, and they can also give you a soundbar true center sound. If you ask for any recommendation, we would like to recommend you the Klipsch RP-440C (on Amazon) and the Polk S35 (on Amazon). Both of these speakers may cost more than your basic soundbar, but they will give your center channel the boost without ruining your sound at all.
Polk Audio Signature Series S35 Center Channel Speaker (6 Drivers), Surround Sound, Power Port...
Ultra-Slim 4" tall speaker built to deliver BIG, RELIABLE SURROUND SOUND. Featuring Dynamic Balance acoustic array, with (6) 3" drivers and a 1" Terylene tweeter dome giving you a CINEMATIC EXPERIENCE IN THE COMFORT OF YOUR HOME
STRIKINGLY BOLD, DRAMATIC LOOKS and DYNAMIC HEART-THUMPING SOUND — Polk's PATENTED POWER PORT TECHNOLOGY delivers deeper bass response with its turbulence-smoothing diffuser that minimizes distortion, giving you rich sound for movies, TV and music
DESIGNED TO DELIVER – The iconic rounded edges and the detailing are conceptualized from the best acoustic guitars, giving these bookshelf speakers a completely thought-through, performance-oriented stylish look
VERSATILE AND PERFECT FOR VARIOUS HOME THEATER SETUP COMBINATIONS – add a center unit to your existing arrangement or create an all-inclusive home theater setup with Signature series for a clear, crisp and room-filling sound. Offering full compatibility with 2.0, 2.1, 3.1, 5.1, 7.1 and 9.1 setups
The Signature Series has earned the hi-res certified rating and redefined the REAL AMERICAN HiFi SOUND with Polk's UNWAVERING COMMITMENT, RELIABILITY, AND CRAFTSMANSHIP, making it one of the most trusted names in audio speakers
In the event that you need to dump the beneficiary and get a sparkling new soundbar, at that point, look at our article on the best soundbars for the cash! We go inside and out on the best soundbars available at different value focuses.
-our editorial board has reviewed this article and has been approved for publication according to our editorial policy.
Best Seller List of Speaker Soundbars:
Sale
Bestseller No. 1
Computer Speakers, Dynamic RGB Computer Sound Bar, HiFi Stereo Bluetooth 5.0 & 3.5mm Aux-in...
✅【Hi-Fi Sound Quality】 Dual drivers & Dual diaphragms provide perfect performance of high-pitch and deep bass. By using anti-magnetic technology to suppress static noise, make the sound more vivid. Bring a fantastic dynamic audio experience
✅【Dynamic RGB Lighting】 The colorful RGB lighting enhances the music experience and game dynamics experience. Plus, a fashionable design style, you will feel that it is fantastic!
✅【2 Ways to Connect】 Adapted with AUX & Bluetooth 5.0, you will have a wider choice of audio source and you will feel free to choose the desired audio sources. Devices with Bluetooth can be connected via Bluetooth. And most devices equipped with 3.5mm jack can be connected through AUX
✅【USB Powered】 Plug & Use, the computer sound bar turns on automatically after plugging in the USB port (such as a laptop, PC host, power bank, adapter). No drivers or software need to be installed, just plug and enjoy
✅【What You Get】 Bluedee soundbar, quick start guide, 18-month worry-free warranty, and lifetime friendly customer service. Bluedee has specialized in the audio industry for 15 years and is committed to providing professional sound solutions.
Bestseller No. 2
SOULION R30 Computer Speakers, USB Powered Small PC Speakers, Colorful RGB Lights with Switch...
[Clearly & Powerful Sound]: Soulion sound bar is driven by the exclusive booster technology and with 2 full-range speakers, to make the sound be more stunning, crisp and mesmerizing even at low volumes.
[Easy Control & Connect]: Just plug in the USB port for power and 3.5mm jack for sound. Rotate the knob for volume to start the oomph. A small switch button to turn ON/OFF the RGB lights power.
[Slanted Design]: The 30-degree micro-inclined design allows the sound to be better conveyed. There is a layer of breathable cloth on the outside of the speaker to avoid the dust. The material of the whole soundbar provides a comfortable and slippery touch.
[Brilliant Lights Effects]: The soundbar adopts RGB rainbow lights on both sides. It provides a more attractive atmosphere when listen to music or watch movies. There is a small button behind the sound bar that controls the light switching on and off.
[Wide Compatibility]: The sound bar supports most of the devices with standard 3.5mm jack. Compatible with PC, Computer, Laptop, Tablet, Smartphones. (Note: Need USB Powered).
Sale
Bestseller No. 3
Sound Bar,Split Sound Bars for TV with Surround Sound System for TV,Home Theater Soundbar Wall...
POWERFUL SOUND FROM TV SOUNDBAR: TV sound bar offers a cinematic experience with upwards-firing drive units optimized to deliver the best possible immersion with spatial audio.
IMMERSIVE SOUND EXPERIENCE: The soundbar brings movie theater into your home with the detachable design, adding the surround 3D sound around you.
SLIM AND MODERN: Our sound bar for TV is slim, unobtrusive, and modern, with a distinctive point of detachable design and equipped with 2 mental bases. Its sleek and low-profile shape perfectly complements any decor.
BLUETOOTH CONNECTIVITY: Advanced superior DSP technology ensures that your soundbar synchronizing to your TV seamlessly, enormously enhancing your audio-visual experience.
CINEMATIC POWER WITH DETACHABLE DESIGN: No matter what type of room you're in, advanced DSP technology delivers full, cinematic sound from all around you. Boasting a innovative detachable design, the soundbar supports different installation methods to adapt to various family scenarios.
Sale
Bestseller No. 4
Sony S100F 2.0ch Soundbar with Bass Reflex Speaker, Integrated Tweeter and Bluetooth, (HTS100F),...
Straight from the theater to your home: easy set-up, built-in tweeter, 2-ch speaker with simple Bluetooth connection
Deep sound with Bass Reflex speaker
High power with a slim design that matches any room and is perfect for small living spaces
Voice enhancement feature is great for TV content with hushed dialogue, or to make conference call participants easier to hear
Easy TV set up with HDMI ARC
Sale
Bestseller No. 5
Bose TV Speaker - Soundbar for TV with Bluetooth and HDMI-ARC Connectivity, Black, Includes Remote...
Hear your TV better: Designed with simplicity in mind, the Bose TV Speaker is a small soundbar that clarifies speech and is a simple fix for better TV sound.
Wide, natural sound: 2 angled full-range drivers deliver a more realistic, spatial audio experience for overall better TV sound from a small soundbar.
Enhanced dialogue: This TV speaker is designed to specifically focus on clarifying and elevating vocals and pronunciation.
Bluetooth TV speaker: Pair your device to this Bluetooth soundbar to wirelessly stream your favorite music and podcasts.
Simple setup: A single connection from this compact soundbar to the TV via an optical audio cable (included) or an HDMI cable (sold separately) has you up and running in minutes.
Sale
Bestseller No. 6
VIZIO M-Series 5.1.2 Premium Sound Bar with Dolby Atmos, DTS:X, Bluetooth, Wireless Subwoofer, Voice...
America's #1 Sound Bar* - VIZIO has been filling homes with truly immersive audio for over 10 years, and our sound bars just keep getting better. We are proud to provide our customers with top-tier audio products that bring movies, shows, podcasts, music, and more to life like never before. (*#1 Sound Bar Brand in 1H 2022 Source: The NPD Group/Retail Tracking Service, U.S., based on units, Jan. - June 2022 combined.)
11 High-Performance Speakers - With separate tweeters and woofers, deliver fuller, clearer and more powerful sound.
Dolby Atmos and DTS:X - Cinematic, life-like 3D surround sound around and above you.
2 Upfiring Speakers - Reflect accurate overhead sound off the ceiling for Dolby Atmos and DTS:X content.
Separate Tweeters and Woofers - True 2-way speaker design delivers pristine clarity and a wider audio range.
Sale
Bestseller No. 7
5.1 CH Surround Sound Bar with Dolby Audio, Sound Bars for TV with Wireless Subwoofer, Dolby Digital...
5.1-CHANNEL SURROUND SOUND EXPERIENCE - Fully enjoys the thrill of DOLBY DIGITAL PLUS with the newest 5.1 Surround sound Engine, DSP technology, and impressive 400W of total system power. Dolby Audio adds room-filling excitement with floor to ceiling virtualized surround sound experience. Immerse yourself with 360° room transforming sound that adapts to your environment with included wireless rear speakers, taking TV, movies, and music into a whole new dimension.
IMMERSIVE NEXT-GENERATION BASS - The premium sound bar with 16" wireless subwoofer blends seamlessly into your living room or bedroom. The robust and dynamic bass grabs your attention in every room corner down to 50 Hz. Unleash powerful bass to turn your living room into an IMAX theater. Enjoy remarkable clarity and room-filling 5.1 surround sound with Dolby Audio to create a realistic audio experience like planes flying overhead and rain falling from above.
OPTIMIZE ENTERTAINMENT WITH UPGRADED EQUALIZER MODE - Personalize different equalizer modes: Music, Movie, News & 3D mode, and more advanced setting by using the Smart remote control for hearing and feeling every musical, explosion, dialogue, and detail with transparent and ear-pleasing loudness up to 120 dB. The remote also increases or reduces Treble and Bass Levels based on your sounding preference. So, you can sit back, relax, and enjoy the best budget 5.1 surround sound system!
ADVANCED CONNECTIVITY & CONTROL - Our 5.1 sound bar adopts Bluetooth 5.0 & DSP technology to ensure faster transmission speeds and stable connectivity up to 50 ft with low consumption from your Smartphones, Tablet, PC and other Bluetooth-enabled devices; You may also connect the sound bar to TV, Projector, Computer, XBOX, PS5, Amplifier, and more via HDMI ARC, RCA, or Optical input connection. All cables are included. You may control the sound bar using your TV remote in ARC input mode.
ALL ACCESSORIES INCLUDED, EASY TO SET UP IN MINUTES - The 5.1 sound bar is ready to be used right out of the box! The surround sound system must only be plugged into separate wall outlet with no cable between each speaker. Press the button on the back of the speakers until the light stops blinking. Ensure all speakers have a solid red light on the back to remain connected. All accessories are included. Premium HDMI Cable, Optical Cable, RCA Cable, Smart Remote, and mounting kits are all included.
Sale
Bestseller No. 8
Computer Speakers, Bluedee 14W HiFi Stereo PC Speakers, Bluetooth 5.0 or 3.5mm Aux-in Computer...
✅【Room-filling Sound】Equipped with dual 7W drivers and 2 bass diaphragms, powered by AC adapter, Bluedee computer speakers for desktop provide robust sound and enhance bass reproduction. You can freely switch between bass or balance mode for different needs by the mode button.
✅【HiFi Stereo Computer Speakers】 With anti-noise technology, Bluedee computer sound bar with HD full-range speakers is specifically designed for the optimal listening experience. Vocals, instruments, and sound effects are detailed, which will make you fully indulging in your movies or video games.
✅【Stunning RGB Lighting】Bluedee PC speakers for desktop support RGB light effect, which can perform in 3 modes, including Flow, Breathing and Rhythm, making sound visible to you and adding immersion to your music or games. (Note: light can also be turned off if needed)
✅【2 Ways to Connect】Supporting to both Bluetooth 5.0 connection and 3.5mm Aux-in wired connection, Bluedee desktop speakers for PC are widely compatible to various devices, such as computer, laptop, tablet, monitors, smartphones and TV.
✅【Easy to Use】The 6 buttons on the top of the speaker bar make it easy to access different functions as your need. The compact design fits anywhere like living room, office, study, effectively saving room without compromising impressive audio performance.
Sale
Bestseller No. 9
BESTISAN 100 Watt 40 Inch TV Sound Bar, Home Theater System Wired and Wireless Soundbar...
100 watt 40 Inch Deep bass sound bar trasfer 105dB room-filling and and crystal-clear home theater sound.
Various sound effect mode, movies/music/dialogue mode, highlighting the sound effects of different occasions.
Dual wired and wireless connection, Pair via Bluetooth 5.0 from up to 33 ft/ 10 M or connect with the in-unit 3.5 mm, RCA, and optical inputs.
Customized acoustics, extended 40" design is optimized to deliver the same crystal and clear cinematic sound whether wall mounted or placed in front of your TV.
Quality Service, worry-free 18-month after-sales support and friendly customer service, life time technical support.
Sale
Bestseller No. 10
Saiyin Sound Bars for TV, Wired and Wireless Bluetooth 5.0 TV Stereo Speakers Soundbar 32'' Home...
Soundbar with Room-filling Sound: The sound bar is built with 4 full-range speakers and dual bass reflectors that deliver clear highs, strong mids and deep lows. 3 equalizer modes allow for voice clarity on TV shows, great audio experience for music and action scenes really coming to life like never before on TV.
Wired and Wireless Connections: The TV sound bar can easily connect to Your Bluetooth enabled devices and TV via Bluetooth 5.0 or standard audio cable connections like Optical, Coaxial, RCA inputs.
Control with Remote or Buttons: You can control the sound bar with Remote laying in the coach or directly with buttons on it. The LED indicator shows the current mode you choose.Remote control is not compatible with universal or TV remotes
Ultra Slim and Sleek Design: The sound bar makes TV a pleasure with great sounding as well as great appearance with piano paint, which looks aesthetically beautiful and so slim that never blocks the TV screen!
Set Up In Minutes: You can install the sound bar securely on wall with included mounting kits or just place on desk under TV. It matches 32'' or above TVs.For optical connections, please change your TV audio output to PCM,(PCM is a form of digital signal that is used to represent analogue data, and is an optional audio format on many Televisions).
You May Also Like…
Last update on 2022-11-17