If you have a soundbar and want to add a subwoofer to it, it's necessary to know where to add it. A subwoofer plays an important role in a soundbar. It enhances low-pitched audio and produces a great bass. And it is very important for a great sound system. So, how are you going to place a subwoofer with a soundbar?
Well, it all depends on your subwoofer and your room. According to your subwoofer and your room, you need to place the subwoofer with your soundbar. Often, subwoofers are kept in front of the room or a front corner. But you need to test it out from where the sound comes better.
Many questions may arise in your mind. For example, if you have a big or small, what should you do? If your subwoofer is wireless or wired, how are you going to place it? If you want to clarify these questions, then stay tuned.
Where Should You Put Your Subwoofer for My Soundbar?
Different persons may have different choices. When it comes to finding out the best place for your subwoofer, you may have many ideas to place it with your soundbar. The placement you are looking for it may not be the same for the other person. So, you need always to prioritize your room and your subwoofer when it comes to placing your subwoofer with your soundbar. You can follow popular placements, which are a nice starting point.
Popular Subwoofer Placements for Soundbars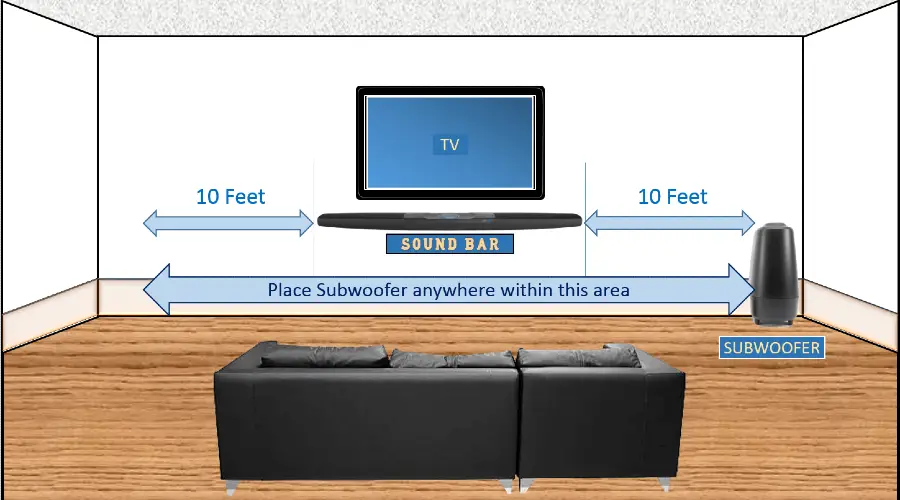 Often, subwoofers are placed in the front of the room because the front of the room is an ideal location to place a subwoofer. If you don't find any good place, you can start with the front of the room.
If you start with the front of the room, you can place the subwoofer next to your TV. Then test out which side of the TV the sounds come better, left or right.
Many households place the subwoofer at a corner in the front of the room, and it is a popular placement. You have to keep in mind that your seating is far away from the corner. The benefit of corner placement is it increases the subwoofer sound. If you like an enhanced sound, then it will be a better option for you. If you have a large subwoofer, then corner placement is a better option for you.
You have to always keep in mind that if you want to place your subwoofer at a corner or on a wall, your subwoofer needs at least six inches from the wall to sound properly.
Subwoofer Placement for Your Room
Room size plays an important role to place your subwoofer with your soundbar. If you have a big room, you have many options to place it, but you have to find the best place to fit it if you have a small room.
Your seating also plays a huge role in your subwoofer placement to the soundbar. If you have rows of seating, then the front of the room may not be the best placement for your subwoofer cause, in that case, only the front row will get the perfect sound. So, it would be better to change your room seating. You need to find the best spot for your seating so that everyone can enjoy the sound. It would be best if you found it out by sitting in different seats and listening to your subwoofer.
If your subwoofer is in the living room, you would like to maintain the style of the room. You would like to place your subwoofer in a different place. If it is a dedicated home theater room, then you can place the subwoofer. It will be supple.
Understanding the Subwoofer That Goes with Your Soundbar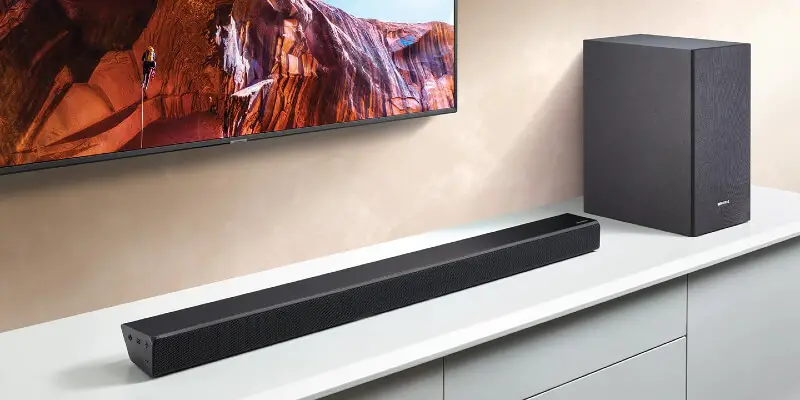 Is your subwoofer wired or wireless? If your subwoofer is wired, you would like to cover your wiring. Besides, it won't be able to go as far as a wireless subwoofer from the soundbar. On the contrary, a wireless subwoofer provides a wide range of different placements. You can place it on a shelf, on the floor, on the entertainment center, etc.
What kind of subwoofer you have? A compact one or a large one? You may be thinking of buying a large subwoofer for your large room to make sure that it fills out the room fully. But you need to always remember that not taking away from the viewing enjoyment; the placement needs to be strategic. On the other hand, you can place a compact subwoofer in different places. You need to test it out from where the sound comes better.
Suppose you have a large room; you may be thinking of buying two subwoofers. So, you can place them on both sides of the room or next to the TV or a short distance from it or in front of the TV on both sides.
How Far Can Subwoofer Be from Soundbar?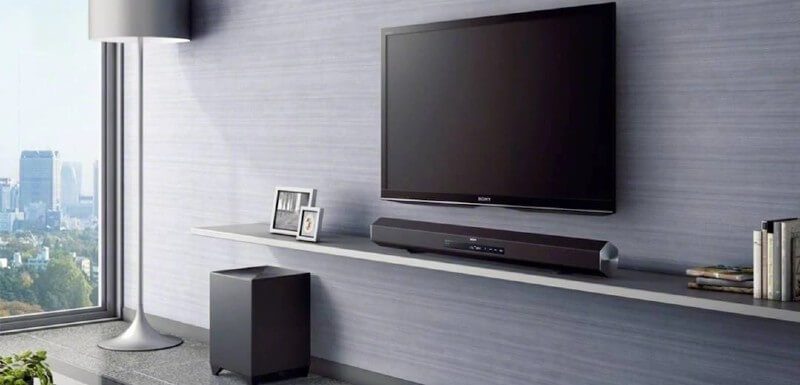 The answer to the question is simple. It depends on your subwoofer, whether it is wired or wireless. If you have a wired subwoofer, in that case, you can go as far away as the wire of the subwoofer allows. But in the case of having a wireless subwoofer, you can go as far away as you want. If you have 2.1 and 3.1 setups, you need to place them close together to achieve the best sound. Most subwoofers in the market have a range of about 30 feet or more than 30 feet.
Can I Put Subwoofer in Cabinet?
You already know that the best place for a subwoofer is in front of the room. You may be thinking of placing it inside a cabinet. But it is a bad idea to place it in a cabinet. If there is a breathable material in front of the subwoofer, you can place it in a cabinet.
Additionally, subwoofers won't sound good if you place them in a cabinet. The sound will be stuck inside the cabinet or may create unnecessary vibrations which you won't like.
You should always remember that you can't place technologies in a small enclosed place. To make your technologies last long, you need to place them in spaces so that they can function properly and breathe. It is the same case for the subwoofers.
How to Choose the Right Subwoofer for your Soundbar?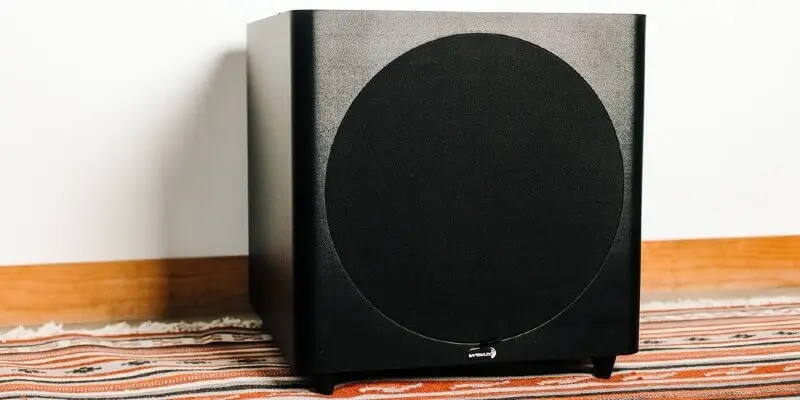 Which subwoofer would you choose? It depends on your soundbar, current additional speakers, personal preferences, and your room setup.
If you have a soundbar like the Bose SoundTouch 300, you will be limited to a certain number of options for subwoofers. The Bose SoundTouch 300 is compatible with an Acoustimass subwoofer. Some subwoofers are compatible with any subwoofer. You need always to remember that almost all soundbars only compatible with one subwoofer, which is included with the subwoofer.
You may choose a compact subwoofer additionally to your soundbar's internal speakers if you have compact speakers. It will be perfect for a small room. If your soundbar is in the living room, it will maintain an aesthetic to the room.
In case of having a large room, you may want to buy a large subwoofer. Having a large subwoofer doesn't mean it will fix in your large room. But many times, it does. But you need to ensure the power of the subwoofer according to your room size.
Will your subwoofer connect to your soundbar via wiring or wirelessly? It depends on your preferences and your soundbar's capability. If your soundbar is capable of a wireless subwoofer, you are good to buy a wireless subwoofer.
Additional Components to Add After Subwoofer
If you are a sound lover, you may want to add better sound even after adding a subwoofer. If your soundbar is compatible, you should add rear speakers besides your front speakers and the subwoofers.
Rear speakers make your sound system to a 5.1 system from a 2.1 or 3.1 system. It will provide you a surround sound system. Rear speakers will help you to fill the room with sound, and you will find more enjoyable sound.
-our editorial board has reviewed this article and has been approved for publication according to our editorial policy.
Best Seller List of Soundbar with Subwoofer:
Bestseller No. 1
Polk Audio Signa S2 Ultra-Slim TV Sound Bar Works with 4K and HD TVs Wireless Subwoofer Includes...
A PREMIUM ULTRA-SLIM SOUND BAR WITH INCLUDED WIRELESS SUBWOOFER – 5 powerful full-range drivers deliver BEAUTFUL RICH SOUND WITH DEEP BASS. POLK'S EXCLUSIVE VOICE ADJUST TECHNOLOGY & Dolby Digital Decoding maximizes sound clarity & reduces voice delays
EXCELLENT SOUND AND VALUE on par with any mid- to high-range sound bars available in the market;At just over 2" tall, it fits most spaces — easily wall-mount it or place in front of your TV;It won't block your TV's bottom edge or IR remote sensor
UPGRADE YOUR HOME THEATER EXPERIENCE – Watch your favorite shows on your 4K HD Smart TV with exceptional picture quality & crystal clear sound. With numerous connection possibilities, plug in any audio source via HDMI ARC, optical input & AUX
WIRELESSLY STREAM MUSIC from your favorite streaming apps like Pandora, Spotify, TuneIn, and others directly from your smartphone, tablet or other compatible device through the built-in Bluetooth technology
SET UP YOUR SOUND BAR IN MINUTES — With the included subwoofer, HDMI and optical cables quickly connect your TV to the sound bar. Get set up and listening in minutes
Sale
Bestseller No. 2
JBL Bar 2.1 - Channel Soundbar with Wireless Subwoofer
Designed with a slimmer profile, the full–featured, easy–to–use JBL bar 2. 1 features Dolby digital, JBL Surround sound, 300W system power and a wireless 6. 5" subwoofer to provide balanced sound and deep bass for your movies, music and even video games
Full featured in every sense of the word, it has an HDMI input as well as aux and USB wired connections that enable you to round out your home entertainment options even more
You can Moreover control the soundbar with your existing TV remote control, The JBL bar 2. 1 clearly raises the bar for Soundbars
The 300W of power output ensures great audio performance for your movies and music
Enjoy rich, Deep bass from the 6. 5" (165mm) wireless subwoofer, as well as the convenience of flexible placement without the hassle of wires
Sale
Bestseller No. 3
Soundbar with Subwoofer,2.1CH with 3D Surround Sound, Works with 4K & HD TVs,...
【Stunning Cinematic Sound】---[4] full-range drivers with [1] powerful deep bass subwoofer. Bring you strong and powerfully and epic cinematic impact sound effect for creating tension, suspense and focus attention in exciting moments.
【Wireless-Bluetooth 5.0 】---Built-in Bluetooth for wireless music playback, you'll easily connect to other devices and enjoy music from your mobile, no strings attached.
【Multi-Wired Connection】--- Multiple Connections by HDMI(ARC), Optical, Aux, and also support USB Flash drive, you can easily connect to your TV or PC, Projectors, Computers etc. via these inputs.
【4 SOUND MODES】---Music-Movie-News-3D,different modes give you the best sound a truly immersive, incomparable listening experience.
【FULL ACCESSORIES INCLUDED】---HDMI(ARC) cable, Optical Cable, Aux Cable, Remote Control, Screw Set all included. Built-in mount bracket.
Bestseller No. 4
JBL Bar 2.1 - Deep Bass Soundbar with 6.5" Wireless Subwoofer (2019 Model)
An impressive 300W of total system power
6. 5" Wireless subwoofer delivers deep, thrilling sound
Enjoy wireless music streaming via Bluetooth from your mobile or tablet
JBL Surround sound brings an immersive sound experience for your TV without any extra wires or speakers
Hdmi or optical cable connection is super simple to set up and use
Bestseller No. 5
TCL Alto 6+ 2.1 Channel Dolby Audio Sound Bar with Wireless Subwoofer, Bluetooth – TS6110, 240W,...
DOLBY DIGITAL: Dolby Digital decoding maximizes sound clarity and creates incredible room-filling virtual surround sound.
DEEP BASS WITH WIRELESS SUBWOOFER: Experience deep, rich bass to make movies and music truly come to life.
STREAM MUSIC WIRELESSLY: You can use your Bluetooth-enabled device to wirelessly stream music on your sound bar.
SPECIALIZED SOUND MODES: Specialized sound modes bring Movies, Music, and News to life.
QUICK AND HASSLE-FREE SETUP: With HDMI, optical, or Bluetooth connections, you can go from unboxing to listening in minutes.
Bestseller No. 6
Samsung HW-Q70T 3.1.2 Ch Dolby Atmos Soundbar with Wireless Subwoofer with an Additional 1 Year...
DOLBY ATMOS AND DTS: X: Capture every sound above and around you with Dolby Atmos and DTS: X
Q-SYMPHONY: Syncs your Q-Series Soundbar speakers with your Samsung QLED TV speakers for the most immersive sound.
TRUE 3.1.2 SOUND: With 3 channels, 1 subwoofer channel, and 2 up-firing channels, yougain sound that commands your attention.
MUSIC COMES ALIVE WITH YOUR VOICE - Enjoy your Soundbar hands-free using voice control through your Alexa enabled device .
1 Year Extended Epic Protect Warranty in Addition to the Included Full Manufacturer Warranty Intended for Residential Use Only
Bestseller No. 7
BOMAKER Sound Bar with Subwoofer, Ultra-Slim 2.1 CH Bluetooth Sound Bars for TV, 100W/110dB, 5 EQ...
SHOP EARLY FATHER'S DAY GIFTS-SLIM SOUND BAR YET POWERFU - Upgrade your father's home audio for stunning sound. 4 well-tuned full-range drivers and an independent subwoofer, providing 100W power to achieve both high and low range frequencies, perfectly restore the sound in different height and depth, bringing full-bodied 360° immersive stereo and clearer vocal.
WIRED SUBWOOFER, NO LATENCY - The 4'' subwoofer goes as low as 50Hz depth, delivering deeper and richer bass for immersive summer night home theater experiecne than 2.0 TV speaker. Wired subwoofer design ensure the stable connectivity without the trouble of disconnecting and latency to the soundbar. Enjoy the surround sound system audio with ease
5 AUDIO ENHANCEMENTS - Fine tune your home theater audio with 5 distinct equalizer modes (Game, Bass, Music, Movie, News ) for different sound demands, hearing and feeling every instrument, dialogue, explosion, and detail with clear and ear-pleasing loudness
HI-RES STREAMING, NO LAG - Built-in strengthened 5.0 Bluetooth chip ensure the fastest transmission speeds, and stable connectivity with low consumption, without hissing noise or delay. 4 wired option including Optical, AUX, USB flash drive and TF card, compatible with 4k&HD TV, PROJECTOR, computer, tablet, XBOX, PS4, etc. Elegantly integrated behind speaker grill, giving you a "clean" way to mount the soundbar on the wall
LED DISPLAY & NIGHT MODE - Designed as detachable for easy and flexible placement. With LED display you can quickly and easily find the input mode, volume, equalizer mode you set up. Intuitive LED OFF button to turn off LED lights, avoiding the annoy of distracting. Covered with two year warranty with 24/7 friendly customer service
Bestseller No. 8
Vizio 36" SB3651n-H6 5.1 Soundbar with Wireless Subwoofer (Renewed)
Performance 6 total speakers produce a truly Immersive 5.1 surround sound experience.
Wireless Subwoofer Experience deep, booming bass with the wireless subwoofer.
Dedicated Center Speaker Delivers crystal-clear dialogue so you don't miss a word
Rear Surround Speakers: Experience truly immersive surround sound with speakers placed behind you.
DTS Virtual:X sound enhancement creates room-filling, floor-to-ceiling multi-dimensional sound.
Bestseller No. 9
VIZIO SB362An-F6B 36inch 2.1 Sound Bar with Built-in Dual Subwoofers (Renewed)
Designed to complement TVs 40 inches and larger; Low frequency down to 50 hertz
Flexible design, rest the Sound Bar below the TV or mount it on the wall, the speakers will automatically adjust to either configuration
Stream music from your smartphone, tablet or laptop via Bluetooth
All cables included, enjoy amazing sound in minutes
Sale
Bestseller No. 10
Sound Bar for TV, 37 Inch Sound Bars with Built-in 6 Speakers & 4 Subwoofers and Enhanced Bass...
【2.1 Channel Sound bar with Powerful, Deep Bass】This SAKOBS 80W 37" Bluetooth soundbar comes with 4 Built-in Subwoofers for Deep Bass, with frequencies as low as 55HZ. Deep Bass Modules deliver strong, accurate bass without the need to add an external subwoofer. Feel the subtle rumble of distant thunder as earth-shattering sound pounds the air around you, as if you are a DJ playing 8D music.
【80db Room Filling Cinema Sound】Equipped with 4 Woofers and 2 Tweeters, it can deliver strong and heavy bass, comfortable alto, with high and smooth treble. It pumps out 80 dB of room-filling, crystal-clear sound with less than 0.3% total harmonic distortion to ensure decent bass performance and perfectly restore the original sound of all film music. Experience first-class sound from your home theater.
【3 Different Equalizer Modes】With the included remote control, you can easily adjust your soundbar through 3 distinct equalizer modes: MUSIC MODE turns up the powerful bass to let you hear the small details in every song; MOVIE MODE lets you enjoy a dynamic home audio experience with surround sound for all your flicks; While TV SHOW MODE is designed for clear dialogues.
【Multiple Wireless and Wired Connections】Automatically connect to any TV, laptop, or smart phone through Bluetooth 4.2 or with a 3.5mm, RCA, or optical input cable, with maximum compatibility with most TV brands like Samsung and Sony. Create a true surround sound experience and make streamed music sound better than ever.
【Perfect TV Partner & Beautifully Crafted】A lightweight, slim, and elegant design makes it a good desk decoration and a versatile partner for any TV. Slick 37-Inch design pleases the eye and slim Dimensions save valuable space. It is equipped with snap-in integrated structure for easy installation without screws, and piano-paint surfaces.
You May Also Like…
Last update on 2021-06-10