If you have a soundbar and want to add a subwoofer to it, it's necessary to know where to add it. A subwoofer plays an important role in a soundbar. It enhances low-pitched audio and produces a great bass. And it is very important for a great sound system. So, how are you going to place a subwoofer with a soundbar?
Well, it all depends on your subwoofer and your room. According to your subwoofer and your room, you need to place the subwoofer with your soundbar. Often, subwoofers are kept in front of the room or a front corner. But you need to test it out from where the sound comes better.
Many questions may arise in your mind. For example, if you have a big or small, what should you do? If your subwoofer is wireless or wired, how are you going to place it? If you want to clarify these questions, then stay tuned.
Where Should You Put Your Subwoofer for My Soundbar?
Different persons may have different choices. When it comes to finding out the best place for your subwoofer, you may have many ideas to place it with your soundbar. The placement you are looking for it may not be the same for the other person. So, you need always to prioritize your room and your subwoofer when it comes to placing your subwoofer with your soundbar. You can follow popular placements, which are a nice starting point.
Popular Subwoofer Placements for Soundbars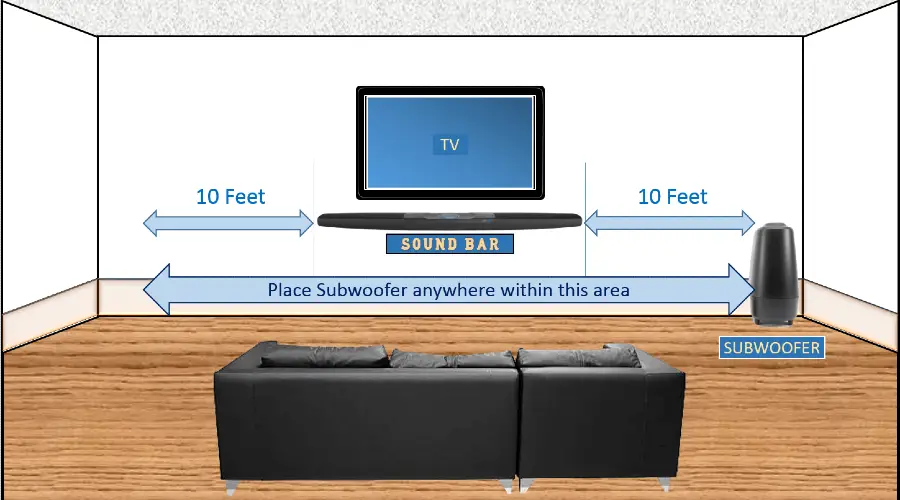 Often, subwoofers are placed in the front of the room because the front of the room is an ideal location to place a subwoofer. If you don't find any good place, you can start with the front of the room.
If you start with the front of the room, you can place the subwoofer next to your TV. Then test out which side of the TV the sounds come better, left or right.
Many households place the subwoofer at a corner in the front of the room, and it is a popular placement. You have to keep in mind that your seating is far away from the corner. The benefit of corner placement is it increases the subwoofer sound. If you like an enhanced sound, then it will be a better option for you. If you have a large subwoofer, then corner placement is a better option for you.
You have to always keep in mind that if you want to place your subwoofer at a corner or on a wall, your subwoofer needs at least six inches from the wall to sound properly.
Subwoofer Placement for Your Room
Room size plays an important role to place your subwoofer with your soundbar. If you have a big room, you have many options to place it, but you have to find the best place to fit it if you have a small room.
Your seating also plays a huge role in your subwoofer placement to the soundbar. If you have rows of seating, then the front of the room may not be the best placement for your subwoofer cause, in that case, only the front row will get the perfect sound. So, it would be better to change your room seating. You need to find the best spot for your seating so that everyone can enjoy the sound. It would be best if you found it out by sitting in different seats and listening to your subwoofer.
If your subwoofer is in the living room, you would like to maintain the style of the room. You would like to place your subwoofer in a different place. If it is a dedicated home theater room, then you can place the subwoofer. It will be supple.
Understanding the Subwoofer That Goes with Your Soundbar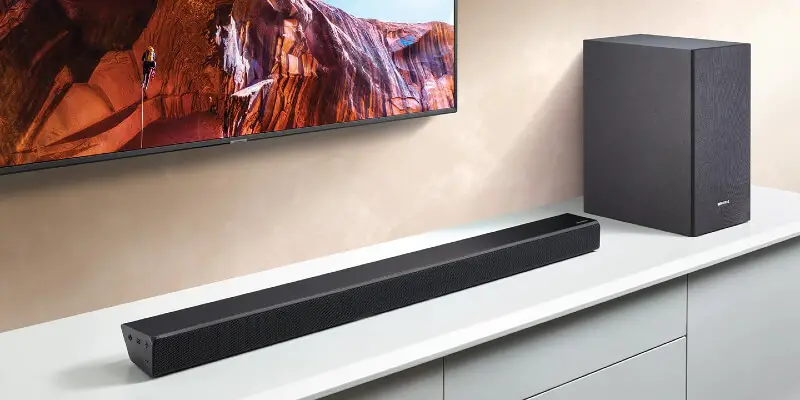 Is your subwoofer wired or wireless? If your subwoofer is wired, you would like to cover your wiring. Besides, it won't be able to go as far as a wireless subwoofer from the soundbar. On the contrary, a wireless subwoofer provides a wide range of different placements. You can place it on a shelf, on the floor, on the entertainment center, etc.
What kind of subwoofer you have? A compact one or a large one? You may be thinking of buying a large subwoofer for your large room to make sure that it fills out the room fully. But you need to always remember that not taking away from the viewing enjoyment; the placement needs to be strategic. On the other hand, you can place a compact subwoofer in different places. You need to test it out from where the sound comes better.
Suppose you have a large room; you may be thinking of buying two subwoofers. So, you can place them on both sides of the room or next to the TV or a short distance from it or in front of the TV on both sides.
How Far Can Subwoofer Be from Soundbar?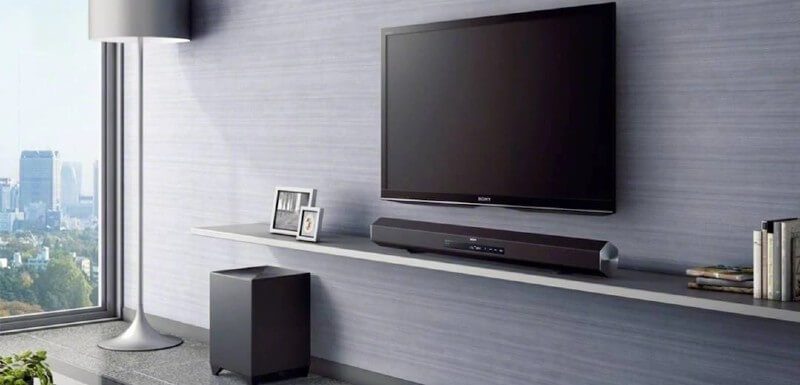 The answer to the question is simple. It depends on your subwoofer, whether it is wired or wireless. If you have a wired subwoofer, in that case, you can go as far away as the wire of the subwoofer allows. But in the case of having a wireless subwoofer, you can go as far away as you want. If you have 2.1 and 3.1 setups, you need to place them close together to achieve the best sound. Most subwoofers in the market have a range of about 30 feet or more than 30 feet.
Can I Put Subwoofer in Cabinet?
You already know that the best place for a subwoofer is in front of the room. You may be thinking of placing it inside a cabinet. But it is a bad idea to place it in a cabinet. If there is a breathable material in front of the subwoofer, you can place it in a cabinet.
Additionally, subwoofers won't sound good if you place them in a cabinet. The sound will be stuck inside the cabinet or may create unnecessary vibrations which you won't like.
You should always remember that you can't place technologies in a small enclosed place. To make your technologies last long, you need to place them in spaces so that they can function properly and breathe. It is the same case for the subwoofers.
How to Choose the Right Subwoofer for your Soundbar?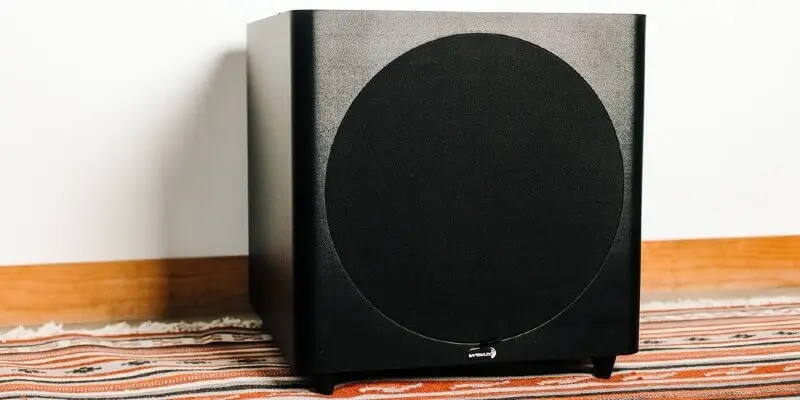 Which subwoofer would you choose? It depends on your soundbar, current additional speakers, personal preferences, and your room setup.
If you have a soundbar like the Bose SoundTouch 300, you will be limited to a certain number of options for subwoofers. The Bose SoundTouch 300 is compatible with an Acoustimass subwoofer. Some subwoofers are compatible with any subwoofer. You need always to remember that almost all soundbars only compatible with one subwoofer, which is included with the subwoofer.
You may choose a compact subwoofer additionally to your soundbar's internal speakers if you have compact speakers. It will be perfect for a small room. If your soundbar is in the living room, it will maintain an aesthetic to the room.
In case of having a large room, you may want to buy a large subwoofer. Having a large subwoofer doesn't mean it will fix in your large room. But many times, it does. But you need to ensure the power of the subwoofer according to your room size.
Will your subwoofer connect to your soundbar via wiring or wirelessly? It depends on your preferences and your soundbar's capability. If your soundbar is capable of a wireless subwoofer, you are good to buy a wireless subwoofer.
Additional Components to Add After Subwoofer
If you are a sound lover, you may want to add better sound even after adding a subwoofer. If your soundbar is compatible, you should add rear speakers besides your front speakers and the subwoofers.
Rear speakers make your sound system to a 5.1 system from a 2.1 or 3.1 system. It will provide you a surround sound system. Rear speakers will help you to fill the room with sound, and you will find more enjoyable sound.
-our editorial board has reviewed this article and has been approved for publication according to our editorial policy.
Best Seller List of Soundbar with Subwoofer:
Bestseller No. 1
Polk Audio Signa S2 Ultra-Slim TV Sound Bar Works with 4K and HD TVs Wireless Subwoofer Includes...
A PREMIUM ULTRA-SLIM SOUND BAR WITH INCLUDED WIRELESS SUBWOOFER – 5 powerful full-range drivers deliver BEAUTFUL RICH SOUND WITH DEEP BASS. POLK'S EXCLUSIVE VOICE ADJUST TECHNOLOGY & Dolby Digital Decoding maximizes sound clarity & reduces voice delays
EXCELLENT SOUND AND VALUE on par with any mid- to high-range sound bars available in the market;At just over 2" tall, it fits most spaces — easily wall-mount it or place in front of your TV;It won't block your TV's bottom edge or IR remote sensor
UPGRADE YOUR HOME THEATER EXPERIENCE – Watch your favorite shows on your 4K HD Smart TV with exceptional picture quality & crystal clear sound. With numerous connection possibilities, plug in any audio source via HDMI ARC, optical input & AUX
WIRELESSLY STREAM MUSIC from your favorite streaming apps like Pandora, Spotify, TuneIn, and others directly from your smartphone, tablet or other compatible device through the built-in Bluetooth technology
SET UP YOUR SOUND BAR IN MINUTES — With the included subwoofer, HDMI and optical cables quickly connect your TV to the sound bar. Get set up and listening in minutes
Sale
Bestseller No. 2
TCL Alto 6+ 2.1 Channel Dolby Audio Sound Bar with Wireless Subwoofer, Bluetooth – TS6110, 240W,...
DOLBY DIGITAL: Dolby Digital decoding maximizes sound clarity and creates incredible room-filling virtual surround sound.
DEEP BASS WITH WIRELESS SUBWOOFER: Experience deep, rich bass to make movies and music truly come to life.
STREAM MUSIC WIRELESSLY: You can use your Bluetooth-enabled device to wirelessly stream music on your sound bar.
SPECIALIZED SOUND MODES: Specialized sound modes bring Movies, Music, and News to life.
QUICK AND HASSLE-FREE SETUP: With HDMI, optical, or Bluetooth connections, you can go from unboxing to listening in minutes.
Sale
Bestseller No. 3
Saiyin Soundbar, Sound Bars for TV with Subwoofer, Ultra Slim 24 Inch Bluetooth, 2.1 Channel TV...
[2.1 CHANNEL SPEAKER SYSTEM ] Sound bar with wired subwoofer delivers powerful bass and surround sound, letting you enjoy an immersive sound experience. The 24 inch sound bar is built with 2 full range speakers, allowing you enjoy all details of music and movies. Total harmonic distortion is about 0.5% even at the highest volume.
[MULTIPLE INPUT OPTIONS]The sound bar for TV supports advanced Bluetooth 5.0 wireless connection, with which you can connect easily with iphones, ipads, tablets, PC and other Bluetooth enabled devices to stream music; and also wired connection including optical, coaxial, RCA inputs (all cables included).
[THREE DISTINCT SOUND MODES] Music, Movie and TV shows modes adjusted by using the remote control included, catering to different needs of sound bar users. You can also control the volume, switch between different modes with buttons on sound bar. Remote control is not compatible with universal or TV remotes
[SET UP IN MINUTES]Connect the subwoofer with sound bar via cable included, and hook up TV with sound bar via Bluetooth or optical, coxial, RCA cables, then you are ready to go! The TV sound bar can be placed under TV on desktop or mounted on wall with provided mounting kits.
[ULTRA SLIM & ELEGANT DESIGN] The sound bar is built with 2 full range speakers and elegant slim design with piano paint which is compatible with modern TVs, and never block the TV screen. The wired 4 inch subwoofer easily fits in most spaces and adds rich bass from anywhere in the room.
Sale
Bestseller No. 4
Bestseller No. 5
140W 2.1 Channel Sound bar with 6.5" Wired Subwoofer, BYL Soundbar Bluetooth 5.0 Speaker for TV &...
2.1 Channel 140 Watt: The sound bar houses a digital amp and four speakers and 6.5" wired subwoofer to deliver booming sound with crystal-clear audio quality. Less than 1% total harmonic distortion ensures enhanced clarity and fidelity.
Bluetooth 5.0:Wireless Bluetooth 5.0 Transmission: Bluetooth wireless transmission technology, strong anti-interference, lossless audio transmission, 360-degree sound, let you have a high-quality home audio system, enjoy the luxury of music.
Wired & Wireless Connection: Equipped with Optical, RCA, AUX in and USB input, easily works with any devices, like flat TV, Computer, Tablet and U Disk. Via Bluetooth 4.2 connection allows you wirelessly stream music from almost any device.
DSP Technology: This technology let you have three choices for sound effects: news, movie and music. You can choose according to your current situation.
Memory Function and Bass Control: Remote's reset button could be memorized to the factory settings And you can control the treble and bass settings of the sound bar .
Sale
Bestseller No. 6
Bestseller No. 7
Bestseller No. 8
Bestseller No. 9
Sale
Bestseller No. 10
You May Also Like…
Last update on 2021-08-24