The projectors have been one of the most popular places to see a movie rather than a tv set. The Awesome thing about these devices is that they can be placed in any location, as long as someone uses them as a single monitor. 
The screens can be made with the help of self-made materials at home. Some of the things that can be used as a projector are a blank wall, a white blanket, wrapping paper, or projector paint. The vast majority of a DIY project can be used indoors or outdoors and is reasonably inexpensive and quick to assemble.
Today, we will see the seven low-cost DIY projector screens, so you will still be able to view the videos without having to invest a lot of money to buy an expensive projector for the screen. In addition, We are going to discuss all of the possibilities, advantages, and disadvantages, so be sure you have a clear idea about which one is the best choice to suit your needs.
What is a Projector Screen?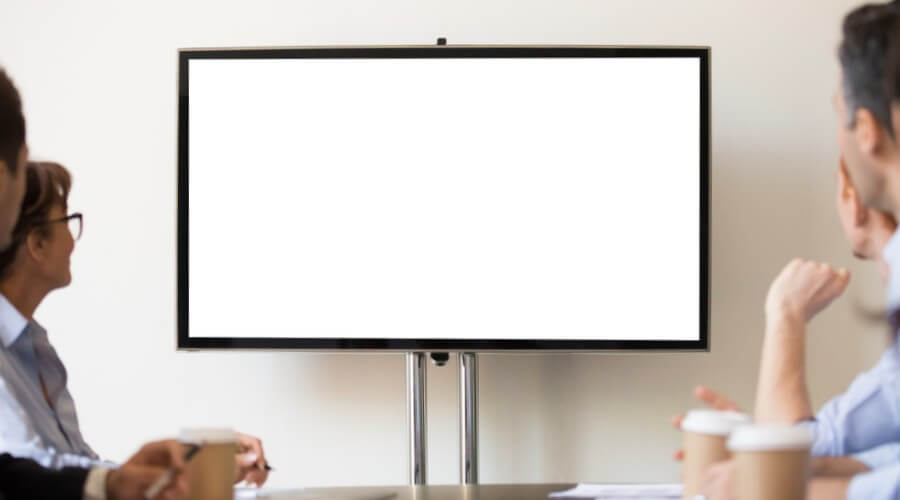 A projector screen is a device used to represent anything through a screen played from a gadget for the viewer to watch. People are using this device for around a few years, but now it's been a medium of communication or amusement for personal and official uses.
The proper background of a projector or a screen must have a clear image in the right way. A smooth background with a flat surface is required and should be ensured no knick-knack is organized.
Light-colored items will be a better option than working with dark colors. Working with white color is quite good, but if anyone uses a color-coded material, they have to make sure that it is not so dark rather than one should use something pale but bright and clear so that the pictures are not washed out.
DIY Projector Screens:
Many people don't like to do projector screens and are not spending a ton of money on a ready-made. Most DIY projects are so easy to make and do not cost a lot of money. 
Some of the screens can already be made with different types of household items lying here and there. We have several suggestions for a self-made projector display using your household items in everyday life. 
DIY Projector Screens can be set up both indoors or outdoors, like watching a movie under the sky full of stars or just lying/sitting on the couch and having a great screenplay. So the installation of the projector and positioning will be much easy and time-saving depending on your choice or design, which will be much satisfactory.
A lot of people like to get their projector and screen is the amount of money. When they're ready to use them will have it appear that they want, and they're all ready to go. It is distinctly practical if someone uses a piece of cloth or wrapping paper. 
However, there is also the option of a permanent display, such as a painting on a wall with paint designed for windows. Or, you can use this paint on a solid surface that can be stored away when not in use.
7 Best DIY Projector Screen Alternatives:
There are many low-cost options on your screen. You should choose something that fits like unique and fulfill your needs along with your budget.
1. Blank Wall: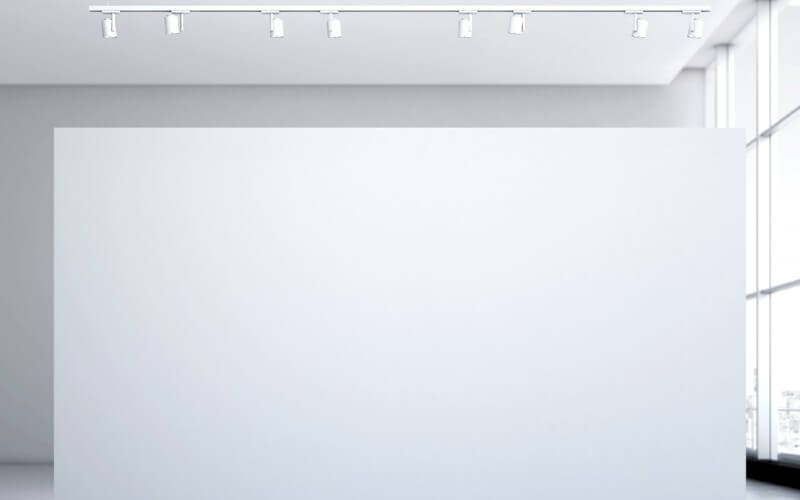 The easiest DIY option that anyone can choose is a blank wall or a blank screen for using a projector. It is immensely diverse and the most cost-efficient way to use a DIY projector screen to reward everyone with benefits. 
The projector can be set up or be used in any situation because it will not cost you many funds wherever you go. Moreover, it is a very monumental trait to use a blank wall as a screen to don't need to worry about the picture quality or be scared of any interruption related to size or other issues. 
The image can be as large as you want, within the limits of your device. Because your images will have a border whenever you use the original DIY projector screen, you will have to resize the image and other features. And let's be honest, we all would prefer having one big screen instead of a small computer screen.
Factors: 
However, if you have made up your mind that you would like to use it to have a bare wall as a DIY projector screen, several factors need to be considered. For the best possible image quality, you should use a plain white or light-colored wall should be used. 
While using a blank wall, you can work well as a spontaneous DIY projector screen, and it will not matter where you are using it and will not be provided with the best possible video and audio performance quality. 
Many people found that it is not working well using an empty wall as a screen rather than a darker image, as it is quite difficult to relate with some scenes. And the quality is the lack of what you'd get from a real product.
Decorations:
You have to keep one thing in mind: there are no types of decorations because pictures or terms on the screen wall will minimize the quality, so the screen wall should be fully blank.  
Other hands, the pictures will be competed with what's already there as the decoration. So that decorated elements will be the part of the film that does not appear in the background.
Texture:
Some texture issues might impact the image quality to get the best results if you need to create a completely smooth wall surface. Textured walls can help to ensure that your image will appear chapped or twisted. 
If you would like to see your wall as a permanent screen of your projector, You can consider grinding it and removing some textures from the wall.
However, a lot of work power with intense work can hold a permanent result, which might not be the solution for everyone.
2. Sheet:
A plain white piece of cloth will do the trick because a simple bed sheet will be used as a projection screen, which will be the most efficient and affordable solution. But the most difficult part of a sheet or a DIY projector screen is to hang out properly and to avoid the lines and wrinkles on the screen, wrinkles, or on the go.
Now read the article to find out about the benefits and drawbacks of it. The great thing about this is using a sheet as your screen is, in fact, the most likely as it already has it at home so that anyone can use it as a screen easily anywhere. 
If you use a sheet for the background and see that the images are not as clear-cut as they would be in other people's experiences, it can be considered any other option if anyone wants to have a lively picture.
Factor:
There are a few things to consider when using a sheet as a projector screen.
Everyone is having many sheets lying here and there at home without any use. And, if they don't have any, they can buy at least one at a very low price. Buying a real DIY projector screen for any work or show will cost a very high price. So if they use plain sheets, they don't have to spend that much.
To make your DIY projector screen with the help of one sheet of paper, you can hang it anywhere to make your movie-watching or doing works. You can adjust your sheet more than just a blank wall or the frame's construction that you can function on a stand-alone basis. 
The sheet will work great for a screen because it can be folded or roll up for easy transportation. And while setting up, it won't take much time at all; If you are ready to watch a movie in a few minutes, this will be the best solution.
Thread Count:
Counting the thread of the sheets will be a major factor in displaying the images as it will justify how good the images will look to be watched. Because if the number of threads is lower, then the layer will also be thinner, creating a more lighted filter; thus, the image displayed on that screen will be disorganized. 
If you want to have it with your sheet, then it should be a thicker material. Assuming that the fabric is thinner as a single layer, it can be folded into a good quality double layer.
Again, the background of the sheet can be painted a deep color so that the light does not pass through the fabric. However, the vast majority of people will want to use a dark-colored material as the coat, and they can also use a piece of cardboard as a projector screen.
Color:
If you have a sheet as a screen of the projector, you're going to want to be so meticulous about the color lest you want to use it on your bed. For this, you have to choose a non-decorated or plain sheet without any specimen because this would generate clatter in your pictures. 
Using a blank sheet of clothes will provide you a sharper picture, and you're going to lose it in the dark areas of the picture. It means that you don't have a movie without missing out on some of the features. Again, A fully clear and dazzling projector may not provide a picture with better resolution and quality.
A gray screen gives an unlighted tone color which is a better outcome, But it also makes the rest of your image darker. So, your projector must display bright images.
Wrinkles:
The biggest problem that may become a huge threat while using a sheet of paper or clothes on the DIY projector screen is the wrinkles on the screen. If the fabric is not flat with a smooth surface, it can significantly impact how the images are displayed. 
So the best solution is to iron the sheet before keeping it up for the show. And if you would like to save it for the next display, it should be kept by scrolling up instead of folding to have fewer wrinkles. 
Again, you would like to be sure that you keep your sheet stiff and straight to have no movement. A type of elastic cord such as shock cords works well for solidity. The wind or any other form of interference can affect your photos.
3. Wrapping Paper:
Wrapping paper is a type of product that is sometimes used as a DIY projector screen, and you often find napping here and there in the house. And if you don't have any, you can certainly get it from a nearby grocery shop at a lower price.
Again, you have to make sure that you choose a thick, strong wrapping paper with a shiny white substructure. And do not use such types of wrapping paper, which is very thin and easily scratchable, and the white side is not dull or shiny should be checked out.
The DIY projector screen should be glossy and sturdy, and in case of using wrapping paper as a screen, it should be cut off into pieces so that it may fit snugly on a treen frame or a piece of paperboard. Using wrapping paper as a projector screen can create problems like it can be incredibly miserable and easily breakthrough.
A little air will create a snatch or rip up on the paper screen and disfiguring the final image. Thus, any heresy to the paper or just a wrinkle can create an obstacle that will appear on the screen.
And the most important part of using wrapping paper is it should never get wet. Because water will damage the equipment, making it restricted to use outside or near water sources.
4. Shades:
Window shades are a temporary DIY projector screen because they can detach shades which is a great option as they can draw double function and keep the room darker while the movie is being telecasted.
Window shades are being used to get a very excellent image resolution. Still, someone would not expect it to withstand the high-quality resolution image provided only while using a real screen. The only shades that will be suitable are white or light white.
The option that is using window shades screen is more expensive than the others screens, which will cost about $ 25 to $ 50. But using this type of screen will be lower in price than what you could payout on a real screen. The best result is that you need to make sure your shades match your windows at least six ″ so that no light comes out of the sides.
Most of the people prefer window shades screen as the money spent very well. And the shades will provide privacy effectively in case of a resting position or if you are not doing any work or watching movies because it continues its function if it is kept on.
Lastly, a combination of colors such as blackout shades and electric fabric will keep all the light out of your room when closed and keeps your room cool, and help you sleep better. And because they turn black, they work very well as a projector screen.
5. Blackout Fabric: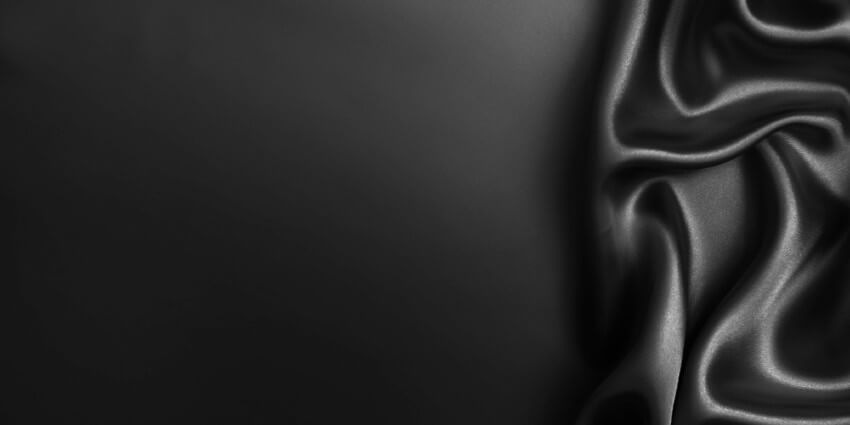 The black fabric is a great medium to be used use on a DIY projector screen. Because it is designed to capture light and gleaming things for making it an interesting background for the film.
These types of materials are generally strapping and bulky. So someone doesn't need to be worried about cracking or tearing in case of moving that material here and there. Once you have pulled the substance firmly into the frame, it becomes tight and looks fixed. As a result, no such types of wrinkles or creases are there on the screen anymore.
The blackout screen is usually glossy and flat on the front side, while it is quite hard and wide on the backside of the screen, which protects the light passing process through the material and creating issues with the photos. Some of these things are difficult, so that you may need help during the meeting.
Black clothes are used as a second layer behind the white sheet screen by some people. When you use a sheet as a screen, the light sometimes passes through the fabrics and produces some obstacle that distorts the image quality.
6. Picture Backdrop:
Picture backdrop now being used as a DIY projector screen which is another great option in today's world. The photo backdrop is a non-reflecting exterior with a complete confined along with the white surfaces.
The light cannot be illuminated by a photographer's background, rather than making it ideal for the DIY projector screen. This item is sturdy enough to move without spoil, so it's been a great idea to watch movies on the camp or just setting it up in the yard.
And it usually comes wrapped up, so it's easy to move. Setting up is very easy, depending on the product that you are going to buy. Like, some are being sold with installation, and some are not. So the thing is, you have to stretch out it. But the other screen may require you to set up the frame.
7. Projector Screen Paint:

One of the best ways to create a DIY projector screen is projector screen paint, a high-priced method. You can put the paint into different substances like plastic, particles, cardboard, or the wall.
The projector screen paint is specifically designed to create a DIY projector screen. And you get high-resolution quality images that are the exact expectations from an entire screen.
There are so many different colors of paint and gloss available in the market. And it fully depends on you as you know what types you needed. The best offers are directed for sparkle and shade.
Finish:
For the project screen, the best result for you is to use featureless or vapid colorant because being gleam can be very reflective lustrous is not a good endorsement for the projector display.
Featureless or vapid colorant has a thinner look, so it gives back less light. You will know whether your ends are shiny or plain depending on what the walls look like when the luminosity shines on them. If glowing fixtures as seen from the windows and the reflection of light from the wall, the finishing of the screen and the combinations of color were lustrous.
Again, images are being telecasted on display through the projector machine with the help of proper lighting, for which they have to make sure that the light doesn't reflect and not being glistening too much. As a result, the picture will appear in a darker look and being washed out to be distinguished with an irrefutable tone.
Color:
Color is the most important object while using a projector because the brightness of the project matters a lot in displaying any images. With 1500 lumen, a projector will work the best and provide a better image with low lighting in rooms.
But in brighter rooms, it won't be easy to set out the available light for which high lighting projector like 2500 or more lumens are needed. But for dusky tint, a projector with over 3000 lumens is needed.
The light around the dwell will also affect the color paint that you choose. It is known to all that white paint is the best option for dazzling rooms with more brightness. And it will work its best in reflecting enough light to keep your photos clear and keen.
But most importantly, for a project, a combination of the gray displays works best as it emits more than 3000 lumens. And side by side, it will be working undoubtedly in rooms with a small amount of light, as it will not reflect the lights that are in the room for being so dark—for example, ceiling or walls. 
Final Thought:
A projector is needed to watching anything on a big screen, but people prefer DIY projects instead of a normal projector as a DIY project is a much cheaper device than a projector. In the above, seven simple solutions about the projectors are discussed, which will be much helpful for setting up a screen and just doing anything. 
Each option will allow you to For the enjoyment projector plays a vital role whether indoors or outdoors as everyone will be allowed to watch movies, dramas, or present anything on the screen. But many people face different types of problems regarding a hand-crafted projector display for this it is decreasing day by day. And in most cases, good-quality images are not being telecasted with better resolution from a hand-crafted projector.
In the end, out of all the necessary alternatives that are listed earlier, a display made up of black cloth or by using an expected lacquer will be the best consequence. After that, using a sheet can be another better outcome, but the less costly sheets can wash many photos.
-our editorial board has reviewed this article and has been approved for publication according to our editorial policy.
Best Seller List of Projector Screens:
Sale
Bestseller No. 1
Projector Screen 120 inch, Taotique 4K Movie Projector Screen 16:9 HD Foldable and Portable...
🌞 100% Wrinkle Free Material - The 120 inch projector screen used soft touch and stretchy thick polyester fiber material to ensure 100% wrinkle free after folded or compressed, providing clearer images, brighter colors and no color cast. Please be assured that all of our outdoor movie screen will undergo rigorous quality inspection process before sending out, so there will be no any spots on the screen to affect the viewing experience and is thick enough that you can't see what's behind it.
🌞 160° Wider Viewing Angle - The outside projector screen with a wide viewing angle up to 160° and 120 inch big size, that means you don't need to sit directly in front of the screen, just only need to select the most comfortable viewing posture to enjoy wonderful movie night. Even if you want to invite your neighbors or friends to watch the movie together, it will not look crowded, because our portable projector screen supports double-sided projection, no need to worry about crowds anymore.
🌞 Portable and Easy Installation - This video projection screens can be folded in small size and put it in your backpack or suitcase without any damage, and then take it to wherever you want with storage bag. Most important, this movie screen for outdoor use coming with all the necessary tools(hooks,ropes and stickers), just need 5 minutes to set up, and the whole process was not complicated, can be done by yourself.
🌞 Wide Application - The 3d projector screen with good pictures quality and lightweight design is not only suitable for indoor, such as home theater, education, presentation, lectures, offices, classroom or gaming etc, but also for outdoor use. What's more, our hd projector screen also can be used as a gift to your family, friends, lovers, as enhance relationship by sharing viewing experiences or talking about the plot in the movie night or some important occasion(Thanksgiving, Christmas).
🌞 Professional After-sales Service - Comes with 1 rear projector screen , 2 * 5 meters ropes and 16 pcs hooks. Note: please feel free to contact us if you have any problems about our tv projector screen, then we will make every effort to resolve it for you. . And this video projector screen foldable only can be wash by hand, not by machine.
Bestseller No. 2
Elite Screens Manual Series, 120-INCH 16:9, Pull Down Manual Projector Screen with AUTO LOCK, Movie...
Screen Material: MaxWhite, 1.1 Gain. Multi-layer weave, 180 degree wide viewing angle, fully black backed front projection screen with textured surface. 4K Ultra HD and Active 3D Projection Ready. GreenGuard and GreenGuard GOLD Certified | UL 2818. Mildew resistant, and easy to clean with soap and water.
Product dimensions | 110.9" L x 69.4" H | View Size – 104.6" W x 58.8" H | Diagonal image size – 120" | Aspect Ratio – 16:9 | Screen material – MaxWhite
Auto-Locking mechanism provides a wide range of height settings, and screen lanyard allows for easy operation.
Fast and easy installation. Optional 6" and 12" L brackets available.
2-Year / 3-Year ENR-G, Manufactures Warranty by Elite Screens' an ISO9001 manufacturer since 2004 and Lifetime Tech Support by Email, Web Chat or Toll Free Phone Call by Elite's Professional Service Team.
Bestseller No. 3
Projector Screen with Stand Foldable Portable Movie Screen 100 Inch(16:9), HD 4K Double Sided...
★Projector screen with stand:100 inch Portable projection screen, 16:9 format,160° Wide Viewing Angle. That offers sharp and high-resolution images,even support Front & Rear projection.
★Upgrade materials: Our projector screen constructed from sturdy heavy duty rust resistant metal and glass fiber rod for increased longevity and durability. It is great for indoor or outdoor use."
★Easy to set up: Designed with ease of use in mind, this projector screen with stand 100\" Is ready for quickly set-up in few minutes.Just hang on the four corners with a rope to quickly fix the projection screen to the one-piece frame, detachable legs can be assembled easily with no tools required. Our easy-to-use screen is perfect for home theaters, businesses, and classrooms.
★Convenient to carry: The portable movie screen frame can be easily transported to anywhere with included black carrying bag and be well protected. The Outdoor movie projector screen folds super compactly than most projector screens thus make it easy to travel along with for family trips, camping, or backyard movie night act."
★Buy with confidence: We are a quality company that focuses on the customer experience. Offering one of the absolute best PROJECTION SCREEN on the market. If for any reason you aren't happy, simply contact us and we will refund the product for you. Zero hassles, zero waits.
Bestseller No. 4
Projector Screen with Stand 100 Inch16:9 HD Anti-Crease Portable PVC Projection Screen, Foldable...
【With Stand for Projection】Natural,clear and vivid colors gain and strong light absorbance,make sure the minimun transparency.The Steel Stand strengthen the stability,very easy to install and set up. Bigger size and 160° Wide Viewing Angle with Stand for better visual enjoyment.
【High Quality Accessories】The outdoor movie screen with stand has a number of Steel frame that are less prone to rust or deformation. Two widened bases can be fixed with 4 nails each to increase the stability of the projection bracket for a stronger.Ropes are attached to each side of the frame to protect it from severe windy weather.
【Light and Easy to Carry】Come with a carrying bag,you can put all the accessories to the bag and carry anywhere you want. It easily stowed away in the CAR TRUNKS, Sedan included! That make it easy to travel along with for family trips, camping, or backyard movie night ect.
【Easy to Installa】The projection screen can be set in about 10 minutes without any complicated tools.No screws, no strings,only several kinds of accessory, enough to fastly and firmly set it up.
【Wide Application】 This screen with stand can be used both indoors and outdoors. like camping, backyard movie, home theater, the large commercial activity center, performance entertainment center, even mini drive-in theater etc.If you have any problem,please feel free to Let us know.
Bestseller No. 5
OWill Projector Screen 16:9 HD Foldable for Home Theater Cinema Indoor Outdoor (120 inch)
★【Never Miss Our OWill High Quality Projector Screen】: Natural,clear and vivid colors gain and strong light absorbance,make sure the minimun transparency.18 holes and straight rectangular design strengthen the stability,very easy to install and set up. Bigger size for better visual enjoyment,the best partner for your front or rear projectors.
★【Wrinkle free, washable, thick】:You don't need to worry about wrinkles or creases caused by screen folding. Just hang it indoors or outdoors, invite your families or your friends, sharing your joyful time with each other. OWILL projector screen is brighter than most other projection screens, smooth surface enhance image results. We hope that our high contrast screen and anti-crease material will make everything easier.
★【Easy installation】: projector screen is very portable to carry and foldable for storage, save the space. Using hooks or ropes to hang it on the wall.No expert installation, you can easily enjoy the best visual feast indoor or outdoor with your families, friends and colleagues.
★【Front and Rear Projector Compatibility】: Just hang it indoors or outdoors, invite your families or your friends, sharing your joyful time with each other. OWILL projector screen is brighter than most other projection screens, smooth surface enhance image results. We hope that our high contrast screen and anti-crease Material will make everything easier. Different from other ordinary movie screen, this is upgraded version.
★【After sales service】Provide up to 24 months warranty,Also, we OWILL professional customer service. We provide technical support for customers.Any questions about this foldable projection screen will be answered within 12 hours.
Bestseller No. 6
110" Motorized Projector Screen Electric Diagonal Automatic Projection 16:9 HD Movies Screen for...
【Widescreen Aspect Ratio】The projector screen features a 16:9 viewing format, same aspect ratio as an HD TV and it is suitable for most movie formats which is ideal for home theater cinema or video / film showing.
【Screen Material】Featuring a 180° viewing angle and 1.2 gain, 3 layer premium black backed screen with textured surface. 4K Ultra HD and Active 3D Projection Ready. Easy to clean.
【Efficient Motor】The energy efficient synchronous motor operates smoothly and silently while having a long operational life.Includes Radio Frequency (RF) remotes, detachable 3-way wall switch.
【Easy Installation】Arrives fully assembled, plug and play ready , features a durable metal casing that easily installs to your wall or ceiling with the included installation kit.
【Customer Satisfaction】Ideal choice for home theater movie, education, conference room presentation, outdoor movie and more. In addition, We provide 30-days no reason return and lifetime customer service express our attitude to customers. Prompt response from us will always be there no matter before or after sales.
Bestseller No. 7
Vamvo Outdoor Indoor Projector Screen with Stand Foldable Portable Movie Screen 120 Inch (16:9)...
Very Easy To Set Up—— It takes less than 5 minutes to fully set up the entire assembly.
Convenient Outdoor Projection Screen—— Our screen, with fordable and lightweight stand, makes it to be the most convenient portable outdoor projection screen for its size. Carrying Box Size:22*14*4 inches, Weight: 9 lbs
Upgrade Design—— The latest version has bigger screen with even more stability than the previous best-selling version with 120" in diagonal, 16:9 aspect ratio.
Outdoor Projector screen—— ropes on each side of screen, are provided to combat tough windy weather.
Reliable Product Quality—— Vamvo provides 2 year for the projector screen. If you're not completely satisfied with the order, please let us know and you'll be offered a refund or Replacement alternatively within the first 3 months. Absolutely risk -free purchase for you.
Bestseller No. 8
VEVOR Projection Screen 135inch 16:9 Movie Screen Fixed Frame 3D Projector Screen for 4K HDTV Movie...
Viewing Area Size: 117.5 X 66"; Viewing Angle: 120°; Display: 16:9 HD;
Material: Aluminum Alloy + Velvet; Screen Material: PVC; Gain: 1.2
This is a premium 135" HD projector screen with frames for home and commercial use. It adopts nm optical PVC screen, 117.5X66"viewing area, provide you with a brighter, softer and more clear image.
The projection screen is wrinkle-free, no texture, and water washable. Compatible with daily 3D movies, 4K, HDTV, PPT, pictures and games
3D projector screen, compatible with all projectors: DLP, CRT, LCD, UHD, HD
Bestseller No. 9
Powerextra Projector Screen with Stand: 100 inch 16:9 4K HD, Indoor Outdoor 3 Layers PVC Pull Up...
Impeccable Viewing Experience: 1.1 Gain with 160° viewing angle offers you an unrivalled viewing pleasure. The latest version has bigger screen with even more stability than the previous best-selling version with 100" in diagonal, 16:9 aspect ratio and versatile height adjustment
Easy to Install: Lightweight projector screen is assembled by solid and lightweight aluminum tripod support stand with wide legs. It takes less than 10 minutes to fully set up the entire assembly and disassembly. And that supports wall-mounted. (Supports Automatically Roll Up)
Wide Application: Supports displaying movie, sport games, photos, music video, games, etc, it make your life more fun. It could be used as professionally, romantically, practically, just depends on what you need. This screen is an ideal choice for purchasing
Wrinkle Free Screen: Projector screen with frame and premium wrinkle-free matte PVC on aluminum tripod gives you a proper view of movies and gaming or PowerPoint presentations in the best quality which you ever could get
Easy to Adjust: Easily and effortlessly adjusts the height of the high quality screen at the press of a button. Twist the handle to lock the height into place what your need. You will get High quality Projector Screen, and tripod stand
Sale
Bestseller No. 10
Mdbebbron 120 inch Projection Screen 16:9 HD Foldable Anti-Crease Portable Projector Movies Screen...
CONVENIENT TO STORAGE AND CARRY - Compact one-piece,lightweight and folding design. You can fold the screen in small size and put it in your backpack or suitcase
WIDE APPLICATION - Ideal choice for home theater movie,office,education, conference room presentation, public display, outdoor movie and more
ANTI-CREASE AND HIGH ABSORBANCE MATERIAL - Made with natural Polyester fabric that The projection is sharper and brighter than most other projection screens, The Projection Screen are thicken and smooth, no wrinkle when folded / crushed.
EASY TO SET UP – The Projection Screen can be fastened easily with hooks, ropes, bracket, nails, double side tape on the wall/mount.
FORMAT AND SIZE - 16:9 screen format, diagonal 120" offer 104" x 58" viewing area
You May Also Like…
Last update on 2021-06-21