People may wonder that, can they use a projector without a screen? Is the projector screen necessary? Does the projector screen make a difference from another screen? I spent some time researching this topic, and I believe I have some understandable answers for you to understand the fact. Can you use a projector without a screen? Yes! But using a projector with no screen will reduce the quality of the viewable picture.
Projector screens have a special coating on them that is different than the other walls. The coating helps us see the screen better. Therefore, an image projected onto a wall will not be as bright as it would appear on a screen. The wall should be completely white.
The normal white wall will provide a good surface for an image to be projected, but there are some downsides. A wall does not mirror a light near beside a projector screen. The exterior of a wall is also not as smooth as you would think. Get close to the wall, and you will see what I mean.
This article will go comprehensively on why you shouldn't use a projector with no screen. I will also spell out what we need to be done to a wall if you decide to use it over a typical projector screen from the market. Let not be depressed by what I say to you!
If you don't want to purchase or use a projector screen, you don't have to do it. You are mature enough, and you can make your own decisions by yourself; I want you to be enlightened of some issues that you make a new experience for watching. Now let's get it from this!
Projector Screen vs Wall – Can You Use a Projector Without a Screen?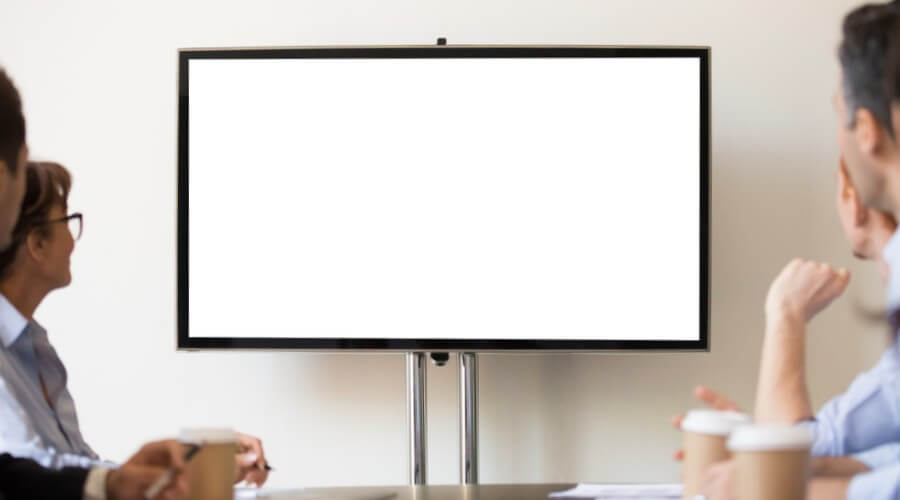 Here so many reasons that using a projector with no screen isn't ideal for this part.
The color of the wall and how it reflects it is.
The uneven texture of walls.
The color of the wall reflects the properties of the screen
Projector screens have an unusual coating that improves theirs reflect the properties of the screen. A regular wall will not have this unusual coating. Therefore, a picture projected onto the wall will not be close to less shine as it would happen on a screen. In general, the color of a wall would also need to be entirely white.
A white object will be more reflective than any other color. It's a scientific theory that a darker wall will not mirror the projector's light enough to provide a clear picture.
If the screen drowns out the light, you won't see the details in the image. So if the wall isn't plain white, you would need to renew it to gain the best results of the screen.
The Appearance of the Wall:
The rough exterior of a wall will probably cause problems with the projected picture. A wall may seem flat and smooth, but most walls are not as smooth as they seem at the initial glimpse.
Being run your hand covering the area. You will suitable feel defects such as small lumps and crannies. These small defects will cause tiny shadows to appear on the projected image. This situation will cause the picture to be less bright and crumbly overall.
If you have a low-budget projector with a low-quality picture, these defects won't impact the picture. But if you have a charge in a high-quality projector, then the small imperfections profoundly impact the picture quality. A projector screen produces an ultra-smooth and highly contemplative exterior that a regular wall cannot compete with this screen.
How to Use a Wall as a Screen Projector: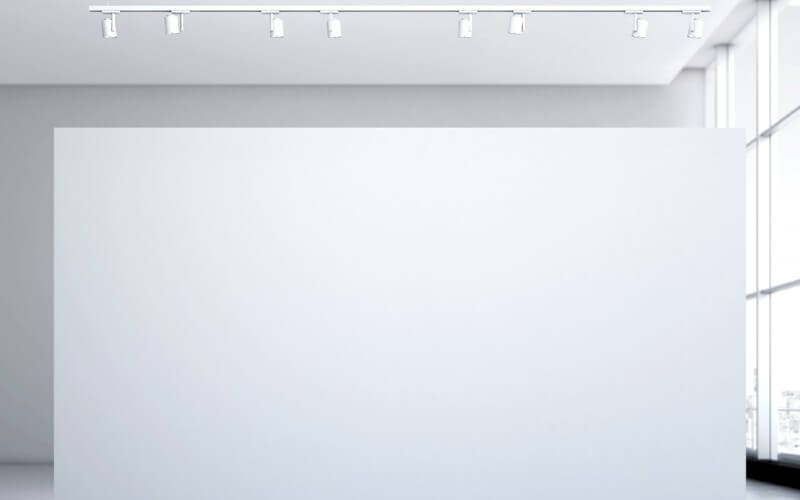 As I mentioned earlier, it's not ideal to use a projector with no screen. So if you want to select a wall to use slightly of a projector screen, then this can do few things to increase the quality of the image projected.
1. Smoothen The Wall as Much as Possible:
You want the wall to be as flat and with the as little exterior as viable. As I mentioned, small lumps and clefts on the wall will induce miniature darknesses to seem.
First, you will need to turn off the lights and use a torch or project a picture onto the wall if you have a projector already. This screen will help distinguish any problem zones. Use a pencil or something else to identify these areas correctly.
Once these areas are marked, scour or a power sander to flatten the wall. You will need to stand and draw the wall multiple times to get the wall smoother as early as possible. A smooth wall is the symbol of a happy wall!
2. Draw the wall:
The finest solution for using a projector on a wall is to draw the wall with a projector screen paint. It is not 100% necessary, but it admits the wall to showcase the light more effectively. This type of design is that it's not low-budget.
A quart of screen paint (on Amazon) values about half the projector screen in the market. This type of screen paint is one of the more economical options out where.
Ultra HD Premium Screen Paint (Quart)
Up to 50% bright than a painted white wall
Anti-glare sheen for maximum brightness with no reflection or hot spot
Works great with 4K & HD Projectors
Acrylic latex paint water based paint for safe and quick application and clean up.
Can be rolled or sprayed on any smooth surface, covers 40 SQ FT screen with 2 coats. (Use white latex primer prior to application if needed)
My preference is to design the area with typical white dye or manual first. After grinding, readdressing, etc., you can put in a thinner coat of the screen paint than the same zone. If you only have a gallon of color, then 1 or 2 thinner tunics over a regular white paint or manual is a great option if you are in a low-cost situation.
A full gallon of high-quality screen paint (on Amazon) will value about the same as one of my favorite projector screens in the market, the Silver Ticket 100″ Fixed Frame Projector Screen (on Amazon).
Silver Ticket Products STR Series 6 Piece Home Theater Fixed Frame 4K / 8K Ultra HD, HDTV, HDR &...
Wall Mounted Fixed Frame Projection Screen (Overall Size 53.75" Tall x 91.875" Wide) (Viewing Area 100" Diagonal x 49" Tall x 87.125" Wide) No option for Legs or Stands with this product. Recommended for projectors with Native 16:9 Resolution
1.1 Gain White screen surface with an exceptionally wide viewing angle at 160 degrees with no resolution loss at any viewing angle. Works great with Long, Short and Ultra Short Throw projectors.
2 3/8" heavy duty beveled aluminum frame wrapped in light-absorbing black velvet material for a beautifully crisp viewing image; Enjoy beautiful movies, pictures, and games in FULL HD, 4K / 8K and Active 3D
Quick and easy assembly with tensioning rod system ensures that you can bring cinema-quality entertainment to your home in just a few minutes. Secure top and bottom mounting brackets that allow horizontal adjustment
Before purchasing, project an image on wall to determine the size works for the projector and watch the step by step instructional video listed.
The finest solution is to use multiple shells of screen paint, but you will probably need more than a quart to do so. Most of the time, you will use white screen paint; however, if your projector has a very high lumen count (around 3,500), consider using gray.
Securing 3,500 lumens onto a white screen will feel a bit blinding. The screen would reflect an immense amount of light directly at your eyeballs. But most of the time, plain white screen paint is the best option. You don't have to paint the wall with specific screen paint, but it is a great addition.
3. Create a Frame Around the Projected Image:
A frame is an important addition to any screen! After having a prominently border around the screen helps the spectator focus on the higher quality Picture. This screen is essential than you think, I promise! Almost all market screens have a black outline around the projection area because it boosts the picture grade.
It gives a clear starting and finishes it to where the picture is estimated. The frame typically helps the eye maintain center on what is being exhibited and not where the screen's border is fixed.
Some people, including myself, fight with concentrating on super minor details of the screen. Small things like the border of a projector's picture will be pretty diverting. The frame also intensifies the difference between the wall and the picture.
To easily build a frame, firstly, set up your projector in the perfect location. Then display a full picture onto the wall and use a pencil to trace around the entire projected picture.
After marking the area, use black velvet tape to outline the place. If you want the frame, look even greater, build a wooden frame to size. I would recommend wrapping each piece of the wooden frame in a thin black carpet. So this is what we did, and it looks magnificent!
Conclusion
You don't have to do these specific things to use a projector with no screen. You can mark any projector onto any wall. Nobody will stop you, but if you are compact OCD, these shortages may get disturbing as time passes.
With that said, if you still select to use a projector with no screen, then I highly recommend doing the three things described above. Smoothen that wall, draw it, smoothen it some more, draw it again, etc. Then place a nice jet black frame around the estimated area. These things will make a detectable difference, I promise!
But in reality, the projector screens aren't that costly. After buying the screen draw and materials for the border, you spend the time prepping everything. Is it worth it to do all this work when you could purchase a prebuilt projector screen? In my opinion, no, not really!
There are many fair-priced projector screens on the market, although you don't need a special one if you were wondering. Check out our website and read the details so that you can find your favorite choices. If you want the cheapest option possible, I suggest buying the projector screen material and building a customized frame.
This screen is the finest solution for cost reduction, but that is just my judgment. But if you have the extra budget or cash, then definitely purchase a fixed frame projector screen and save yourself a certain time and effort for this.
If you're focused on using a projector screen in a living room, then check out my article. It has honestly been a wonderful experience, and I encourage you to try it if possible!
-our editorial board has reviewed this article and has been approved for publication according to our editorial policy.
Best Seller List for Projector Screens:
Bestseller No. 1
SUPER DEAL 120'' Projector Screen Projection Screen Manual Pull Down HD Screen 1:1 Format for Home...
Screen High-Definition Multimedia Presentations with this 120inch(in Diagonal) Screens Manual Projector Screen. Our high gain screen delivers bright images in any lighting environment, making it perfect not only for home theater use, but also business and educational environments!
【Large & Adjustable Screen】 This projection screen features a 1:1 high gain that provides brighter images and its auto-locking system maintains your desired screen height adjustment. This manual projector's 160-degree viewing angle displays clear images for audience members throughout the room.
【PRO Ultra HD & Dynamic Image】Approx 120 inch DIAGONAL, View Size: 84" H x 84" W. Overall Size: 90" H x 87". This material is 4K Ultra HD and Active 3D ready, boasts full tension uniformity, and is fully black backed to eliminate light penetration.
【Black Borders Enhance Picture Contrast】All of our Projection Screens incorporate a black masking border that not only frames the screen but enhances overall picture contrast. Images on this screen are sharper, clearer, and more dynamic than ever.
【Anti-Dust&Acid Material】Constructed of premium matte white screen that anti-dust or acid, durable for every day applications and easy to clean, simply use a cloth and some water to maintain!
Sale
Bestseller No. 2
Projector Screen 120 inch, Taotique 4K Movie Projector Screen 16:9 HD Foldable and Portable...
🌞 100% Wrinkle Free Material - The 120 inch projector screen used soft touch and stretchy thick polyester fiber material to ensure 100% wrinkle free after folded or compressed, providing clearer images, brighter colors and no color cast. Please be assured that all of our outdoor movie screen will undergo rigorous quality inspection process before sending out, so there will be no any spots on the screen to affect the viewing experience and is thick enough that you can't see what's behind it.
🌞 160° Wider Viewing Angle - The outside projector screen with a wide viewing angle up to 160° and 120 inch big size, that means you don't need to sit directly in front of the screen, just only need to select the most comfortable viewing posture to enjoy wonderful movie night. Even if you want to invite your neighbors or friends to watch the movie together, it will not look crowded, because our portable projector screen supports double-sided projection, no need to worry about crowds anymore.
🌞 Portable and Easy Installation - This video projection screens can be folded in small size and put it in your backpack or suitcase without any damage, and then take it to wherever you want with storage bag. Most important, this movie screen for outdoor use coming with all the necessary tools(hooks,ropes and stickers), just need 5 minutes to set up, and the whole process was not complicated, can be done by yourself.
🌞 Wide Application - The 3d projector screen with good pictures quality and lightweight design is not only suitable for indoor, such as home theater, education, presentation, lectures, offices, classroom or gaming etc, but also for outdoor use. What's more, our hd projector screen also can be used as a gift to your family, friends, lovers, as enhance relationship by sharing viewing experiences or talking about the plot in the movie night or some important occasion(Thanksgiving, Christmas).
🌞 Professional After-sales Service - Comes with 1 rear projector screen , 2 * 5 meters ropes and 16 pcs hooks. Note: please feel free to contact us if you have any problems about our tv projector screen, then we will make every effort to resolve it for you. . And this video projector screen foldable only can be wash by hand, not by machine.
Sale
Bestseller No. 3
Projector Screen with Stand, 120 inch Portable Projector Screen for Outdoor Movies 16:9 4K HD Video...
[120" SCREEN WITH STAND] This 120-inch portable projector screen with stand tripod, offers a big screen TV-beating 120" screen diagonal size with the standard 16:9 aspect ratio is a perfect mobile projection solution for professional or personal projection needs, suitable for LCD, 3D, DLP projector. Ideal for backyards, patios, pool decks, and recreation room installations, such as home theatre, wedding, games projection, school/ office presentation, outdoor movie nights.
[UNIQUE TRIPOD DESIGN] Unique 2 foldable tripod - its legs can be adjusted to accommodate various height settings, providing a sturdy base for this projector screen for outdoor movie use. The floor-standing tripod screen is perfect for the place where no drilling on the wall for mounting. The wind protection design of 5*ground stakes, 2*ropes, and 2*water bags are included to harden the screen on windy days for additional support and stability so that you can fully enjoy the open-air cinema.
[FRONT/REAR PROJECTION & WRINKLE FREE] The projector screen outdoor is made of premium polyester & spandex material, which is wrinkle-free and light-shielding that features 1.1 gain and soft light reflection, super white screen also supports front and rear projection and a large viewing angle at 160 degrees provide very clear images in different viewing position, this outdoor/indoor projector screen supports 3D, 1080P, 4K and FHD image, bring you a stunning visual experience of home theater.
[PORTABLE & EASY TO SET UP ] This 120 inch backyard projector screen with stand is adopted as an integrated portable design for easy and fast set up/tear down both indoors and outdoors. Its lightweight aluminum frame allows it to be set up within 5 minutes with no tools required. At only 7.2 pounds, both screen and stand can be easily folded into the attached carrying case (32*3.5*3.3 in), a good choice for traveling and camping, which takes little space and can be easy to carry anywhere.
[3 YEAR SATISFIED WARRANTY] We offer every customer a 100% satisfaction guarantee with 3 years warranty for this video projection screen. If you have any problems while using this outdoor movie screen, or missed any parts, or received the broken item in the package, please feel free to contact us, we will send a new one to you for free. This projection screen is highly versatile for any application including meeting rooms, large auditoriums, small drive-in theaters.
Bestseller No. 4
VIVID STORM SINCE 2004-Projector Screens S PRO 120inch Electric Tension Floor Rising...
▶【New choice projector screen for UST Laser projectors】The screen material with special optical sawtooth structure and the light-rejecting filter to give a stunning performance in CEILING AMBIENT LIGHT. because the UST ALR material use a special optical serrated structure and a light suppression fitter; so the projected light will be effectively reflected to the viewer, and the ceiling light will be blocked or absorbed;(Not Compatible for the projector suspended installed!)
▶【The perfect visual effect 】The Screen size:120-inch Diagonal:16:9 Aspect Ratio;Standard View Area :104.57"Wx58.82"H;G.W.(Ibs):72.75;Screen Material: ULTRA-SHORT THROW AMBIENT LIGHT REJECTING; 0.6 Gain for a Vivid Viewing Experience from 170 Degrees;97% ALR Resistance;Projector Throw Type: ONLY compatible for ULTRA-SHORT THROW LASER PROJECTOR;Support 8K/4K Resolution Ultra HD & Active 3D Ready; Offer 110V voltage;Anti-light direction: The light above the screen;
▶【Eye Protection feature & A fit for any room: 】Feast your eyes on awe-inspiring visuals with deeper colors;Projectors are able to produce much larger images, which put less strain on your eyes. In addition to this, projectors reflect light while TVs emit it. Reflected light is easier on your eyes, keeping your eyes comfortable without the added strain created by emitted light. you can enjoy a cinematic experience from the comfort of your own theater!
▶【Fast easy to Set UP & Space-saving Design】Plug in the power cord to achieve the installation in 1 minute! ; No screws necessary;Change any indoor viewing place with your mood! Electric Pop-up/Floor Rising series projector screen is a collection of premium retractable electric screens that VIVIDSTORM Unique Wire Tension Technology. Flatness like glass surface. and extend upward from the floor. when the screen is not used, just close it which makes it unobtrusive;
▶【First Class Customer Service 】A ISO9001 manufacturer since 2004. 2 years Manufacture Warranty. You no longer need a pitch black room to get a good image;Enjoy your favorite movies and TV shows anywhere in your home, day or night.Provide size 72-120inch, please choose the right screen according to your own space!or Please contact us, we will give you the good advice!
Sale
Bestseller No. 5
5G WiFi Bluetooth Native 1080P Projector[Projector Screen Included], Roconia 9000LM Full HD Movie...
🎁【Native 1080P 9000L & 300" Big Screen】Roconia Q6 native 1920*1080P projector designed with the latest NTSC color technology with 9000 lumens brightness and has improved the color contrast ratio to 10000:1 to restore the real color content, which presents you with a real, dynamic, and color-vibrant projection image quality, provide you with a clearer and sharper visual feast. The max 300" big screen brings you an immersive home theater viewing experience and better care for your eyes.
🎁【2.4G/5G Dual-Band WiFi Connection & Screen Mirroring&Airplay】Roconia WiFi projector provides 2.4G/5G dual-band WiFi connections. The 2.4G WiFi is stable and has wide coverage, the upgraded 5G WiFi is faster and more efficient. You can choose what you want. And it is easier to connect the projector with your iOS/Android devices to use "Screen Mirroring" or "Airplay" to mirror movies, videos, apps, games, and photos from your phone to the big screen at any time.
🎁【Bluetooth 5.0 Function & Multiple Connections】Roconia Bluetooth projector adopts the latest Bluetooth 5.0 chip, it can connect to Bluetooth speaker wireless but also can connect to a phone as a speaker. You can easily wirelessly connect your Bluetooth speakers anytime, anywhere. Built-in dual HiFi stereo speakers and SRS audio system, high-quality sound, clear tone, provide you with an excellent sound experience.
🎁【Wide Compatible & Advanced Cooling System】Adopt the most advanced raw materials to build an efficient cooling system that efficiently dissipates heat, thereby reducing fan noise by 80% and providing you with an amazing viewing and listening experience. Equipped with multiple ports, which can be easily connected to DVD players, smartphones, tablets, HDMI-enabled devices, wired headsets, Bluetooth speakers, etc. Easily meet your daily, party, and game needs.
🎁【100,000 Hours Led Life &3 Years After-Sales Service】Roconia aims to provide high-quality projectors. Using brand new LED technology and intelligent ecological technology, low power consumption presents a clear picture quality, and the lamp life is extended to a maximum of 100,000 hours. We provide 3 years of after-sales service and lifetime professional technical support. We will always be here to provide you with fast and satisfactory service.
Bestseller No. 6
HYZ 100 inch Freestanding Projection Screen, Portable Front & Rear Projection Screen, 4K HD 16:9...
Stands Steady: Strong and robust frame with stability-enhancing water bags, rigging ropes, and stakes to anchor the freestanding projection screen in place (insert the bolt or add a nail to fix the poles to the base)
Spectacular Viewing: With a widescreen 16:9 aspect ratio, the 100-inch screen with 1.1 gain works well with your 1080P and 4K ultra HD projectors to deliver a brilliant theater-like experience
Front & Rear Projection: The slightly opaque screen suits both front and rear projection; for rear projection, place the projector behind the screen instead of next to the audience
Durable Screen Material: The polyester screen is strong and less likely to crease; keeping the screen folded for long periods may cause wrinkles, simply iron or stretch the screen to remove them
Bestseller No. 7
Outdoor Movie Screen, Taotique 20 Feet Inflatable Projector Screen Large Video Projection Screens...
🎬🎬 20 Feet Large Inflatable Screen - This outdoor movie screen size is 15.75 feet(L), 9.9 feet(H) with an aspect ratio of 16 9 and GW: 24 lbs. This outdoor projector screen is lightweight enough to take it with you for family entertainment and outdoor movie parties.
🎬🎬 Easy Set-UP - This inflatable movie screen comes with a 250W quiet blower, 6 * nylon ropes and 6 * base stakes. With the quiet fan, you can blow up this projector screen for outdoor movies in minutes and please turn on the fan and always connect the screen when using it for viewing. The base stakes give stability to the whole frame. REMEMBER to zip up the zipper before inflating.
🎬🎬 Quick Deflation and Easy Clean - unzip the zipper located in the black frame and in a few minutes it will deflate and be ready to get stored inside a convenient. The white movie screen for outdoor use is made of high quality polyester material with convenient velcros and can be easily detached. And frame can be easily wiped clean with any cloth and the movie screen is washable.
🎬🎬 Portable Storage Bag - Our inflatable projector screen for outside comes with a large daily storage bag for you to take to wherever you want. You can have a party alongside watching your favorite movies or sports games on this large projection screen with your family and friends in the backyard. Great for camping adventures, picnics, and outdoor birthday, pool party, and wedding parties.
🎬🎬 Professional After-sales Service - Our portable projector screen have 30 days money back or exchange warranty, please feel free to contact us if you have any problems about our inflatable screen, then we will make every effort to resolve it for you.
Bestseller No. 8
Native 1080P WiFi Bluetooth Projector, VISOUD 9500L with 120'' Screen Portable Outdoor Movie...
🔥 【Native 1080P HD & Unique Big Lens Design】- Adopt unique large lens design, the latest Bluetooth projector provides 9500 lumen&12000:1 high contrast&16:9/4:3 aspect ratio, with a native resolution of 1920*1080. LCD color calibration and adjustment technology can restore more complex color details. All these functions and features make the VISOUD projector image sharper and more detailed than other portable projectors, which provides the ultimate outdoor home theater movie viewing fun for you.
⚡【WiFi Wireless Connection & ZOOM】- The latest Wifi wireless connectivity technology, not only can use your mobile network to connect, but the same router to screen mirroring, WiFi projector simplifies the settings of iOS & Android & laptop devices to make them more user-friendly and stable(No Need Cables or Adapters). With the ZOOM function, it can adjust image size from 100 to 75% display what size you want without moving the projector. (120'' Projector Screen Included)
🔑【Bluetooth Wireless Connection & Dual Stereo Speaker】- VISOUD native 1080P projector contained built-in dual 5W stereo speakers, it shows original audio fidelity and excellent sound effects, it feels like you are on the scene. Besides this, The Bluetooth projector has a wireless Bluetooth connection function, you can use the technology to connect your Bluetooth headsets, Bluetooth speakers, and Airpods, simply with no more cables.
🎶【Wide Compatibility and Application】- This movie projector was equipped with various and riching ports, which included VGA / HDMI / USB / TF /AV / 3.5mm Audio port. ★It can be compatible with Laptops, PC, TV, Speakers, TV Sticks, PS4, USB flash, TF SD cards, Smartphones, making it easy to use for both family or work related purposes. Due to copyright issues, Netflix, Hulu and Disney are prohibited from playing movies from the projector, connecting with the TV Stick to enjoy the streaming Apps.
💌【5 Years Warranty & Reliable After-sale Service】- VISOUD aim is to provide HIGH-QUALITY PRODUCT & COMPLAINT-FREE CUSTOMER SERVICE. If there is any problem with the product within 6 months, we promise money back or replacement. After you register for our Extra 5-Year Warranty Service, you can expect professional technical support if needed. We strive to ensure your product remains in excellent condition and that you are satisfied with your purchase.
Bestseller No. 9
PONNOR 14 FT Inflatable Projector Screen with Inflation Fan and Storage Bag for Outdoor Parties Blow...
ENJOY THE MOVIE OUTDOORS: The 14-feet large screen brings you cinema-level visual enjoyment, aspect ratio of 16:9 which is very suitable for indoor and outdoor parties, awesome for watching movies and TV, and can gather you and your relations & friends to enjoy a fun night.
EASY TO SET UP: This blow up screen is equipped with a low-noise a 50 db and 100W powerful air blower, which can quickly complete the inflation in a short time, saving time for party preparation, and keep the screen upright without affecting your viewing pleasure.
EASY TO STORE AND CARRY: Equipped with a 420D oxford handy bag, it is convenient for you to store the inflatable projection screen, you can conveniently take it to any place you want to go, and open your happy party time anytime, anywhere.
DURABLE MATERIAL: The screen frame is made of 210D Oxford cloth material, which has the characteristics of durability, can adapt to long-term outdoor placement, dirt-resistant and easy to clean.
This inflatable projector screen includes: Inflatable frame, removable and washable screen, air blower, ropes, ground stakes, carry bag. It is fully equipped, simple and strong in structure, suitable for various related Scenes, such as camping, watching movies, outdoor swimming pools, birthday parties, etc. The best work partner of the outdoor projector.
Bestseller No. 10
HuaKastro 14 FT Inflatable Movie Screen Indoor Outdoor 104" Projector Screen Support Front/Rear...
🏈 Getting ready to host a movie night party in your backayrd? With this mega projection screen, we guarantee that you can have a blast! Watch the movie outdoors will allow for more space to keep guests at safe distances, this HuaKastro inflatable screen features a wide viwing angle of 160° and higher screen position provide good viewing experience for every guests.
👍 Easy-to-setup Pop Up Screen - The one-piece design of the white screen and the black frame make it easier to set up. Just put on the blower and blow it up.
👍 Anti-crease and high absorbance projection screen:the white screen is made of polyester knitted fabric which self-tensioning, free from seams, wrinkles, and creases once blew up.
👍 Stunning Front & Rear projection material accommodates placement of the projector behind or in front of the screen allowing for greater flexibility. 👍 16:9 Bigger screen size: Visible screen diagonal is 104 inches.
👪 14 foot inflatable screen with 104 inch visible white screen- the size is enough for a backyard party, also great for indoor use when bad weather occurs. You can't miss it , when there is a Children's birthday party/ backyard barbecue/ neighborhood block party/ camping trip/ super bowl screening. 😊 30-DAY NO HASSLE RETURNS & 12 MONTHS WARRANTY & LIFETIME CUSTOMER SERVICE.
Last update on 2022-06-27