Nowadays, media systems are pretty expensive. If you want to buy an excellent Television, it can cost you a good amount of money. Other media equipment such as home theater setup and soundbars are also expensive. So after buying a nice TV with a sticker price to match, you may think that purchasing a soundbar is a luxury or even a waste of money.
Soundbars are specifically designed for use with home TVs. Most soundbars will not have the proper output to work well in a small room, but they can be effective at projecting higher-quality audio than standard TV speakers. It is worth buying a soundbar because you can hear the audio better than tiny speakers. The soundbar is not a waste of money, but it can be used when there is no TV in the room.
Adding a soundbar with your TV can make your media experience better at a reasonable price. It is a great way to add quality to your media system. Simply adding the left and right channels of a soundbar or an entire surround sound system can enhance your media watching experience.
Nowadays, there are different kinds of home theater electronics available. You have to know the details. You also have to know what are features of a soundbar you really need to get. So let's get started.
At first, you have to know that how soundbars enhance your media experience. Then you can build up from there and explore what you need and what you don't so that you can pick the right soundbar for you with full of confidence.
Read More: Are Soundbars Worth It?
The Value of Soundbars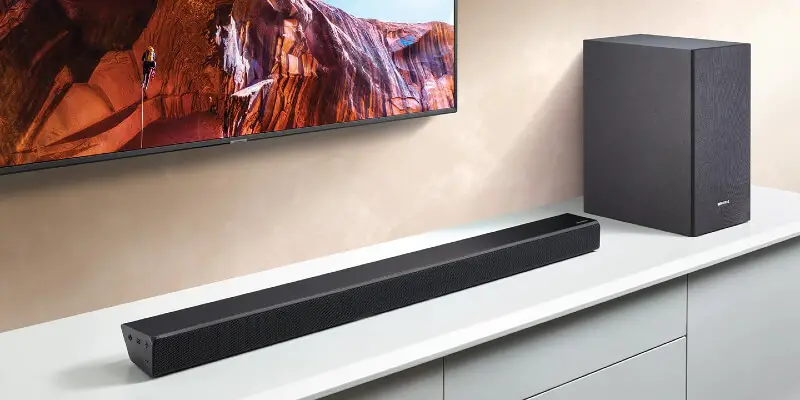 When you are looking for components to build a home theater for yourself now, it is clear to you that there's more in play than just the TV or screen. While building a home theater system, people mostly start from getting a big, nice screen or even a projector. TVs almost always come with built-in speakers. Moreover more expensive and higher-end TVs may come with good quality stereo speakers. But projectors won't have any built-in audio components.
If you are using a high-quality TV or screen, you also need to keep your audio at a standard level. And adding a soundbar to your system is a very easy and affordable way to do that. Even you want to upgrade your sound system to an entire stereo surround sound system; you can start with a soundbar. Some soundbars are designed to add more speakers when you need them.
The Sonos Arc (on Amazon) and more advanced soundbars like the Nakamichi Showkwafe Ultra 9.2.4 (on Amazon) system even come with a whole stereo system of wireless speakers.
If you are interested in any stereo surround sound system, then remember that buying a soundbar isn't a step backward or away from having an entire stereo surround system. It is very beneficial. It can give you more options and a better user experience.
So as we have mentioned above, there is a lot of option available in the world of soundbars. And the pricing of these units starts from below 100 dollars. Some stereo systems with this type of pricing will provide you with two-channel stereo sound with lots of limitations. You ever visited an electric store or Amazon, then you may know that prices can get very serious very quickly.
So you may be thinking about which option will be the best for you. At first, you have to make sure what features you really need in a soundbar and which ones you can leave for a later upgrade.
The Soundbar Features you Really Need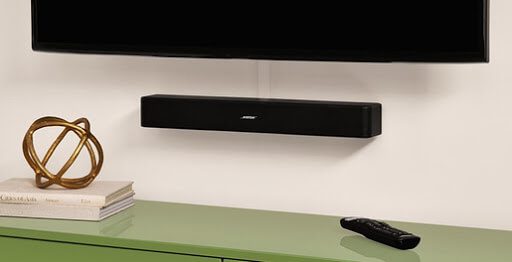 You're really going to want some very useful features in your soundbar, while there are many unnecessary features also. A great example of that is a voice assistant. Some available soundbars come with a built-in voice assistant. Whether it's Alexa, Siri, or Google Assistant, it will be very useful to make your soundbar a little futuristic and enjoy futuristic services. There are also some other more obvious features you need. But first, let's talk about the most important feature you'll have to decide on, and that is the number of channels.
How Many Channels Do I Need on My Soundbar?
If your TV comes with a stereo sound system, then there will be two channels. But unfortunately, the quality of those drivers on the TV is not going to be so good. Because the TV manufacturer is just checking the box when they design the speakers in. The TV has to have them, but they know that most of the cost needs to be dedicated to a high-quality panel.
Why Purchasing a Simple Soundbar is Such a Great Upgrade
Moreover, Manufacturers also know that spending a good amount of money on a high-end TV will not rely on the internal built-in speakers only. They will add a soundbar to their system. So if you want to replace the TV's stereo with a two-channel system with a simple budget soundbar, it will definitely be an upgrade. So if you do not have a big budget, you can start out with a simple stereo soundbar. Moreover, in the future, you can always upgrade.
Next Big Step For Home Theater Upgrade: 2.1 Channel with Wireless Subwoofer
If you want something better than a simple stereo soundbar, then you should look for a 2.1 channel sound system with a wireless subwoofer. There is no subwoofer built into your television. It is mainly an external speaker, and it adds a whole additional dimension to the soundscape and enhances your hearing experience. So if you want a nice upgrade but at an affordable cost, you can go for a soundbar with two channels and a wireless subwoofer.
Next Upgrade: Going From 2.1 to 5.1 Surround Sound and Beyond
The 3.1 channel systems-based soundbars come after the 2.1. But going to 3.1 from 2.1 is really not a good upgrade. If you want to upgrade your sound system, then you can upgrade it up to 5.1 from 2.1. It is a surround sound system. The 5.1 channel soundbar system adds two wireless speakers behind you, making the sound more realistic. If you are looking for something to upgrade your sound system but within an affordable budget, then you can go for a 5.1 channel system.
There are many 7.1 channel systems available on the market, and more modern 7.1.2 systems also add vertical dimensions for Dolby Atmos support. There are also 9.2.4 channel systems like the SHOCKWAFE. Sound systems like this one will really give you the experience of something close to the theater quality. But it would be best if you remembered that you have to make sure that the soundbar system has the feature you wanted. So you need to look for and understand.
Other Soundbar Features You Should Look For
A soundbar system comes with plenty of other features that the manufacturer includes. Here we are reviewing some of the features that are important for a soundbar.
Bluetooth
Bluetooth is a very important feature that you will really want to consider. If you want to connect your sound system with your phone or any other device wirelessly, you will need to have Bluetooth in your sound system. For some people, it is a very important feature. But if you do not want to use your sound system for any other circumstance instead of using it with your TV, then you can ignore this one. But whatever this feature is very useful. If you decide you don't want and need to have it, at some point, you will end up kicking yourself.
HDMI ARC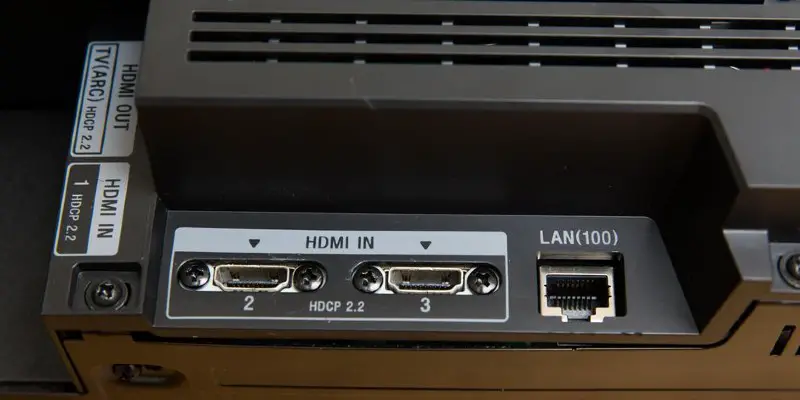 HDMI ARC is another useful feature. With the HDMI ARC system, your soundbar will be able to communicate back with your TV and, sometimes, act as the full-on receiver taking your other HDMI channels in before connecting to the TV so that you can control the soundbars with your stock TV remote.
Wi-Fi Support and Expandability
It is another important feature to know about. As with Bluetooth, you can also think about whether you need this feature or not. You have to think about it before you start building the system you really want. If your soundbar does not have any Wi-Fi, it will not connect with more speakers. So it will limit your ability to build a larger system. The Sonos Arc (on Amazon) is able to connect with new Sonos speakers whenever you'd like to add them. So you have to plan before you buy one.
Do You Need A Soundbar?
After all, we want to say that buying a soundbar is really up to you. If you have a nice TV and you are happy with the built-in speakers of your TV, then that's great, and that's why you may think that buying a soundbar would be a waste of money. Maybe that's a good thing because once you start upgrading your sound system regularly, you'll likely never be able to go back.
But consider how you want to use your television. Are you just want to watch some boring news, or do you really want to enjoy cutting the lights and putting on a great movie? If you want to have a great home theater experience, you have to spend some money. You have to upgrade your sound system.
Just think about how often you are going to use your setup and for what purpose you are going to use it. It will help to figure out which soundbar will be the best for you.
-our editorial board has reviewed this article and has been approved for publication according to our editorial policy.
Best Seller List of Sound Bars:
Sale
Bestseller No. 1
Sony S100F 2.0ch Soundbar with Bass Reflex Speaker, Integrated Tweeter and Bluetooth, (HTS100F),...
Straight from the theater to your home: easy set-up, built-in tweeter, 2-ch speaker with simple Bluetooth connection
Deep sound with Bass Reflex speaker
High power with a slim design that matches any room and is perfect for small living spaces
Voice enhancement feature is great for TV content with hushed dialogue, or to make conference call participants easier to hear
Easy TV set up with HDMI ARC
Sale
Bestseller No. 2
Saiyin Sound Bar for TV with Subwoofer Deep Bass Soundbar 2.1 CH Home Audio Surround Sound Speaker...
Sound Bar with Subwoofer Upgrade Your Home Theater Audio Experience: Powerful full-range drivers (total 70-watt output) deliver a more realistic, richer sound from a compact soundbar with deep bass. Sound Bar is a perfect TV speaker that optimizes sound clarity and creates incredible room-filling virtual surround sound.
Deep Rich Bass: Feel the action and the beat of the music with the rich bass from a subwoofer. Sound Bar, Ideal Soundbar for TV, PC, Gaming, Computer, Projector, Televisions, Surround Sound Systems, Music Players, Smartphones or Tablets, Monitor, Flat Screen, Smart TVs. Sound Bar works well with all TVs sizes.
3 Sound Modes via Remote Control: This compact TV speaker comes with 3 equalizer modes: Music, Movie, and News modes. Use the remote control to select your favorite specialized mode for providing you with a wide range of stereo effects throughout the room so you can enjoy cinematic surround sound in your home.
Wireless or Wired Connection, Easy Setup: Sound bar can be connected to most types of your devices via Wireless Bluetooth 5.0 connection, Optical, AUX(3.5mm), RCA, or Coaxial connection, Easily connect to your home theater, Smart TV, PC, phone, projector, DVDs, laptop, desktop, tablets, pad, and more. If your TV or other source devices only has a 3.5mm headphone socket, use the 3.5mm to RCA audio cable to connect the soundbar to your TV or other source devices.
What You Get: TV Sound bar, Subwoofer, Remote Control, Power Adaptor, Optical Cable, RCA Audio Cable, 3.5mm to RCA Cable, User Manual, and Wall Mount Kit. If you have any problems, please feel free to contact us immediately.
Sale
Bestseller No. 3
BESTISAN Soundbar, TV Sound Bar with Dual Bass Ports Wired HDMI and Wireless Bluetooth 5.0 Home...
Room-filling sound: powerful speakers deliver a round, high-end audio experience for bed room and apartment.
Enhanced bass: 3 inches full range drivers and dual bass ports that bring the richer and deeper bass, boost A loud sound that fills the room without distortion.
Multiple wireless and wired connections: easily connect to the sound bar via Bluetooth 5. 0 or standard audio cable Connection, RCA, HDMI(ARC) and optical input.
3 different equalizer modes: fine tune your sound bar with 3 distinct equalizer modes (movie, music, dialogue) via the remote control to match your favorite sound.
Multiple Setups, multiple options: sits flat below the TV screen or securely mounts on the wall for a sleek, elegant home theater setup
Sale
Bestseller No. 4
Sonos Playbar - The Mountable Sound Bar for TV, Movies, Music, and More - Black
The mountable soundbar for TV, movies, music, and more
Enjoy crisp dialogue and impressive bass from wall to wall with Playbar. Control it with the Sonos app, your remote, and more
Whether you mount it on the wall or place it below your TV on a stand or console, Playbar automatically tunes itself for the best possible sound
Playbar was specially tuned by Oscar-winning sound engineers to emphasize the sound of the human voice so you can always follow the story
Easily connect Sonos speakers in different rooms over WiFi to create a home sound system that brings every room and everyone together
Bestseller No. 5
Larksound Sound Bar for TV, 35 Inch TV Speaker, Surround Sound System, TV Soundbar with...
Exclusively Soundbar for TV - 70W maximum output power. Powerful drivers deliver high-end acoustic sound effect with built-in reflex tubes for left and right channels, which greatly enhances the bass effect to bring sound to life for a fantastically dynamic audio experience
Multi Connection - Supports optical fiber, HDMI(ARC), AUX, and USB, compatible with TV, projector, computer, blu-ray player, tablet, XBOX, PS5, MP3 player, etc. (The package contains high-quality HDMI(ARC) cable, Optical cable, and AUX cable) Multiple connections to play music freely
Bluetooth 5.0 Wireless Connection - Bluetooth 5.0, more stable and faster transmission, and the latest technology greatly increases the transmission range up to 33 feet. Easily connect with most devices, such as iPhone, iPad, tablet, computer, TV, laptop, etc. Powerful anti-interference lossless transmission technology ensures perfect sound quality, enjoy music anytime, anywhere
Home Theater System - The exclusive left and right channel independent cavity design improves the separation of the left and right channels compared with the ordinary design, and sound field positioning is more excellent. Spacious and dynamic sound effects give you an immersive 3D surround experience
Easy to set Up - Soundbar: 35.4*2.36* 3.54 inch. The slim form factor of this soundbar allows it to subtly tuck under your TV. No matter it is placed flat on the table or mounted on any wall; it will not take up your precious space
Sale
Bestseller No. 6
VIZIO 2.0 Home Theater Sound Bar with DTS Virtual:X, Bluetooth, Voice Assistant Compatible, Includes...
America's #1 Sound Bar* - VIZIO has been filling homes with truly immersive audio for over 10 years, and our sound bars just keep getting better. We are proud to provide our customers with top-tier audio products that bring movies, shows, podcasts, music, and more to life like never before. (*#1 Sound Bar Brand in 1H 2022 Source: The NPD Group/Retail Tracking Service, U.S., based on units, Jan. - June 2022 combined.).Mounting Type:Sound Bar.Speakers maximum output power:10 watts.Total hdmi ports:1
Ultra-Compact 2.0 Design - Experience the performance of larger, more complex home theater systems in a simple, ultra-compact solution designed fit anywhere and blend seamlessly into any environment.
Bold Performance - Experience rich, clear sound with up to 91dB of total SPL output for performance that belies its size.
Essential Connectivity & Control - Get setup and listening in seconds with the included cables plus Bluetooth connectivity for wireless streaming of your favorite music and podcasts.
2.0-Channel Sound - Experience a powerful room-filling, true stereo experience ideal for movies, music, and gaming.
Sale
Bestseller No. 7
Bose TV Speaker - Soundbar for TV with Bluetooth and HDMI-ARC Connectivity, Black, Includes Remote...
Hear your TV better: Designed with simplicity in mind, the Bose TV Speaker is a small soundbar that clarifies speech and is a simple fix for better TV sound.
Wide, natural sound: 2 angled full-range drivers deliver a more realistic, spatial audio experience for overall better TV sound from a small soundbar.
Enhanced dialogue: This TV speaker is designed to specifically focus on clarifying and elevating vocals and pronunciation.
Bluetooth TV speaker: Pair your device to this Bluetooth soundbar to wirelessly stream your favorite music and podcasts.
Simple setup: A single connection from this compact soundbar to the TV via an optical audio cable (included) or an HDMI cable (sold separately) has you up and running in minutes.
Sale
Bestseller No. 8
SAMSUNG HW-S50B/ZA 3.0ch All-in-One Soundbar w/Dolby 5.1, DTS Virtual:X, Q Symphony, Built in Center...
ALL-IN-ONE: Everything you need in a single soundbar with two woofers and tweeters built in, so you can enjoy rich sound that will fill your room
DOLBY DIGITAL 5.1 / DTS VIRTUAL:X: Dolby Digital 5.1 capable creates realistic surround sound by projecting it from all around you, while DTS Virtual: X expands your listening experience without having to add extra speakers
Q-SYMPHONY: Perfectly synchronized, fully immersive audio floods your room all at once, using every speaker in compatible Samsung TV and soundbars*
BUILT-IN CENTER SPEAKER: The built-in center speaker is dedicated to delivering enhanced dialogue, so you won't miss a word, no matter how faint the conversation or how intense the background music or action is
ADAPTIVE SOUND LITE: Enjoy dynamically optimized audio with enhanced voice clarity so you can follow along with action-packed games and blockbuster films
Sale
Bestseller No. 9
Bose Solo 5 TV Soundbar Sound System with Universal Remote Control, Black
Single sound bar provides better sound quality compared to your TV.The Solo 5 TV sound system is an easy solution, with advanced technologies that deliver the clear audio your TV can't.
Dialogue mode to make every word and detail stand out
Bluetooth connectivity to wirelessly stream music from any of your devices
One connection to your TV. Optical audio input (digital); Coaxial audio input (digital); 3.5 mm aux input (analog)
Universal remote controls TV, bass, Bluetooth connections and more
Sale
Bestseller No. 10
SAMSUNG HW-B650 3.1ch Soundbar w/Dolby 5.1 DTS Virtual:X, Bass Boosted, Built-in Center Speaker,...
DOLBY DIGITAL 5.1 DTS VIRTUAL:X: Multi directional sound draws you into the action with Dolby Digital 5.1 capable and DTS Virtual X.
BASS BOOST: Boost the bass with a touch of a button.
BUILT IN CENTER SPEAKER: The built in center speaker delivers enhanced dialogue so you won't miss a word.
SUBWOOFER INCLUDED: Experience the intensity of action movies with the powerful bass coming from the included subwoofer.
ADAPTIVE SOUND LITE: Enjoy optimized audio with enhanced voice clarity on all your favorite video content.
Last update on 2022-11-17