Finally, after all, you are going to do it. You are saving money for a long time. Now you are going to get the home theater system of your dream. However, when you buy a sound system, a question comes to your mind about exactly what type of good sound system you need to get. Now you can not choose between 5.1 and 7.1 surround sound.
A 5.1 system includes five speakers and one subwoofer, while a 7.1 system includes seven speakers and one subwoofer. The addition of two additional surround sound speakers in the 7.1 surround sound system to provide depth of sound.
5.1 surround sound is known as surround sound audio system. A good surround sound system that uses five audio channels, which are a front left and right channel, a center channel, two surround channels (left and right) along with the low-frequency effects channels for a subwoofer is called a 5.1 surround sound system. 7.1 surround sound is well known for an eight-channel surround audio system.7.1 sound system is a multichannel sound system same as 5.1 surround sound system, except it, has an additional set of rear(right and left) surround speakers.
Now, which one is better? But unfortunately, it depends on some things. 7.1 or 5.1, which one is best for you depends on several different variables. Something depends on the room you are setting up in; something depends on personal preference.
Somethings like listening position, room size, furnishings will all affect which sound set up is best for you. Now in this content, we will discuss the difference between the 5.1 and 7.1 sound systems is. You can then choose and know the factor's impact on going for a 5.1 or 7.1.
What's The difference between 5.1 vs. 7.1 Surround sound?
Simply, The difference between the 5.1 and 7.1 surround sound systems is just two speakers. A 5.1 system is consists of five speakers and a subwoofer; on the other hand, a 7.1 system consists of 7 speakers and one subwoofer.
The 7.1 surround sound system builds based on the 5.1 system to give you two more additional surround sound speakers to add depth to your sound. You can enjoy an incredible listening experience by using it in the right room. If you set up a 7.1 system in the wrong room or improperly, it will sound muddled.
The easiest and common setup for a 5.1 system is to place three speakers in front of the room (right, left, and center) and two surrounds sound speakers at either side of the listening area. The 7.1 system improves the 5.1 system by adding two additional surround sound speakers behind the listening area.
5.1 Surround Sounds Pros and Cons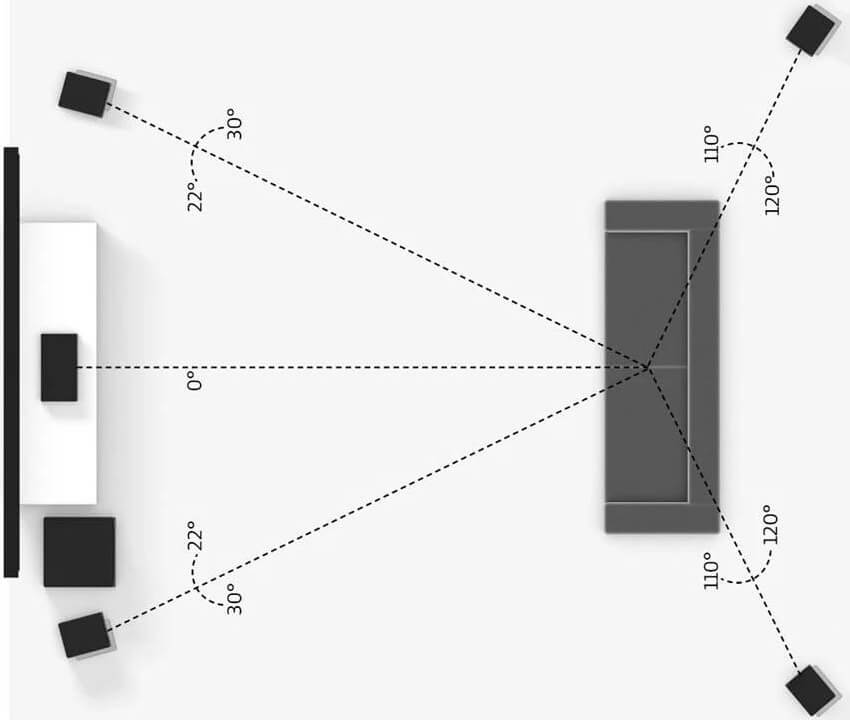 In 5.1 surround sound system, it has several advantages and disadvantages. 7.1 used as a home theater, but it has a diminished size. That's why the 5.1 system could make more sense for a particular home theater.
The basic level 5.1 system is more common and easy than7.1 the system. That's why it's easier to find troubleshooting instructions online. A 5.1 system setup is very easy because it often comes as packages that you can set up right out of the box, also known as a home theater in a box system. If you want to use wires to hook up your system, it will be easier for you because, in the 5.1 system, you will have two fewer wires to hide. Also, a 5.1 system is sufficient in most of the rooms.
But in a bigger room, a 5.1 surround sound system may not be sufficient. If there is a lot of place behind the listen to the area in a big room, the sound may not feel as enveloping as it might in small spaces. Some media comes ready for a 7.1 sound system, but for a 5.1 sound system, they would not be able to deliver as clearly and efficiently, although it's too rare.
The 5.1 system will do most applicants though some disadvantages might upgrade the 7.1 system more useful.
7.1 Surround Sound Pro and Cons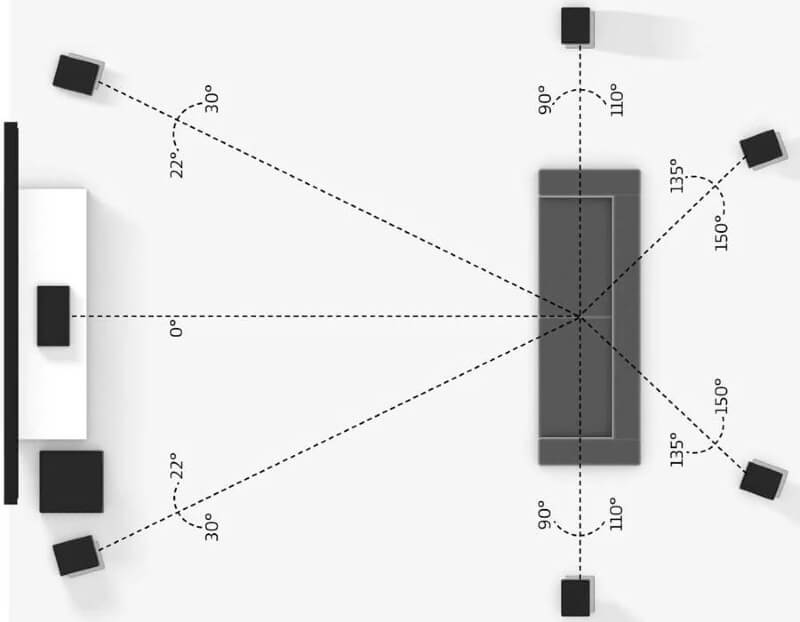 The 7.1 system has its advantages and disadvantages. Though it needs extra power for additional surround speakers, it may be detrimental to your listening experience. 7.1 system is a better choice than 5.1 for larger rooms where sound may get lost in the open space. You can enjoy a deeper surround sound listening experience with it. A 7.1 system is cleaner than a 5.1 system.
But still, there are some disadvantages to a 7.1 system. The additional surround sound speakers may make the surround sound channels command over the front channels in a smaller room. These can cause some difficulties in hearing the dialogue and front-side sound effects.
Sometimes, few 7.1 systems come as a ready kit and will require you to buy components separately. For this reason, it isn't easy to find an online community to help troubleshoot your system because the features will be unique to your setup.
A 7.1 sound system can make a better sense in larger rooms and add depth to your sound. Also, a 7.1 system is more expensive and more difficult to set up and troubleshoot than a 5.1 system. Finally, the choice between a 5.1 or 7.1 sound system will depend on one's particular situation.
5.1 and 7.1 Surround Sound Layout
As I mentioned before, there is a difference between a 5.1 and a 7.1 system in only two surround speakers. These additional surround speakers add depth to the large space of the rooms with theater-quality sound.
There has a fairly standard set up in a 5.1 system. A center speaker always goes below your TV or projector and two front speakers on both sides (right, left) of the TV. Finally, there are two surround speakers which are set up on either side of the listening area.
We know that a 7.1 system adds two additional speakers, but it's otherwise set up the same way. The other surround speakers are designed so that they can go behind the listening area, and their main purpose is to send sound at a different angle than the first set of surround speakers.
It's is not very rare for these speakers to be mounted in the ceiling. There is some advantage to ceiling mounting because it gives us an interesting sound experience, and it keeps the place behind the listening area free for walking.
What's Right for Your Room?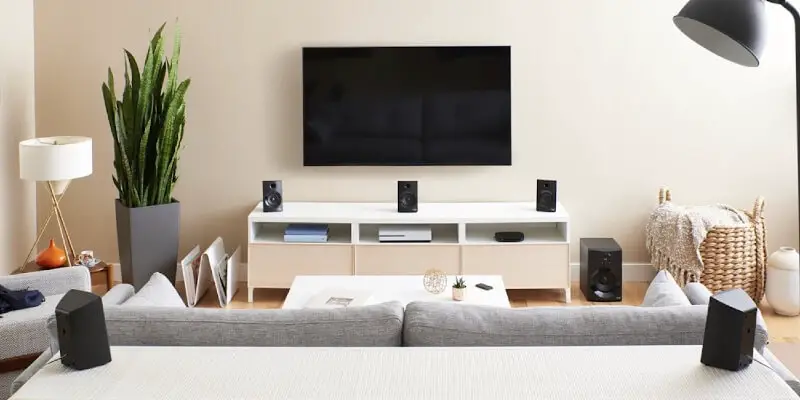 Several things are going to affect which sound system is appropriate for your room. You want an enormous theater-quality sound from a 7.1 system, and it doesn't mean you will get it in any room. There are three major characteristics of rooms to determine what kind of sound system is right for them.
Room Size: Additional speakers are used to filling up larger rooms. Many speakers can make a muddy mix of sounds that sound louder than the clear sound in a small space. Generally, if your room is smaller than 350 square feet, you should not use a 7.1 system.
Listening Position: The main difference between the 5.1 and 7.1 systems is that the larger system puts speakers behind the listeners to give them a full surround sound experience. If you don't have much space behind the listening area, it doesn't make any sense to put the speaker back there.
Furnishings: The hard materials like tables, desks, cabinets, and wood or tile flooring will reflect sound and ruin the effect of additional speakers. On the other hand, soft surfaces such as bookshelves, couches, and carpeting will help prevent sound reflection and keep the sounds in the parts of the rooms where they are supposed to be.
Features and Your Budget
If you want to pick up your ideal sound system, you have to look up several things. Most of the features will be a matter of weighing your budget against the perks of a better setup.
Generally, a 7.1 system will be more expensive than a 5.1 system. It has more components so that it can give you a richer sound experience. Moreover, different factors will impact the expenses of your system.
Receiver: For running your sound system, you will need a receiver that converts a line-level signal from your TV into a speaker-level signal for your speakers. Most of the 5.1 systems come with a receiver included, but few 7.1 systems come as an all-inclusive package. Though not as ideal as getting a coherent 7.1 speaker set, you should always start with a 5.1 system and upgrade into a 7.1 receiver and two additional speakers later.
Wires: Another fact that you may want to consider is how you intend to hook up your sound system. Most of the system comes with wireless capability, and setting up speakers around the room less of a tangle. Moreover, what you gain in convenience, you will lose that in sound quality. A direct wired signal is always better and higher than the quality you get to form a wireless connection. Ultimately, you will need to decide what do you need?
Calibration: Provide your internal calibration; there are many systems on the market. These systems will optimize your sound by sending test tones from each speaker to a microphone that you set up in the primary listening area of your room. These systems are more common with 7.1 systems and expensive.
Price Different Between 5.1 and 7.1 Surround Sound System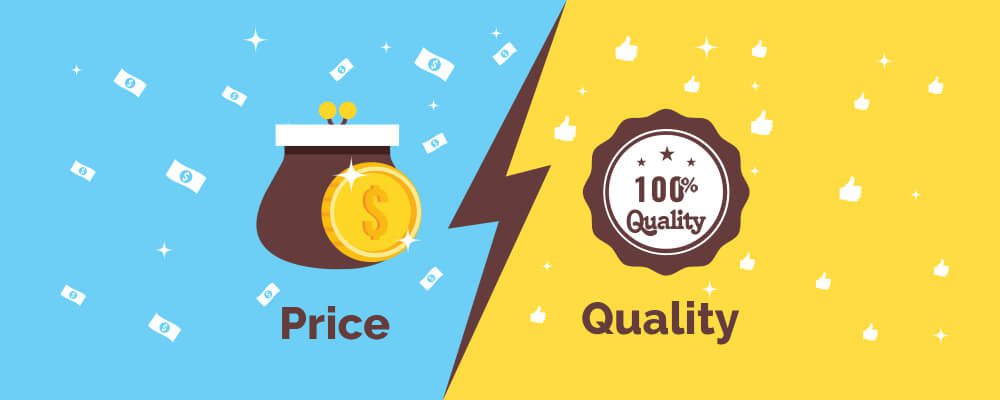 One of the most concluding factors between whether getting a 5.1 or 7.1 system is price. If you want to save cash, you can get a 5.1 surround sound package at a very fair price.
You get what you are paying for, but these systems may not be sufficient for your needs. If you want to get a top brand 5.1 sound system like Klipsch, you may pay about $6,000. This system comes with a high definition theater-quality sound, and a receiver included.
If you plan to get a 7.1 surround sound system, you can expect to pay at least $500 more for a decent system. Of course, this won't get you a very high-quality sound. Getting a good 7.1 surround sound system with a receiver can cost you from $1,000 to $13,000.
After upgrading a 5.1 to 7.1 surround sound system, there comes a more variety of in-wall or in-ceiling speakers system to choose from it. Though these look aesthetical, they will require a professional to install. Another defect is that upgrading to a different system means pulling speakers out of the wall/ceiling and patching the hole.
So What's The Verdict?
It seems very hard to build the home theater of your dreams, but it doesn't have to be confusing. To make your work easier, consider making a list of must-have features and a list of features that would be nice to have. It's a good idea because it helps to come up with a budget before you start browsing.
The key to being successful is, to be honest with yourself about your needs. The 7.1 surround sound system might seem like a cool status symbol, but it may ruin the sound if placed in the wrong room. The features of the space where you are working must keep in your mind so that you can choose the system that will be best for you. We hope that, with these tips, you will be on your way to creating your perfect home theater experience.
-our editorial board has reviewed this article and has been approved for publication according to our editorial policy.
Best Seller List of Surround Sound System:
Sale
Bestseller No. 1
Logitech Z906 5.1 Surround Sound Speaker System - THX, Dolby Digital and DTS Digital Certified -...
5.1 digital surround sound: Hear every detail in your Dolby Digital and DTS soundtracks the way the studio intended. Sub woofer: 165 Watts
THX certified home theater speakers: Your assurance of true cinema quality sound. Satellites : 4 x 67 W, wall mountable
Delivers a continuous 500 watts of power, with the ability to deliver a peak of 1,000 watts under certain circumstances: Thunderous, room shaking audio with deep bass you can feel
Flexible setup: Connect upto six devices : Computer, music player, TV, game console and more; Infared remote
Easy sound control: Compact control console and wireless remote let you instantly personalize your surround sound experience
Sale
Bestseller No. 2
Samsung HW-A450/ZA 2.1ch Soundbar with Dolby Audio (2021) , Black
SUBWOOFER INCLUDED - Wireless subwoofer is included so you can enjoy deep bass right out of the box All-in-one
BASS BOOST - Give your bass an instant boost with the push of a button on the soundbar
ADAPTIVE SOUND LITE - Enhanced audio tracking for your content in real time, with technology that equalizes background music and consistent volume control
BLUETOOTH TV CONNECTION - Set up is a breeze. Easily connect your soundbar to your TV by connecting wirelessly
GAME MODE - Boost your gaming experience with perfectly synced directional audio that moves with the action on-screen and crosstalk cancellation that minimizes distractions
Bestseller No. 3
Rockville HTS56 1000w 5.1 Channel Home Theater System/Bluetooth/USB+8" Subwoofer
5.1 Channel 1000-Watts Peak Power. 500-Watts Program Power. 250-Watts Continuous RMS Power. 8" Subwoofer with Built-In Receiver. 1x 3" Center Channel Speaker. 2x 3" Full Range Front Channel Speakers. 2x 3" Full Range Rear Channel Speakers.
8" Subwoofer with Built-In Receiver. 1x 3" Center Channel Speaker. 2x 3" Full Range Front Channel Speakers. 2x 3" Full Range Rear Channel Speakers. Top Quality MDF Wood Cabinets with Plastic Front Panels.
Built-In FM Receiver with Amazing Reception. Digital Display. Selectable preset equalizer curves. You can independently control the volume of each speaker and the subwoofer. Bluetooth v2.1. USB Input (max file size 16Gb).
SD Input (max file size 16Gb). 2 ¼" MIC Inputs with Echo function for karaoke. 5 RCA Audio Outputs. 6 RCA DVD Audio Inputs. 2 RCA AUX Inputs. FM Antenna Input. Full Function Remote.
The Subwoofer unit has 4 LED lighting modes: selectable with 7 colors or multi-color mode. Zero distortion can be heard even with volume and bass settings all the way up!
Sale
Bestseller No. 4
Upgraded 2.1 CH Sound Bar for TV with Subwoofer 240W 3D TV Speaker Surround Sound Home Theater Audio...
🎵[240W Peak Power 2.1ch sound bar for TV] Includes 4*Full Range speakers that are grouped into 2 channels, will give you clear left and right channels of audio. And also includes a separate subwoofer come with surround sound setups. Total 240W(peak power) helps create a truer surround sound experience.
🏆[Powerful subwoofer] A powerful subwoofer with 5.25'' speaker unit, delivers a deeper, richer bass sound. Hear and feel every beat of your favourite tunes and watch as your shows and movies come to life.
🎵[Unique 2 in 1 detachable design TV Speaker] This soundbar can be take apart 1 to 2 to place on both side of TV or 2 in 1 placed on the TV cabinet. And also can be wall-mounted to fit into your entertainment space. Ideal for TVs of various sizes.
🏆[One-cable HDMI ARC & Multi-connections] The HDMI ARC (Audio Return Channel) allows you to connect to your TV with a single HDMI cable(Included). Easily connects with a range of TVs. If your TV isn't compatible with HDMI ARC you can connect via the Optical, Coaxial and Aux input. This soundbar also has USB & Bluetooth connectivity, you can pair your smart device to listen wireless.
🎵[3D surround sound and Built-in DSP] It's able to add 3D surround effects through its virtual 3D surround engine on the remote. And for your enjoyment, there are 10 distinct DSP settings to enhance your experience.
Sale
Bestseller No. 5
Polk Audio Signa S2 Ultra-Slim TV Sound Bar | Works with 4K & HD TVs | Wireless Subwoofer | Includes...
A PREMIUM ULTRA-SLIM SOUND BAR WITH INCLUDED WIRELESS SUBWOOFER – 5 powerful full-range drivers deliver BEAUTFUL RICH SOUND WITH DEEP BASS. POLK'S EXCLUSIVE VOICE ADJUST TECHNOLOGY & Dolby Digital Decoding maximizes sound clarity & reduces voice delays
EXCELLENT SOUND AND VALUE on par with any mid- to high-range sound bars available in the market. At just over 2" tall, it fits most spaces — easily wall-mount it or place in front of your TV. It won't block your TV's bottom edge or IR remote sensor
UPGRADE YOUR HOME THEATER EXPERIENCE – Watch your favorite shows on your 4K HD Smart TV with exceptional picture quality & crystal clear sound. With numerous connection possibilities, plug in any audio source via HDMI ARC, optical input & AUX
WIRELESSLY STREAM MUSIC from your favorite streaming apps like Pandora, Spotify, TuneIn, and others directly from your smartphone, tablet or other compatible device through the built-in Bluetooth technology
SET UP YOUR SOUND BAR IN MINUTES — With the included subwoofer, HDMI and optical cables quickly connect your TV to the sound bar. Get set up and listening in minutes
Bestseller No. 6
Bose TV Speaker - Soundbar for TV with Bluetooth and HDMI-ARC Connectivity, Black, Includes Remote...
Hear your TV better: Designed with simplicity in mind, the Bose TV Speaker is a small soundbar that clarifies speech and is a simple fix for better TV sound.
Wide, natural sound: 2 angled full-range drivers deliver a more realistic, spatial audio experience for overall better TV sound from a small soundbar.
Enhanced dialogue: This TV speaker is designed to specifically focus on clarifying and elevating vocals and pronunciation.
Bluetooth TV speaker: Pair your device to this Bluetooth soundbar to wirelessly stream your favorite music and podcasts.
Simple setup: A single connection from this compact soundbar to the TV via an optical audio cable (included) or an HDMI cable (sold separately) has you up and running in minutes.
Bestseller No. 7
Wohome Sound Bars for TV with Subwoofer, 28-INCH 120W Ultra Slim Surround Soundbar Speakers System...
Deeper Bass: 2.1 Channel with 4x 2.5inch full-range speakers and one 5.5Inch powerful subwoofer, our engineers repeatedly adjusted the sound quality infinitely, finally obtained satisfactory sound quality, S99 could produce strong heavy bass and surround sound effects, delicate midrange, treble, and other performance, a great dynamic home theater audio system for your and your families, max volume is 110dB
4 Sound Equalizer Modes: with DSP technology, which brings amazing clarity and precision, let you enjoy all the details of dialogue, music, gaming, and movies; support 4EQs including music, movie, news, and 3D modes, choose the best sound according to your sound source, what's more, bass and treble adjustable
Multiple Connection: Wireless Bluetooth 5.0 for all your Bluetooth embedded devices such as smart TVs, phones, tablets, PCs; Wired connection including HDMI-ARC, optical, coaxial, aux for your traditional or smart TVs, projector, DVDs, and other devices; USB 2.0 for USB flash drivers to play MP3 music
Ultra-Slim 28-Inch Sound Bar: with fashionable and classic design, 2.5 inches high could fit easily under your TV and desktop monitor, or you can place it on the cabinet or mount it on the wall, user-friendly design, super-easy setup
Great Customer Support: LED display; remote control supplied; optical and aux cable supplied; 100% satisfaction service and lifetime technical support, any questions, please feel free to contact us via Amazon message or contact info on the service card
Bestseller No. 8
SAMSUNG HW-Q60T 5.1ch Soundbar with 3D Surround Sound and Acoustic Beam (2020) , Black
3D SURROUND SOUND - The powerful 3D surround sound of DTS Virtual: X turns your living room into a theater.
SAMSUNG ACOUSTIC BEAM - Acoustic Beam technology delivers sound that seems to come from precisely where the action is happening
Q-SYMPHONY - Syncs your Q-Series Soundbar speakers with your Samsung QLED TV speakers for the most immersive sound
MULTI-CONNECTION - Bluetooth multi connectionConveniently switch between two different connected smart devices
ADAPTIVE SOUND - Adaptive sound technology optimizes sound for every scene, allowing you to hear voices clearly even at the lowest volumes
Bestseller No. 9
AUNA Areal Active 525 - 5.1 Surround Sound System, Home Theater System, Elegant Design, Bass Reflex,...
POWERFUL SOUND: The central point of the AUNA Areal Active is its active subwoofer which powers the five satellite speakers. The side-firing bass reflex subwoofer produces a room-filling sound with 5 x 15 Watts + 50 Watts RMS power in combination with the satellite speakers.
REMOTE CONTROL: The Bluetooth interface of the Auna Areal 5.1 surround sound system allows wireless streaming of music tracks via smartphones, tablets or laptops. Menus and sound settings can be comfortably and easily controlled via the supplied remote control, making it your perfect home theatre system.
MOVIE THEATRES FEELING: With the Auna Areal 525 active 5.1 surround sound system, you can experience films, music, and video games even more intensively than you ever have before. The 5.1 input takes up the surround sound of DVD players and BluRay players.
STYLISH: The Auna Areal 525 5.1 sound system is visually appealing thanks to its elegant overall design, which can easily be integrated into most decorative styles. The satellite speakers impress with their high-gloss black housing and stand base. All this makes up for an elegant wirless surround sound system
MULTIFUNCTIONAL: Via the USB port and SD card reader, the 5.1 surround sound system communicates with portable MP3 storage devices, such as USB sticks and SD cards. Media from laptops, CD players or MP3 players can be played via the backside AUX input.
Bestseller No. 10
You May Also Like…
Last update on 2022-01-27