Finally, after all, you are going to do it. You are saving money for a long time. Now you are going to get the home theater system of your dream. However, when you buy a sound system, a question comes to your mind about exactly what type of good sound system you need to get. Now you can not choose between 5.1 and 7.1 surround sound.
A 5.1 system includes five speakers and one subwoofer, while a 7.1 system includes seven speakers and one subwoofer. The addition of two additional surround sound speakers in the 7.1 surround sound system to provide depth of sound.
5.1 surround sound is known as surround sound audio system. A good surround sound system that uses five audio channels, which are a front left and right channel, a center channel, two surround channels (left and right) along with the low-frequency effects channels for a subwoofer is called a 5.1 surround sound system. 7.1 surround sound is well known for an eight-channel surround audio system.7.1 sound system is a multichannel sound system same as 5.1 surround sound system, except it, has an additional set of rear(right and left) surround speakers.
Now, which one is better? But unfortunately, it depends on some things. 7.1 or 5.1, which one is best for you depends on several different variables. Something depends on the room you are setting up in; something depends on personal preference.
Somethings like listening position, room size, furnishings will all affect which sound set up is best for you. Now in this content, we will discuss the difference between the 5.1 and 7.1 sound systems is. You can then choose and know the factor's impact on going for a 5.1 or 7.1.
What's The difference between 5.1 vs. 7.1 Surround sound?
Simply, The difference between the 5.1 and 7.1 surround sound systems is just two speakers. A 5.1 system is consists of five speakers and a subwoofer; on the other hand, a 7.1 system consists of 7 speakers and one subwoofer.
The 7.1 surround sound system builds based on the 5.1 system to give you two more additional surround sound speakers to add depth to your sound. You can enjoy an incredible listening experience by using it in the right room. If you set up a 7.1 system in the wrong room or improperly, it will sound muddled.
The easiest and common setup for a 5.1 system is to place three speakers in front of the room (right, left, and center) and two surrounds sound speakers at either side of the listening area. The 7.1 system improves the 5.1 system by adding two additional surround sound speakers behind the listening area.
5.1 Surround Sounds Pros and Cons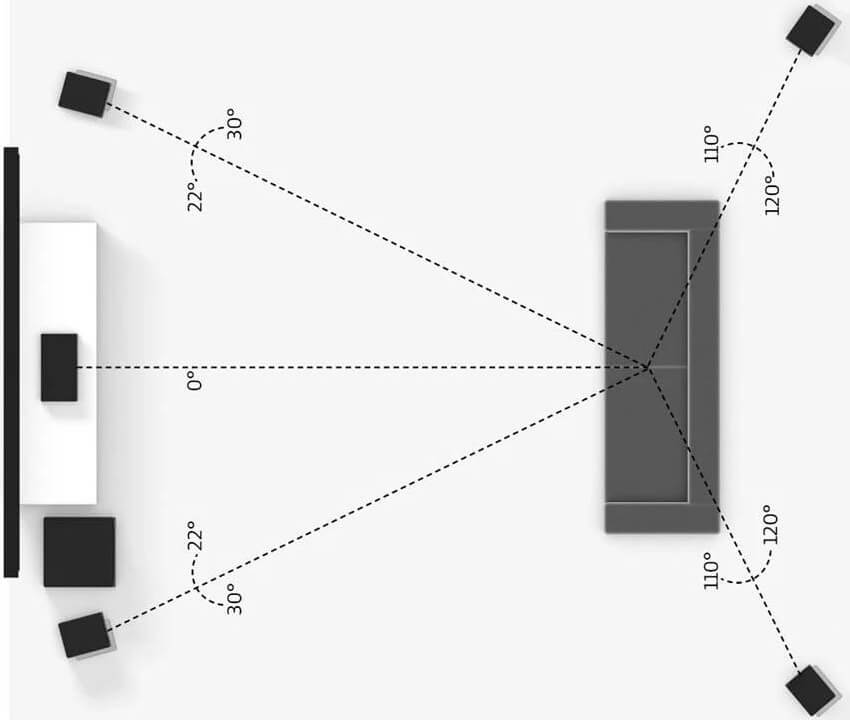 In 5.1 surround sound system, it has several advantages and disadvantages. 7.1 used as a home theater, but it has a diminished size. That's why the 5.1 system could make more sense for a particular home theater.
The basic level 5.1 system is more common and easy than7.1 the system. That's why it's easier to find troubleshooting instructions online. A 5.1 system setup is very easy because it often comes as packages that you can set up right out of the box, also known as a home theater in a box system. If you want to use wires to hook up your system, it will be easier for you because, in the 5.1 system, you will have two fewer wires to hide. Also, a 5.1 system is sufficient in most of the rooms.
But in a bigger room, a 5.1 surround sound system may not be sufficient. If there is a lot of place behind the listen to the area in a big room, the sound may not feel as enveloping as it might in small spaces. Some media comes ready for a 7.1 sound system, but for a 5.1 sound system, they would not be able to deliver as clearly and efficiently, although it's too rare.
The 5.1 system will do most applicants though some disadvantages might upgrade the 7.1 system more useful.
7.1 Surround Sound Pro and Cons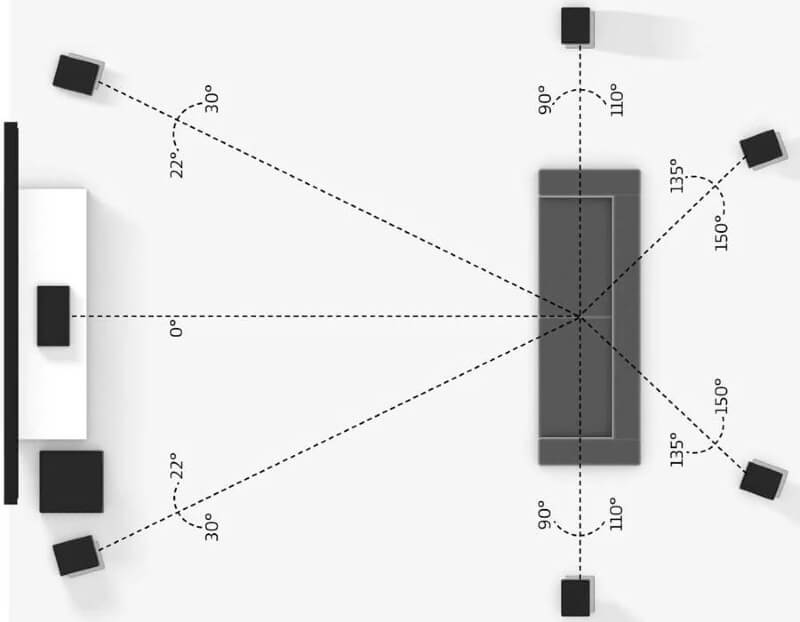 The 7.1 system has its advantages and disadvantages. Though it needs extra power for additional surround speakers, it may be detrimental to your listening experience. 7.1 system is a better choice than 5.1 for larger rooms where sound may get lost in the open space. You can enjoy a deeper surround sound listening experience with it. A 7.1 system is cleaner than a 5.1 system.
But still, there are some disadvantages to a 7.1 system. The additional surround sound speakers may make the surround sound channels command over the front channels in a smaller room. These can cause some difficulties in hearing the dialogue and front-side sound effects.
Sometimes, few 7.1 systems come as a ready kit and will require you to buy components separately. For this reason, it isn't easy to find an online community to help troubleshoot your system because the features will be unique to your setup.
A 7.1 sound system can make a better sense in larger rooms and add depth to your sound. Also, a 7.1 system is more expensive and more difficult to set up and troubleshoot than a 5.1 system. Finally, the choice between a 5.1 or 7.1 sound system will depend on one's particular situation.
5.1 and 7.1 Surround Sound Layout
As I mentioned before, there is a difference between a 5.1 and a 7.1 system in only two surround speakers. These additional surround speakers add depth to the large space of the rooms with theater-quality sound.
There has a fairly standard set up in a 5.1 system. A center speaker always goes below your TV or projector and two front speakers on both sides (right, left) of the TV. Finally, there are two surround speakers which are set up on either side of the listening area.
We know that a 7.1 system adds two additional speakers, but it's otherwise set up the same way. The other surround speakers are designed so that they can go behind the listening area, and their main purpose is to send sound at a different angle than the first set of surround speakers.
It's is not very rare for these speakers to be mounted in the ceiling. There is some advantage to ceiling mounting because it gives us an interesting sound experience, and it keeps the place behind the listening area free for walking.
What's Right for Your Room?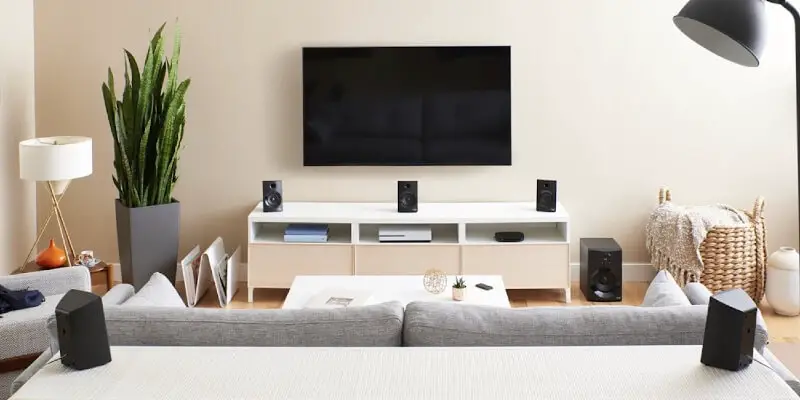 Several things are going to affect which sound system is appropriate for your room. You want an enormous theater-quality sound from a 7.1 system, and it doesn't mean you will get it in any room. There are three major characteristics of rooms to determine what kind of sound system is right for them.
Room Size: Additional speakers are used to filling up larger rooms. Many speakers can make a muddy mix of sounds that sound louder than the clear sound in a small space. Generally, if your room is smaller than 350 square feet, you should not use a 7.1 system.
Listening Position: The main difference between the 5.1 and 7.1 systems is that the larger system puts speakers behind the listeners to give them a full surround sound experience. If you don't have much space behind the listening area, it doesn't make any sense to put the speaker back there.
Furnishings: The hard materials like tables, desks, cabinets, and wood or tile flooring will reflect sound and ruin the effect of additional speakers. On the other hand, soft surfaces such as bookshelves, couches, and carpeting will help prevent sound reflection and keep the sounds in the parts of the rooms where they are supposed to be.
Features and Your Budget
If you want to pick up your ideal sound system, you have to look up several things. Most of the features will be a matter of weighing your budget against the perks of a better setup.
Generally, a 7.1 system will be more expensive than a 5.1 system. It has more components so that it can give you a richer sound experience. Moreover, different factors will impact the expenses of your system.
Receiver: For running your sound system, you will need a receiver that converts a line-level signal from your TV into a speaker-level signal for your speakers. Most of the 5.1 systems come with a receiver included, but few 7.1 systems come as an all-inclusive package. Though not as ideal as getting a coherent 7.1 speaker set, you should always start with a 5.1 system and upgrade into a 7.1 receiver and two additional speakers later.
Wires: Another fact that you may want to consider is how you intend to hook up your sound system. Most of the system comes with wireless capability, and setting up speakers around the room less of a tangle. Moreover, what you gain in convenience, you will lose that in sound quality. A direct wired signal is always better and higher than the quality you get to form a wireless connection. Ultimately, you will need to decide what do you need?
Calibration: Provide your internal calibration; there are many systems on the market. These systems will optimize your sound by sending test tones from each speaker to a microphone that you set up in the primary listening area of your room. These systems are more common with 7.1 systems and expensive.
Price Different Between 5.1 and 7.1 Surround Sound System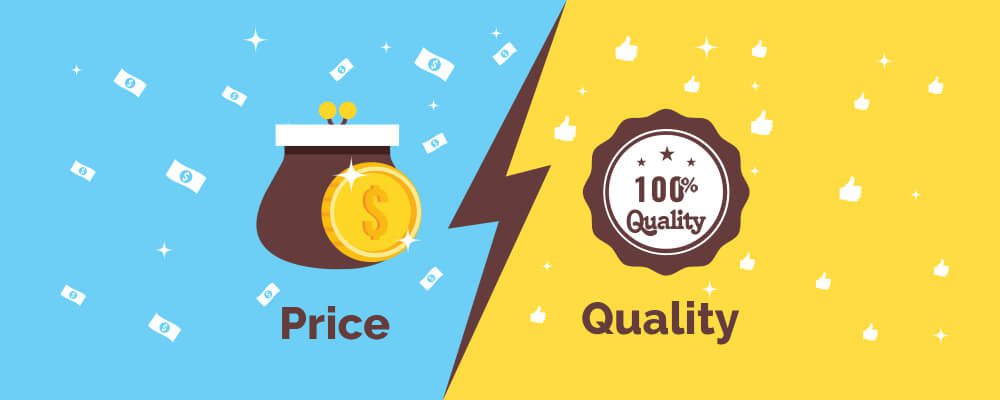 One of the most concluding factors between whether getting a 5.1 or 7.1 system is price. If you want to save cash, you can get a 5.1 surround sound package at a very fair price.
You get what you are paying for, but these systems may not be sufficient for your needs. If you want to get a top brand 5.1 sound system like Klipsch, you may pay about $6,000. This system comes with a high definition theater-quality sound, and a receiver included.
If you plan to get a 7.1 surround sound system, you can expect to pay at least $500 more for a decent system. Of course, this won't get you a very high-quality sound. Getting a good 7.1 surround sound system with a receiver can cost you from $1,000 to $13,000.
After upgrading a 5.1 to 7.1 surround sound system, there comes a more variety of in-wall or in-ceiling speakers system to choose from it. Though these look aesthetical, they will require a professional to install. Another defect is that upgrading to a different system means pulling speakers out of the wall/ceiling and patching the hole.
So What's The Verdict?
It seems very hard to build the home theater of your dreams, but it doesn't have to be confusing. To make your work easier, consider making a list of must-have features and a list of features that would be nice to have. It's a good idea because it helps to come up with a budget before you start browsing.
The key to being successful is, to be honest with yourself about your needs. The 7.1 surround sound system might seem like a cool status symbol, but it may ruin the sound if placed in the wrong room. The features of the space where you are working must keep in your mind so that you can choose the system that will be best for you. We hope that, with these tips, you will be on your way to creating your perfect home theater experience.
-our editorial board has reviewed this article and has been approved for publication according to our editorial policy.
Best Seller List of Surround Sound System:
Bestseller No. 1
Acoustic Audio by Goldwood Bluetooth 5.1 Surround Sound System with LED Light Display, FM Tuner, USB...
THE ULTIMATE HOME THEATER EXPERIENCE: Our 5.1 speaker system includes 5 speakers and 1 subwoofer; Delivers powerful surround sound while watching TV, gaming, or streaming music from your phone to the built in Bluetooth receiver
LED ILLUMINATED SURROUND SOUND: Each system features an integrated power amp with 300 watts of power while the LED illuminated subs display multi colored flashing lights in a variety of different patterns
GREAT FOR AT HOME ENTERTAINMENT: Use our sound equipment for binge-watching your favorite TV shows, for movie nights at home with the family, or for gaming on your computer, or for listening to music on your MP3 player
SYSTEM REQUIREMENTS: Our system is compatible with any standard 3.5 millimeter headphones, RCA stereo, or RCA 6 Channel surround audio outputs, and features a standard US 110V grounded wall plug
WHAT'S IN THE BOX: Acoustic Audio by Goldwood AA5400 powered subwoofer speaker, 5 passive wired satellite speakers, full function remote, 3.5 millimeter to RCA cable, 3 RCA to RCA jack cables, and an instruction manual
Bestseller No. 2
Definitive Technology Studio 3D Mini Sound Bar with 6 Speakers and an 8" Wireless Subwoofer, 3D...
HEARD BUT NOT SEEN - Two inches tall, this modern and unobstructive sound bar remains out of sight until you hear the massive boom with its (4) 1" x 3" racetrack drivers (two front, two side) and (2) 1" tweeters that deliver dynamic and detailed audio
IMPACTFUL 3D SURROUND SOUND - True to its name, this slim, compact soundbar speaker fills your room with natural 3D surround sound, and hi-res audio formats like Dolby Atmos and DTS:X, making every movie you watch, unforgettable!
EXTRAORDINARY VISUALS - Get a cinematic experience on your 4K HD TV with HRD10 and Dolby Vision support for stunning, nuanced contrast and detailed imaging with brilliant colors and depth that bring your songs and movies to life
INCLUDED WIRELESS SUBWOOFER FOR DEEPER BASS - With striking looks, the 8" subwoofer may blend into your bedroom or living room, but its deep, rumbling bass grabs your attention in every corner of the room. The sound is big, powerful and heart-thumping
WIRELESS MUSIC STREAMING - Built-in HEOS lets you stream hi-res audio tracks from popular streaming services like Spotify, Pandora, TuneIn, TIDAL, or simply connect to music stored in your digital library for wireless listening
Bestseller No. 3
Yamaha YHT-4950U 4K Ultra HD 5.1-Channel Home Theater System with Bluetooth
Your purchase includes: 1 AV receiver, 5 speakers, 1 Sub-Woofer and Speaker wire
Dimensions: AV Receiver – 17" W x 6" H x 12" D | Four Speakers (each) – 4" W x 6" H x 4" D | Center speaker – 10" W x 4" H x 4" D | Subwoofer – 11" W x 11" H x 13" D
Technical specs: HDMI – 4 | Standby Power Consumption – ≤ 0.2 W | Frequency Response – 28Hz/25kHz
Bluetooth for streaming all your favorite music and podcasts. No wireless functionality
Easy setup with Yamaha YPAO room optimization and flexible speaker placement options, including virtual cinema front
Bestseller No. 4
Vizio V51-H6 36" 5.1 Channel Home Theater Soundbar System (Renewed)
Low-Profile Design and Brilliant Clarity with 6 Full-range Speakers
Powerful 5" Wireless Subwoofer and Bluetooth Music Streaming
Complete Immersion with Discreet Volume Adjustable Surround Speakers
Optimized for 4K TVs with Dolby Audio 5.1 and HDMI (Cable Included)
Control with TV Remote using HDMI, Audio Cables Included for Easy Setup
Sale
Bestseller No. 5
Klipsch Black Reference Theater Pack 5.1 Surround Sound System
The Klipsch reference theater pack delivers a superior acoustic performance while keeping an incredibly minimal footprint
Klipsch's exclusive Tractrix Horn technology and aluminum Tweeters deliver the cleanest, most natural sound possible. The down-firing wireless subwoofer is designed to deliver room-filling low frequencies without requiring too much floor space
To complement the easy placement of the wireless subwoofer, each satellite speaker has a keyhole mount and a threaded insert for maximum mounting flexibility
The reference theater pack brings the Klipsch cinematic sound into your home with an incredibly minimal footprint
Bestseller No. 6
Sale
Bestseller No. 7
Saiyin Soundbar, Sound Bars for TV with Subwoofer, Ultra Slim 24 Inch Bluetooth, 2.1 Channel TV...
[2.1 CHANNEL SPEAKER SYSTEM ] Sound bar with wired subwoofer delivers powerful bass and surround sound, letting you enjoy an immersive sound experience. The 24 inch sound bar is built with 2 full range speakers, allowing you enjoy all details of music and movies. Total harmonic distortion is about 0.5% even at the highest volume.
[MULTIPLE INPUT OPTIONS]The sound bar for TV supports advanced Bluetooth 5.0 wireless connection, with which you can connect easily with iphones, ipads, tablets, PC and other Bluetooth enabled devices to stream music; and also wired connection including optical, coaxial, RCA inputs (all cables included).
[THREE DISTINCT SOUND MODES] Music, Movie and TV shows modes adjusted by using the remote control included, catering to different needs of sound bar users. You can also control the volume, switch between different modes with buttons on sound bar. Remote control is not compatible with universal or TV remotes
[SET UP IN MINUTES]Connect the subwoofer with sound bar via cable included, and hook up TV with sound bar via Bluetooth or optical, coxial, RCA cables, then you are ready to go! The TV sound bar can be placed under TV on desktop or mounted on wall with provided mounting kits.
[ULTRA SLIM & ELEGANT DESIGN] The sound bar is built with 2 full range speakers and elegant slim design with piano paint which is compatible with modern TVs, and never block the TV screen. The wired 4 inch subwoofer easily fits in most spaces and adds rich bass from anywhere in the room.
Sale
Bestseller No. 8
VIZIO Sound Bar for TV, 36" 5.1 Surround Sound System for TV with Wireless Subwoofer and...
True 5.1 listening: enjoy True 5.1 surround sound with the included rear Surround sound speakers and a wireless subwoofer. 3 channel sound bar: A 3 channel sound bar boosts your TV audio and delivers crystal clear dialogue
Note: Please refer Troubleshooting steps at pg. 36 in user manual
Wireless subwoofer: experience room-shaking bass with the wireless subwoofer. Sound Pressure Level - 101dB
DTS virtual: X - Delivers virtual overhead sound For an immersive sound experience
Wi-Fi Streaming: experience higher quality audio streaming over your home's Wi-Fi network, without interruptions from phone calls or texts compared to Bluetooth
Bestseller No. 9
VIZIO Elevate Sound Bar for TV, Home Theater Surround Sound System for TV with Subwoofer and...
18 high-performance speakers Unrivaled home theater performance.
Adaptive Height Speakers Automatically rotate to optimize your audio experience.
Dolby Atmos and DTS:X: Cinematic sound around and above.
4 Upfiring Speakers Reflects enveloping sound overhead off your ceiling.
Incredibly Life-like Sound The 107dB sound pressure level and 30Hz – 20KHz frequency range deliver dynamic and accurate sound.
Bestseller No. 10
Samsung HW-Q67CT 7.1ch Soundbar with Acoustic Beam and Wireless Rear Kit (Renewed)
The wireless module requires a power cord to function and speaker cables to connect to rear speakers**
Connect two different smart devices at the same time so you can conveniently switch between devices. (* Soundbar mobile connection is not available when connected to the TV.)
Connect via Bluetooth and enjoy your favorite content without unsightly cables.(* Please check whether your TV is Bluetooth compatible.)
Connect your devices via HDMI for a rich audio experience.(* Compatible devices only.)
You May Also Like…
Last update on 2021-08-24