You are a sound lover; you want a surround sound system in your room. Though you have a soundbar, it doesn't meet your requirements. So, what should you do? How can you get a surround sound system in your room?
Some soundbars are made to include extra speakers for surround sound. However, you are limited to very specific additional speakers. There is usually only one option available. You have to do it from one of these companies: Sonos, Bose, and Nakamichi. These companies all make surround sound-ready soundbars.
You may be thinking of hooking up a few speakers to the Soundbar. Few soundbars come with wired or wireless surround sound speakers, but soundbars rarely connect to outer speakers included in the system. But there are ways to add surround sound speakers to a soundbar. But it will be a complex setup.
Here we will describe why using a soundbar with surround sound speakers may not be the best idea to increase the sound system in your room. So, keep reading.
Why Shouldn't You Add Surround Sound Speakers to Just Any Soundbar?
We have suggested to you earlier that hooking up with additional surround sound speakers to your Soundbar will not be the best idea. You may want to know why it won't be the best idea. So, let's make you clear.
Not all the soundbars are built to include additional surround, sound speakers. Some soundbars include additional surround sound speakers that are limited to very specific additional speakers. These limited specific additional speakers may not provide you the sound that you want. Bose, Nakamichi, and Sonos provide surround sound-ready soundbars.
The 5 Best soundbars we recommend & they are capable of adding surround sound speakers:
Nakamichi Shockwafe Ultra 9.2.4 Channel 1000W Dolby Atmos/DTS:X Soundbar with Dual 10" Subwoofers...
With 70+ years of audio excellence, experience the absolute best audio no other soundbar can replicate. Feel the roomshaking bass with industry's only Dual Wireless Subwoofers & 360° 9.2 channel audio from every direction with our soundbar + four modular surround effects speakers. This plug and play solution's designed to bring the acoustics of a high performance cinema into your living room in approx 30 minutes. Winner of the best Dolby Atmos soundbar battle (hosted by Brian Tong, Ex-Cnet host)
Our DUAL 10" WIRELESS SUBWOOFERS (industry's 1st!), the new soundbar reference standard for bass, produce ground-shaking rumbles that turn your living room into an epicenter of adrenaline-pumping action. They merge to distribute the sonic boom evenly throughout the room with zero localization. Unleash cinema-level volumes without a trace of distortion, replicating the perfect theater experience. Agreed among experts, TWO subwoofers are a must for ultimate home theaters.
FOUR 2-WAY REAR SPEAKERS (industry's first!) produce spacious and dynamic surround sound. Each of them (connected to sub via RCA wires) is constructed with a tweeter that reproduces high frequencies with captivating clarity, and a full-range driver that delivers surround effects with power and precision. Simply put, the surround sound performance from simulated/virtual 2.1 or other 5.1 channel surround soundbars does not come anywhere close to this.
Experience a whole new level of surround performance with our exclusive Spatial Surround Elevation SSE Technology. Featuring 3 advanced audio processing engines working in harmony to enhance directionality, enlarge spaciousness and unlock extra details of any audio soundtrack. Envelop your home theater with up to 9.2.4 channels of Dolby Atmos or DTS:X moving audio that flows all around you. Unleash the full dynamics of your audio experience with 110dB of room-filling sound.
All units sold since Aug '19 can receive Dolby Atmos surround via TV's eARC when streaming with TV's smart apps like Netflix (Note: not all TVs can output Atmos. Refer to your TV brand's audio output specs). Enjoy advanced connectivity with Dolby Vision, 4K UHD pass-thru and High Dynamic Range (HDR). Connect up to 6 devices via 1 HDMI ARC, 3 HDMI, 1 Optical and 1 Coaxial inputs. The 52-key backlit remote allows seamless control of sources, DSP modes, individual channel and room size optimization
Sonos 5.1 Surround Set - Home Theater System with Playbar, Sub and set of two Sonos One Smart...
Immerse yourself in shows, movies, music and more with the ultimate home theater system
Playbar delivers powerful, realistic sound to your TV with nine amplified speakers, and doubles as a wireless speaker for music
Complements HD television screens with highly detailed, richly textured sound
Sub adds soul shaking bass with two force cancelling speakers for deep sound and zero cabinet buzz or rattle
Two One surround speakers bring full theater surround sound to your HDTV
Bose Surround Speakers, Black
The smallest speakers designed by Bose so the focus can remain on your home entertainment not your speakers
Designed to bring music movies and TV to life with full immersive surround sound
Simply plug the adapters into a power source and wirelessly connect the receivers to the sound bar to enjoy your entertainment in minutes
Compatible with Bose sound bar 500 Bose sound bar 700 and Sound Touch 300 sound bar
Standing less than 4 inch tall Both bass modules have a wireless range of 30 feet
JBL Bar 5.1 - Channel 4K Ultra HD Soundbar with True Wireless Surround Speakers
JBL 5.1 surround sound with 510W of power
Detachable, battery-powered wireless surround speakers
Thrilling bass from a 10 Inch (250mm) wireless subwoofer
Wireless music streaming with Bluetooth
True 4K connectivity with 3 HDMI in/1 HDMI out (ARC)
VIZIO SB4551-D5B SmartCast 45 Inch 5.1 Sound Bar System (Renewed)
How Most Soundbars Work
If you don't have the instructions about how you will hook up surround sound speakers to the Soundbar, you should never supplement the Soundbar with outer speakers. First, you have to know how the Soundbar works.
Soundbars do simulate surround sound with some tricky audio tricks. For example, if you angled the speakers toward the outside of the Soundbar, the sound would bounce off the walls in the room and into your ears. However, if you do that, you will hear sounds coming from the sides of the room instead of hearing in front of you.
If you add surround sound speakers to a soundbar, you add speakers to amplify sound. However, as sound travels in waves, adding surround sound speakers may cause interference with the normal Soundbar.
This is why you are highly recommended that unless the surround speakers are already included with the Soundbar, or it is capable of surround sound, you should not follow this setup. If you don't follow this rule, you may mess up with your sound system.
When Can You Add Surround Sound Speakers Directly to a Soundbar?
Many of you may not agree with us. You guys may not agree that hooking up surround sound speakers to a soundbar is not the best idea. Well, just because you shouldn't hook up surround sound speakers to a soundbar doesn't mean you can't. You can, but you need to follow our instructions to hook up your speakers with the Soundbar without creating any mess.
Most soundbars don't have a speaker out. If you are able to hook up surround sound speakers to a soundbar somehow, you won't get the audio; it would have audio out. If you try to plug your speakers into the Soundbar's audio-in channels, you won't be able to get the audio because they aren't able to deliver any sound.
You may also be thinking of using the subwoofer channel. Unfortunately, if you use this channel, you won't be able to meet your requirements because it doesn't provide a stereo signal.
As we discussed a lot of negative sides of using surround sound speakers with a soundbar, you may think it will be a terrible idea to use it. But, if you don't agree with us, there are some solutions to use external speakers with any type of Soundbar.
How to Add Surround Sound Speakers to Almost Any Soundbar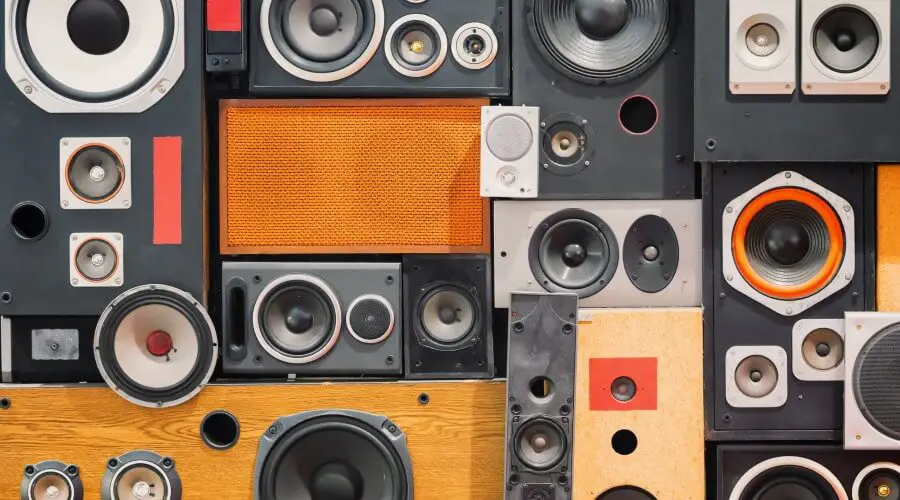 Now, we are going to discuss the processes of hooking up surround sound speakers to a soundbar. You need to abide by these steps very carefully. Otherwise, you may fall into trouble. Here is the step by step guide to connecting external speakers to any soundbar:
1. Connect the RCA Cables to the Pre-Outs on the Receiver
At first, you will need to connect the RCA cable to pre-out. You will surely need a receiver with pre-outs. So, what are pre-outs? Pre-outs are one kind of output from the Receiver that only outputs the audio signal for every channel. They don't comprise the power for each channel. If you try to connect a soundbar to normal speaker output, it will damage the internal components because it would send power directly into the Soundbar. So, be careful.
2. Connect Other Ends of the RCA Cables to A Mini Stereo Mixer
This is an easy step. You will need to connect the other ends of the RCA cables to a mini stereo mixer. You can buy the Rolls MX42 4-Channel Passive Mini Stereo Mixer (on Amazon). It will be the best option for you.
3. Establish a Connection Between the Output From the Mini-stereo Mixer and the Soundbar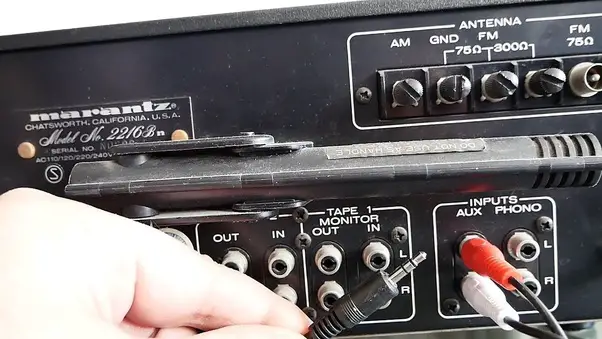 You will need a soundbar with an AUX, Digital Optical, or RCA input in this step.
Soundbar with AUX input – If your Soundbar only contains an AUX input, then buy an RCA to AUX cable (on Amazon). After that, connect the AUX end to the Soundbar and the RCA ends to the mini-stereo mixer.
Soundbar with Digital Optical input- If your Soundbar has a Digital Optical input, you will need an analog to the digital optical converter (on Amazon). Then connect a set of RCA cables to the stereo mixer's RCA output and the other ends into the analog to the digital optical converter (on Amazon). After that, connect a digital optical cable from the digital optical converter to the Soundbar.
Soundbar with RCA input- If you have RCA input, then connect another set of RCA cables to the output of the stereo mixer and connect the other ends to the Soundbar's RCA input.
4. Connect Your Speakers to the Receiver
And finally, by using normal speaker wires, hook up your surround sound speakers to your Receiver. How many surround speakers can you use? It completely depends on the capability of your Receiver. If your Receiver allows, then you can make a 5.1, 7.1, 9.1, etc. sound system by using this process.
Why You Shouldn't Add Surround Sound Speakers to a Soundbar
You probably don't want to ruin your sound by mismatching speakers. Though there are ways to connect external speakers to your Soundbar, it will be a difficult setup. By using external speakers and a soundbar, you won't get high-definition audio.
In the case of adding two surround sound speakers, a 2.1 soundbar will provide a 4.1 sound. On the contrary, a 3.1 soundbar will provide a 5.1 sound.
Your Soundbar doesn't need any support. It alone provides better sound than hooking it up with external sound speakers. If you add extra speakers, it will interface with the usual sound of the Soundbar.
If you are not satisfied with your soundbar audio system, you should purchase a soundbar that includes wireless surround sound speakers.
-our editorial board has reviewed this article and has been approved for publication according to our editorial policy.
Best Seller List Of Soundbars:
Sale
Bestseller No. 1
VIZIO 2.1 Home Theater Sound Bar with DTS Virtual:X, Wireless Subwoofer, Bluetooth, Voice Assistant...
America's #1 Sound Bar* - VIZIO has been filling homes with truly immersive audio for over 10 years, and our sound bars just keep getting better. We are proud to provide our customers with top-tier audio products that bring movies, shows, podcasts, music, and more to life like never before. (*#1 Sound Bar Brand in 1H 2022 Source: The NPD Group/Retail Tracking Service, U.S., based on units, Jan. - June 2022 combined.)
Ultra-Compact 2.1 Design - Experience the performance of larger, more complex home theater systems in a simple, ultra-compact solution designed fit anywhere and blend seamlessly into any environment.
Powerful Performance - Brilliant clarity, deep bass, and Dolby Audio support combine for performance beyond its size.
Simple Setup, Streaming & Control - Get setup and listening in minutes with the included cables plus Bluetooth connectivity for wireless streaming of your favorite music and podcasts.
2.1-Channel Sound - Experience a powerful room-filling, true stereo experience ideal for movies, music, and gaming.
Sale
Bestseller No. 2
Sony S100F 2.0ch Soundbar with Bass Reflex Speaker, Integrated Tweeter and Bluetooth, (HTS100F),...
Straight from the theater to your home: easy set-up, built-in tweeter, 2-ch speaker with simple Bluetooth connection
Deep sound with Bass Reflex speaker
High power with a slim design that matches any room and is perfect for small living spaces
Voice enhancement feature is great for TV content with hushed dialogue, or to make conference call participants easier to hear
Easy TV set up with HDMI ARC
Bestseller No. 3
Bose TV Speaker - Soundbar for TV with Bluetooth and HDMI-ARC Connectivity, Black, Includes Remote...
Hear your TV better: Designed with simplicity in mind, the Bose TV Speaker is a small soundbar that clarifies speech and is a simple fix for better TV sound.
Wide, natural sound: 2 angled full-range drivers deliver a more realistic, spatial audio experience for overall better TV sound from a small soundbar.
Enhanced dialogue: This TV speaker is designed to specifically focus on clarifying and elevating vocals and pronunciation.
Bluetooth TV speaker: Pair your device to this Bluetooth soundbar to wirelessly stream your favorite music and podcasts.
Simple setup: A single connection from this compact soundbar to the TV via an optical audio cable (included) or an HDMI cable (sold separately) has you up and running in minutes.
Bestseller No. 4
VIZIO V-Series 2.0 Compact Home Theater Sound Bar with DTS Virtual:X, Bluetooth, Voice Assistant...
America's #1 Sound Bar* - VIZIO has been filling homes with truly immersive audio for over 10 years, and our sound bars just keep getting better. We are proud to provide our customers with top-tier audio products that bring movies, shows, podcasts, music, and more to life like never before. (*#1 Sound Bar Brand in 1H 2022 Source: The NPD Group/Retail Tracking Service, U.S., based on units, Jan. - June 2022 combined.)
Compact, versatile design – Sleek, rounded all-black finish with easy-to-clean textured surface, optimized for small-med rooms.
DTS Virtual:X – Sound Enhancement for room-filling, floor-to-ceiling virtualized sound
Full-Range Speakers – 2 full-range speakers in the sound bar provide coherent sound and brilliant clarity.
70Hz – 20kHz Frequency Response – Wide, natural frequency response means you can hear what the artist intended.
Bestseller No. 5
Sonos Playbar - The Mountable Sound Bar for TV, Movies, Music, and More - Black
The mountable soundbar for TV, movies, music, and more
Enjoy crisp dialogue and impressive bass from wall to wall with Playbar. Control it with the Sonos app, your remote, and more
Whether you mount it on the wall or place it below your TV on a stand or console, Playbar automatically tunes itself for the best possible sound
Playbar was specially tuned by Oscar-winning sound engineers to emphasize the sound of the human voice so you can always follow the story
Easily connect Sonos speakers in different rooms over WiFi to create a home sound system that brings every room and everyone together
Sale
Bestseller No. 6
Polk Audio Signa S2 Ultra-Slim TV Sound Bar | Works with 4K & HD TVs | Wireless Subwoofer | Includes...
A PREMIUM ULTRA-SLIM SOUND BAR WITH INCLUDED WIRELESS SUBWOOFER – 5 powerful full-range drivers deliver BEAUTFUL RICH SOUND WITH DEEP BASS. POLK'S EXCLUSIVE VOICE ADJUST TECHNOLOGY & Dolby Digital Decoding maximizes sound clarity & reduces voice delays.Mounting Type: Tv Sound Bar,Bar Mount
EXCELLENT SOUND AND VALUE on par with any mid- to high-range sound bars available in the market. At just over 2" tall, it fits most spaces — easily wall-mount it or place in front of your TV. It won't block your TV's bottom edge or IR remote sensor
UPGRADE YOUR HOME THEATER EXPERIENCE – Watch your favorite shows on your 4K HD Smart TV with exceptional picture quality & crystal clear sound. With numerous connection possibilities, plug in any audio source via HDMI ARC, optical input & AUX
WIRELESSLY STREAM MUSIC from your favorite streaming apps like Pandora, Spotify, TuneIn, and others directly from your smartphone, tablet or other compatible device through the built-in Bluetooth technology
SET UP YOUR SOUND BAR IN MINUTES — With the included subwoofer, HDMI and optical cables quickly connect your TV to the sound bar. Get set up and listening in minutes
Sale
Bestseller No. 7
BESTISAN Soundbar, TV Sound Bar with Dual Bass Ports Wired HDMI and Wireless Bluetooth 5.0 Home...
Room-filling sound: powerful speakers deliver a round, high-end audio experience for bed room and apartment.
Enhanced bass: 3 inches full range drivers and dual bass ports that bring the richer and deeper bass, boost A loud sound that fills the room without distortion.
Multiple wireless and wired connections: easily connect to the sound bar via Bluetooth 5. 0 or standard audio cable Connection, RCA, HDMI(ARC) and optical input.
3 different equalizer modes: fine tune your sound bar with 3 distinct equalizer modes (movie, music, dialogue) via the remote control to match your favorite sound.
Multiple Setups, multiple options: sits flat below the TV screen or securely mounts on the wall for a sleek, elegant home theater setup
Sale
Bestseller No. 8
Bose Solo 5 TV Soundbar Sound System with Universal Remote Control, Black
Single sound bar provides better sound quality compared to your TV.The Solo 5 TV sound system is an easy solution, with advanced technologies that deliver the clear audio your TV can't.
Dialogue mode to make every word and detail stand out
Bluetooth connectivity to wirelessly stream music from any of your devices
One connection to your TV. Optical audio input (digital); Coaxial audio input (digital); 3.5 mm aux input (analog)
Universal remote controls TV, bass, Bluetooth connections and more
Sale
Bestseller No. 9
VIZIO M-Series All-in-One 2.1 Immersive Sound Bar with 6 High-Performance Speakers, Dolby Atmos,...
America's #1 Sound Bar* VIZIO has been filling homes with truly immersive audio for over 10 years, and our sound bars just keep getting better. We are proud to provide our customers with top-tier audio products that bring movies, shows, podcasts, music, and more to life like never before. (*#1 Sound Bar Brand in 1H 2022 Source: The NPD Group/Retail Tracking Service, U.S., based on units, Jan. - June 2022 combined.).Mounting Type:Wall Mount
Immersive sound, brought to you by people who love sound. - Dolby Atmos and DTS:X audio technologies captivate your senses with realistic sounds above and behind you for performance that completely immerses you in the world of your entertainment.
It's psychoacoustics, but you can call it magic. - An optical illusion for your ears, DTS Virtual:X technology delivers the sensation of speakers placed throughout your room, above and behind you, for a sonic landscape that's remarkably lifelike.
Your favorites, the way they were meant to be heard. - Lean in and get lost in your favorite content with 98dB of premium audio powered by 6 high-performance speakers. With integrated tweeters and woofers, this sound bar delivers clarity, spaciousness, and impact down to an impressive 50Hz.
Minimalist design. Maximum impact. - Thanks to built-in dual subwoofers and a fully integrated design, the M-Series All-In-One sound bar needs no external components to sound its best. And at just 36 inches in width, it'll fit just about anywhere.
Sale
Bestseller No. 10
Saiyin Sound Bar for TV with Subwoofer Deep Bass Soundbar 2.1 CH Home Audio Surround Sound Speaker...
Sound Bar with Subwoofer Upgrade Your Home Theater Audio Experience: Powerful full-range drivers (total 70-watt output) deliver a more realistic, richer sound from a compact soundbar with deep bass. Sound Bar is a perfect TV speaker that optimizes sound clarity and creates incredible room-filling virtual surround sound.
Deep Rich Bass: Feel the action and the beat of the music with the rich bass from a subwoofer. Sound Bar, Ideal Soundbar for TV, PC, Gaming, Computer, Projector, Televisions, Surround Sound Systems, Music Players, Smartphones or Tablets, Monitor, Flat Screen, Smart TVs. Sound Bar works well with all TVs sizes.
3 Sound Modes via Remote Control: This compact TV speaker comes with 3 equalizer modes: Music, Movie, and News modes. Use the remote control to select your favorite specialized mode for providing you with a wide range of stereo effects throughout the room so you can enjoy cinematic surround sound in your home.
Wireless or Wired Connection, Easy Setup: Sound bar can be connected to most types of your devices via Wireless Bluetooth 5.0 connection, Optical, AUX(3.5mm), RCA, or Coaxial connection, Easily connect to your home theater, Smart TV, PC, phone, projector, DVDs, laptop, desktop, tablets, pad, and more. If your TV or other source devices only has a 3.5mm headphone socket, use the 3.5mm to RCA audio cable to connect the soundbar to your TV or other source devices.
What You Get: TV Sound bar, Subwoofer, Remote Control, Power Adaptor, Optical Cable, RCA Audio Cable, 3.5mm to RCA Cable, User Manual, and Wall Mount Kit. If you have any problems, please feel free to contact us immediately.
You May Also Like…
Last update on 2022-11-17