From the basic functionality of Bluetooth, it would seem that connecting to two speakers at a time is not possible. However, there are some ways that you will be able to connect two or more speakers via Bluetooth. So what are those? How to Connect Two Bluetooth Speakers at Once?
Go to Settings > Connections > Bluetooth.
In Android, tap Advanced…
Turn on the Dual Audio toggle switch.
To use Dual Audio, pair your phone with two speakers, two headphones or one of each and audio will stream to both devices. If you add a third, the first paired device will be booted off.
Bluetooth 5 is the most advanced. All of the newer, modern speakers come with Bluetooth 5. And they support apps like Bose Connect and Ultimate Ears. Samsung Galaxy s8 or more modern, and iPhones running on iOS 11.4 or later are able to connect with two speakers at once. JBL speakers come with a feature called JBL's Connect+. It also allows speakers to piggyback off of each other.
You don't have to do much to find out which speaker setup is right for you. You have to inspect your equipment and choose the proper way of connecting your speakers.
Bluetooth's Previous Limitations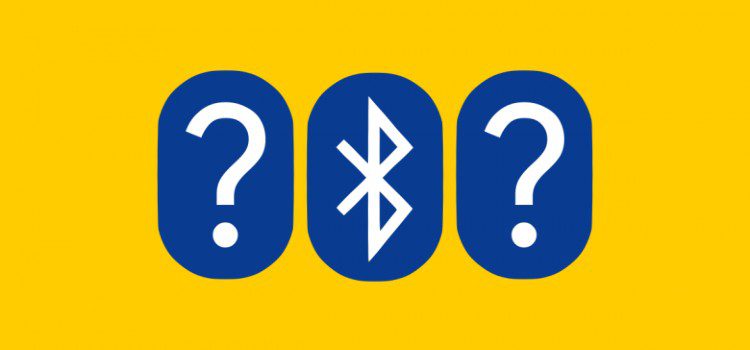 Till the latest Bluetooth 5 came, Bluetooth's features were limited. The previous version, Bluetooth 4.2, pair from one to one device with a range of around 10-30 meters. You can play audio by Bluetooth from your phone while you are in the room where speakers are situated or in the next room, which is not a problem if you listen to music by yourself. But if you are entertaining house guests while DJing from your phone, this feature will not be useful for you. 
Some developers made some solutions to overcome these limitations. With the latest Bluetooth 5, most of these solutions are unnecessary if you want to connect just two speakers. 
Otherwise, you can find other software or hardware solutions, or you can also seek other avenues than simply Bluetooth.
Ways To Connect to Two Bluetooth Speakers
Bluetooth 5 allows you to pair with two devices at a time. So if your speakers are equipped with this version of Bluetooth, then you will be able to connect to two Bluetooth speakers together. Other device manufacturers are also developing their own solutions.
Bluetooth 5.0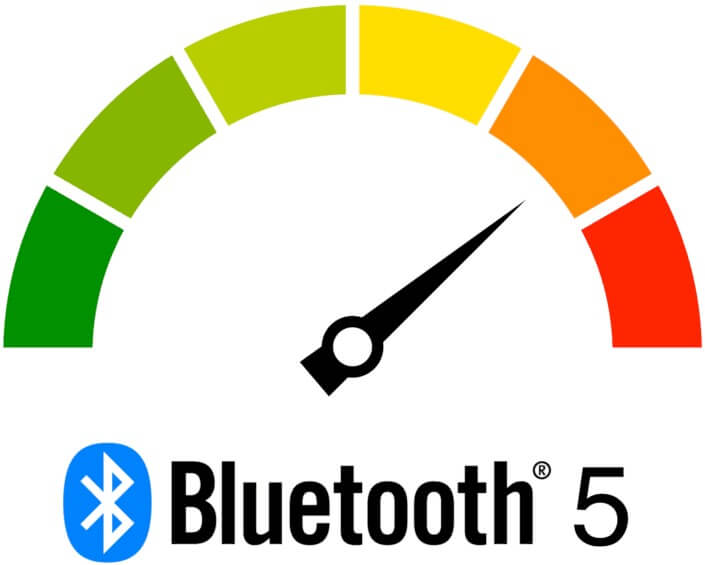 Bluetooth 5 comes with a huge range of connection areas. It has a connectivity range of 120 feet, and it allows you to connect to up to two devices at once. Not every device manufacturer has adopted the new setting for their devices, but we hope they will soon. 
With some technologies, connecting with multiple speakers is as easy as flipping a switch, such as Samsung's dual audio feature. And with the rest of them is not that much easy. You need to configure your connection by an app.
Bose Connection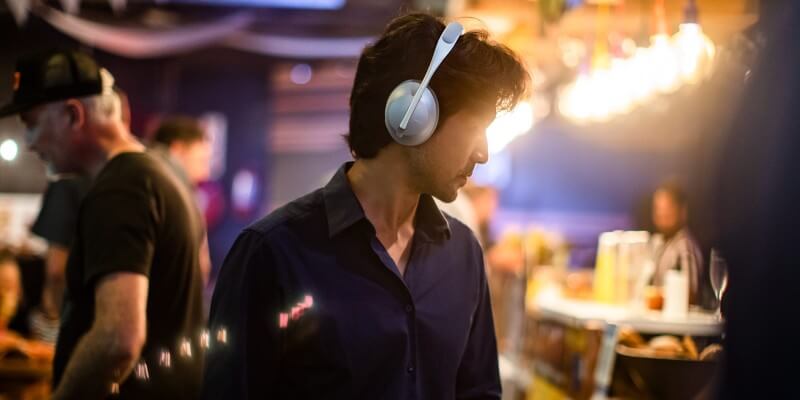 With the help of the Bose Connect app, you will be able to connect two SoundLink Micro Bluetooth speakers (on Amazon) to a single phone in both party and stereo mode. 
You have to turn on those speakers, then turn on the Bluetooth mode and turn on the Connect app in your phone. Once the speakers get connected, you will play audio in both party and stereo mode. Moreover, you will be able to switch between stereo mode and party mode by selecting stereo (L/R).
You can easily enable party mode without the app by simply pressing the Bluetooth and volume up buttons together.
You can press and hold the Bluetooth and volume up buttons until the speakers say "stereo mode" or "party mode" to switch between stereo mode and party mode. 
This app is also compatible with Bose Bluetooth headphones. So you will be able to connect two pairs of headphones or a pair of headphones and a pair of speakers. 
This is a handy feature. With this feature, you will be able to enjoy the music on the speaker inside the house and having the same music on your headphones outside at the same time.
Ultimate Ears: Boom & MegaBoom
Ultimate Ears has designed an app called Boom & MegaBoom that allows you to connect over 150 Boom, Boom 2, Boom 3, Megaboom, and Megaboom3 speakers together. With this app, you can connect your phone to your friends' speakers.
You will be able to connect without the app. you have to connect one of the speakers to your device via Bluetooth. You have to press the Bluetooth and volume up buttons together and hold it till you hear a sound.
Then you can turn on the second speaker and press the Bluetooth button twice and Repeat the speaker pairing process as the first speaker to connect additional speakers.
Samsung Dual Audio

Starting from Samsung Galaxy S8 to the latest comes with a feature that allows you to control two speakers at a time via Bluetooth.
To enjoy this feature, you have to go to your device settings and go to connections. Then go to the Bluetooth section and press on the advanced settings. From these settings, flip the dual audio switch to on and enjoy the dual audio feature. 
Because Samsung's Dual Audio feature uses Bluetooth 5 to connect with multiple speakers, so you will be able to connect with two speakers at a time. If you try to connect with a third speaker, the first one will automatically get disconnected.
JBL Connect+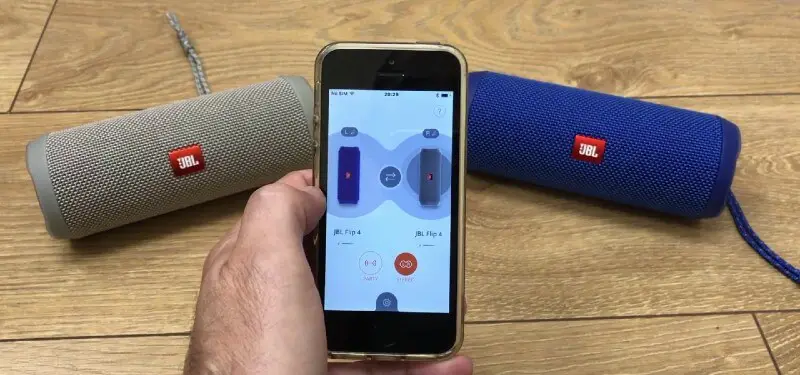 Most JBL speakers come with either a Connect, Connect+, or PartyBoost feature so that the user can piggyback off of each speaker. To enjoy this feature, you have to connect a device to one of the speakers, then turn the second speaker on and press and hold the Connect, Connect+, or PartyBoost button.
Moreover, with this JBL feature, you will be able to connect up to 100 JBL devices together. Besides, you can also set two speakers to operate in stereo with the JBL connect app.
HomePod Stereo Pair
The last option on this list is the HomePod. This system requires an iPhone, iPad, or iPod Touch running iOS 11.4 or the latest versions. You will be able to connect to two HomePod speakers to operate in stereo. But one important thing you should keep in mind that the speakers have to be in the same room.
To enjoy this feature, you just have to use Apple's Home app, press and hold HomePod, and then go to Settings. Press on the create stereo pair and choose the second HomePod speaker. You can also use the button with the two arrows to switch the left and right channels if you want. Then go back and press done, and you are ready to enjoy the audio in stereo mode.
Connecting Multiple Speakers
If you want to enjoy a good sound quality, you can go for a high-quality sound system. Many of them allow you to connect via Bluetooth but still come with great versatility and better quality. Moreover, if you don't have a wireless system, you don't have to worry about charging those speakers.
The biggest advantage of the Bluetooth 5 is its versatility. Bluetooth 5 is compatible with not only different kinds of speakers but also a wide variety of devices. It is also compatible with smart assistant devices such as Alexa and Google Home and many wireless headphones. The versatility of Bluetooth 5 is limitless.
Bluetooth 5 allows you to connect with multiple devices with a range of around 10 meters to 120-200 meters.
Best Seller List of Bluetooth Speakers:

Bestseller No. 1
JBL Flip 4 Waterproof Portable Bluetooth Speaker (Black) (Renewed)
Wirelessly connect up to 2 smartphones or tablets to the speaker and take turns playing impressive stereo sound
Built-in 3000mAh rechargeable li-ion battery supports up to 12 hours of playtime
IPX7 waterproof means no more worrying about rain or spills; you can even submerge flip 4 in water
Ubl connect+ allows you to link more than 100 JBL connect+ enabled speakers together to amplify the party
Sale
Bestseller No. 2
JBL Go 3: Portable Speaker with Bluetooth, Built-in Battery, Waterproof and Dustproof Feature -...
JBL Pro Sound delivers surprisingly big audio and punchy bass from Go 3's ultra-compact size.
JBL Go 3's ultra-portable design goes great with the latest styles, and its design make it look as great as it sounds.
JBL Go 3 is IP67 waterproof and dustproof, so you can bring your speaker anywhere.
Wirelessly stream music from your phone, tablet, or any other Bluetooth-enabled device.
JBL Go 3 gives you up to 5 hours of playtime on a single charge.
Sale
Bestseller No. 3
JBL Clip 3, Black - Waterproof, Durable & Portable Bluetooth Speaker - Up to 10 Hours of Play -...
SOUND TO GO - Never leave awesome sound at home again. This ultra-portable, waterproof Bluetooth speaker is small in size but with surprisingly big sound. Clip it on with the built-in carabiner, press play, and make the moment pop.
UP TO 10 HOURS OF PLAYTIME - The JBL Clip 3 features a built-in rechargeable Li-ion battery with up to 10 hours of battery life, plus a metal carabiner so you can easily hook it to your clothes, backpack, or belt loop.
NOISE CANCELLING & WIRELESS STREAMING - Wirelessly stream high-quality sound from your smartphone or tablet. Plus, take crystal-clear calls from your speaker with the touch of a button, thanks to the noise and echo-cancelling speakerphone.
WATERPROOF & DURABLE - No more worrying about rain or spills: JBL Clip 3 is completely waterproof—you can even immerse it in water. Plus, the improved, durable fabric material and rugged rubber housing protects it on all of your outdoor adventures.
THE SOUND PROMISE - JBL has brought music to life in a way people can feel for over 70 years. From Woodstock to the Motion Picture Academy, our speakers unleash the power of music so you can live life to the fullest, wherever and whenever.
-our editorial board has reviewed this article and has been approved for publication according to our editorial policy.
Last update on 2023-12-07