Whenever you want to connect your TV to a receiver, generally, you have to use an HDMI cable for it. But if your TV or your receiver or both do not have any HDMI jack, you have to look for alternative ways to connect your TV with the receiver. There are some other options than HDMI.
So what are the ways that you connect a TV to a receiver without HDMI?
The answer is, You can use any RCA audio cables, a 5-cable component RCA video cable, a composite video cable, or an HDMI converter that matches the input option you have available to connect your TV with the receiver.
As we explained above, if your TV and your receiver or both devices do not have an HDMI connection available, you can use an RCA cable or any HDMI converter to connect your TV and the receiver. You are just a few cables away from getting the sound of your Television via your sound system.
Using RCA Cables
There are different kinds of RCA cables available on the market. And different RCA cables come with an additional amount of connectors. Such as a classic red and white RCA cable, composite RCA cables, which come with a video channel, and a component RCA cable that comes with three different cables for the video channel.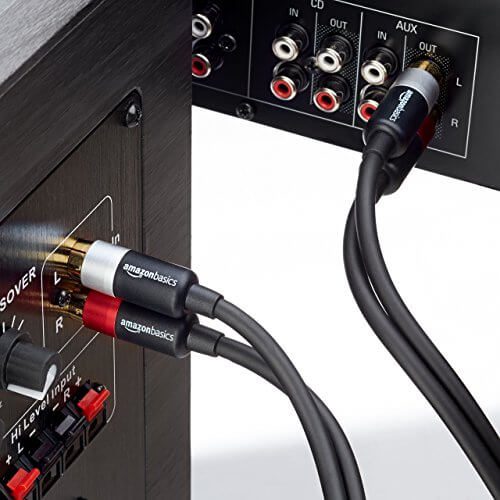 Basic RCA Audio Cables
A basic RCA audio cable comes with two connector cables. Those are a red cable and a white cable. This RCA cable type is only able to transmit audio. So you can use it to connect your TV with the receiver via the RCA jacks.
You will be able to easily pair the red and white cables to the red and white marked jacks. The price of this basic RCA audio cable is not so high also. You can easily find this cable for under $10 from any tech shop.
Composite Video Cables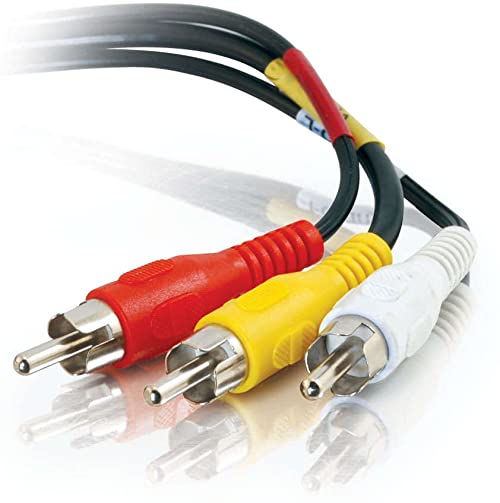 Before people started to use HDMI cables, composite RCA cables were commonly used for connecting both audio and video from a component to another component. Composite RCA cables generally come with the classic red, white, and yellow connector.
Among these three cables, the yellow RCA connector is used as a video cable, and the red and white RCA connector is used as an analog audio connector. These RCA cables are called Composite video cables because you only need one cable to connect the video (the yellow cable). You will be able to buy readily available Composite video cables from any tech shop. Moreover, Cables like the Cmple Composite Video Cables are available in different lengths on Amazon.
Component Video Cables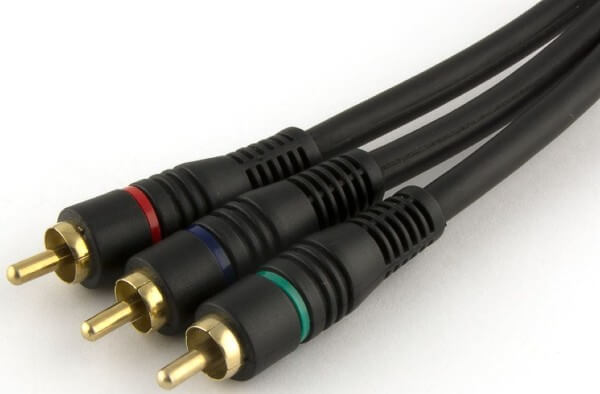 A component video cable uses different channels of connector cables to transmit a video signal in place of only one like in a composite video cable. In a component video cable, the three cables are used for video transmission. They are generally green, blue, and red cable.
You can buy a component video cable that includes just these three cables. Moreover, you can also buy one with 5 RCA components, including the two audio connectors (the red and white cables). In addition, if you want to play audio from your TV to your receiver, you have to use the RCA component video cable.
Using an HDMI Converter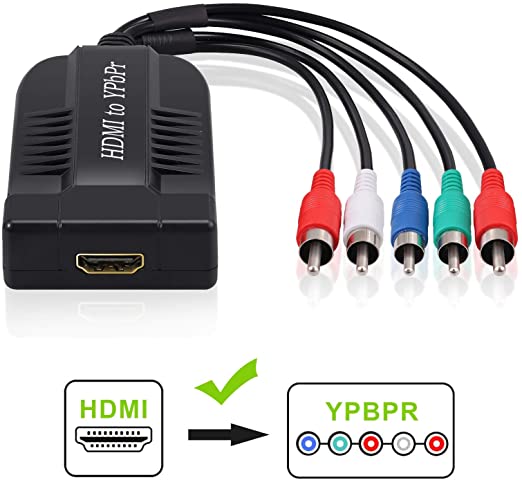 You can also use a converter to connect your two components. With the help of a converter, you will be able to connect your HDMI to HDMI cable and your RCA to RCA cable simultaneously.
If you use a suitable converter, you will successfully convert your digital signal to an analog signal to connect your components. HDMI Converters like the LiNKFOR 1080P HDMI (on Amazon) to Component Converter are excellent options.
How to Connect TV And Receiver Without HDMI?
If you want to connect your TV with your receiver without HDMI, at first, you have to figure out which cable(s) you will need to connect your component. It depends on the ports available on your devices. After having all the needed cables and other equipment now, you can get started.
Power On Your TV and Your Receiver
At first, you have to power on all of your components.
Plug the Cables and/or Converter In
Carefully plug into the matching inputs. The ports are often labeled 'Audio,' 'Component,' or 'Composite.' You can use the colors to plug in the cables in the correct ports.
Change the TV's Default Speaker to the External Speakers You've Connected
The correct process for this depends on your tv. You can find the section of the sound in your TV's main settings. Then you have to change your TV's default speaker from the internal speaker to the external speaker you've just set up.
Test Your Setup
Now, if you have rightly connected your components with each other, you can turn the volume up and check if you can hear anything. If you can listen to the music or any sound of the video you are playing, you can be sure that the connection has been made and you're good to go. If you ever want to upgrade your receiver or TV, you can simply unplug the cables.
Conclusion
You have nothing to worry about if you can not connect your TV with the receiver via HDMI. You can use one of the alternatives above to connect your TV and your receiver successfully, and you'll be able to enjoy a higher-quality home audio experience.
-our editorial board has reviewed this article and has been approved for publication according to our editorial policy.
Best Seller List Of Receivers:
Sale
Bestseller No. 1
Sony STRDH190 2-ch Home Stereo Receiver with Phono Inputs & Bluetooth Black
Amplify and enjoy your home audio experience in the comfort of your home
100 watts x 2 (8 ohms, 1 Kilo Hertz). Speaker impedance - 6–16 ohms
Phono input, 4 stereo RCA audio inputs, 3.5 millimeter input, stereo RCA output
Built in Bluetooth lets you wirelessly stream your favorite music service, podcasts, and more from other Bluetooth devices.
Connect up to 4 speakers; A/B switching to play all at once, or in separate zones
Sale
Bestseller No. 2
Sony STR-DH790 7.2-ch Surround Sound Home Theater AV Receiver: 4K HDR, Dolby Atmos & Bluetooth Black
CINEMATIC SOUND AT HOME: Enjoy your favorite movies, TV shows and more with theater like sound in the comfort of your home
BREATHTAKING AUDIO: Dolby Atmos and DTS:X deliver multi-dimensional and object-based surround sound
STUNNING 4K QUALITY: 4K HDR pass through with support for Dolby Vision, HDR10, and Hybrid Log Gamma provides greater and clearer color, contrast, and brightness
GET CONNECTED: 4 in/1 out HDMI each and 1 optical / 1 coaxial digital and analog audio connections
AUTO CALIBRATION: Advanced D.C.A.C. analyzes and adjusts the audio for optimal sound in every room
Sale
Bestseller No. 3
Pyle - PDA7BU (Black) - 5 Channel Rack Mount Bluetooth Receiver, Home Theater Amp, Speaker...
WIRELESS STREAMING: The receiver rack mount features a premium built in Bluetooth 2.1 wireless streaming receiver. Making the receiver compatible with all your favorite devices, like iPhone, Androids, tablets, etc. It has a wireless range of 30' plus
HOME STEREO AMP: The rack mount home theater amp is a complete sound system. It acts like an FM radio with a digital LCD display with ID3 tag readout displaying each song title. Also features a 2.1 channel audio amp design
CONNECT TO EXTERNAL DEVICES: The rack mount home theater amp features USB flash and SD memory card readers, as well as a 3.5mm aux input jack and multi source RCA audio input connectors
RELIABLE & DURABLE: The home theater receiver is made of heavy duty metal and aluminum alloy panel to protect your gear for years to come. The package includes sturdy removable rack mount brackets for trustworthy and easy installation
WHAT'S IN THE BOX: The audio receiver rack mount comes with everything you need to get started. This exclusive bundle from Pyle features our top of the line amplifier receiver, wireless remote control, detachable hardware rack mounts and FM antenna
Bestseller No. 4
Onkyo TX-8220 2 Home Audio Channel Stereo Receiver with Bluetooth,black
MULTI-ROOM AUDIO. The TX-8220 features two sets of speaker posts. The receiver drives either a single pair of speakers (4–16 Ohms) or two pairs of speakers (8–16 Ohms) to enjoy the same audio source in two rooms, or switch between two sets of speakers.
BLUETOOTH COMPATIBLE. Seamlessly connect your phone, tablet or PC and stream to the receiver with Bluetooth Wireless Technology. This smart receiver remembers your device and starts playback whenever it detects an incoming Bluetooth audio stream.
MULTIPLE CONNECTIONS. For music and film lovers that want to add great sound to any source, this receiver comes extensively equipped with a quality MM phono stage for your turntable, digital inputs to route audio from TV and four analog line inputs.
HI-CURRENT AMP SYSTEM. Onkyo's high-current low-impedance Wide Range Amplification Technology (WRAT) design uses a massive EI transformer to drive your speakers accurately, even under heavy loads, so sound quality doesn't suffer.
FEATURES. 45 W/Ch stereo power (8 ohms, 20 Hz-20 kHz, 0.08%, 2 channels Driven, FTC); 100 W/Ch (6 ohms, 1 kHz, 10% THD, 2 channels Driven) , AM - 530 kHz–1,710 kilo Hertz
Sale
Bestseller No. 5
Denon AVR-S960H 8K Ultra HD 7.2 Channel (90Watt X 7) AV Receiver 2020 Model - Built for Gaming,...
UNMATCHED 3D REALISM FOR YOUR HOME THEATER SYSTEM – Enjoy Immersive surround sound with Dolby Atmos Height Virtualization & DTS Virtual:X and crisp, clean picture with advanced video processing, 8K/60Hz, and 4K/120Hz pass-through
GET THE MOST OUT OF YOUR 4K TV - Enjoy the highest quality 3D audio and video knowing that the AVR-S960H is 8K READY WHEN YOU ARE. This high-power amplifier meets the most demanding entertainment needs with the latest technology available
NEXT GEN GAMING - Enjoy a smooth, lag-free gaming experience with spectacular imaging, reduced lag & frame tearing with 4K/120Hz pass-through, Variable Refresh Rate (VRR), Quick Frame Transport (QFT), and Auto Low Latency Mode (ALLM)
ENJOY THE MOST ADVANCED VIDEO TECHNOLOGY AVAILABLE with Dynamic HDR and HDR10 plus . This 7.2 channel receiver delivers clarity, contrast & color, & Quick Media Switching eliminates video delay
CONNECT WITH ANY HD/ULTRA HD TV, SUBWOOFER, BLU-RAY PLAYER & TURNTABLE FOR INCREDIBLE STEREO SOUND - USB, 8 HDMI ports (6 In/ 2 Out) with HDCP 2.3 processing, Digital In, Phono input & Network support with a range of wireless connections
Sale
Bestseller No. 6
Moukey Home Audio Amplifier Stereo Receivers with Bluetooth 5.0, 220W 2 Channel Power Amplifier...
☑️220 WATTS PEAK POWER: The dual-pass Moukey Bluetooth stereo amplifier receiver is perfect for your karaoke, home theater, acoustic sound system, and monitor headphones. Provide you with enough powerful power amplification, which can accommodate 2 sets of speakers, so that you can enjoy the home audio impact of high-quality audio amplification.
☑️BLUETOOTH 5.0 WIRELESS CONNECTION: The sound amplification mixer device is equipped with Bluetooth music streaming with a wireless range of 40 feet / 12 meters or more. Compatible with today's latest devices (including smartphones, tablets, iPhones and computers), this stereo amplifer is easy to pair with the receiver.
☑️MULTIPLE INPUT AND OUTPUT MODES: The digital amplifier box supports various external signal sources. 2 RCA audio inputs for tuner, CD player, tape drive, two 2.5-inch / 6.35 cm microphone inputs, headphone output port, USB, SD card, 3.5mm AUX IN and FM radio antenna. With RCA audio output, 2 pairs of banana plug speaker output. With the special monitor headphone output design, so you can enjoy audio all the time without the worry that bother others.
☑️EASY BALANCE CONTROL: The improved professional compact bookshelf sound amplifier with clear, responsive buttons for mode control. Knobs control microphone echo / volume, balance, bass, treble, master volume, input source and unique folder / track. If you can't connect the Bluetooth, press "BT" to Bluetooth Mode.
☑️HD SCREEN: The integrated receiver for home stereo has a built in LED display w/ front panel audio control center. FM antenna and remote control are included in the stereo amplifier package for distant audio adjustments.
Bestseller No. 7
Denon AVR-S570BT (2022 Model) 5.2 Channel AV Receiver - 8K Ultra HD Audio & Video, Enhanced Gaming...
WATCH YOUR MOVIES IN 8K - At 70W x 5, the Denon AVR-S570BT features (4) HDMI 2.1 8K inputs and (1) HDMI output. Supports eARC with up to 40 Gbps speed. A successor to the AVR-S540BT, the receiver ensures HD audio playback and an enhanced gaming experience
TRUE-TO-LIFE CINEMATIC EXPERIENCE - The AVR-S570BT supports the latest formats like HDR, HLG, Dolby Vision, HDR10+, and Dynamic HDR for realistic display, VRR and QFT for lag-free exceptional gaming, and DTS HD Master, and Dolby TrueHD for immersive audio
YOUR FAVORITE MUSIC AT YOUR FINGERTIPS - With built-in Bluetooth, play music from various audio sources and create an integrated multi-room audio system. Allows wireless music streaming from popular streaming apps like Spotify, TIDAL, Pandora, and more
OUR EASY ON-SCREEN HD SETUP ASSISTANT walks you through clear, simple, and intuitive instructions to connect your TV, while the specific EQ settings help you optimize the surround sound so that you can make the most of your movies, music, TV, or gaming
CONVENIENT CONTROLS - Connect the AVR with your Smart TV Remote and access all your speaker sources and surround mode selections using just one remote, or download the Denon Remote App for iOS and Android and seamlessly control the AVR through your phone
Sale
Bestseller No. 8
YAMAHA R-S202BL Stereo Receiver
Advanced circuitry design.Speaker selector for 2 systems. Input Sensitivity (CD): 500 MV/47k ohmsHead phone terminalAuto power standby functionSpeaker selector and speaker terminals for two systems
Bluetooth to your favorite streaming music services
40 station FM/AM preset tuning; Frequency Response: 10Hz – 100kHz (0 plus/ minus 0.5 dB / 0 plus/ minus 3.0 dB)
Brushed aluminum finish and simplistic design
Speaker selector for 2 systems. Input Sensitivity (CD): 500 MV/47k ohms
Bestseller No. 9
Analysis and Design of Transimpedance Amplifiers for Optical Receivers
Amazon Kindle Edition
Säckinger, Eduard (Author)
English (Publication Language)
565 Pages - 09/20/2017 (Publication Date) - Wiley (Publisher)
Bestseller No. 10
YAMAHA RX-V385 5.1-Channel 4K Ultra HD AV Receiver with Bluetooth
5.1 channel powerful surround sound
Bluetooth for wireless connectivity. Rated Output Power (1kHz, 1ch driven) 100W (8 ohms, 0.9% THD); Rated Output Power (20Hz 20kHz, 2ch driven) 70W (8 ohms, 0.09% THD); Maximum Effective Output Power (1kHz, 1ch driven) (Jeita) 145W (6 ohms, 10% THD)
HDMI 2.1 with HDCP 2.2 (4 in/1 out)
4K Ultra HD support, HDR10, Dolby vision, hybrid log gamma and BT.2020
YPAO auto calibration technology for ideal sound, Exclusive Yamaha Cinema DSP technology supports playback of HD Audio (Dolby TrueHD, DTS HD Master Audio, etc.), providing natural and expansive sound imaging
Last update on 2022-11-17