HDMI cables are generally used for critical connections, such as carrying high-quality video and audio signals. So you have to make sure that it can work without any problem and the whole setup will successfully work. While doing this, you may think that does the length of HDMI cables is going to have an effect on the quality? So does the length of HDMI cables really matter?
Yes. The length of an HDMI cable may harm the quality of the signal. Most manufacturers usually recommend not to extend the cable more than 20 feet. While most people won't need to extend the cable more than 6 feet at a time, but if you need to run HDMI further than that, you would be grateful to know that there is a way to do that while keeping the signal quality.
What is the Max Optimal Length for an HDMI Cable?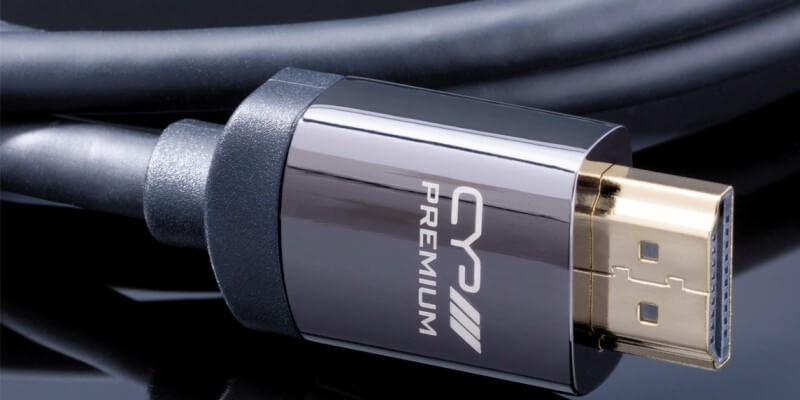 You might know that there are many solutions to your question out there, but all of them aren't so clear at all. If you do not get the full details, then that would not be useful at all. At first, you should know that HDMI actually means the specification of a cable. That specification has a certain amount of tests you can use to see if a cable passes or fails the certification for the cable spec. So you can use any cable to test and see if they work with the spec.
You should also know why a cable fails the specification tests. HDMI uses optical cables. So the longer the cable is, the more the signal has to change while traveling. And the degradation of the signal, while it travels down the cable, is a usual affair. So using a short cable is obviously a good thing than using a long cable.
Many manufacturers will sell clear HDMI cables up to 50 feet in length, but you should displace them when you start to notice they're degenerating. You should not buy an HDMI cable with a length of more than 50 feet. If you get any degraded signal, that does not mean that the cable will stop working. It's just that the signal on the other end of the cable gets worse and worse. Most manufacturers recommend not extending the cable more than 20 feet if you do not have any extra power solution. So though there is no maximum length is determined, so you should think of 20 feet as the maximum optimal length.
Powered HDMI Cable Solutions – How to Resolve Cable Length Issues
Sale
J-Tech Digital HDMI Extender By Single Cat 5E/6 Full Hd 1080P With Deep Color, EDID Copy, Dolby...
𝐌𝐀𝐗𝐈𝐌𝐔𝐌 𝐁𝐀𝐍𝐃𝐖𝐈𝐃𝐓𝐇 𝐔𝐏 𝐓𝐎 𝟔.𝟕𝟓 𝐆𝐁𝐏𝐒 - HDMI Over Ethernet Extender Support HDMI 1.4 & 1.3 signal /deep color 36bit/xv-YCC/1080p 24fs/DTS-HD.v-YCC/1080p 24fs/DTS-HD.
𝐄𝐗𝐓𝐄𝐍𝐃 𝐘𝐎𝐔𝐑 𝐕𝐈𝐃𝐄𝐎 𝐒𝐎𝐔𝐑𝐂𝐄 𝐔𝐏 𝐓𝐎 𝟐𝟎𝟎𝐅𝐓 -  For 200ft transmit distance via CAT6/CAT7 LAN cable. For 165ft transmit distance via CAT5e cable.  Zero Video Latency. NOTE: We recommend using direct HDMI to HDMI connections, avoid using signal converters or adapters at all costs.
𝐒𝐔𝐏𝐏𝐎𝐑𝐓 𝐕𝐀𝐑𝐈𝐄𝐓𝐘 𝐎𝐅 𝐕𝐈𝐃𝐄𝐎 𝐅𝐎𝐑𝐌𝐀𝐓𝐒 - HDCP 1.2/1.4 ; 1080P/1080i/720P/576P/576i/480P/480i; 3D video supported
𝐕𝐈𝐃𝐄𝐎 𝐂𝐎𝐋𝐎𝐑 & 𝐀𝐔𝐃𝐈𝐎 𝐓𝐑𝐀𝐍𝐒𝐌𝐈𝐒𝐒𝐈𝐎𝐍 - 36bit(CAT7); 24bit(CAT6); Supports 2-channel PCM audio only. Supports Dolby Digital / DTS pass through if copied EDID from right display devices.
𝐎𝐏𝐓𝐈𝐌𝐈𝐙𝐄𝐃 𝐘𝐎𝐔𝐑 𝐏𝐄𝐑𝐅𝐎𝐑𝐌𝐀𝐍𝐂𝐄 - For better picture quality and longer distance transfer, we recommend to use Cat 6 or Cat 7 cable. For better performance, we suggest using solid COPPER ethernet cable with this product. For GUARANTEED optimal performance, use the J-Tech Digital Customized 150ft Cat6 Ethernet Cable. Please search the JTD-ID 943 on our website for more details.
The longer the HDMI cable is, the more bad your Video and Audio quality will be. So you can ask that what if you have to use a longer cable? Or is there any way to enlarge the cable without affecting the media quality?
If you do not really care about the quality, if you do not want your cable to play 4k video to a high-end projector or TV, you can easily use a longer cable. It will obviously get the job done without any problem, though the quality will not be that good.
But if the quality of the signal really matters to you, then you can buy and use a powered HDMI kit that extends the signal properly by boosting it or converting it to another format entirely. The most general way to do that is to convert the signal and boost it with a balun kit or use a wireless kit ant kick the cable off your system.
HDMI Balun Kits – Easily Extend the Length of HDMI Cables
Using an HDMI balun kit is one of the easiest ways to extend the HDMI cable length. This kit converts the HDMI signal to something that can flow along a CAT 5 cable, which doesn't have the same length limitations, and at the end of the cable, the signal is again converted back to HDMI.
The CAT 5 cable comes with a "maximum" length of 100 meters or 328 feet. So you can easily enlarge the length of an HDMI connection and take it wherever you want with the help of an HDMI balun kit.  
But you should remember that not every HDMI balun kit works great. If you buy a cheap quality balun kit, then you may face the same issues as using a long HDMI cable.
Wireless HDMI Kits – A Different Solution for Cable Length Issues
There is also another path that you can use. You use a wireless HDMI kit instead of an HDMI balun kit. This does not only increase the range, but also it saves you from the hassle of cables. But it can be costly if you want to send a 4k video. But if you're only running a 1080p setup, then it will not be that much expensive. In this system, you will face some limitations with refresh rate and lag; that's why we do not recommend it for gaming purposes.
Best HDMI Cables to Use for Long Distance Runs
Still, suppose you want to use an extended HDMI cable without having any external converter units or trying out wireless. In that case, you can use some special cables that are specialized for getting a clearer signal. But these cables are not so cheap though they are affordable. You can find most of them for under $100.
For your help, the BJC Series-FE Bonded-Pair HDMI Cable is available on Amazon with a length of 25 feet, and you can get them for around 75 dollars. Many sellers are selling fake cables. So always make sure to check the details before you buy and look for sellers who individually call out that their cable is "Certified (Category 1)". It actually means they pass all the tests required in the HDMI standard that we already have talked about in the earlier part of this article.
On the other hand, cables like the BlueRigger High-Speed HDMI Cable (on Amazon) are available with a length of 50 feet, and you can get them for only 28 dollars. So if you do not want to get high-quality and little high-priced cables like the BJC series, then you can get one of these cables and get your work done. It will be best for you to order both of them and test them out. If you do not see any difference between them, send back the expensive one.
A Note on What Matters When Buying Cables
If you have ever had a quick search on amazon about HDMI cables, then you may know that there are more acronyms than words in the description of a cable. That's why sometimes you may not understand some features that are provided by the cable.
You will see most of the sellers are selling cables at a premium rate for "gold connectors" or "braided cords," but you should know that these labels actually do not really matter to the signal; they are just for show and to pump the price up. You can also see some sellers use the word "advanced" or "high speed" in the title of their cables, but these are not technical descriptions; these are only for marketing.
Some of the manufacturers even add an "HD" label on their products, which is also a different thing. Because all HDMI cables are HD, so it is not a special feature. So you should look for "4k" tags if you need 4k. You should also look for shielded cables because these cables work better than unshielded, but it can be a little confusing. Because actually, all cables are shielded, but some manufacturers add extra shielding.
Best Seller List of HDMI Cable:

Related Questions:
I think all the given information will help you to set up a great home theater. But here is one more question that you may have before you buy anything:
Does the HDMI quality even matter?
If you really want to use a long, simple HDMI cable, then there's at least a possibility that you don't need to worry about any of this. Its quality will always be a little degraded. However, the signal will be degraded. But if you want to play 720p or 1080p video and stream from Netflix, then you will not face that much problem.
If you buy and use top of a line 4k projector, then you will feel that the video quality is really good. But there a question comes that how you're going to use your system? There are many solutions, including expensive options that will provide you higher quality, but before you buy them, we recommend you to think and consider if you really need them or not.
-our editorial board has reviewed this article and has been approved for publication according to our editorial policy.
You May Also Like…
Last update on 2023-12-07