The HDMI splitter allows us to transmit the audio and visual from one HDMI source-In Case If the Size of cables is like mini and micro HDMI. This can be helpful If we want to connect our Television to an external sound system, but your device doesn't support HDMI ARC or eARC. It Can Be helpful when we want to display any content or video from a single source to multiple TVs.
HDMI splitters take a signal in from one device and then send the exact same signal out to multiple displays. Since HDMI is capable of digital handshaking, the splitter can read and match the signal that each display device is expecting.
An HDMI splitter takes a signal from a single source and divides it into two similar sources. HDMI Splitters can be simply used for dividing the signal and adding some additional power to the divided signals to pay back for the loss of dividing a signal in half. Passive HDMI splitters are mostly enough for applications. However, if you own a long cable set, you should use an HDMI splitter.
You must have some questions about HDMI splitters. Sometimes, similar technology, the HDMI switch, is confused for the HDMI splitter. The HDMI Splitter Divides a single Source into multiple outputs.
On the other hand, the HDMI switch is used for transmitting multiple sources to a single output. [most of the receivers react like HDMI switches]. Thus an HDMI splitter will transmit to multiple sources while an HDMI switch is Can Only Transmit To one.
How Does an HDMI Splitter Work?
An HDMI splitter is an easy-to-use device. Almost every HDMI Splitter will have a single input of HDMI signal and output for multiple HDMI outputs.
When you want to connect more than one device to a TV, you need cables. Passive and active HDMI splitters work differently, but the formula is the same.
The HDMI cable has 19 pairs of wires that are the same number of pins in the HDMI plug. Every wire transmits different data electronically through digital signals. This involves the audio and visual data and the information about that particular device and the order found on the remote control.
An HDMI splitter is a device that splits each of the pairs of wires in a way that you have two or more sets of these 19 pairs of wires.
Passive HDMI splitters are the long and short of it. Active HDMI Splitter, There is another step. One of the disadvantages of dividing an HDMI Signal is that you scientifically cut the power of every output signal. For this cause, you will not find a passive HDMI splitter with more than two outputs.
To pay back the loss of power, active HDMI splitters add power to the HDMI signal, By An external power source to power up the signal. This original signal is passed through Transistor. Its main work is to restrict the wall of the power source as the signal moves through it. You can also Say That it works as a megaphone but for electricity.
When Would You Use An HDMI Splitter?
There is a lot of scenarios in which an HDMI Splitter becomes handy. The most common scenario/uses for an HDMI splitter is When You Have Different audio and video devices or when you want to show your display to multiple devices. The Selected Application Decides Whether You Need an active or passive HDMI splitter.
Passive HDMI Splitter
For most basic users, HDMI will be contained to a TV, Console, or similar stuff. A passive HDMI Splitter (on Amazon) should be enough. As long as the signal is changed by interference, it must come through with no noticeable differences.
Monoprice Blackbird 4K 1x2 HDMI Pigtail Splitter -Black | 4K @ 30Hz, HDCP Compliant, Gold Plated...
10. 2Gbps bandwidth; supports 1080p@60Hz and 4K@30Hz resolutions; supports 3D video
Supports 16: 10 computer resolutions up to 1920x1200p
Supports all high speed HDMI features, including 36-bit Deep Color and high-definition multichannel uncompressed audio
HDMI bus powered - requires no external power; HDCP compliant; Gold plated connectors
Quality at a fair price: Monoprice rugged design and rigid quality control standards deliver high quality products at fair prices
An HDMI Splitter Will be a perfect device for you, in case of a single source output to an audio and visual output. A way more preferable way is to connect the device through the HDMI ARC or eARC.This will require an HDMI ARC or e ARC on both your audio and display device. This will be marked as such next to the port.
You will have to connect the external source to the display device or audio device in a different channel to set up. It's a good idea to use the device to the HDMI ports as a central device; after that, connect the display and audio device in the HDMI ARC or eARC ports.
Check the device manuals to enable on each device if you own HDMI ARC instead of HDMI eARC, and Setup will be auto-completed if you have HDMI eARC on All of the devices.
You will Have the advantage of using HDMI ARC or eARC on an HDMI splitter. It allows you to get CEC or Consumer Electronic Control. This means you will have control across all of your devices through your device's remote. It also syncs your devices to have the master volume to all.
Active HDMI Splitters
If you are doing wire runs or outputting to two or more destinations, then you will definitely need an active HDMI splitter (on Amazon).
We know that if we divide any electronic signal, the resulting signal will be weaker than the original signal. Dividing the signal twice will make them too weak. So, A weakened signal may be harmful to interference over lengthy cable runs.
The active HDMI splitter will allow you to divide the source of the HDMI signal without any noticeable loss in SI or signal integrity. This will allow for an HDMI signal to be divided various times, with some splitters having as many as eight outputs. It also helps you to pick up less radio frequency interference.
Does an HDMI Spitter Degrade The Audio or Picture Quality?
As previously mentioned, a passive splitter will scientifically mean a cut in signal strength. But, for the majority of the users where You are likely using short wires/cables, this should not matter that much. The main reasons lie in how digital audio and video signals work compared to the analog counterparts of theirs.
An analog signal takes a media source and converts it into an electric signal which directly acts for that source.
With audio, for example, the signal's voltage straightly translates to how far away the speaker cone is pushed from its relaxing point, and the changes in the voltage create the movement of the speaker cone. Its means the more voltage equals to louder sound.
The video is a little bit complex, But the basic principle is the same. You will have an idea of what will be displayed by looking at the voltage pattern.
This is not the case with the digital signals; overall, if you break or weaken the power of an analog signal, there will be a weakening output result. The sound may get quieter than usual, and the color of the picture may get some issues.
How HDMI Reduces Signal Loss
This is not the case in the digital signal. Unlike the analog signal, which communicates through the frequency of electric pulses and their voltage. High and low are the only states in the digital signal.
Unlike the analog signal, The data is converted before being sent through the cable and decoded at another end. The figure of this signal depends not only on the data being sent but also on the encrypted protocol between the two devices.
So this means you are not able to tell immediately what is happening to the audio or visual information by looking at the electric pulse pattern.
Cause the digital signal only depends on the frequency, not the voltage; reduced power does not mean distracting audio or color-shifted picture. That's why you should not worry about using a passive HDMI splitter for shorter cable runs.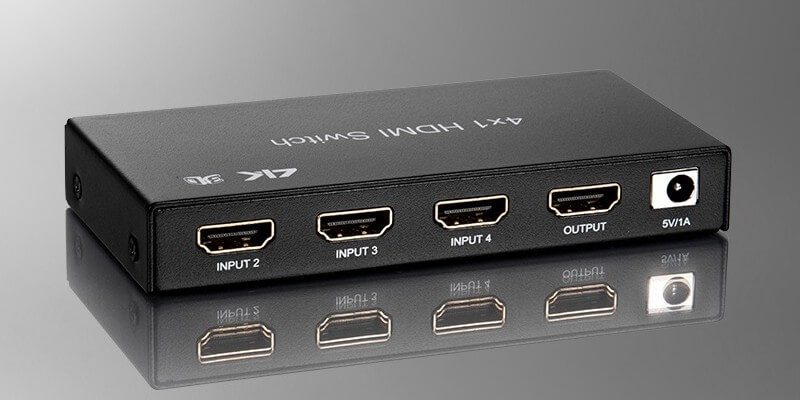 In Longer runs, this may result in radio interference. The decrease the sound further makes radio frequency sound take over the signal; you will see red and green dots, choppy or crackly audio if you have this problem.
Using longer cable runs for an active HDMI splitter may solve this problem. However, If the problem continues, you may have to upgrade your HDMI cable, which one is better shielded; a shielded cable has an extra layer of a substance that deflects radio waves.
When using a piece of older equipment, you may find fewer HDMI ports than you need, but now that you have an HDMI splitter, you should not worry anymore.
-our editorial board has reviewed this article and has been approved for publication according to our editorial policy.
Best Seller List of HDMI Splitters:
Sale
Bestseller No. 1
avedio links HDMI Splitter 1 in 2 Out, 4K HDMI Splitter for Dual Monitors Duplicate/Mirror Only, 1x2...
1x2 HDMI SPLITTRE DUPLICATE/MIRROR ONLY - Powered HDMI Splitter can distribute one HDMI input signal to two HDMI displays, transmit video and audio simultaneously, no loss, no lag (NOTE: just Duplicate/Mirror screens, 🔥Not Extend)(the unit does comes with a USB-micro USB cable, But does not come with a 110v power source)
PORTABLE - 4K HDMI Splitter 1 in 2 out, size: 2.5x2.1x0.5 inches/ 6.3X5.3X1.2 cm ( L X W X H ), easy to use and carry, travel friendly. USB cable included(it needs to be powered via usb), no need external driver, safety and Eco-friendly (Seller recommend 25ft long hdmi cable(max))
4K ULTRA HD RESOLUTION - HDMI Splitter for dual monitor support 4K, 3840x2160p, 3D, and 480i@60Hz/ 480p@60Hz/ 576i@50Hz/ 576p@50Hz/ 720p@50/ 60Hz/ 1080i@50/60Hz/ 1080p@50/60Hz/ 1080P 24Hz 3D/720 60Hz /4K@30HZ [For 4K resolution, the frequency can't above 30Hz].NOTE:Not Compatible With HDCP2.2.
SUPPORT - 4K HDMI Splitter one input to two outputs support HDMI v1.3/1.4, HDCP compliant ( version 1.2). Support deep color 30 bit/36 bit. Support audio format: DTS-HD/Dobly-true HD/LPCM7.1/DTS/Dobly-AC3/DSD/HD(HBR)
PACKAGE INCLUDED - 1 * [ 1 in 2 out HDMI Splitter], 1 * [USB cable(usb power adapter not included,Please plug the usb into a wall outlet,not a cable box etc...)],1*High Speed HDMI Cable.
Sale
Bestseller No. 2
HDMI Switch 4K@60hz HDMI Splitter, Aluminum HDMI 2.0 Switcher 2 in 1 Out, HDMI Splitter 1 in 2 Out,...
【Bi-Directional HDMI SWITCH】 Solid Aluminum Alloy construction, this durable HDMI bi-directional splitter help you connect two HDMI sources to one HDMI display(2x1), or connect one HDMI source to toggle between two displays(1x2) ✅two screens CANNOT display simultaneously.
【4K@60HZ HDR Switcher】Support 4k@60Hz, 3D, 1080P, 4K x 2K@30hz resolution and TrueHD 7.1 provide theater-level effect at home, HDCP v2.2 compatible, 36 bit/px HDR color depth. With this HDMI switch you can enjoy the most luxurious video and audio.
【PLUG AND PLAY】 This HDMI switch is easy to setup and operate. No external power supply needed, just connect your HDMI devices to enjoy! Simple press of a button to swap signal within one second, no plug and unplug the HDMI cables anymore. The LED light tells you which port is active.
【FAST & STABLE TRANSMITTION】The HDMI Switch provides high bandwidth 18Gbps data transmission, Input and output AWG26 HDMI standard cable length could reach up to 5m. 6.6ft(2M) for 4k@60hz video. No lag, No loss of picture or video quality. ✅HDMI Cable NOT Included.
【WIDE COMPATIBILITY】This passive HDMI 2.0 Switch suitable for most devices with standard HDMI interface. Input: Xbox 360, Xbox One, PS3 / PS4/PS5, Nintendo Switch game consoles, computer, Blu-Ray DVD player, Route Roku, Chromecast, Firestick, Cable box, Apple TV, PC, etc. Output: HD-Ready, Full HD, UHD TVs, monitors, projectors, and more.
Sale
Bestseller No. 3
HDMI Switch 4k@60hz HDMI Splitter, GANA Aluminum Bidirectional HDMI Switcher 2 in 1 Out, Manual HDMI...
HIGH RESOLUTION: Support 3D, 1080P, 4K x 2K resolution and HD audio. Please use standard HDMI 2.0 Cables to connect your HDMI Source (like XBox, PS4) with Display and HDMI switch, if the resolution of your HDMI Source support 4K (4096*2160) .
BIDIRECTIONAL HDMI SWITCH: 3 Ports, you could connect two HDMI sources to one HDMI display, or connect one HDMI source to toggle between two displays (only one monitor will display at a time).
FAST AND STABLE TRANSMISSION: this HDMI AB Switcher not only support high bandwidth 3.4Gbps data transmission, also ensure stable and high-definition display of audio and video. Input and output AWG26 HDMI standard cable can reach up to 5m.
BROAD COMPATIBILITY: suitable for most devices with standard HDMI interface. Input: computer, XBox 360, XBox One, PS3 / PS4 ,Blu-Ray DVD player etc. Output: HD-Ready or Full HD TVs, monitors, projectors etc.
EASY TO USE, PLUG AND PLAY: no external driver is required, just simply press the button on the HDMI box to make shift of input or output source. With 2 LED indicators, you can easily tell which connected HDMI device is running.
Bestseller No. 4
HDMI Splitter Adapter Cable - HDMI Splitter 1 in 2 Out HDMI Male to Dual HDMI Female 1 to 2 Way for...
♥Function: This product can operate as a signal router,you may have a TV in two separate rooms,you can have a TV on in one room and when you want to switch room and keep watching the TV,you just need to switch one TV off and switch the other TV on,and then the signal is routed to the TV in the other room.
♥ Ideal for connecting one HDMI compatible device (Such as, hd - dvd, blue - ray dvd, Xbox, xbox360, ps3, stb, notebook, HD TV )to two visual output devises (such as, HDTV, Monitor, etc.).
♥ Allow to connect HDMI devices that have Build-in HDMI ports, like HDTV, PlayStation 3, Upconvertor DVD Player, LCD Monitor and projectors.
♥Gold_plated connectors for better signal transfer.Allow to connect HDMI devices that have Build-in HDMI ports, like HDTV, PlayStation 3, Upconvertor DVD Player, LCD Monitor and projectors.hdmi splitter 1 in 2 out 4k hdmi splitter
♥Package Include: 1 x HDMI Male to 2 HDMI Female 1 in 2 out Splitter Cable ; Length: 11.8 inch (30 cm); Weight: 52.00g.- ONLY 1 output device should be active at any time UNLESS both TVs are of the same size,then both TV will show the images when connected.
Sale
Bestseller No. 5
HDMI Switch,GANA 3 Port 4K HDMI Switch 3x1 Switch Splitter with Pigtail Cable Supports Full HD 4K...
Smart Manual Operation Switch- has the key-press-switching function
3-Port HDMI Switch - 3 HDMI ports in and 1 out for various HDMI devices, such as Xbox 360, PS3, Beamer, DVB Receivers, Blu-ray Player, Apple TV, Laptop, HDTV/HD Monitor.
HDTV 4K (3840x2160P) / 30Hz resolution, HDMI 1.4 Compatible, 3D display supported.
One Fixed 1.8ft HDMI Cable (pigtail) provided, plug and play, NOTE: for only some devices, when their HDMI port can not provide sufficient power for this switch to work. You need to connect at least two source devices to the input ports.
HD Audio and HDCP Compliant- Audio Formats: LPCM, DOLBY AC3,DTS7.1,Direct Stream Digital. No distortion of audio or video, no delay in signal transference
Sale
Bestseller No. 6
KELIIYO Hdmi Splitter 1 in 4 Out V1.4b Powered Hdmi Video Splitter with AC Adaptor Duplicate/Mirror...
【1x4 Hdmi Splitter】This Hdmi splitter 1 input 4 output duplicate 1 HDMI input signal to 4 identical HDMI output signals, transmit video and audio simultaneously without any quality loss. ✅ NOT hdmi switch 4 input 1 output, can't switch 4 signal source on one display.
【High Compability】Keliiyo 4 way Hdmi Splitter supports full HD 1080P and 3D resolutions, it can reach up to 4K@30Hz, deep color 408i/576i/576p/720p/1080i/1080P, worked perfectly with computer, laptop, PS3 game, Blu-ray DVD, tablet pc, projectors, full HD TVs, etc. ✅Please make sure the resolution of both output devices is the same to ensure normal operation.
【Material& Transmission】Keliiyo hdmi audio splitter made of tough metal material, anti-oxidation & anti-corrosion input and output port give stable signal transmissions. Use the AWG26 HDMI standard cable and AC adapter to connect your HDMI devices,the transmission distance can up to 100ft(Input 40 ft and output 60ft ✅HDMI cable NOT included)
【Wide Application】HDCP V1.4 Powered hdmi splitters 4 port can use for shopping mall super market, data control center, information distribution, HDTV, STB, DVD, projector factory, corporation show room; home theater, education and training; conference room presentation.✅Can NOT extend monitors
【Simple to Use】This hdmi splitter 1x4 is easy to setup and operate. Just connect your HDMI devices and the AC adaptor, then you can share the most luxurious video and audio with your friends or families.
Bestseller No. 7
1x4 HDMI Extender Splitter HDBaseT 4K by OREI Multiple Over Single Cable CAT6/7 4K@60Hz 4:4:4 HDCP...
Distribute 4K 1 HDMI source to 4 HDMI displays over Cat6/7/8 Network Cable Simultaneously, Splitter Included - No Switcher Needed - Power Over LAN - No Adapter needed on Receiver Side
HDBaseT Technology for lossless and lag-free video transmission. Output 4K signal upto 400 Feet with Cat6/7 cable and 1080P signal upto 500 Feet. HDMI Transmitter is equipped with 4 Port CAT6 Output. And 1 Additional HDMI Output to connect to a local display or monitor. Supports HDR, HDR10, HDR10+, Dolby Vision, HLG
Loop Out on Sender Unit, Full IR Remote Control Input. Supports 20~60Hz IR Pass Back, Control a DVD Player or Other HDMI Video Source from a Remote Location with the included IR cables that forward commands over a dedicated DDC Channel.
Supports 18Gbps Bandwith, HDMI 2.0a HDCP 2.2, UHD 4K/60Hz YUV 4:4:4, HDR, HDR10+, Dolby Vision, PoC. HDR gives you higher contract and vivid colors Supports DTS-HD, Dolby TrueHD, 7.1ch digital audio and all other HDMI standard formats. Plug & Play Setup without any Software Installation. Compatible with CAT6/6a/7 Network Cables. The highest Resolution Supported is 3840x2140p@60Hz, Ideal Solution for HDMI Exhibition, Video Conference, Meeting rooms and Bars,, ect.
Includes: 1 x Transmitter, 4 x Receivers, 1 x Power Adapter, 1 x IR Blaster Cable, 4 x IR Receiver Cables, 1 x User Manual. 1 Year OREI Manufacturer's Warranty
Bestseller No. 8
MT-VIKI 8x8 HDMI Matrix Switch 4K@30Hz, Rack Mount Switcher & Splitter with Backlit RS232 LAN Port...
MT-VIKI HD0808, 4K 8x8 HDMI matrix switch supports 8 configurable user-preset connections, also work as switch & splitter. It's upgraded with a remote control
This hdmi matrix 8 in 8 out supports resolution up to 4K 3840*2160@30Hz, 8KV ESD protection. Support Local LAN control from other computer by installing MatrixController (CD driver included)
Switching options by: button, IR remote control, RS232 or Lan port without delay. Supports PCM, Dolby AC3, DTS5.1, DTS7.1 and DSD audio format.
HDMI Matrix switcher 8x8 fits for standard 1U 19-inch Cabinet/Rack. Built-with Acrylic crystal button and LED backlit. 8 in 8 out hdmi matrix switcher and splitter
This is a standard unit without web control, If you need WEB control, pls search ASIN: B098NP9SLL . MT-VIKI provides 2 years warranty and lifetime tech.
Sale
Bestseller No. 9
HDMI Switch 3 in 1 Out 4K UHD HDMI Switcher Splitter, Automatic Switch with Remote Metal HDMI Switch...
📍3-Port HDMI Switch: This aluminum HDMI switch 3 in 1 out supports connecting 3 HDMI devices (gaming consoles, TV box, DVD player etc.) to 1 HDMI display and toggle between them. Release you from plugging and unplugging HDMI cables. No lag, No drop in quality.
📍Convenient Remote Control: Come with an IR remote control; enable to swap video sources without leaving a comfortable couch. And it can automatically switch to the device turned on, hassle-free. LED indicates which port is active. Plug and play set up, no driver needed.
📍Support 4K Resolution: Durable HDMI Switch supports 4K, 3840x2160p@30Hz, 3D display, Full-HD 1080P, the picture quality remains crisp and clear. Support HDCP 1.4, LPCM, DOLBY AC3,DTS7.1, deep color 24bit, 30bit, 26bit.
📍Wide Compatibility: This HDMI switch is compatible with most HDMI source devices. Including Blu-ray players, DVD players, Xbox 360, PS3, PS4, PS5, Nintendo Switch, Receivers, Apple TV, Fire TV stick, Roku Stick, PC, Laptop, HDTV, HD Monitor, Projector.
📍Fast & Stable Transmission: This compact HDMI switcher with gold plated connector provides high bandwidth 3.4Gbps data transmission, Input and output AWG26 HDMI standard cable length could reach up to 5m. Powered by USB (USB cable included), ensures stable video transmission and better performance.
Bestseller No. 10
HDMI Splitter Cable Male 1080P to Dual HDMI Female 1 to 2 Way HDMI Splitter Adapter Cable for HDTV...
Function: This product can operate as a signal router,you may have a TV in two separate rooms,you can have a TV on in one room and when you want to switch room and keep watching the TV,you just need to switch one TV off and switch the other TV on,and then the signal is routed to the TV in the other room.
Feature: It takes a signal from one device such as a Bluray player and will direct to one of two output devices that are plugged into it. This HDMI splitter cable is great for connecting one HDMI compatible device (Xbox,Blueray,DVD players,for PS3) to two visual output devises.
Suitable for:High Definition image resolutions such as 720p,1080i,and 1080p. Package Include: 1 x HDMI Cable. Length: 11.8 inch (30 cm).
Note:ONLY 1 output device should be active at any time. UNLESS both TVs are of the same size,then both TV will show the images when connected.
Package Include: 1 x HDMI Male to 2 HDMI Female 1 in 2 out Splitter Cable ; Length: 11.8 inch (30 cm);
You May Also Like…
Last update on 2022-04-25