HDMI CEC is an old way to connect all your devices with HDMI. It allows up to 15 devices to communicate with each other. It creates a seamless experience of home theatre.
CEC stands for Consumer Electronic Controls. HDMI CEC would allow you to mix the settings of suitable devices into one remote controller. While you might still need to use the device remotely for unique device features. Most of the modern devices are supported by the HDMI CEC. Controlling playback, audio, and menu selection can be synchronized across your devices with HDMI CEC.
HDMI CEC can simplify your home theatre systems. Although, it is pesky to set up. It works like a breeze between devices. Here is some information, which you have to know while using HDMI CEC.
HDMI CEC Features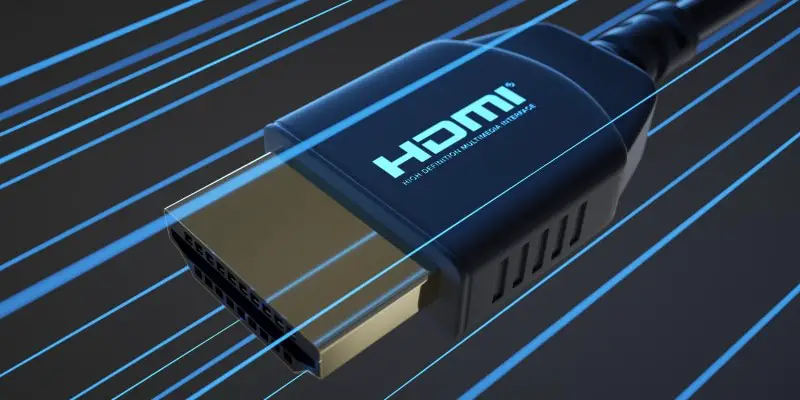 HDMI CEC provides 5modern features you would find on any remote controller. HDMI CEC could transmit the information for power, playback, audio, and menu selection. Now, we do not need to switch between remotes. We also don't need to switch between devices on a universal remote. Now, Only one remote device could control all of the devices.
It is slightly different from universal remote. Universal remotes are programmed with wireless signal patterns of consumer products. Universal remotes could directly control the device it is communicating with.
HDMI CEC Diagram: How HDMI CEC Works?
HDMI CEC uses any of your device's remotes to control the whole system. If you are using the remote from your TV to control your DVD player, your remote will communicate with your TV to send a CEC signal via your HDMI cable to the DVD player. It was just an example.
The remote you are using could effectively control other devices it is connected to. Though your device is asleep and the HDML circuitry is disabled or completely off, they can control the device! Because CEC is a completely different electrical signal from the other HDMIs control.
There are many features that HDMI CEC could enable. Let's see:
Deck Control: Play, Stop, Rewind, etc.
Deck control concedes to you the common playback commands (play, stop, rewind, etc.) for your playback devices, whether Blu-ray players, camcorders, etc.
System Audio Control
The most boring part of setting up this home theatre system is, calibrate the volume of all your reproductive devices to be roughly equal across the devices. But, HDMI CEC could easily eliminate the problem by adding an audio control for the entire system. It means one volume control for your entire system.
One-Touch Play
Okay, imagine you just finished watching the last episode of your favorite show. Now, you want to play one of your favorite movies. You know, the one that somehow no streaming services has picked up. So you have to pop it in your DVD player, change the source, and press play.
Not with HDMI CEC. With One-Touch Play, HDMI CEC playback devices will automatically switch the TV source on the play. No more navigating input source menus.
Power On and Power Off
When it is about home theatre systems, you could use three devices at a time. You have to power each device up separately whenever you want to use them and power them down separately when you have done it.
With HDMI CEC, that is a thing of the past. The system standby feature permits your standby or power button to put all of your devices in standby mode.
One-Touch Record
One-touch record is one kind of fun feature. It allows you to record whatever is playing on your display device to a selected recording device—no more routing your sources through a recording device to the display device. With HDMI CEC, it's all connected.
Commercial Names for HDMI CEC
HDMI CEC goes by several commercial names, and each of them technically shows a separate menu. But the core system of having a designated pin in the HDMI plug is indifferent.
Let's see what "Trade Name" they used to confuse us.
Here are they:
AOC: E-link
Hitachi: HDMI-CEC (Thank you, Hitachi!)
LG: SimpLink
Mitsubishi: NetCommand for HDMI
Onkyo: RIHD (Remote Interactive over HDMI)
Panasonic: HDAVI Control, EZ-Sync, or VIERA Link
Philips: EasyLink
Pioneer: Kuro Link
Runco International: RuncoLink
Samsung: Anynet+
Sharp: Aquos Link
Sony: BRAVIA Sync
Toshiba: CE-Link or Regza Link
Vizio: CEC
Not all commercial names are inventive, such as Hitachi used HDMI-CEC or Vizio used CEC. These commercial names incorporate the word link. For example, Aquos Link, BRAVIA Link, CE-Link, EasyLink, SimpLink, etc. Although some have unique names like Samsung used Anynet+ and Roku used 1-Touch-Play.
Pros and Cons of HDMI CEC

There are some pros to HDMI CEC and cons. While the pros outnumber the cons, there may be instances where you would disable HDMI CEC or update your system to one that uses eARC–a newer standard that improves upon HDMI CEC's features while eradicating the need for setup.
Pros:
There are several advantages of HDMI CEC. As I mentioned, it allows for several global controls, allowing you to integrate your home theatre system more seamlessly.
Additionally, HDMI CEC works with HDMI ARC (Audio Return Channel). It works to reduce the number of cables necessary to connect multiple devices at once.
In short, HDMI ARC permits audio to travel in both directions. It decreases the number of cables you have to connect with an external source like a Blu-ray player to a television and A/V receiver.
Your devices need HDMI ARC ports to take benefits of HDMI ARC. Usually, configuring devices for HDMI CEC enables HDMI ARC along with it. But to be sure, check your manual book.
Cons:
The principal drawback to HDMI CEC is the limitation of HDMI ARC to show the full quality surround sound. HDMI-ARC could transmit uncompress stereo audio. It also could compress 5.1 surround sound audio.
If you need better sound quality, you have to disable HDMI CEC and ARC on your devices. You could also upgrade to devices that support HDMI eARC. HDMI eARC is capable of delivering 5.1 and 7.1 uncompressed audio. It also can handle better high definition formats.
Setting Up HDMI CEC
Setting up an HDMI CEC differs from device to device. You could find HDMI CEC settings in the sound settings or system settings of the device's settings.
You need to configure the HDMI CEC settings for each device you are willing to connect with HDMI CEC. If you update your system to HDMI 2.1a ports, HDMI eARC will automatically be enabled. If elements aren't compatible with HDMI eARC, they will revert to standard HDMI ARC (with all the drawbacks previously showed).
How to Enable CEC on Popular TVs
To make this thing even more confusing, manufacturers often don't call this feature "HDMI-CEC." Manufacturers love to call this thing in their own branded name, even though it's an interoperable standard.
Often would not see "HDMI-CEC" printed on a specifications list. Rather, you'll see a branded "trade name." These all are Manufacturers branded trade name of HDMI-CEC, so they exist only to confuse customers. Remember that, If your TV has any of these features, it supports HDMI-CEC.
Enabling HDMI ARC and CEC could sound different, but they follow the same steps. Go to your device settings, turn on HDMI ARC, and then you may or may not need to discover devices.
Here, we will review how to set up HDMI ARC and CEC on five popular TV brands.
LG- With LG TVs, click the home button an23 d go to Settings. Select Sound and then Sound Settings. From here, turn ARC Mo, de to the ON position, and turn the TV Speaker to OFF.
Vizio- Select System from the menu. Then select the CEC. It will indicate you to select "Enable," and it will say, System Audio Control selects On. Then, select the Device Discovery option. Then wait for your TV to discover the other connected devices.
Sony- From home, go to the menu. Then go to Settings. Then System Settings. From here, select the Set Up option, then select the AV Set Up option. Be sure that the speaker settings are set to Audio Out. Now go back to the Set Up menu again. Then click BRAVIA Sync. Now, select BRAVIA Synced Devices List.
TCL w/ Roku- Select Settings from the Home menu. Then select system. Select Control Other Devices (CEC) option and enable HDMI ARC and System Audio Control.
Samsung- Select the system from the menu, and then turn Anynet+ to the ON position.
You will also need to enable HDMI ARC on your A/V receiver or soundbar. You need to turn your TV to the input setting the audio device is connected to for doing this.
From here, you must navigate the settings menu of the audio device to enable HDMI ARC and CEC, which again may be referred to by different names.
In some instances, particularly with certain soundbars (most notably Sonos), you will need to download an app to set the device up for HDMI ARC. Download the app onto your phone and follow the instructions.
-our editorial board has reviewed this article and has been approved for publication according to our editorial policy.
Best Seller List of HDMI Cables:
Bestseller No. 1
Amazon Basics High-Speed 4K HDMI Cable - 10 Feet
HDMI A Male to A Male Cable: Supports Ethernet, 3D, 4K video and Audio Return Channel (ARC)
Connects Blu-ray players, Fire TV, Apple TV, PS4, PS3, XBox One, Xbox 360, computers and other HDMI-enabled devices to TVs, displays, A/V receivers and more
Cable allows you to share an Internet connection among multiple devices without the need for a separate Ethernet cable
Meets HDMI standards (4K Video at 60 Hz, 2160p, 48 bit/px color depth) that supports bandwidth up to 18Gbps and backwards compatible with earlier versions.
Cable Length: 10 feet (3 meters)
Sale
Bestseller No. 2
8K HDMI Cable 48Gbps 6.6FT/2M, Highwings Ultra High Speed HDMI Braided

[email protected]

[email protected]

, DTS:X,...
【Top [email protected] HDMI Cable】 This 8K HDMI Cable uses the most cutting-edge technology, is compatible with [email protected] and [email protected], clearly displays every particle, and accurately processes every signal source. With 8K HDMI's unique dynamic HDR and 12 Bit color processing technology, each scene of the video is every frame, with more ideal depth, brightness, detail, contrast and wider color gamut.
【Upgrade Revolution----HDMI 2.1】 Hingwings 8K HDMI Cable conforms to the standard HDMI 2.1 version. Compared with HDMI 2.0, its transmission speed has a qualitative leap, from 18Gbps to 48Gbps (6GB/s) directly, and there will no longer be stuck or dropped frames when watching video from now on. Support eARC, can achieve more advanced audio signal control capabilities. It is also backward compatible with HDMI 2.0b/2.0a/1.4/1.3/1.2/1.1 versions
【HDMI Cable For Game Enthusiasts】 This HDMI Cable is not limited to [email protected], it can break through 4K and achieve 8K ultra-high image quality. It can also achieve a super smooth picture of [email protected] Its latest game mode supports variable refresh rate, maximizes the value of the graphics card and CPU, and is more accurate in the processing of rendered images. When the scene is switched, the refresh rate will change accordingly to obtain a smoother and more detailed picture.
【Reinforced classic high-quality materials】 This 8K HDMI Cable uses Hingwings' most popular classic style, with a new smart chip, making it reach an unprecedented height. The strength of the aluminum alloy shell and the tail's anti-bending design has been upgraded to make it more durable. The plug part is still made of 24K gold-plated material, which accurately transmits signals. The military grade tensile nylon material also greatly extends its life.
【The ultimate perfectionist】 This HDMI 8K cable was made at the factory. Every cable and even every part has been put through rigorous testing. We've combined every flawless part into a perfect 8K HDMI cable. Then pass the performance tests in the laboratory and present them to you after passing the exam.
Sale
Bestseller No. 3
PowerBear 4K HDMI Cable 10 ft | High Speed, Braided Nylon & Gold Connectors, 4K @ 60Hz, Ultra HD,...
4K HDMI Cable: Male to Male HDMI Cable Supports 4K Video @ 60Hz, 2K, 1080P, 48 bit/px HDR color depth, TrueHD 7.1, Audio Return Channel (ARC) & Ethernet
Premium Quality HDMI Cable: This HDMI cable has 30WG copper wire, triple tin shielded in a double braided premium nylon with gold plated corrosion resistant connectors for guaranteed top tier image & sound
Full Compatibility: Ultra high speed 4K HDMI cable supports 18Gbps transfer and is backwards compatible with earlier versions of HDMI cable (1.3/1.4/2.0/2.0a) NOT for 8K
Universal HDMI Cable: Works with all of your HDMI devices. Blu-ray players, Fire TV, Apple TV, PS5, PS4, XBox One, Nintendo Switch, computer, laptop, monitor, projector and more. An essential HDMI cable for all of your home & office devices
10 Feet 1 Pack: One 10 ft HDMI cable (3 meters) thickness 0.24 inches (6 mm)
Bestseller No. 4
4K HDMI Cable 6.6 ft,Capshi High Speed 18Gbps HDMI 2.0 Cable,4K, 3D, 2160P, 1080P, Ethernet - 28AWG...
⚡【High Speed HDMI Cable】: High Speed HDMI Cable supports HDMI 2.0b including 18 Gbps, Mirror & Extend mode, Ultra HD 4K 2160p, HD 2K 1080p, QHD 1440p, HDCP 2.2, 48-Bit Deep Color, Audio Return(ARC), Dolby TrueHD 7.1 audio and Hot plugging.
⚡【4k HDMI Cable】: Features an ultra-durable nylon-braided jacket with a bend lifespan of 6000+ and High quality 24K gold plated connectors,This hdmi cord is perfect for any desk or entertainment setup, and is guaranteed to last in long term applications.(PS:The 4k Logo is printed on the aluminum shell which is wrapped around by a piece of plastic film to protect the shell from scraching ,feel free to remove the film when you use it.)
⚡【Our Hdmi Cable Innovative improvement】 - Backwards compatibility with all HDMI versions including HDMI 1.3 / 1.4 / 2.0 / 2.0a / 2.1. Tinplate Metal Shielding and gold-plated, corrosion-resistant connectors can protect against external signal interference, guarantee stable signal transmission and minimize signal loss.
⚡【Compatible with all HDMI Components】: Backwards compatibility with all HDMI versions including HDMI 1.3 / 1.4 / 2.0 / 2.0a / 2.1. Perfect for all HDMI enabled devices such as TV's, Monitors, Computers, PS3, PS4, other HDMI-enabled devices to your 4K/HD TV, monitors, displays or projectors.
⚡【Package Contents】: Capshi 4K HDMI Cable 6.6ft, You are welcome to contact us if you have any questions or concerns. Our reliable customer service will reply within 24 hours, always.
Bestseller No. 5
8K 60HZ HDMI Cable 6.6FT/2M,Capshi Ultra HD 48Gbps High Speed HDMI Braided

[email protected]

[email protected]

,...
【Real 8K Ultra HDMI Cable 】The 8K HDMI cable 6.6 ft supports 48Gbps Ultra High Speed,Mirror,Extend&Game mode [email protected] UHD Video, [email protected],Resolution up to 7680*4320,3D,Dynamic HDR,HDCP2.2.You can enjoy best viewing experience with your family just at home,provide the best visual enjoyment.
【HDMI 8K 2.1 Cable】The HDMI 2.1 Cable adds enhanced audio return channel (eARC), provides high-definition audio and highest audio quality. The 8k hdmi cable 48gbps 2.1 also supports variable refresh rate (VRR), solves the problem of picture freeze and tear, making the game more smooth.
【Wide Compatibility】Capshi 8K HDMI Cable compatible with version 2.1, backward compatible with HDMI 2.0b/2.0a/2.0/1.4/1.3/1.2/1.1 version.Support Laptop,Blu-Ray Player,HDTV,Monitor,Projector and More any HDMI devices.
【Flexible And Durable】The HDMI Cord with unique 28AWG design,10,000 times bending test, triple shielding layer shielded, CL2 rated jacket, and covered with cotton yarn sleeve,gives the cable stronger protection and flexible performance than others . Do not worry about entanglement, effectively extending service Life, it makes the cable can transfer the signals in high speed and low loss.
【Premium Support】★★As a responsible seller,we provide you 1 pack Gaming HDMI Cable 8K + 24/7 customer service.Welcome to contact us if you have any questions or concerns. Our reliable Customer Service will be sure to reply within 24 hours and offer proper solutions for you.
Bestseller No. 6
AmazonBasics 48Gbps High-Speed 8K HDMI Cable, Black - 10 Feet
8K 48Gbps HDMI cable for transmitting video and audio signals from source to display
Connect tablets, laptops and other host devices to projectors, video conference systems, HDTV, monitors, and more
Flexible and durable PVC cable; Gold-plated HDMI connector resists corrosion and abrasion and enhances the signal transmission performance
Supports Ethernet, 3D, [email protected] or [email protected] video, and Audio Return Channel (ARC); 48Gbps bandwith
Plug and play design removes the need for complicated drivers or setup time
Sale
Bestseller No. 7
HDMI Cable 3.3FT, Snowkids 4K HDMI Cable 2.0 High Speed 18Gbps, Support 3D, 1080P, 2160P, Audio...
[4k HDMI Cable 3.3FT] - Snowkids' Ultra High Definition 4K HDMI cable supports resolutions up to 4K (3840 * 2160 at 60Hz), giving you the smoothest visual experience of projection, home theater or high definition TV.
[High-speed HDMI 2.0 Cable] - Transmit video and audio at lightning speed, bring you the ultimate audio-visual feast. Durable nylon braided also protect against external signal interference, ensures stable transmission and eliminate data loss.
[Premium Quality HDMI Cable] - Combining gold-plated connectors, high-quality aluminum shell with copper core, this HDMI cable provides better anticorrosion property and particularly good flexibility, withstand more than 15,000 bending test for enhanced protection and durability.
[Compatibility] - Compatible for 3D Blu-Ray players, PS3, PS4, HDTV, TV, Blu-ray Player, Projector, 4KUltra HD, etc. Support the HD image in Mirror Mode to be copied to HD screen and in Extended Mode to run split screen.
[Reduce latency] - Our hdmi cable gives you a smoother and more accurate gaming experience with variable refresh rate, fast frame transmission, quick media switching and automatic low-latency mode.
Bestseller No. 8
C2G HDMI Cable, 4K, High Speed HDMI Cable, 60Hz, 12 Feet (3.65 Meters), Black, Cables to Go 29679
HIGH SPEED– Supports 4K Ultra HD (UHD) resolution, 3D, Deep Color, Dolby True HD and DTS-HD Master audio for a bright, clear video experience.
COMPATIBLE WITH – Blu-ray Players, Samsung, Sony, LG and more TV brands, PlayStation and Xbox gaming consoles, Apple TV and Amazon Fire TV, A/V receiver, and more!
GOLD-PLATED GRIPPING CONNECTORS – Corrosion resistant connectors provide optimal audio and video signal transfer during the life of this cable. The gripping connectors create 3 times the port friction to prevent the cable from accidentally disconnecting because of vibrations or movement.
BRAID SHIELD - Prevent and protects the cable from unwanted noise interference that can disrupt and degrade video transmission signals. This helps to ensure you receive clear, noise free, vivid picture/audio quality
PACKAGING – To ensure you receive the highest quality products C2G packages all product in C2G branded packaging
Bestseller No. 9
4K HDMI Cable 2 Pack 6ft, JSAUX 18Gbps High Speed HDMI 2.0 Braided HDMI Cord, 4K 60Hz HDR, HDCP 2.2,...
High Speed HDMI Cable: High Speed HDMI Cable supports HDMI 2.0b including 18Gbps high bandwidth, Mirror & Extend mode Ultra HD 4K 2160p, HD 2K 1080p, QHD 1440p, HDCP 2.2, 48-Bit Deep Color, Audio Return(ARC), Dolby TrueHD 7.1 audio and Hot plugging.
4K HDMI Cable HDR Video: HDMI Cables Male to Male Supports 4K Video @ 60Hz, 3D, Backward compatible with 2K @120Hz (4:2:2, 4:2:0), 2K @60Hz(4:4:4), Full HD 1080p, and HD 720p.
Superior Design: This HDMI cable has 28AWG copper wire, triple tin shielded in a double braided premium nylon with gold plated corrosion resistant connectors for guaranteed top tier image & sound
Universal HDMI Cable: Compatible with all of your HDMI devices. Blu-ray players, Fire TV, Apple TV, PS5, PS4, XBox One, Nintendo Switch, computer, laptop, monitor, projector and more. Indispensable hdmi cables for home and office equipment.
6 Feet 2-Pack: The perfect length, with the combination of two outfits, allows you to have more choices in application scenarios without worrying about usage issues.
Bestseller No. 10
Amazon Basics Nylon-Braided 4K, 18Gbps HDMI to HDMI Cable, 3 Foot
Nylon-braided HDMI cable (A Male to A Male): supports Ethernet, 3D, 4K video, and Audio Return Channel (ARC)
Connects Blu-ray players, Fire TV, Apple TV, PS4, PS3, Xbox One, Xbox 360, computers, and other HDMI-enabled devices to TVs, displays, A/V receivers, and more
Allows for sharing an Internet connection among multiple devices without the need for a separate Ethernet cable
Meets HDMI standards (4K Video at 60 Hz, 2160p, 48 bit/px color depth); supports bandwidth up to 18Gbps and backwards compatible with earlier versions.
Cable length: 3 feet (0.9 meters); backed by an Amazon Basics Lifetime warranty
You May Also Like…
Last update on 2021-06-10