Using multiple controllers while watching TV can feel like trouble. So if you are exploring a way to keep control of both your TV remote and your soundbar's remote, then you will be delighted to hear that you can use one remote to manage both your TV and soundbar with just a little setup.
There are a lot of solutions available from different manufacturers and brands. So always do the research on your particular brand of soundbar, TV, and remote to choose the best solution for you.
There are different ways to simplify your controls. Such as, you can use a universal remote to control your soundbar. People also use IR technology to communicate. Hardwired connections such as HDMI ARC or a Digital Fiber Optical Cable are also an excellent way to simplify controls.
The setup is very easy. Even it could be as easy as plugging in some cables. The setup process mainly depends on the device. Moreover, some other methods will require you to program your remote with special codes specific to your soundbar.
You can use any of them; none of the processes is too hard. If you have a little knowledge about the technology, you will be able to do that. To gain more ideas about how to use your universal remote to control your soundbar, you can read this article till the end.
Controlling Soundbars with Universal Remotes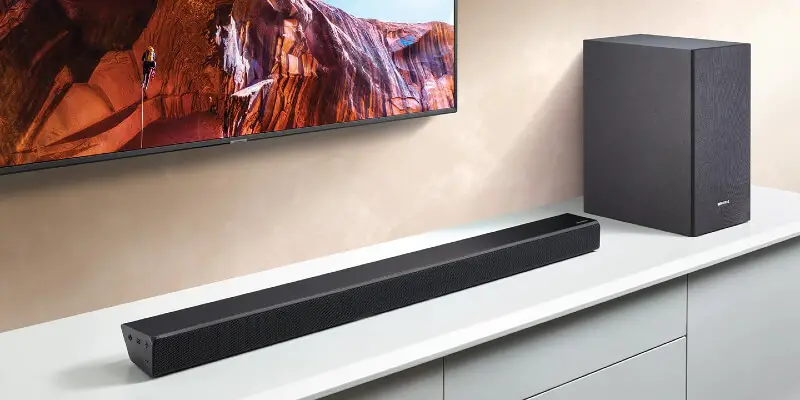 Most of the available soundbars will allow you to control them using a universal remote. It actually depends on the type of soundbar you have. If you desire to use a universal remote to control your soundbar, you will need to have an IR sensor to receive the signal sent by the universal remote. Because IR uses waves to transfer binary data in pulses over the electromagnetic spectrum, so your soundbar will need to have an IR sensor to receive the data and decode this data.
IR technology is very popular. It is used a lot in remote controls. This technology is very easy to use. IR has a lot of applications, from spectroscopy to cooling and heating. But it is mostly used in relaying commands to electronic devices such as TV. If you want to do this, you have to have a few different components:
IR Blaster/Sender – This component will be on the remote itself
IR Receiver – It is located on the soundbar
IR Decoder – This decoder will use control protocols like RC-5 or SIRC to decode the binary message to command your soundbar to move the volume up or down.
So if your soundbar has an IR receiver, then you will be able to control it with just a little setup. Some good quality soundbars with IR communication systems are the Sonos Playbar, Samsung HW-Q60T, and the Vizio 2.1 Soundbar. You will be able to find them on amazon.
If your soundbar has a remote control, then it might have using IR tech to communicate. So you should be able to use a universal remote to control the device. You just have to pair the remote to the device by programming it with brand-specific pairing codes to control it.
Universal Remote Control Soundbar Codes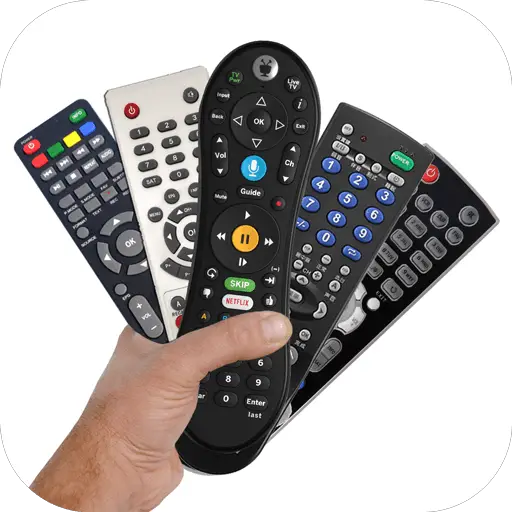 Pairing a universal remote with any electronic device is an easy process. Sometimes it can feel a little difficult because the pairing process actually depends on the device. The different device uses different instructions. After all, with a bit of time and the proper pairing codes, you will be able to power your soundbar with your remote control in no time. Here are some following steps to pairing a remote with a soundbar.
How to Pair a Universal Remote with a Soundbar
First, you'll need to find the pairing code for your soundbar.
Then you have to power on your TV and your soundbar.
Point your universal remote at the soundbar you want to pair.
Press the Setup button on your universal remote till the light on the remote flashes (this step will actually depending on the brand); otherwise, press the AUX and OK buttons simultaneously, then press the channel up button.
Hold until the soundbar turns off, then press the AUX button again to save (if it works, then you are already set up and don't need further steps).
Enter the brand-specific pairing code into the universal remote.
You should see the indicator light on the remote start to flash, indicating the pairing has worked.
In the end, after setting up everything, you can test your remote by trying to control the volume.
It is only a general setup process; there are many different types of universal remotes with different setup processes. You can find the right process for that universal remote on the user's manual. But whatever you will see, that process is almost the same. But most importantly, you should have the correct soundbar pairing codes. These codes are brand-specific. Here you can see some codes from some of the famous brands.
Soundbar Pairing Codes
Bose
Sony
LG
Insignia
Samsung
Vizio
4001
1345
32676
21268
32609
0883
5042
4029
11993
12002
22609
0660
4017
31759
31953
10463
21014
1517
1961
31293
20045
1144
31629
31517
31229
11144
31841
31975
30639
31253
30674
An Alternative: Control the Soundbar with the Stock TV Remote
Sometimes you may be able to use the stock TV remote to control the volume of your soundbar. But it mostly depends on the available connections of your soundbar. You will need an HDMI ARC port on your soundbar and an HDMI ARC port on your TV to use this feature. This technique is not so hard. Here you can find some basic steps.
Find the HDMI ARC connection on both the soundbar and TV.
Connect an HDMI cable to each.
Turn the TV and soundbar.
Test and troubleshoot any connection issues.
If it is not working, try enabling the CEC option on your TV.
But one thing you should remember that after using this setup still your television and soundbar will have their own volume settings. So it can happen that you have the sound up on your TV, but the volume of the soundbar is loud enough because the soundbar's sound is on low. If you have used any Bluetooth speaker before, then you may already be familiar with this problem.
So if you want to increase the amount of sound in your soundbar, you have to adjust some settings. You may need to go to your TV's setting to set the correct audio out to get the connection to the soundbar. This is also the same for the soundbar.
Why HDMI ARC is Important for Universal Remotes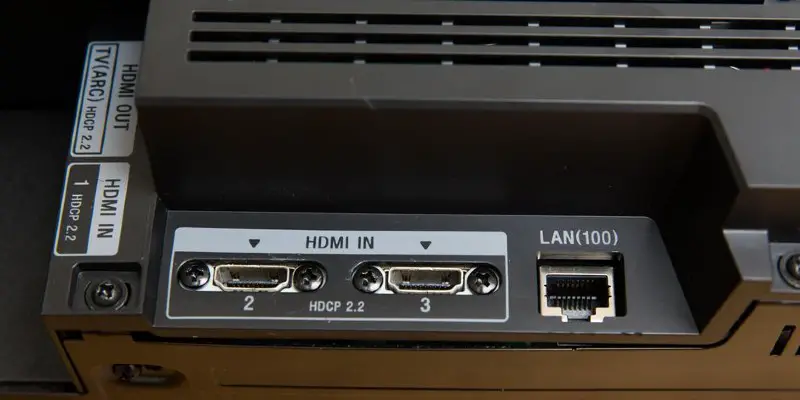 HDMI ARC is very useful for simplifying the remote control setup for the TV and soundbar. The ARC (Audio Return Channel) technology actually communicates the volume commands from your TV to your soundbar, and you do not have to pair to do that. Though it has been around since 2009, it is not so well known.
HDMI ARC is so useful because you can use your regular TV remote without any additional setup. It is a great feature. If your soundbar does not have any IR sensor, you will not be able to use a universal remote to control it. But with this feature, you can still see one remote to control your TV and your soundbar.
If you are already using a universal remote to control your TV, the HDMI ARC connection will still be useful to control the soundbar. Because if you send volume commands to your TV's IR receiver by using the stock or universal remote, the HDMI ARC will also send them to the soundbar without any issue.
Conclusion
Pairing a soundbar with a universal remote is not a hard job. Anyone can do that with just a simple idea about technology. The pairing process depends on the device. You can follow a few different setup methods depending on your device. But these are mostly similar. Those process also requires brand-specific codes to pair the devices.
But if your soundbar is not compatible with this process, you can use a Digital Optical connection or an HDMI ARC connection. Whatever you do. After setting it up correctly, you will be able to use one remote to control your TV and the soundbar.
-our editorial board has reviewed this article and has been approved for publication according to our editorial policy.
Best Seller List of Sound Bars:
Sale
Bestseller No. 1
Sony S100F 2.0ch Soundbar with Bass Reflex Speaker, Integrated Tweeter and Bluetooth, (HTS100F),...
Straight from the theater to your home: easy set-up, built-in tweeter, 2-ch speaker with simple Bluetooth connection
Deep sound with Bass Reflex speaker
High power with a slim design that matches any room and is perfect for small living spaces
Voice enhancement feature is great for TV content with hushed dialogue, or to make conference call participants easier to hear
Easy TV set up with HDMI ARC
Sale
Bestseller No. 2
Saiyin Sound Bars for TV, 40 Watts Small Soundbar for TV,Surround Sound System TV Sound Bar Speakers...
【Ultra-Compact Design】The 17-inch soundbar is a compact and sleek audio device that great for desktop space especially small to medium-sized living room or bedroom.Our sound bar takes up less space and is effortlessly moveable, making it an ideal TV speakers sound bar!
【Loud and Clear】 This soundbar is built with 2 full-range speakers that provide a more realistic, spatial audio experience to make movies and music truly come to life, allowing you to enjoy all details of music and movies.
【Multiple Input Connections】 Our small sound bar has various connectivity options, including Bluetooth, optical,and auxiliary input, which allows you to connect it to your TV, smartphone, PC ,tablet, or other devices to stream music or watch movies. Besides, the home audio sound bars has a "SUB OUT" port, which supports the connection of an active subwoofer.(Press the M button on soundbar can switch the three connection modes of Optical /AUX/ Bluetooth)
【Optimize Entertainment With Different Sound Modes】The sound bar can be switched to three equalizer modes (Music, Movie, News) with remote. This soundbar not only produces clear and detailed sound regardless of the content you're watching or listening to, but also enhances the dialogues, bass and treble of music, movies, and TV shows,and makes them sound more realistic and engaging.(Remote control is not compatible with universal or TV remotes )
【Set Up In Minutes】You can put the soundbar on desktop or mounted on the wall directly with rovided wall mounting kits. The TV soundbars size is: 17" * 3.5" * 2.5". What's inside: soundbar, remote control, wall mounting kit, optical cable, 3.5 to 3.5mm audio cable, Power adapter and user manual.
Sale
Bestseller No. 3
Sonos Playbar - The Mountable Sound Bar for TV, Movies, Music, and More - Black
The mountable soundbar for TV, movies, music, and more
Enjoy crisp dialogue and impressive bass from wall to wall with Playbar. Control it with the Sonos app, your remote, and more
Whether you mount it on the wall or place it below your TV on a stand or console, Playbar automatically tunes itself for the best possible sound
Playbar was specially tuned by Oscar-winning sound engineers to emphasize the sound of the human voice so you can always follow the story
Easily connect Sonos speakers in different rooms over WiFi to create a home sound system that brings every room and everyone together
Sale
Bestseller No. 4
VIZIO V-Series All-in-One 2.1 Home Theater Sound Bar with DTS Virtual:X, Bluetooth, Built-in...
America's #1 Sound Bar* - VIZIO has been filling homes with truly immersive audio for over 10 years, and our sound bars just keep getting better. We are proud to provide our customers with top-tier audio products that bring movies, shows, podcasts, music, and more to life like never before. (*#1 Sound Bar Brand in 1H 2022 Source: The NPD Group/Retail Tracking Service, U.S., based on units, Jan. - June 2022 combined.).Waterproof : No
Complete, All-in-One Design - Experience the performance and features of a traditional home theater system in a simple, all-in-one solution designed to blend seamlessly into any home.
Striking Performance - Brilliant clarity, startling dynamics, and Dolby Audio and DTS Digital Surround support combine for performance that defies its size.
Simple Setup, Streaming & Control -Get setup and listening in minutes with HDMI ARC and Bluetooth connectivity for unparalleled ease of use, control, and access to your content.
Minimal Modern Design - A clean, angular, low-profile silhouette seamlessly blends into any environment.
Sale
Bestseller No. 5
TCL Alto R1 Wireless 2.0 Channel Sound Bar for Roku TV, Bluetooth,Wifi– TSR1-NA 31.5-inch, Black
EXCLUSIVELY FOR ROKU TV: Requires a Roku TV. Expandable with Roku Wireless Subwoofer. Does not work with Roku Wireless Speakers.
SIMPLE WIRELESS SETUP WITH ANY ROKU TV: The simple wireless setup means no running cables or drilling holes in your wall. Just plug it into power and pair it for clearer, louder TV sound.
UNBOXING TO LISTENING IN MINUTES: Inside the box you'll find a quick start guide, power cable, and sound bar.
ONE REMOTE IS ALL YOU NEED: There's no need to juggle an additional remote every time you want to adjust the volume or sound settings. Just use your existing Roku TV remote.
QUICK ACCESS TO SOUND SETTINGS: Press the star button on your Roku TV remote to access your sound bar and Roku TV settings all in one place.
Sale
Bestseller No. 6
Assistrust Sound Bar, 50W Sound Bars for TV, 5.0 Bluetooth TV Sound bar, Wired & Wireless Soundbar,...
🦊【𝐈𝐦𝐦𝐞𝐫𝐬𝐢𝐯𝐞 𝟑𝐃 𝐒𝐭𝐞𝐫𝐞𝐨 𝐒𝐨𝐮𝐧𝐝】: Deliver dynamic and stereo audio with our 50W TV Sound Bar. Features 4 drivers that accurately reproduce every sound, from subtle whisper to thunderous explosions. Pull you into a real movie audio world with by our 2.0 full range channel sound bar.
🦊【𝐒𝐮𝐩𝐞𝐫𝐢𝐨𝐫 𝐂𝐫𝐲𝐬𝐭𝐚𝐥 𝐂𝐥𝐞𝐚𝐫 𝐋𝐨𝐮𝐝 𝐀𝐮𝐝𝐢𝐨】: Change weak blurry sound into loud clear sound. Focus on Crystal Clear Loud mids and highs, provide a brand new audio experience.
🦊【𝟑 𝐏𝐥𝐚𝐜𝐞𝐦𝐞𝐧𝐭 𝐟𝐨𝐫 𝐃𝐢𝐟𝐟𝐞𝐫𝐞𝐧𝐭 𝐒𝐨𝐮𝐧𝐝 𝐄𝐟𝐟𝐞𝐜𝐭𝐬】: Splitable design for 3 placements to fit your room. Horizontal placement for full range sound, turn Static to Surround. Vertical placement for immersive vertical sound, turn Insipid to Dynamic.
🦊【𝐄𝐟𝐟𝐨𝐫𝐭𝐥𝐞𝐬𝐬 𝐒𝐞𝐭𝐮𝐩】: Bluetooth 5.0 for wireless connection, HDMI(ARC)/OPT/AUX for wired connection. You can use your TV remote to control soundbar in HDMI ARC mode. Our soundbar comes with illustrated instructions, videos for you to setup at ease.
🦊【𝐔𝐧𝐩𝐚𝐫𝐚𝐥𝐥𝐞𝐥𝐞𝐝 𝐒𝐮𝐩𝐩𝐨𝐫𝐭】: We stand behind the durability of our soundbar and offer 18 months warranty + 24/7 online support + 60 days of unconditional replacement. Will always put you first to ensure your satisfaction, please feel free to contact whenever you need.
Sale
Bestseller No. 7
Introducing Amazon Fire TV Soundbar, 2.0 speaker with DTS Virtual:X and Dolby Audio, Bluetooth...
Amp up your audio - Fire TV Soundbar enhances TV audio with dual speakers for fuller sound, clearer dialogue, and deeper bass—all in a compact design.
Immersive sound - Enjoy a three-dimensional virtual surround sound experience with DTS Virtual:X and more detail with Dolby Audio.
Easy setup - Just plug in the included HDMI cable to the HDMI eARC/ARC port on your TV to instantly enjoy audio that's always in sync.
Compact design - With a length of 24" and a height of just 2.5", Fire TV Soundbar fits most entertainment consoles and TV stands.
Stream audio with Bluetooth - Connect your phone or tablet via Bluetooth to fill the room with your favorite music.
Sale
Bestseller No. 8
LG Sound Bar and Wireless Subwoofer S40Q - 2.1 Channel, 300 Watts Output, Home Theater Audio Black
Transform your TV into a home theater setup with this sound bar's 300 watts of power, 2.1 channels, and booming bass via a wireless subwoofer.Waterproof : No
LG's AI Sound Pro uses deep learning algorithms to automatically adjust sound levels based on the viewed content type—clear vocals in sports, thunderous bass in live music, and dynamic sound in action movies
Made to work with your LG TV, this sound bar system taps into your TV's processing power to automatically optimize sound quality via TV Sound Mode Share—Compatible with 2022 LG TVs and select 2021 LG TVs.
Eliminate tangles of messy cables with a single connection between your TV and sound bar with HDMI Arc. Stream from your phone or tablet via Bluetooth
Sound bar, wireless subwoofer, remote control with batteries, and wall mount bracket are included.
Last update on 2023-11-30