A subwoofer is like a valuable part of a home theater. However, home theaters can work without one. With a subwoofer, you will be able to get an amazing sound. Nothing works as great as a subwoofer to lift your home theater experience. But what will happen if you ever face any problem with your subwoofer or notice any malfunctioning? You may also ask if it could possibly be fixed or not? So how can you get to know if your home theater subwoofer is blown?
You can test your subwoofer with a low volume. If it is distorted, then you have a blown or partially blown subwoofer. If there is no sound at all, then the subwoofer has been completely blown. You can also check your cable if you think that's the issue before making any conclusions.
Subwoofers can be blown when they either receive too much power or too much of a distorted signal. You can easily find out that your subwoofer is blown by listening to the sound or reviewing the woofer's movement. You can also use a multimeter to find out if the coil is blown.
If you want to test the movement of your woofer, you'll want to remove the cover to reach the cone. In that case, you have to move the cone to evaluate the damage carefully. Signs that your subwoofer is damaged:
If you do not notice any movement, then it is really damaged.
If it is extra shaky, this is also a sign of damage.
If you hear any scratching sounds from your subwoofer, then it is blown.
Moreover, you can rather use a multimeter to test for a blown coil. (A multimeter measures the amount of voltage, resistance, and current) so that you can find out if there is a lack of electrical resistance.
If you are already undergoing any of these signs, then you might be having a blown subwoofer. But if you notice that, at first, you will want to assess the situation completely. You have to understand what kind of damage happened to your subwoofer, and then you have to determine what you need to do next.
What Happens When a Subwoofer Blows?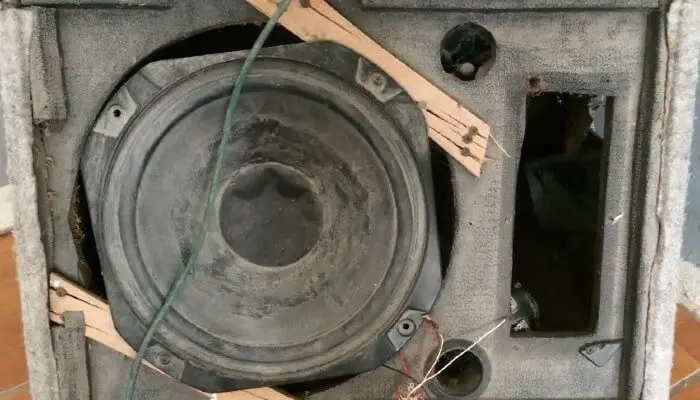 Suppose you are enjoying your home theater system, but suddenly one day, something happens with your low-end sound. It may get very soft, or the sound starts to get distorted. Or you may do not hear any sound from the low-end at all, or it starts to sound very unfamiliar and extra loud. Whatever happens, it is making you think that your subwoofer is blown. You can be frustrated because the subwoofer is like a valuable part of a home theater.
When your subwoofer gets damaged or blown to some degree, this can happen because of two things. Those are your subwoofer either received too much power or too much signal. Many subwoofers have been damaged because of the Clipped signals. If you put too much pressure on your subwoofer with too much power, that can also damage it.
Clipped or Distorted Signals
If you turn up a signal that is distorted, that can also damage your subwoofer. Clipped or distorted signals are really harmful to your subwoofer. Sometimes you will not even notice that your signal is distorted until the levels go so high and it starts to distort and damage your subwoofer.
Too Much Power
Sometimes a subwoofer is blown is due to too much power. Though a lot of sounds can be exciting and enjoyable, a subwoofer can only handle so much. If you push your subwoofer to go beyond its power limits so that you can get more sound can result in damage.
Even though subwoofers are skillfully created to resist more power than their specified RMS (root mean square) ratings, also known as continuous power handling, it is still important to make sure the sound is clear and distortion-free at extra high volumes. You should know your subwoofer RMS wattage to ensure that you are supplying the valid amount of power to your subwoofer continuously.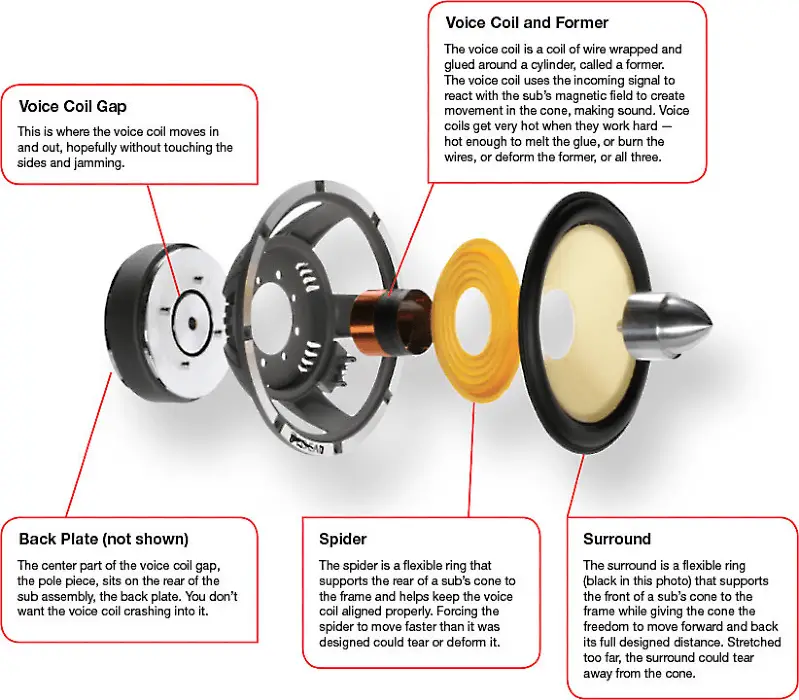 Different Ways to Test if a Subwoofer is Blown
When you start noticing that there is a probability that a subwoofer in your home theater has been blown, you should fully assess the woofer to determine the total amount of damage that already happened. Damage can happen in more than one place. So you have to find out all the damaged parts carefully. Here are the three main ways to test if a subwoofer is blown.
Test the sound. Is it clipping, distorted, etc.?
Test the movement of the cone.
You can also use a multimeter to inquire about electrical resistance.
In this article, you can learn the exact way to perform these tests without further damaging the possibly inadequate subwoofer. So keep reading.
Test the Sound
You can notice the sound to determine how much your subwoofer has already been damaged because sound quality works like an indicator. Most of the time, what you will hear during a fully blown or partially blown subwoofer are:
No sound at all – if you do not hear anything from your subwoofer, then it has likely been completely blown. Test the cable and audio source as well. Make sure that those are well before you do anything to the subwoofer.
Partial sound with distortion – if you ever notice a weak, distorted sound coming from your subwoofer at any volume, then it might be because of a partially blown subwoofer on your hands.
Test the Cone
Reaching to a subwoofer cone to identify damage is not so hard. All the Subwoofer cones come with a built-in suspension system that allows them to move fluidly. So you can easily identify when the cone is off only by using your hands. When you are doing it, you should be very careful and lightly press on the subwoofer cone. Now you will get to know that what you might experience and what they actually mean.
No movement – if you lightly press on the cone but it does not move, it is an indicator that damage has occurred.
A wobbly cone – if you see that the cone unsteadily moves around, then it's likely the suspension system has been greatly hazarded.
Scratching sounds – if you hear the cone make scratchy noises while you move it with your hands, then the damage has occurred. You should remove it from your home theater system before it causes damage to any other equipment.
Use a Multimeter
A multimeter is a very useful tool. This tool will be able to inform you if a subwoofer has any damage to its coil. With this device, you can easily check the electrical resistance (also known as ohms, symbol = Ω). If you find that the electrical resistance is zero, then the coil might have been damaged. Again, if the multimeter's reading does not stay in place, it is also a sign of you having a damaged coil in your hand. So you should probably keep a multimeter around the house. A multimeter is very easy to use. You just have to complete the steps given here.
At first, disconnect the subwoofer from the power source if it has one.
Disconnect the audio input from the subwoofer.
If an external amplifier or receiver is not powering your subwoofer, then you will need to remove the sub from its cage.
Then you have to connect the two probes to the multimeter. And turn the multimeter on to measure the ohms (Ω) of your subwoofer.
You have to connect the red probe with the positive lead and the black probe with the negative lead.
Then the multimeter will start to measure the amount of resistance. You will usually have to round up to the nearest whole number to know the correct resistance.
What to Do if You Know Your Subwoofer Is Blown
Damaging a subwoofer is really very stressful. But you should take action as soon as possible once you get to know that your subwoofer is damaged.
At first, you should remove your subwoofer from your working home theater system. Because if you do not remove it from the place, it may end up causing damage to your other equipment, which will be more stressful and cost you a lot of money as well. So you should completely remove it.
If you do not have any electronics experience, you should call someone who is an expert. If your subwoofer is relatively new, it could possibly be covered under warranty. So check this before you start to disassemble the subwoofer. It is good to test the subwoofer by yourself. But it is even better to get more people to estimate the damage. So you can call your extremely tech-savvy friend or take it to the Geek Squad at Best Buy.
And finally, you should now make a decision about what you will do without your subwoofer. Are you on a budget to buy a new one? Could you live without it, currently? Have you ever considered trying to fix it? Most of the time, people choose to buy a new one, but there may be another route for you. So we recommend you to review all of your options to find out what's best for you.
Best Seller List of Subwoofers:

Bestseller No. 1
Klipsch R-100SW 10" Subwoofer, Incredibly Deep Bass and an All-digital Amplifier,14 5" x 12 5" x 16...
10" front-firing spun-copper IMG woofer
All-digital amplifier with 300 watts peak power
Volume low pass crossover and phase control
Line level LFE RCA inputs for maximum receiver compatibility
Dimensions 14 5" x 12 5" x 16 4"
Bestseller No. 2
Klipsch R-12SW 12" 400W Subwoofer
Powerful 12" copper-spun front-firing woofer
All-digital amplifier delivers 400 watts of dynamic power
Equally impressive with music and movies; Brushed black polymer veneer cabinet with satin painted plinth
Low pass crossover and phase control
Line/LFE inputs for compatibility with most receivers
Bestseller No. 3
Sony SACS9 10-Inch Active Subwoofer,Black
Active 10" subwoofer perfect to provide that extra punch for your home theater or music listening setup
Amplify your movie, music, and gaming experience with a speaker that provides full frequency audio with a three-way coaxial, four-driver speaker system
Create a robust 5.1.2 home theater setup perfect for Dolby Atmos with the complete range of CS speakers from Sony with the SACS9 subwoofer, 2 SSCS3 tower speakers, 1 SSCS8 center channel speaker, 2 SSCS5 bookshelf speakers, and 2 SSCSE Dolby Atmos enabled speakers
10" Dual layer mica woofer diaphragm delivers faithful sound and optimal bass response
Motion feedback technology utilizes detection circuitry to correct variations in the input signal, helping to prevent distortion
Sale
Bestseller No. 4
Polk Audio PSW108 10" Powered Subwoofer | 100W Peak Power | Explosive Performance for Movies & Music...
CONTEMPORARY DESIGN FOR A PREMIUM HOME THEATER EXPERIENCE – A 10" Dynamic Balance woofer & front-firing port directs powerful lows at the seating area giving a CINEMATIC QUALITY to your music and movies
BOLD SOUND WITH UNPARALLELED CLARITY – STATE-OF-THE-ART KLIPPEL TECHNOLOGY provides a resonance-free combination of materials and construction techniques that tune out distortion for INTENSE AND RICHLY-DETAILED BASS even at extreme listening levels
A built-in high-powered amp generates 50 watts RMS/100 watts dynamic power for an EMPHATIC BASS RESPONSE and a wide dynamic range crucial to recreate the intricate details and AUTHENTICITY OF LIFE-LIKE SOUND
EASY INTEGRATION WITH YOUR EXISTING SOUND SYSTEM. It offers a continuously variable low-pass filter, adjustable from 80-160 Hz
A sleek detachable grille in front; with multiple line- and speaker-level inputs and outputs, POWER-SAVER ON/AUTO SWITCH, independent volume control and a TOGGLE PHASE SWITCH on the back panel make this sub a cohesive unit that outperforms its competition
Sale
Bestseller No. 5
Monoprice 60-Watt Powered Subwoofer - 8 Inch With Auto-On Function, For Studio And Home Theater...
This is an 8" powered subwoofer capable of producing 60 watts (RMS) output. The subwoofer has a frequency response range of 50 to 250 Hz with a lowpass crossover filter, which can be adjusted from 50 to 150 Hz. Gain and frequency knobs on the control panel allow you to adjust the crossover filter and the power output for the optimum blend and balance of bass output with your stereo or surround speakers.
The subwoofer has multiple input options, which allow it to be used with any existing stereo or 5.1 (or greater) amplifier system. For each input there is a corresponding output.
High-level inputs accept a full-range signal from the amplifier's stereo speaker outputs. When connecting the unit as part of a 5.1 system, these would be taken off the Front Left and Front Right outputs in parallel to the standard pair of front speakers. The subwoofer provides its own power and includes impedance matching circuitry, so this will not reduce the power output to the front speakers or affect the overall impedance load on the amplifier.
Additionally, the subwoofer has a set of right/left Line Level inputs. If using a standard stereo system, without a special subwoofer output, you can connect these to the left and right line level outputs on the amp. The subwoofer will then combine the signals to process the mono bass signal it needs to drive the speaker. If you are using an amplifier with a single mono subwoofer line level output, simply use an RCA "Y" cable to split the output and send it to the two line level inputs on the subwoofer.
The subwoofer is housed in an attractive black wood cabinet that measures 13.75" x 11.75" x 11.75" (H x W x D). The driver and a 2 3/4" sound port are located on the front, covered by a black cloth speaker grill.
Sale
Bestseller No. 6
Klipsch R-120SW Subwoofer, Black
12" high excursion spun-copper Imp woofer
29 hertz – 120 hertz plus /- 3 dB
400 watt
Max acoustic output 116dB
Bass-reflex via rear firing port. Amplifier power (control/peak): 200 watts/400 watts
Sale
Bestseller No. 7
Monoprice 12 Inch 150 Watt Powered Subwoofer, Black (109723)
12" High Performance Powered Subwoofer
150 Watts RMS, 200 Watts Peak
50 ~ 250 Hz Frequency Response
The splitter has an operating range of up to about 30 feet (10 meters)
Sale
Bestseller No. 8
Yamaha 10" 100W Powered Subwoofer - Black (NS-SW100BL)
New twisted flare port contributes to clear and tight bass
Advanced YST II (Yamaha Active Servo Technology II)
10" cone woofer
Stylish addition to any room
Bestseller No. 9
Rockville Rock Shaker 10" Inch Black 600w Powered Home Theater Subwoofer Sub
Features: Rockville Rock Shaker 10 Black 600 Watt Powered 10" Home Theater Subwoofer, 600 Watts Peak / 300 Watts RMS, Built-in Class D Amplifier, Enclosure is made of top quality MDF wood. (MDF wood sounds better and lasts longer than particle board), High-grade vinyl enclosure covering with a beautiful finish, The enclosure is built with the perfect air space to maximize sound quality and punch, The rear firing port is engineered for optimal sound
Class "D" Amplifier Circuitry with Auto-Switching Power Supply, High-grade woofer with foam surround and paper cone, Woofer has a Y30 grade magnet, and 1.5" 4-layer voice coil, Distortion-Free Playback Even at Max Volume Listening! Very Clean Sound!, Enclosure is filled with fire resistant poly cotton, Detachable foam grill
Inputs / Outputs / Controls: RCA line input, RCA line output, Speaker High level inputs, Speaker High level outputs, Volume control, Phase switch (0°-180°), Crossover Frequency control, Power switch, Standard IEC power cable included
Specifications: Amplifier: Class D, Woofer Impedance: 4 Ohm, Signal to noise ratio: 85 dB (Maximum output with THD+N
Rear side of the subwoofer: Subwoofer (LINE) Jack in, Subwoofer (LINE) Jack out, Volume Control, Phase switch (0° - 180°), Frequency control, Power switch, Speaker high level in, Speaker high level out??
Bestseller No. 10
BESTISAN Powered Subwoofer, Deep Bass Subwoofer, Down Firing Sub in Compact Size, Easy Setup with...
Compact Design But Powerful Subwoofer-This Powered Subwoofer Is Suit For Your Room, It Completes The System By Adding The Deeper Notes Of Music That Has Deeper Notes Recorded. For Music Reproduction Is Does A Great Job
Powered Down Firing Woofer-Sw65C- A Down-Firing Subwoofer,   Designed To Fill Your Room With Immersive, Surround Sound In Low Tight And Smooth Bass
Work With Speakers, Turntable, Tvs With An Analog Output, Cd And Dvd Players, Video Game Consoles And All Products With 1/8" Mini-Jack Or Rca Outputs. Pls Kindly Note That The Function Of The Sub Is To Enlarge The Bass Only, We Recommend You To Pair It With Your Speakers
Be Compatible With Your Tv-If Your Tv Supports Sound Output Option Of Tv And External Speaker, You Can Connect The Subwoofer To Your Tv Directly. If Your Tv Doesn'T Support This Sound Output Option, We Recommend You To Pair The Subwoofer With Another Speakers/ Soundbar First, Then Connect It To Tv
Related Questions: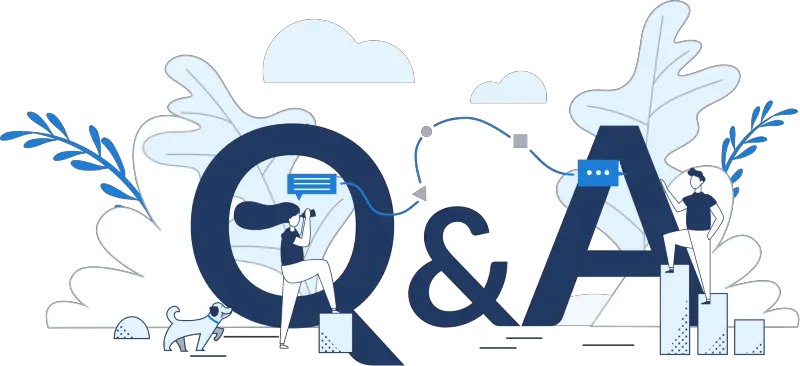 Can you fix a blown subwoofer?
Yes, there are numerous ways that you can use to fix a subwoofer. But the task is not easy at all. It will require precision and skill. You will need to detach and separate parts of the subwoofer.
Fixing the area of the subwoofer that has been damaged is also quite challenging. If you want to get your blown subwoofer repaired, it's best to get it in the hands of an experienced professional with the tools and knowledge to complete the tasks at hand. So we do not recommend you to take attempt to fix your subwoofer unless you actually know what you are doing.
What are the good options for purchasing a new subwoofer?
There are many kinds of subwoofer available on the market from different manufacturers. Day by day, they are getting much better and upgraded. Though it is a matter of sorrow that your subwoofer is blown, you will really enjoy shopping for a new subwoofer. You can find an option available for every budget very easily. The Polk Audio has a few highly rated, budget-friendly options on Amazon.
The PWS10 10-Inch Powered Subwoofer and its PSW505 12-Inch Powered Subwoofer really come with good build quality. The Bic Acoustech PL-200 II Subwoofer is another great option, but you have to spend a slightly higher amount of money for this. And if you have a budget of 500 dollars, you can upgrade to the SVS SB-100 Subwoofer with a 12-inch Driver, 300-Watts RMS, and a Sealed Cabinet. You can choose one of the above or find something else. But whatever your specifications are, there is always a solution for you.
Bic Acoustech PL-200 II Subwoofer - Gloss Black
-our editorial board has reviewed this article and has been approved for publication according to our editorial policy.
You May Also Like…
Last update on 2022-11-17