Is it your first time seeing the world of speakers, or are you simply learning something new on your favorite piece of equipment? You might be perplexed as to why there are so many different input and output options available when connecting your subwoofer to its receiver.
What is the purpose of the left and right inputs on some subwoofers? An LFE (low-frequency effects) input cable is typically used to link the subwoofer to the receiver, which is more common than you might think. Another way, which makes use of the left and right inputs (RCA connections), is to send low frequencies through the right and left channels of the speaker system, respectively.
Using the more popular LFE cable option, you will most likely not need to use the L and R inputs, which is a good thing. On the other hand, these inputs can be found on the subwoofer regardless of whether the device is equipped with an LFE cable option. If your subwoofer does not have an LFE option, you can use both the Left and Right inputs to create a balanced signal.
What is LFE on a Subwoofer?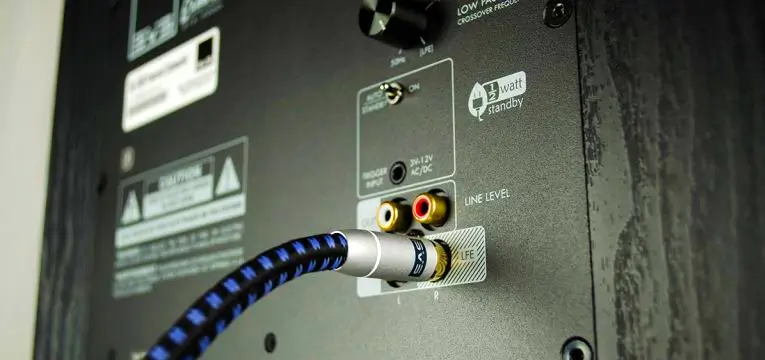 If you are new to the audio world, for example, bringing in new equipment to set up a new home theater, you may be perplexed by all of the many acronyms used.
Everything appeared so straightforward before you started attempting to connect the cords to their proper locations. You might know that LFE is an abbreviation for low-frequency effects, but what exactly does that mean?
The LFE cables are used to connect your subwoofer (low-frequency speaker) to the receiver it uses. Because the subwoofer is responsible for low bass tones (in other words, it serves a single purpose), it necessitates using a transmitter that transmits low-frequency audio waves. The left and right channels are merged in an LFE cable, allowing for a single wire to distribute the signals evenly and efficiently to the subwoofer.
More than likely, you will use an LFE input cable to connect your subwoofers to your amplifier. Left and right input are significantly less likely to be used these days; however, they are still possible.
Most individuals have discovered that employing an LFE input in a subwoofer would effectively transmit the necessary sound from the subwoofer to the receiver, resulting in effective audio production.
The subwoofer produces only low-frequency tones, and this is its main function (think of the deep bass in voice-overs during a movie or the low bass that you can hear in a car driving by).
As a result, the subwoofer must be capable of receiving audio signals that are meant for this speaker's output: the lowest frequencies of audio production. This is made possible by the LFE input of a subwoofer, which allows for a single standardized connection to be used.
Instead of having to sort through a jumble of cords and cables, you can utilize an LFE input to connect your subwoofer to its receiver with a single cable. To avoid confusion regarding which cable goes where this can be beneficial. However, because this is the more usual (and preferred) form of connection, this probably is what you are accustomed to using as well.
What is RCA Input in a Subwoofer?
If, on the other hand, your subwoofer does not have an LFE input connection, you will find that your only alternative is to connect your subwoofer to the RCA (Radio Corporation of America) inputs on the right and left channels.
Even though it is less common and often less favored (since it requires two cables instead of one), it is effective and can achieve the desired result.
To achieve digital transmission of low-frequency signals for the right and left channels in a subwoofer, RCA cables are used with a right and left input cable (or split between the two with a Y-cable). An RCA input cable does not combine these audio signals as an LFE input cable; instead, the RCA input cable places them in specified locations: the right and left input options that connect the subwoofer to its receiver.
The RCA inputs for your subwoofer will be visible in the left and right input options for the subwoofer. Your subwoofer may offer the option of connecting via an LFE cable in addition to the left and right inputs.
Most users will choose to use an LFE cable in this instance, albeit it is not strictly necessary. In contrast to an LFE input, which only has a single wire, the left and right inputs work as a dual set.
Even though it is not significantly more complicated (requiring either one additional connection or the use of a y-cable to connect the right and left), it requires significantly more effort than utilizing an LFE input cable. Additionally, you may discover that the overall audio effects produced by the usage of RCA input are less than satisfactory. However, this is not always the case.
What Cable Do I Need to Connect Subwoofer to Receiver?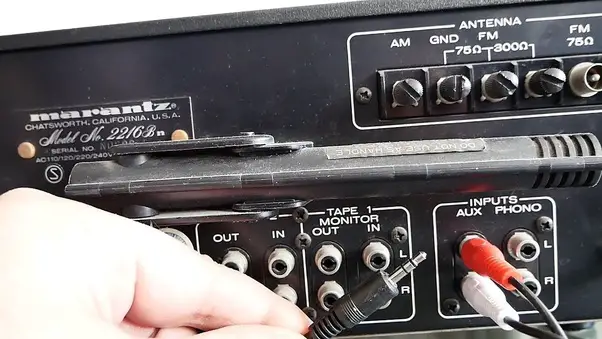 Following our discussion of a few acronyms and their various functions, you should have a clearer knowledge of the differences between LFE and RCA input cables in terms of their intended use. However, after reading this, you might still be perplexed as to which wire you'll need to connect a subwoofer to its receiver.
Use an LFE input cable or an RCA line-in cable to connect a subwoofer to its receiver, depending on your preference (used for left and right input options). If your subwoofer has the option of using an LFE input, this will be your best alternative, assuming that it does. However, if this is not the case, an RCA input will suffice. Make sure you read the instructions that came with your subwoofer for further information on using it.
Identifying your subwoofer's input and output options should be your first step if you are unsure of the cable you require or if your subwoofer even came with cables.
If you find that your subwoofer and receiver both have an LFE input/output option, this will be the quickest and most straightforward solution for you. If this is not the case, an RCA input cable will link the left and right inputs together.
Consider if it would be worthwhile to invest in a secondary subwoofer if your subwoofer does not have an LFE input option. If your subwoofer does not have an LFE input option, consider whether it would be worthwhile to invest in a secondary subwoofer to employ a dual connection. The use of an equalizer, in this case, will assist your subwoofers in balancing the communicated signals and achieving the desired impact of creating the transmitted audio effectively and efficiently.
Getting started in the realm of dual subwoofers might be intimidating, especially if you are unfamiliar with the technology. However, this is one of the reasons why you should engage or seek guidance from a qualified specialist.
While most audio professionals will recommend employing multiple subwoofers to enhance the distributive localization of the music and provide a more immersive surround sound experience, this may not always be feasible for your particular situation.
Are Dual Subwoofers Worth It?
A common recommendation from audio experts is to use two subwoofers, but do you need this configuration for your basic audio demands in your home? You might be wondering if this is a necessary investment or if it is an unnecessary overkill that will increase the cost of your home sound system.
Dual subwoofers will provide a substantially more polished sound experience for low-frequency tones compared to a single subwoofer. Because using two subwoofers eliminates the capacity to localize the sound, you will perceive the bass as more of a "surround sound" effect than you would otherwise hear. With dual subwoofers, the equalization of signals can be completely avoided.
So, yes, dual subwoofers are a good investment if you have the money to spend on the additional equipment and the time to learn how to correctly set up the two subwoofers (or hire someone to do it for you). However, numerous online tutorials will walk you through setting up dual subwoofers, so not understanding how to do so should not prevent you from making the purchase.
A single subwoofer is used to produce the deep bass tones that can be heard emanating from this speaker when it is used. As you work to discover an ideal location for your subwoofer in your home, you should be able to reduce the need for your auditory processing skills to localize the sound in your environment.
This will be accomplished when the subwoofer is positioned in the center of the room, and you can perceive the bass as coming from a "head-on" direction.
When you employ dual subwoofers, on the other hand, you can more easily transition away from localizing the sound and can use the duality of the speakers to improve the surround sound effect further.
It is no longer necessary to locate the center of your living room to place your subwoofer physically; instead, you can use two and angle them so that they work well together in producing the surround sound effect. Gone are the days of carefully squatting in different positions in your living room to determine whether or not the bass can be heard clearly from all directions. Using a dual subwoofer arrangement will completely alleviate this problem for you.
Furthermore, dual subwoofers do not necessitate the equalization of transmitted signals, which is beneficial. Instead of being equalized inside a single speaker system, the dual subwoofer allows the transmitted signals to be equalized more effectively in two low-frequency speakers, which increases the system's efficiency.
You may need to witness it to believe in the efficiency of employing two subwoofers rather than one to believe it.
While keeping these points in mind, try to put your theory to the test by visiting a friend or an audio store that can demonstrate the difference between using twin and single subwoofers. Adding a subwoofer to your home audio system will almost certainly prove to be a worthwhile investment.
Best Seller List of Subwoofers:
Bestseller No. 1
Klipsch R-12SW 12" 400W Subwoofer
Powerful 12" copper-spun front-firing woofer
All-digital amplifier delivers 400 watts of dynamic power
Equally impressive with music and movies; Brushed black polymer veneer cabinet with satin painted plinth
Low pass crossover and phase control
Line/LFE inputs for compatibility with most receivers
Bestseller No. 2
Sony SACS9 10-Inch Active Subwoofer,Black
Active 10" subwoofer perfect to provide that extra punch for your home theater or music listening setup
Amplify your movie, music, and gaming experience with a speaker that provides full frequency audio with a three-way coaxial, four-driver speaker system
Create a robust 5.1.2 home theater setup perfect for Dolby Atmos with the complete range of CS speakers from Sony with the SACS9 subwoofer, 2 SSCS3 tower speakers, 1 SSCS8 center channel speaker, 2 SSCS5 bookshelf speakers, and 2 SSCSE Dolby Atmos enabled speakers
10" Dual layer mica woofer diaphragm delivers faithful sound and optimal bass response
Motion feedback technology utilizes detection circuitry to correct variations in the input signal, helping to prevent distortion
Sale
Bestseller No. 3
Klipsch R-100SW 10" Subwoofer, Incredibly Deep Bass and an All-digital Amplifier,14 5" x 12 5" x 16...
10" front-firing spun-copper IMG woofer
All-digital amplifier with 300 watts peak power
Volume low pass crossover and phase control
Line level LFE RCA inputs for maximum receiver compatibility
Dimensions 14 5" x 12 5" x 16 4"
Sale
Bestseller No. 4
Polk Audio PSW108 10" Powered Subwoofer | 100W Peak Power | Explosive Performance for Movies & Music...
CONTEMPORARY DESIGN FOR A PREMIUM HOME THEATER EXPERIENCE – A 10" Dynamic Balance woofer & front-firing port directs powerful lows at the seating area giving a CINEMATIC QUALITY to your music and movies
BOLD SOUND WITH UNPARALLELED CLARITY – STATE-OF-THE-ART KLIPPEL TECHNOLOGY provides a resonance-free combination of materials and construction techniques that tune out distortion for INTENSE AND RICHLY-DETAILED BASS even at extreme listening levels
A built-in high-powered amp generates 50 watts RMS/100 watts dynamic power for an EMPHATIC BASS RESPONSE and a wide dynamic range crucial to recreate the intricate details and AUTHENTICITY OF LIFE-LIKE SOUND
EASY INTEGRATION WITH YOUR EXISTING SOUND SYSTEM. It offers a continuously variable low-pass filter, adjustable from 80-160 Hz
A sleek detachable grille in front; with multiple line- and speaker-level inputs and outputs, POWER-SAVER ON/AUTO SWITCH, independent volume control and a TOGGLE PHASE SWITCH on the back panel make this sub a cohesive unit that outperforms its competition
Sale
Bestseller No. 5
Klipsch R-120SW Subwoofer, Black
12" high excursion spun-copper Imp woofer
29 hertz – 120 hertz plus /- 3 dB
400 watt
Max acoustic output 116dB
Bass-reflex via rear firing port. Amplifier power (control/peak): 200 watts/400 watts
Sale
Bestseller No. 6
Yamaha 8" 100W Powered Subwoofer - Black (NS-SW050BL)
New twisted flare port contributes to clear and tight bass
Advanced YST II (Yamaha Active Servo Technology II)
8" cone woofer
Stylish addition to any room
Dynamic Power: 100W (5 ohms)
Sale
Bestseller No. 7
PreSonus Eris Sub 8 Compact Studio Subwoofer
8-inch, front-firing, paper-composite transducer with high-elasticity rubber surround delivers smooth low-frequency transients.
100W Class AB amplifier (50W RMS) gives robust output with minimal distortion.
Now comes included with Studio One Prime and Studio Magic plug-in suite, over $1000 USD worth of music production software.
Input gain control gives -30 dB to +6 dB of continuously variable output.
Continuously variable lowpass filter keeps resonances in the 50 Hz to 130 Hz range.
Bestseller No. 8
BESTISAN 100-Watt Powered Subwoofer - 8 Inch Speaker, Massive Output, Low Distortion, for Studio and...
Powerful,Pure Home Theater Subwoofer Max to 100W: Perfect for home theater systems that need a little extra oomph. Matches well with any system. And the subwoofer is up to 100W.
8-INCH Subwoofer Enclosure: Kicker Dual 8-Inch 100 watt vented subwoofer enclosure is factory-tuned and vented for deep, thunderous bass.
Easy to Integrate with Existing System: Hook up this subwoofer to the receiver and upgrade your music sound instantly! Features continuously variable 60-120 Hz crossover and 25-125 Hz frequency response.
Outstanding Production Technology:Simple and fashionable appearance, stable black atmosphere, hard texture, good sound, so that your room is full of surround sound.
Perfect Size:The Subwoofer size is 315MM(L)*280MM(W)*285MM(H), Great for matching soundbars or TVS of all sizes and other connected devices. It won't take up a lot of room at home, but it will fill the space where you put the Subwoofer with a powerful bass effect.
Sale
Bestseller No. 9
Powered Subwoofer, BESTISAN Deep Bass Home Audio Subwoofer, Wired Subwoofer for Home...
6.5 Inch Side Firing Woofer - Long throw subwoofer with high rigidity PVA Treated cone, bottom slotted port, Bass Reflex cabinet design in compact size, with added internal bracing and fashion black oak finish, not only a excellent sub, but also a premium decor
Powered Subwoofer - Integrated high efficiency power amplifier, this sub is your answer to more power in a compact design.Overall frequency response 40- 250 Hz, Gain and 60 - 250 Hz Crossover control knobs. The enclosure is built with the perfect air space to maximize sound quality and punch.
Wired Connection - Connect the subwoofer to your soundbar or speakers through RCA connection, enjoy home theater experience!
Home Audio Subwoofer the subwoofer with built-in amp combines delicate musicality and thunderous power for the ultimate in home theater sound effects as well as unsurpassed musical excellence. We recommend you to match this subwoofer with your speakers, brings you immersive surround sound.
Led display design- Different led light indicates different mode, round corner design can prevent bruising and perfectly integrate with your room.
Bestseller No. 10
Monoprice 60-Watt Powered Subwoofer - 8 Inch With Auto-On Function, For Studio And Home Theater...
This is an 8" powered subwoofer capable of producing 60 watts (RMS) output. The subwoofer has a frequency response range of 50 to 250 Hz with a lowpass crossover filter, which can be adjusted from 50 to 150 Hz. Gain and frequency knobs on the control panel allow you to adjust the crossover filter and the power output for the optimum blend and balance of bass output with your stereo or surround speakers.
The subwoofer has multiple input options, which allow it to be used with any existing stereo or 5.1 (or greater) amplifier system. For each input there is a corresponding output.
High-level inputs accept a full-range signal from the amplifier's stereo speaker outputs. When connecting the unit as part of a 5.1 system, these would be taken off the Front Left and Front Right outputs in parallel to the standard pair of front speakers. The subwoofer provides its own power and includes impedance matching circuitry, so this will not reduce the power output to the front speakers or affect the overall impedance load on the amplifier.
Additionally, the subwoofer has a set of right/left Line Level inputs. If using a standard stereo system, without a special subwoofer output, you can connect these to the left and right line level outputs on the amp. The subwoofer will then combine the signals to process the mono bass signal it needs to drive the speaker. If you are using an amplifier with a single mono subwoofer line level output, simply use an RCA "Y" cable to split the output and send it to the two line level inputs on the subwoofer.
The subwoofer is housed in an attractive black wood cabinet that measures 13.75" x 11.75" x 11.75" (H x W x D). The driver and a 2 3/4" sound port are located on the front, covered by a black cloth speaker grill.
Last update on 2022-11-17