If you are setting up an entirely wireless home theater, you will want to add Bluetooth to your receiver so that you can connect your TV with your receiver via Bluetooth. There are different kinds of Bluetooth receivers available on the market. But not all of them are suitable choices for home theater sound. So you have to be sure about what you are looking for before you purchase one.
A wireless Bluetooth adapter can be the problem solver. You can find these adapters available in different price ranges based on the quality. Moreover, these adapters are easy to use also.
After adding Bluetooth to your home theater system, you will be able to play any sound right from your phone or from any Bluetooth-supported device, including your laptops and some smart home devices
How to Install a Bluetooth Receiver

You will see a lot more detail about what to look for in a Bluetooth receiving unit and how to set it up and start using it. But now you can get to know that installing these devices is so easy. You just have to follow some easy and simple steps. Moreover installing process for all the Bluetooth receivers will be almost the same.
Choose the Hardware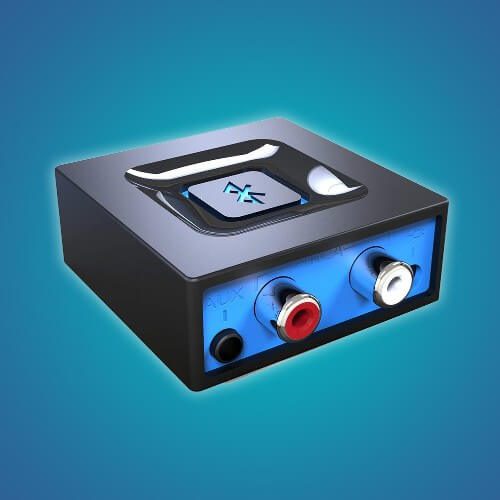 Firstly, you have to study the information below and get to know how to connect and use the hardware you've chosen. After you have selected your receiver, you do not have to worry much because the install process is mostly the same for all the receivers available on the market.
Connect the Bluetooth Adapter to the receiver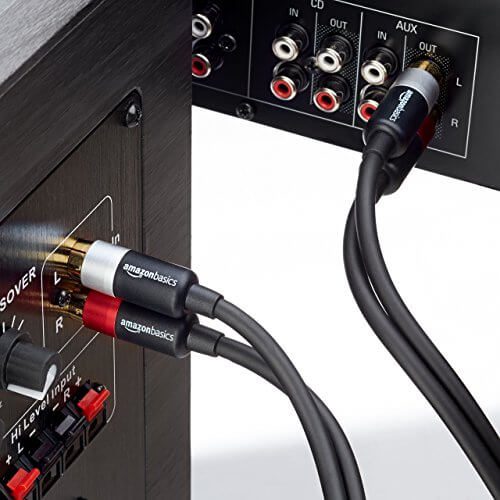 You have to connect the adapter with your receiver using the red and white A/V cables that will come with the Bluetooth adapter. These cables are also called RCA cables. There will only be two cables because of the limitations of Bluetooth technology. The system will only carry two channels of sound.
The cables will be very easy to connect. You just have to connect the red RCA cable with the adapter's red connection port and the white RCA cable with the white connection port, then connect the other end of the cables with the receiver's red and white RCA input ports, and you will be ready to go.
Connect a Device to the Bluetooth Adapter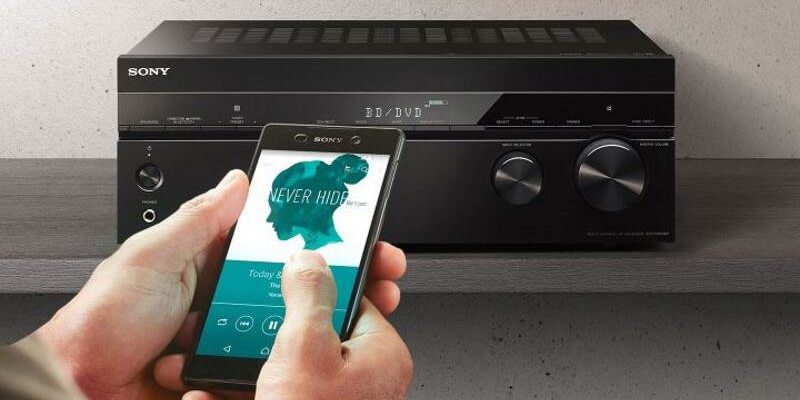 After you have connected all your equipment, you are now ready to make the wireless connection with your receiver. Turn the power on of the Bluetooth adapter and connect it with the device you want to play audio. Via Bluetooth, you just have to pair your device with the adapter by following the steps specified by the adapter's manufacturer.
It is as easy as turning the adapter on and finding it in your phone or computer's Bluetooth pairing menu.
Power On and Test
After you have successfully paired your device with the adapter, you are now ready to power on the receiver and test it out.
Sometimes you may have to change the input on the receiver to the channels you've plugged the RCA cables. So if you do not hear anything first, you do not have to worry; change the input on the receiver. You can also check the receiver's manual for any help.
Choosing the Right Equipment
At first, you have to make sure that your Bluetooth receiver's output plugs match with the input plugs of the channel you want to use on your A/V or stereo receiver. But if you do not have one or can't find one that matches, you have to get an appropriate converter cable.
Aside from USB connections, Bluetooth receivers have universally analog audio output. So if your A/V or stereo receiver only has digital inputs, you have to purchase a converter unit that plugs into the wall.
There are two kinds of Bluetooth receivers available on the market. Those are battery-powered and wall-powered.
Battery-powered units are generally used for the auxiliary input of car radio systems. They come with a minimalistic look because they have fewer cables. But you have to recharge them or replace the batteries.
But we think that Wall powered receivers are the best choice for a home theater system. For this, you may need to extend your surge protector, but it really worth it. After setting it up, there will be no maintenance.
A High-Quality Bluetooth Adapter Option
One of the most significant issues that you can face with Bluetooth for audio is the strength of the signal. So if you want the best performance from your hardware, you can try and solve the possible issues with wireless Bluetooth signals.
The Bluetooth 5 feature will be suitable for your signal strength, but it will also pull triple duty by being a Bluetooth broadcaster and receiver. So it can solve your problem. Besides, it will add more functionality by routing sound to other devices, such as from your TV to a pair of wireless headphones.
A More budget-Friendly Option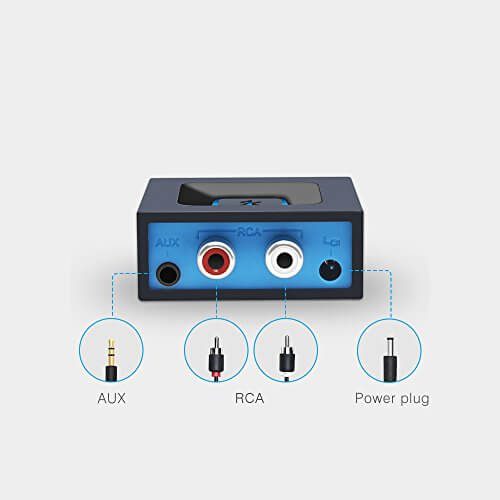 The Bluetooth technology is easy to use, and it is pretty cheap to implement also. Bluetooth Adapters like this esinkin Bluetooth Audio Adapter (on Amazon) is able to convert your Bluetooth signals to the left and right channel sound without coming close to breaking the bank.
This adapter comes with a limited low number of channels, so you will be able to get it at an affordable price because the wireless signal can't carry all the channels.
Drawbacks of Bluetooth
Bluetooth connectivity is mainly designed for broadcasting signals between portable devices. Nowadays, many home theater systems come with built-in Bluetooth connectivity, so it should be one of your last resorts for wireless audio transmission.
Range
Bluetooth is designed so that you can connect your personal devices without headphone wires or other cables. It is common to connect with a car stereo system, a portable speaker unit, or any other audio devices you expect to be close by when using.
Bluetooth comes with a range of 30 feet only. You can play your playlist from your phone, but you should not do that if you want to travel with it. However, Bluetooth 5 can provide you with three to ten times this range. But if you want to enjoy this feature, you have to have Bluetooth 5 in both the receiver you are going to buy and the device you want to connect to it. This feature has been available since 2017, but you can find it only in the top of the line devices.
Channels
Bluetooth technology is only able to play two-channel stereo sound. So if you want to broadcast 3.x or 5.x audio to your receiver, your sound will be compressed into two channels. However, you can not get 3.x audio or higher from a Bluetooth receiver.
Quality
Another disadvantage is the circuit of a Bluetooth receiver. Bluetooth receivers are not able to transmit a digital audio signal. But most of home theater systems can receive the digital audio signal. So it is a disadvantage of using Bluetooth.
Two Ways to Set Up a Bluetooth Receiver
But actually, there are two ways to connect a Bluetooth receiver to your home theater. You can use any of the ways to connect your receiver. It mostly depends on how you are going to use it. Moreover, you may need another kind of equipment. Make sure how you will connect your Bluetooth receiver to your home theater before you start to buy something.
Separate Channel (Safest Way)
You can set up a Bluetooth receiver by connecting it to the audio inputs of its own channel on your receiver. Moreover, it is the safest way. After selecting the input channel, you can connect the right and left channels of the Bluetooth receiver with the input channels.
Now you can select the input channel and play music from any device by pairing it with the receiver. During testing the sound, connect to the Bluetooth with your device's lowest volume, then play a song and gradually increase the sound.
HT Bypass (Best Sound)
Some of the available A/V or stereo receivers come with a separate HT (home theater) bypass. This system allows you to bypass the preamp stage and play your sound straight through the power amp into your left and right speakers and your subwoofer so that you do not get any muddy crossover from your center and rear speakers.
It is also risky because your speakers will do the processing. So if you accidentally connect the receiver with your phone at full volume and play any sound, it could damage your speakers.
Let's Get Wireless
So after reading the article, we hope that now you can take your decision. You can purchase a Bluetooth adapter, plug it in, connect your device, and start hearing sound without any wire connection. You may be limited to only two channels, but the elegant look of fewer wires really worth it.
-our editorial board has reviewed this article and has been approved for publication according to our editorial policy.
Best Seller List of Bluetooth Network Adapters:
Sale
Bestseller No. 1
COMSOON Bluetooth 5.0 Receiver for Car, Noise Cancelling Bluetooth AUX Adapter, Bluetooth Music...
【Enjoy Wireless Streaming Music】This car Bluetooth adapter can be connected to non-Bluetooth car audio systems, home stereos, speakers, wired headphones via the 3.5mm AUX adapter; And equipped with a Bluetooth 5.0 chip for stable connection / fast transmission / wide signal range. Just pair it with your phone and start listening to your favorite music!
【Intelligent Noise Reduction Tech】Our Bluetooth audio receiver adopts the latest CVC8.0 Noise Cancellation and Digital Signal Processor (DSP) technologies, which can eliminate echo and block out intrusive background noise (such as wind, traffic, or crowds), providing you with crystal-clear calling sounds.
【Up to 16 Hours of Battery Life】The working time of this aux Bluetooth adapter is up to 16 hours when making calls or playing music. And it takes only 2.5 hours to fully charge the device by using a Type-C fast charging cable (Included in the package). In addition, this Bluetooth music adapter can be used while charging, which is very convenient.
【Hands-free Calling & Navigation】A built-in microphone and one "MFB" button to answer / redial / hang up / reject calls, help you make hands-free calls. And the Bluetooth audio adapter supports broadcasting voice notification from existed navigation App. You don't have to look down the phone on the move. Make sure you drive safely!
【Dual Connection】The portable Bluetooth stereo adapter can be paired with 2 devices at the same time. You can enjoy your music and never worry about missing any calls. Once paired, the car receiver will automatically reconnect to your last paired Bluetooth devices, as long as they are within the wireless range.
Sale
Bestseller No. 2
[Upgraded] 1Mii B06 Plus Bluetooth Receiver, HiFi Wireless Audio Adapter, Bluetooth 5.0 Receiver...
【164FT LONG RANGE】With Class 1 Bluetooth technology, the 1Mii Bluetooth receiver can achieve a range of up to 164ft (50m) line-of-sight in open air and up to 50-70ft (20-30m) indoors(without obstacles).
【aptX HD&aptX-LL&3D SURROUND】It features Bluetooth 5.0 chip to ensure high fidelity Bluetooth audio signal for music streaming to those speakers or home stereo systems that doesn't have the capability. It also supports aptX HD and aptX Low Latency (aptX-LL). And the 3D audio can be switched on or off by pressing the "3D" button on the Bluetooth audio receiver. The green LED will be on when switched to 3D audio.
【POWER ON AND RECONNECT AUTOMATICALLY】When plugged into a power outlet, the Hi-Fi Bluetooth audio receiver can power on automatically and reconnect with the previously paired device.
【EASY SETUP, EASY TO USE】Easy plug, pair and play. This updated unit comes with a USB power adapter. Plug into computer speakers, home stereo systems or other speaker systems via the 3.5 mm or RCA cable, then pair with the Bluetooth audio devices such as smartphones or tablet. After that, you can enjoy the music. This product is a receiver only, NOT a transmitter.
【WORKS WITH VOICE COMMANDS】Connect this Bluetooth adapter to your speaker via a 3.5mm jack or RCA cable, pair the receiver with your Echo via Bluetooth on the Alexa app, it is easy to control your music with voice commands. Please make sure to use the audio cable to connect the Bluetooth receiver with your speaker, not with the Echo.
Sale
Bestseller No. 3
Bluetooth Audio Adapter for Music Streaming Sound System, Esinkin Wireless Audio Adapter Works with...
Listen music wireless: Connect with computer speakers, home stereo systems or other speaker systems via the 3.5 mm or RCA cable, then pair with the Bluetooth audio devices such as smartphones or tablet for streaming music.
Easy setup and automatic reconnect: Pair your device to the adapter once with a single button press. It can reconnect automatically with the previously paired device.
Wireless range: Indoors(without obstacles) connect rang up 30-40 ft (10-12 m).
Works with most device: Bluetooth enabled device including smartphones, tablets, computers, laptops upon and any powered PC speakers, home stereo systems and A/V receivers.
NOTE: This adapter doesn't have built-in battery, power by AC to DC power adapter or USB cable. This product is a bluetooth receiver ONLY, not a bluetooth transmitter. Only to give Bluetooth capabilities to an existing stereo / powered speaker / PA.
Sale
Bestseller No. 4
[Upgraded] 1Mii B06Pro Long Range Bluetooth Receiver, HiFi Wireless Audio Adapter, Bluetooth 5.0...
Dual Antennas&Long Range: With Dual Antennas And Class 1 Bluetooth Technology, The 1Mii B06 Pro Long Range Bluetooth Receiver Can Achieve A Range Of Up To 197Ft (60M) Line-Of-Sight In The Open Air And Up To 50-70Ft (20-30M) Indoors(Without Obstacles). Note: Operation Range Can Be Affected By Wi-Fi Routers Or Antennas On The Stereo Receiver, Etc.
Aptx Low Latency&3D Audio: 1Mii B06 Pro Bluetooth Receiver For Home Stereo Features Qcc3005 Bluetooth 5. 0 Chip To Ensure High Fidelity Bluetooth Audio Signal For Music Streaming To Speakers Or Home Stereo Systems That Doesn'T Have The Capability. This Bluetooth Adapter Also Supports Apt-X And Apt-X Low Latency (Apt-X-Ll). And The 3D Audio Can Be Switched On Or Off By Pressing The "3D" Button On The Bluetooth Audio Receiver. The Green Led Will Be On When Switched To 3D Audio.
Volume & Track Adjustment: Press The Volume Button On The 1Mii B06 Pro Bluetooth Receiver To Volume Up And Down. Press And Hold The Volume Button For 2 Seconds To Do Next Or Previous Track.
Opt&Aux&Coaxial, Easy Setup: Easy Plug, Pair And Play. Plug Into Computer Speakers, Home Stereo Systems Or Other Speaker Systems Via The 3. 5 Mm, Rca, Coaxial Or Optical Cable, Then Pair The Bluetooth Receiver With The Bluetooth Audio Devices Such As Smartphones Or Tablet. After That, You Can Enjoy The Music. Note: This Product Is A Receiver Only, Not A Transmitter.
Bestseller No. 5
Bluetooth Receiver, Bluetooth Audio Adapter for Home Stereo,Speaker, TV, Tablet, with AUX3.5/RCA...
✅【WAKE UP THE OLD STEREO】 Wake up the traditional home stereos, and make them into Bluetooth audio devices, you can get rid of cables and enjoy the true wireless music.
✅【MULTI-DEVICE COMPATIBLE】Works with most home stereos,speakers,smartphones, tablets, laptops, PC, it supports auto reconnection, and it can store up to 8 pairing records.
✅【LOW LATENCY AND HD AUDIO】Bluetooth 5.0 and EDR technology ensure low latency, HD audio, the faster delivery rate and stable connection.
✅【AUX AND RCA OUTPUT】Equipped with 3.5mm aux and RCA , it can adapt to different ports of audio devices.
✅【NOTE】It is just a receiver and works better if paired with HD, low latency transmitters.
Sale
Bestseller No. 6
1Mii Bluetooth 5.0 Music Receiver for Car / Home Stereo, Aux Bluetooth Adapter for Car with Volume...
📡【The Latest Bluetooth 5.0】1Mii Bluetooth adapter for car equipped with the latest Bluetooth 5.0 to ensure instant pairing and maintains a strong and stable connection. With Bluetooth 5.0 technology, 1Mii Bluetooth car adapter is backward compatible with Bluetooth 4.2/4.0/3.0/2.0 devices
🔊【Support Volume Control】1Mii Bluetooth receiver for car designed with volume up/down button, it is very convenient to adjust the volume of your Bluetooth sound system.
📞【Built in Microphone 】1Mii Car Bluetooth adapter built in microphone, One-click multi function button to Answer/ Hang up/ Refuse or Redial a Call. The Bluetooth car receiver can be responded to voice commands via the built-in microphone. Instead of using phone, you can activate voice assistant by holding PLAY/PAUSE button on the adapter for 2 seconds.This Aux Bluetooth adapter for car make your drive more safely and convenient.
👍【Instant Setup, Plug and Play】 1Mii Bluetooth car adapter aux designed with ON/OFF slider switch and it will automatically enter into paring mode when you switch on the slider switch. Plug, pair and play. It just works!
🔋【LONG BATTERY LIFE】1Mii AUX Bluetooth adapter has long battery life and can support 15 hours of continuous use to play music or calls. In addition, the small and portable size of the bluetooth aux adapter is very convenient to use in the car or carry it with you.
Bestseller No. 7
Bluetooth Aux Receiver for Car, Portable 3.5mm Aux Bluetooth Car Adapter, Bluetooth 5.0 Wireless...
【BLUETOOTH AUX RECEIVER FOR CAR】The Bluetooth 3.5mm Aux receiver can turn your old car audio/home audio/3. 5mm wired earphones/speakers into wireless. Compatible with most Bluetooth-enabled devices, such as smart phones, tablets, laptops, and computers.
【ENJOY HANDS-FREE CALL & WIRELESS MUSIC】This Bluetooth AUX receiver can pair with Bluetooth devices and the built-in microphone can be used to answer hands-free calls. One key to answer, reject, end and redial the last number. Designed with MFB and volume up/down button, it is very convenient to adjust the volume of music.
【BLUETOOTH 5.0 & DUAL CONNECTION】The Bluetooth receiver equipped with Bluetooth 5.0 to ensure stable connection. It can connect 2 devices at the same time, so you won't miss any calls while listening to music. The bluetooth range up to 33ft without obstacles. Automatically connects to the last connected device.
【FAST CHARGING & LONG BATTERY LIFE】One key to power on and enter pairing mode. The built-in battery has a long battery life and can support up to 16 hours of use after full charged. Fast charging and can be fully charged within 2 hours.
【PORTABLE】Weights only 0.5 oz., very tiny size. You can take this Bluetooth audio receiver whenever you go. Very good companion for drivers. If you encounter any problems during use, please feel free to let us know and we will help you at any time.
Bestseller No. 8
Besign BE-RCA Long Range Bluetooth Audio Adapter, HiFi Wireless Music Receiver, Bluetooth 5.0...
Wireless solution for your wired home stereo system: thanks to the Bluetooth 5.0 technology, Besign BE-RCA could turn your older stereo into a nifty Bluetooth capable one, then connect wirelessly to any Bluetooth-enabled device and deliver CD-like quality sound , so you can stream music and control playlists directly from smartphones, iPhones, iPads, and more.
Long Range Wireless: Relax in your favorite chair and control your music with a reliable line-of-sight connection up to 30 meters (100 feet) away from your speakers. Don't compromise on sound and deliver high-quality acoustics for all your music, movies and games.
Bluetooth 5.0: this BE-RCA Bluetooth music receiver is with latest Bluetooth 5.0 technology to delivers the superior sound quality. You could have an excellent listening experience with crystal clear, high fidelity music for room filling sound.
Powered by Micro-USB and Automatic Re-connection: the BE-RCA uses a Micro-USB jack for power; use it with any compatible USB power supply for continuesly music streaming; no battery inside, connect the power supply before use. Press and hold the power button for 3 seconds to power on the BE-RCA and automatically re-connect with your last paired device.
No microphone built-in: your incoming phone call will transfer to your phone speaker directly, no worry about your privacy for the call when you listen to the music in your home speaker or car speaker. This BE-RCA is a Bluetooth music receiver only, it is not a Bluetooth transmitter, you couldn't use it for your TV.
Bestseller No. 9
Bluetooth Transmitter Receiver - Bluetooth 5.0 Audio Receiver with Display, Wireless Audio Adapter...
Bluetooth 5.0 Audio Adapter: This Bluetooth adapter can add Bluetooth functionality to your device, allowing you to enjoy wireless audio on devices that previously did not support Bluetooth(such as vintage stereo, speakers, TV, PC, or car stereo). You will be able to enjoy the convenience of the Bluetooth feature but not have to replace them
2-In-1 Bluetooth Receiver & Transmitter: In receiver mode(Rx), it can receive audio from a phone/tablet and play music on a wired speaker/stereo. In transmitter mode(Tx), the Bluetooth adapter is plugged into non-Bluetooth devices such as TV/PC/MP3/MP4 players and transmits audio to Bluetooth headphones/speakers
Rich Interface: In receive mode, this Bluetooth 5.0 receiver not only supports 3.5mm(AUX) and RCA(L/R) audio output, but also allows you to insert a TF card into the Bluetooth audio receiver, and then just turn on the speakers and let the music flow. Plug and play, easier to use
Practical LCD Screen: Makes your operation more intuitive and easier: The Visual screen shows you which mode this adapter is in, the pairing status, the name of the connected device, the volume, etc. you will not connect by mistake
Portable Size Bluetooth Audio Adapter: This Bluetooth audio adapter is smaller and more portable. Working range up to 33ft, not limited by wires. Support Devices: Home stereo, speakers, headphones, earbuds, audio music streaming sound system, car stereo system, TV, PC, projector, MP3, MP4 etc.
Bestseller No. 10
Bluetooth Aux Adapter for Car, Bluetooth 5.0 Adapter 3.5mm Jack Aux Dongle, 2-in-1 Wireless...
🎵Stable and Fast Transmission: Bluetooth car adapter uses Bluetooth 5.0 chip to maintain a stable connection. Low power consumption, high speed, and stable signal transmission make listening to songs smoother. Enjoy a new wireless audio experience at any time.
🎵 Compact Design for Easy Portability: The AUX Bluetooth adapter takes up little space, so you can take it anywhere. Connect it to your vehicle, speakers, or any headphone jack, and the 3.5mm jack design gives you no tangled cords to untangle.
🎵AptX Low Latency: Hands-free Bluetooth call and navigator voice via built-in microphone; Bluetooth headphone adapter 4-hour continuous work via the built-in li-ion rechargeable 140mAh battery.
🚗2-in-1 Bluetooth Transmitter Receiver: Portable aux bluetooth adapter for carcan turn your favorite old non-Bluetooth device into a modern wireless Bluetooth device.
🚗Your Best Choice: Please feel free to buy, if you receive a damaged Bluetooth transmitter or unstable connection, please contact us directly and we will replace your Bluetooth adapter for free or give you a full refund.
You May Also Like…
Last update on 2022-11-17