To obtain movie theater sound quality in your home theater, you must first purchase a high-quality Audio/Video Receiver. Denon and Yamaha are two of the most well-known manufacturers, among many more. Even though each has its advantages, you might be wondering what the distinctions are between Denon and Yamaha receivers.
Denon vs Yamaha: 2023 Receiver Review
Receivers from Denon and Yamaha are both known for their amazing sound and extensive feature sets. However, while Denon is typically less expensive, has a strong build, and has a reasonable number of channels, Yamaha is frequently more dependable, maintains an impressive number of inputs, and is more expensive.
An overview of the differences between Denon and Yamaha receivers may be found here:
| | Denon | Yamaha |
| --- | --- | --- |
| Build Quality | Good | Very good |
| Sound formats | Audyssey more user friendly | More advanced formats |
| Channels | Usually more | Lesser |
| Inputs | Lesser | More |
| Cost | Less expensive | More expensive |
| Reliability | Fairly reliable | Very reliable |
If you're interested in seeing the best-selling Denon AV receivers on Amazon, you can do so by visiting this page. Yamaha receivers are available on Amazon, and you can learn more about them by going here.
This article can also find my top recommendations for home theater receivers. To find the receiver that will be the best fit for your home theater, you will need to consider a number of the characteristics you are searching for in your AVR.
Also vital is to check your budget and think about the components that you are and are not prepared to part with when purchasing a receiver for your home theater system. Let's take a deeper look at what's going on.
Is Denon or Yamaha Receiver Better for Home Theater?
When designing your home theater, one of the most important decisions you will make is purchasing high-quality audio equipment.
While you can have lovely chairs, sumptuous delicacies, cool beverages, and a crystal clear image presented on a screen, your media viewing will be severely limited if you do not have high-quality audio to accompany your viewing experience. It is critical to analyze your options carefully.
You should consider the Denon brand for your home theater if you need a wireless receiver for your home theater, want to spend less money, and are willing to give up a few bonus features in return. However, if you are searching for a receiver with additional inputs, channel support, and the ability to apply artificial intelligence and other capabilities, the Yamaha is a good choice.
Denon and Yamaha are frequently referred to as the "Nikon and Canon" of the audio world; each brand has its own set of advantages and distinct fan bases. However, selecting the best match for your home theater requires considering your budget, the specs of your home theater space, and the type of media you intend to watch.
While some may say that you can get more bang for your buck by purchasing a less expensive Denon receiver, others will claim that the higher-quality sound that the Yamaha brand can produce is worth the higher initial outlay of money spent.
The following are some distinct characteristics that might assist you in making the option that is best for you and your home theater.
This is true, of course, because they are brand names, and they do not speak to the differences that exist between devices. As a result, if you are considering purchasing one of these brands for your home receiver, make sure to look at the device's specifications rather than merely following the name brand.
Additional research can be done by looking at anonymous or public reviews on purchasing sites that are not affiliated with the company's website. It is common for people to find that looking at third-party selling websites such as Amazon or chatting with a product dealer can be beneficial in determining which gadget will best fulfill their needs.
Denon vs. Yamaha Receivers Compared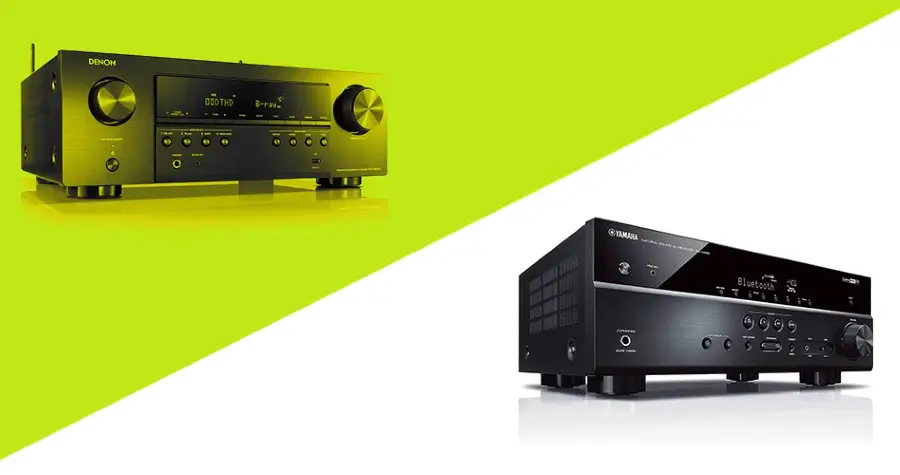 In other words, there are a zillion different ways to compare the two brands. The final decision will be made based on your budget and the amenities that are most important to you in a vehicle purchase. Not every home theater is created equal, and the most expensive piece of equipment is simply out of reach for most people.
There are several factors to consider when picking a Denon or Yamaha receiver for your home theater system; keeping these in mind: Taking a deeper look, these characteristics will be what eventually distinguishes the two companies and their gadgets.
A few factors to consider include dependability, build quality, sound formats, number of inputs, number of channels supported, streaming support, pricing, WiFi connection, and wired or wireless connection configuration. When deciding on the finest device for your home entertainment, each of these considerations will be extremely significant. Let's take a deeper look at what's going on.
Build Quality
When evaluating the outside build quality for your home theater, you should pay special attention to the brightness, speaker configuration, adjustable features (can the bass be adjusted, and if so, how is it controlled?), and other factors. If you are more familiar with one particular line of gadgets, you may be tempted to stick with what you know.
On the other hand, Yamaha receivers are claimed to have a better build quality and may therefore be more effectively integrated into your home theater room than other brands. This is crucial to understand.
When you are putting your time, money, and energy into your home theater, you want to make sure that the AVR you choose is of good quality so that you can be confident in its long-term performance.
Purchasing a product from the Yamaha range ensures that you will have a high-quality build, a high-quality setup, changeable speakers and settings, and other benefits. On the other hand, this brand is known for its brightness, so if you are not a fan of this, you may want to opt for the Denon.
Sound Formats
The fact that your home theater receiver can support a variety of different sound formats is one of the most crucial characteristics to consider. Given that this is the primary function of your audio/video receiver, you should be certain that it has all of the features you require.
It's interesting to note that a single gadget may produce a wide range of various sound effects in different settings. Some of them may appear as a chaotic mix of letters and numbers to individuals unfamiliar with the world of audio. However, for those who are more familiar with the various modes, it will be pretty obvious what each one offers.
If you want to keep things simple, there are a variety of decoders and post-decoding formats that your device might or might not be able to use.
Dolby Atmos, for example, is a decoding format that reproduces audio that has been recorded in Dolby Atmos surround sound. On the other hand, a post-decoding format would look somewhat like Dolby Surround, which widens the speaker range (channels) to produce a surround sound experience.
In addition to this, many of the most recent AVRs have listening modes. This suggests the usage of artificial intelligence capable of capturing your speech to control user interaction through voice command.
While some individuals are enthusiastic about the idea of dealing with it, others would prefer not to deal with it or to have listening mode available through their receivers in their home theaters instead.
Denon refers to its listening mode as a sound mode; however, the two terms are interchangeable. Denon brand receivers equipped with Audyssey can respond to voice commands and direct the receiver towards a certain action.
When it comes to your home theater, this might be useful because you can instruct your receiver to pause or increase the level in response to your visitors' requests. However, with this brand, you will not be able to easily alter the bass, which will impact the overall sound quality that is generated.
However, as an added advantage to the Denon name, the different sound modes include Jazz Club, Mono Movie, and other options, so you can still anticipate a small amount of fine-tuning available here.
In contrast, Yamaha refers to its sound formats as "sound programs," a more formal term. What is great about these programs for your home theater is that they are specifically designed to be used in cinema mode to provide the impression of being in a space with cinema-like dimensions.
There are various sound programs, including movie sound programs, action programs, and gaming programs. While some people are dissatisfied with the number of available DSP modes, others find that they can fine-tune their requirements a little more with this device.
Yamaha also offers sound decoders and post-decoding formats equivalent to those offered by other manufacturers; therefore, it is vital to review the characteristics of the same device you are considering. Additionally, when comparing this brand to Denon, one advantage is that you may more easily alter the subwoofers and center conversation to tailor the music to your preferences.
As a result, while Yamaha offers more complicated sound formats that allow you to employ sound programs to most properly reflect the audio requirements for your media, Denon makes strategic use of the Audyssey to provide a more user-friendly interface with your media.
If either of these options speaks more clearly to your requirements or goals for a home theater receiver, you may include it in your pros and cons list as additional consideration.
Number of Inputs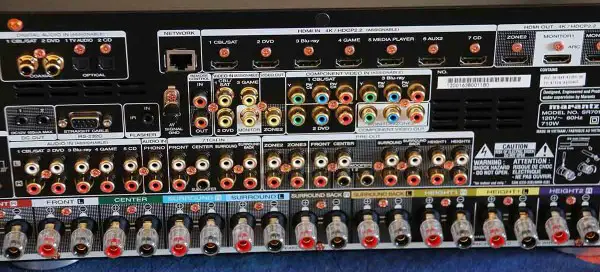 When it comes to the number of inputs available on your receiver, it is yet another area in which the specifics of your home theater setup are critical.
If you only require two inputs at a time, it is evident that you will only want a device that has these two inputs. However, if you want to plug in seven different things into the inputs, having a device that allows for a few of them can be an issue.
Fortunately, both the Yamaha and Denon brands have many high-quality inputs on their products. While the number of inputs on each device varies, it is more than likely that there will be enough inputs on either option you choose.
In general, most people find that they can use either brand without being concerned about not having adequate input possibilities available.
Number of Channels
Along with the number of input possibilities, you will want to look at the number of channels supported by the device. Shortly said, a channel is a device that streams audio to the speaker. The more available channels, the more diverse and accurate the audio is capable of becoming, and the more correctly the speakers are capable of perceiving and producing high-quality sound.
When it comes to the number of channels on your home theater receiver, you will need to pay special attention to the device you are most interested in when comparing Yamaha vs. Denon. Additionally, the number of channels can frequently increase the price. Therefore, it is important to take a closer look at your intended budget.
It may come as no surprise to you that numerous reviews highlight the best receiver based on the number of audio channels that are accessible. If you're looking for a certain channel, these types of reviews will look at specifics such as the best 7-channel receiver or the best 13.2-channel receiver, among other things.
Between Yamaha and Denon, the top contender changes from device to device based on the number of channels available, so make sure to conduct a thorough examination of the receiver of interest before making a purchasing decision.
Streaming Support
Except for the most basic models, you will most likely find that most modern receivers, whether Yamaha or Denon, makes them, including streaming support for popular media streaming alternatives such as Spotify, Bluetooth, Netflix, and other media sources, as well as other features. To your advantage, this means that you won't have to conduct much comparing and contrasting in this field.
However, it is critical to pay close attention to the post-decoding formats that your device is capable of playing back.
If, for example, you intend to stream Dolby Surround audio during your family movie night, you must first ensure that your receiver is capable of creating the sound required by this format. Fortunately, most Yamaha and Denon devices will have basic streaming networks and built-in support.
Cost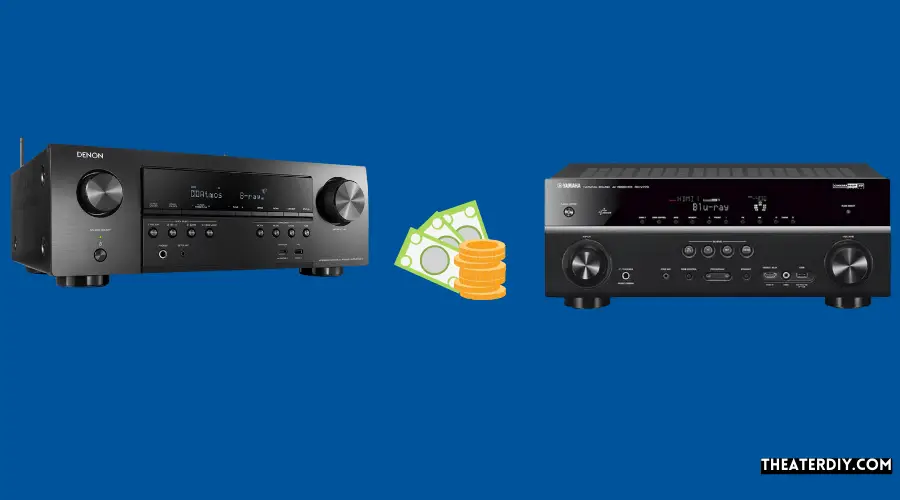 When it comes to choosing equipment for your home cinema, whether for better or worse, money is an unavoidable deciding factor.
While you can daydream about your ideal receiver all day long, the dream will have to be put on hold if you do not have the financial resources to purchase it. For those who have saved up and are ready to make the finest possible investment in their home theater, it may be worth paying a little extra money upfront to reap the benefits in the long run.
When it comes to cost, Denon has most Yamaha models beat.  In addition to the higher frequency of sales associated with Denon equipment, this brand is often less expensive by a significant margin.
With that said, in this market, you frequently get what you pay for, and you will discover that Denon equipment will likely provide you with the greatest bang for your buck, while the Yamaha brand will provide you with more bells and whistles at a higher price.
Many consumers find that Denon performs equally well in various related characteristics. However, suppose you prefer the features that the Yamaha brand can offer and the more typical devices that Denon manufactures. In that case, you may find that the additional expense is well worth it in exchange for a piece of equipment that will last for a long time in your home theater.
WiFi Connection and Reliability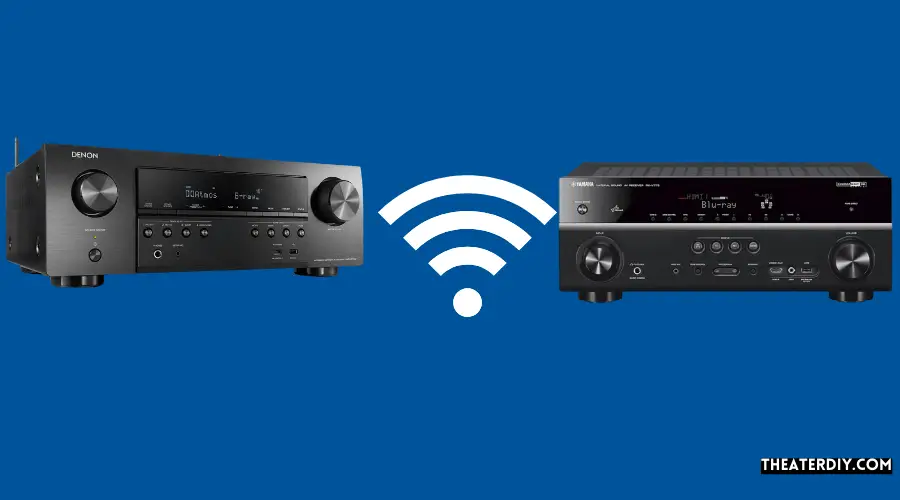 Because a receiver that requires a WiFi connection will almost certainly require a solid connection, it is important to check that the connection is working properly. If you don't, you'll find yourself in your home theater halfway through the film, waiting for the last scene to begin. Alternatively, your video could stutter at the punch line of a crucial joke, causing you and your visitors to miss it entirely.
While it has been observed that Denon brand receivers are unreliable when connecting to WiFi signals, consumers have also reported issues with connecting signals for their Yamaha receivers, according to reports. When this happens, it is frequently due to a problem with something unrelated to the device itself.
To keep in mind, Yamaha models come with wireless speakers and subwoofer(s), which means they would be considerably more dependent on the internet connection than other brands. To be sure, the Yamaha brand is well-known for having a far more user-friendly app for your phone, which may be of assistance if you're experiencing connectivity troubles.
Wired or Wireless Connection
When choosing an audio/video receiver, whether to go with a wired or wireless connection is a personal preference. You should choose a receiver that allows you to remove the wires from your surround sound stereo system setup if you want to take your home theater to the next level of sophistication.
Alternatively, if you value the robust and reliable connection that a wire provides, you might want to choose this alternative. While Yamaha offers wireless speakers and subwoofers, Denon offers speakers and subwoofers that require a cable connection. As a result, if you favor one over the other, you can include this in your list of advantages and disadvantages.
Best Seller List of Denon AV Receiver:
Sale
Bestseller No. 1
Denon AVR-S570BT 5.2 Channel AV Receiver - 8K Ultra HD Audio & Video, Enhanced Gaming Experience,...
WATCH YOUR MOVIES IN 8K - At 70W x 5, the Denon AVR-S570BT features (4) HDMI 2.1 8K inputs and (1) HDMI output. Supports eARC with up to 40 Gbps speed. A successor to the AVR-S540BT, the receiver ensures HD audio playback and an enhanced gaming experience. Power Consumption in W : 310, Standby Consumption in W : 0.1.
TRUE-TO-LIFE CINEMATIC EXPERIENCE - The AVR-S570BT supports the latest formats like HDR, HLG, Dolby Vision, HDR10+, and Dynamic HDR for realistic display, VRR and QFT for lag-free exceptional gaming, and DTS HD Master, and Dolby TrueHD for immersive audio
YOUR FAVORITE MUSIC AT YOUR FINGERTIPS - With built-in Bluetooth, play music from various audio sources and create an integrated multi-room audio system. Allows wireless music streaming from popular streaming apps like Spotify, TIDAL, Pandora, and more
OUR EASY ON-SCREEN HD SETUP ASSISTANT walks you through clear, simple, and intuitive instructions to connect your TV, while the specific EQ settings help you optimize your surround sound so that you can make the most of your movies, music, TV, or gaming
CONVENIENT CONTROL - Connect the AVR with your Smart TV Remote and access all your speaker sources and surround mode selections using just one remote, or download the Denon Remote App for iOS and Android and seamlessly control the AVR through your phone
Bestseller No. 2
Denon AVR-S760H 7.2-Channel Home Theater AV Receiver 8K Video Ultra HD 4K/120 - (New 2021) (Renewed)
UNPRECEDENTED REALISM AND NEW FEATURES – eARC and heightened sound effects with Dolby Atmos Height Virtualization Technology. Be it the sound of a helicopter or torrential rains, it'll sound so real, you'll think it's happening right above you
7.2 channel, 75w (2 channel driven)
6 HDMI inputs / 1 HDMI 2.1 output / Phono input
3 dedicated HDMI 2.1 inputs with 8k up scaling on all inputs
Support for most voice assistants (Google, Alexa and Siri)
Best Seller List of Yamaha AV Receiver:
Sale
Bestseller No. 1
YAMAHA RX-V4A 5.2-Channel AV Receiver with MusicCast
HDMI with HDCP 2.3 and eARC (4 in / 1 out)
4K60, 4K120AB and 8K60B HDMI 2.1 with HDCP 2.3 and eARC (4 in/1 out)
Wi-Fi 2.4 GHz/5 GHz, AirPlay 2, MusicPlay (iOS and Android) and Spotify Connect
Voice control with Alexa and Google Assistant devices or Siri via AirPlay 2
Pandora, Spotify, Napster, SiriusXM, TIDAL, Deezer, Qobuz, Amazon Music HD
Sale
Bestseller No. 2
YAMAHA RX-V6A 7.2-Channel AV Receiver with MusicCast
HDMI with HDCP 2.3 and eARC (7 in / 1 out)
4K60, 4K120AB and 8K60B HDMI 2.1 with HDCP 2.3 and eARC (Three 8k + 4 (7) in/1 out)
Wi-Fi, Bluetooth, AirPlay 2, Spotify Connect, Voice Control and MusicCast multi-room
Voice control with Alexa and Google Assistant devices or Siri via AirPlay 2
Pandora, Spotify, Napster, SiriusXM, TIDAL, Deezer, Qobuz, Amazon Music HD
Bestseller No. 3
YAMAHA RX-A4A AVENTAGE 7.1-Channel AV Receiver with MusicCast
HDMI with HDCP 2.3 and eARC (7 in or 3 out)
4K60, 4K120AB (40gbps), 8K60AB (40gbps), HDR10plus and HDMI 2.1
Wi-Fi, Bluetooth, AirPlay 2 and Spotify Connect
Surround:AI and AURO-3D
Dolby Atmos with Dolby Atmos Height Virtualization and DTS:X with CINEMA DSP HD3
Bestseller No. 4
Yamaha TSR-700 7.1 Channel AV Receiver with 8K HDMI and MusicCast
Last update on 2023-11-30