In the movie theater, 3D glasses allow viewers to fully immerse themselves in their favorite films, giving the impression that everything is real and occurring right in front of them. Being able to watch your favorite movie while wearing these glasses is very amazing.
You may also utilize them to get the most out of your time at your own house. The 3D glasses you bought at the cinema may not be compatible with your home entertainment system. Many people have inquired about this, so I decided to look at it more.
As far as 3D glasses go, can they be used in the comfort of your own home? Real 3D glasses, which are passive 3D glasses, are often used in movie theaters and will operate flawlessly with your home 3D system if it also supports passive 3D technology. If you have a passive 3D system, movie theater glasses will operate in your house.
Activated 3D technology is the most prevalent variety. It may come as a shock to learn that the solution is so straightforward. However, if you want to get the most out of these glasses and know what passive 3D technology means, it's worth investing in the correct equipment. Those are the topics I'll be discussing in this essay.
Using Movie Theater 3D Glasses at Home
Seeing a movie in a theater is one of the finest ways to immerse yourself in the experience. Movie theaters make use of the most advanced technology to provide that degree of immersion. Many of the technologies we take for granted at home were originally designed for use in movie theaters.
3D technology, in particular 3D projectors, exemplifies this. Passive technology, which is far more costly, is used in movie theaters. This, on the other hand, lowers the cost of the glasses, making them more attractive to movie theaters as a business model.
They often employ RealD 3D glasses, which are billed as cinema-quality technology. These are 3D polarized, polarized lenses. The fact that they are passive 3D glasses is what matters most. As with any other passive home theater system, this implies that no external power source is required for it to function.
Learn the difference between active and passive 3D by watching this one-minute video.
Despite the fact that home theater systems employ active 3D technology, passive 3D glasses may be used if you have a passive 3D projector or TV at home. On the other hand, these devices aren't compatible with all TVs and monitors because of the technologies they use.
What really matters is what kind of television or monitor you have. For the RealD 3D glasses to operate at home, you'll need an LCD or LED TV. Sadly, they aren't compatible with plasma displays due to the fact that the 3D technology used by plasma displays is different.
Make sure your 3D TV or projector supports passive 3D technology if you wish to utilize movie theater 3D glasses at home. Assuming you've previously invested in 3D glasses, you should already know what type of 3D technology your system employs, But if you are doubtful, it won't take you long to find out whether it's right for you!
Whether or whether you should utilize 3D glasses from the movie theater at home is a personal choice that is likely to be influenced by your financial situation. To be honest, the 3D glasses used in movie theaters aren't exactly cheap, but they are of high quality.
Which Is Better, Active or Passive 3D?
As previously said, 3D technology may be divided into two categories: active and passive. This language pertains to the spectacles, but it also has an influence on the way the picture is generated, which is evident. But what exactly do these phrases signify, and which is the superior term?
Unlike the passive polarized glasses that are commonly used in movie theaters, the RealD 3D glasses in use are active polarized glasses. These are essentially the same kind of technology as the red and blue 3D glasses that you were undoubtedly familiar with as a youngster. In essence, they filter the picture such that each eye only sees half of what is being shown. When you look at it in 3D, your brain is tricked into believing it is when it isn't.
At passive 3D at 1080 resolution, for example, there are 540 lines of pixels for each eye while you're viewing a movie in that quality. Passive 3D technology is significantly more widely accessible and is often less expensive than active 3D technology. Because 3D glasses are simple plastic frames with lenses inside, they don't have to be prohibitively costly to be effective.
The cost of 3D technology is borne by the projectors or televisions that use it. Since it relies heavily on the projector for most of its functionality, this kind of system is perfect for movie theaters but is less prevalent in residential settings.
Active 3d technology, on the other hand, requires the usage of more complex spectacles. Like other home theater technologies, active technologies are distinguished by the fact that a source of electricity powers them. In this instance, the power source is a battery that is built within the glasses themselves.
As opposed to passive glasses, active glasses have a shutter built into them, rather than polarizing the picture so that each eye only sees half of it.This time, they switch between each eye at a very quick pace, which again fools your brain into believing that the picture is three-dimensional. Additionally, you will be able to view the whole 1080 picture rather than just half of it.
The final result is that projectors and television sets that generate active 3D pictures will be far less expensive, making them more accessible to the home market. If you have an active 3D system, movie theater glasses will not operate since they interfere with the signal.
Active vs Passive 3D Glasses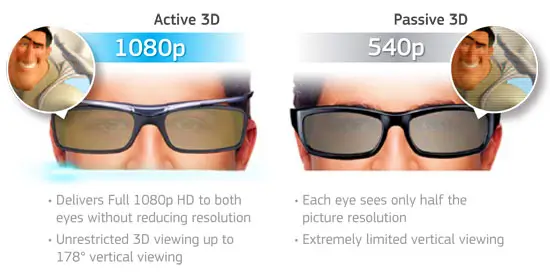 Price
Passive 3D glasses are less expensive; however, the key distinction between them is whether they're active or passive. Because passive 3D glasses don't require a lot of technology, they're quite inexpensive. If you're willing to shell out a few more bucks, you can get yourself a pair of active glasses.
Accessibility
Other than that, there's the matter of ease of use. Active 3D technology is more widely accessible since projectors are less expensive, but glasses are more expensive. It's a better option for home theaters since you'll only need one or two pairs.
More people can see the same movie at the same time using passive 3D glasses. We've previously established that moviegoers may carry their passive 3D glasses from the theater, which operate in the house as well. Because active 3D glasses are so expensive, you're unlikely to possess more than two, which severely restricts the number of individuals who can benefit from them.
Comfort
Then there's the matter of ease. Most of the functional electronics in active 3D glasses are housed in the spectacles themselves, making them heavy. The lenses are also thicker, so they may not be as pleasant to wear. If you're planning to watch a lot of 3D movies at once, passive 3D is the superior option.
Image quality
Finally, there's the matter of picture quality to consider. Some people find the flashing of active 3D glasses to be annoying. On the other hand, passive glasses provide images of poorer quality, making them seem lifeless.
It is far more affordable to employ active 3D technology at home, and it also creates superior photographs. Unlike the projectors, which may be rather costly, passive 3D glasses are quite affordable. As you can see, everything is subject to change based on your financial situation.
How to Get the Most Out of 3D Viewing Experience?
If you have 3D glasses, it's time to learn how to utilize them to their fullest potential in the comfort of your own home. While it's easy to unpack your TV and start watching simply, there are a few things to keep in mind before you do.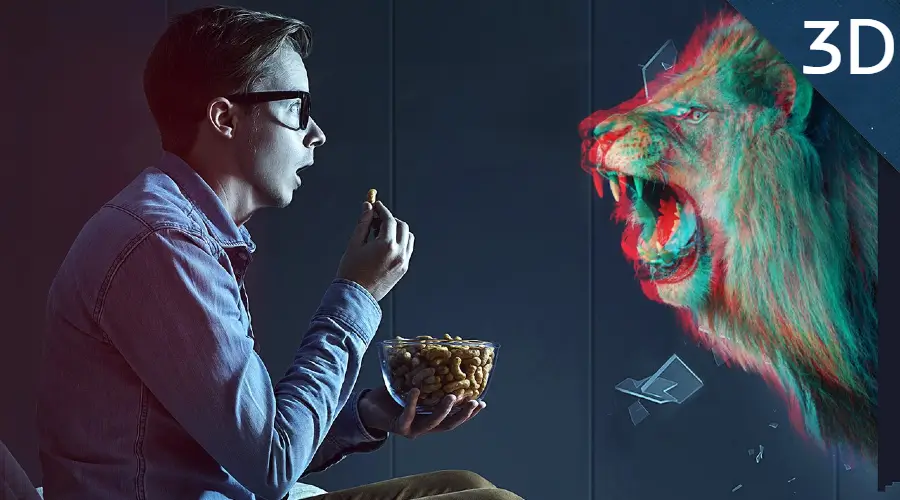 1. Make Sure You Use Backlight
To achieve a genuine movie theater experience, you may want to view your 3D in a dark room. However, this might be a poor idea. To compensate for the passive tinted glasses, 3D TVs often produce brighter visuals. Because of this, you're more prone to have headaches and fatigued eyes.
Set a desk light behind your TV and aim it towards the wall to solve this issue. The quality of the picture is unaffected, but the light behind the TV helps to alleviate eye fatigue by providing a point of reference in the room, which minimizes the amount of contraction and expansion.
2. Pay Attention to Your Display Settings
Look at your TV display settings if you haven't previously. There's virtually no reason to believe that they'd be optimized for your specific system at all, much less optimized for it. However, you may have been satisfied with your settings until you really looked at them and realized they could be so much better. Using a calibration media, such as this Blu-Ray from Spears and Munsil, would be the ideal option (Amazon). It's a terrific way to see how excellent your TV really is. There are plenty of options available online for those who don't own a Blu-Ray player.
3. Have a Look at the Depth Intensity Settings
Keep in mind that most 3D objects act differently than 2D objects. For example, whereas 3D depth settings in games are often dynamic, they are typically fixed in films.
You should pay close attention to your settings if you're often switching between the two modes. However, playing games or watching movies with lower depth intensity may be more fun in the short term, but doing so on a regular basis may be exhausting. Take the plunge and give it your best shot.
Final Thoughts
If you have the right equipment, it is certainly feasible to use 3D glasses from a movie theater at home. Although it is important to ensure that you have the proper configuration in order for them to work together, this is not always possible. It's fortunately not too difficult to figure out which sort of glasses you're wearing depending on your prescription.
Best Seller List of 3D Home Theaters:

Bestseller No. 1
Sony BDP-S6700 4K Upscaling 3D Streaming Home Theater Blu-Ray Disc Player (Black)
Bring the theater home: Get the best seat in the house while enjoying movies and content from the comfort of your family room
Smart Functionality: With fast, stable built-in Wi-Fi, you can wirelessly access your favorite streaming apps and services including Netflix, YouTube, Amazon Prime Video & more
Inputs/Outputs: 1 HDMI, 1 USB, 1 Coaxial, 1 Ethernet. Features built in wifi 2.4 GHz, 5 GHz with the memo
4K Upscaling: Get the most out of your 4K Ultra HD TV by upscaling the quality of your Blu-ray movies to near 4K quality. 4K Ultra HD discs are not supported
The upscaling chip also improves the quality of online content, and upconverts DVD's to near HD quality for an improved viewing experience
Sale
Bestseller No. 2
Pyle 7.1-Channel Hi-Fi Bluetooth Stereo Amplifier - 2000 Watt AV Home Theater Speaker Subwoofer...
7.1 CHANNEL: The Pyle 7.1 Channel Hi-Fi Home Theater Receiver is perfect for your home entertainment system. Gives you 2000 watts peak power to be used for speakers and subwoofers w/ 4-16 ohms impedance, lets you enjoy high quality amplified audio
BLUETOOTH-COMPATIBLE: The professional integrated high powered stereo receiver is equipped w/ bluetooth wireless music streaming. Works with today's latest devices including smart phones, iPhone, iPad and computers with hassle-free receiver pairing
4K UHD TV SUPPORT: The AV digital amp box is equipped w/ 4K ultra HD TV, 3D and video pass-through support w/ dedicated RCA subwoofer output. Connect & stream audio/video from external devices via USB, RCA, HDMI, optical/coaxial digital audio
EQ CONTROLS: The home amplifier with bluetooth has 2 ¼" mic inputs with independent input source selection. Equipped w/ next gen audio DSP sound processing technology and controls for echo, bass, treble, microphone and volume adjustments
DIGITAL VFD DISPLAY: The home theater surround sound receiver system has built-in VFD display & AM/FM radio. Features front panel control center & integrated over current, short circuit & over-voltage protection. Includes remote control & power cable
Bestseller No. 3
Optoma HZ39HDR Laser Home Theater Projector with HDR | 4K Input | 4000 lumens | Lamp-Free Reliable...
DEPENDABLE LASER LIGHT SOURCE: DuraCore laser light source eliminates lamp and filter replacements for up to 30, 000 hours of low-cost and virtually maintenance-free operation; IPX6 dust resistance rating ensures optical engine durability
4K HDR INPUT: HDR10 & HLG technologies enable brigher whites and deeper black levels for an enhanced viewing experience of images and videos
LIGHTS-ON VIEWING: With an incredible 4, 000 lumens of brightness, project in any room in the house, including family rooms, theater or game rooms
EASY IMAGE SETUP: 1. 3X zoom and plus/- 30-degree vertical keystone correction enable flexible installations; project a 120" image from 10'-7" – 13'-10" away
HOME CINEMA PICTURE QUALITY: 1080p (1920×1080) resolution (with 4K input) and an incredible 300, 000: 1 contrast ratio renders sharp and detailed images from high definition content without downscaling or compression
Bestseller No. 4
AKB73775820 Replaced Remote fit for LG 3D Blu-ray Disc DVD Home Theater System LHB675N BH5140S...
AKB73775820 Replaced Remote, fit for LG 3D Blu-ray Disc DVD Home Theater System: LHB675N BH5140S S54S1-S S54T1-W BH5440P S54T1-S S54T1-C BH5540T S65T3-S BH6240S BH6340H S64H1-S S64H1-C S64H1-W BH6440P S63T1-S S63S1-S S63T1-C S63T1-W BH6540T BH6430P;
Easy to use IR remote control;
no programming needed;
Battery Type you need install : Two AAA batteries;
if you have any doubt with it , please contact us freely; we will give you reply within 24 hours;
Bestseller No. 5
Sound Bars for TV, 2.2 CH 32 inch 3D Surround Sound Home Theater System with HDMI-ARC/Opt/Bluetooth...
【2.2ch】 It has a configuration of 2 inches x 2 tweeters + 2.25 inches x 2 woofers. This system combines a speaker with one chassis on each side and dual subwoofer dedicated to deep bass. Achieved a sound exceeding 2.1ch.
【Stable treble + deep deep bass】 The treble speaker can enjoy clear sound that is easy to hear. Two subwoofers that handle the bass are luxuriously built-in which produces a realistic and elegant sound.
【Bass and treble adjustable + 10 EQ modes】 Equipped with an equalizer setting function that can change the frequency characteristics of the audio signal. You can customize the sound to your liking for various situations. With a built-in DSP, you can switch between 10 different EQ modes.
【Can be placed horizontally, vertically, or hung on the wall】 The split design that can be used as a soundbar or as dual tower speaker on the left and right sides of the TV. You can use it according to the atmosphere of the room. In the case of the integrated type, it will be a powerful "horizontal style sound bar" with 830*100*75 mm(L*W*H).
【Connect to any device】 Upgrade your sound by connecting devices such as projectors, TVs, PCs, iphones, iPads, DVD players, and games to the soundbar.
Sale
Bestseller No. 6
SAMSUNG HW-Q60T 5.1ch Soundbar with 3D Surround Sound and Acoustic Beam (2020) , Black
3D SURROUND SOUND - The powerful 3D surround sound of DTS Virtual: X turns your living room into a theater.
SAMSUNG ACOUSTIC BEAM - Acoustic Beam technology delivers sound that seems to come from precisely where the action is happening
Q-SYMPHONY - Syncs your Q-Series Soundbar speakers with your Samsung QLED TV speakers for the most immersive sound
MULTI-CONNECTION - Bluetooth multi connectionConveniently switch between two different connected smart devices
ADAPTIVE SOUND - Adaptive sound technology optimizes sound for every scene, allowing you to hear voices clearly even at the lowest volumes
Bestseller No. 7
Epson Home Cinema 3800 4K PRO-UHD 3-Chip Projector with HDR
4K PRO-UHD (1) Projection technology — a new type of 4K home theater experience, utilizing advanced technologies for resolution Enhancement, color and image processing
True 3-chip projector design — Advanced 3LCD technology displays 100 percent of the RGB color signal for every frame without any "rainbow effect" or color brightness issues
4K resolution processing — pixel-shifting technology precisely controls three individual, high-definition LCD chips to parallel process millions of pixels
Full 10-bit HDR (2) — accepts 100 percent of the HDR source information to faithfully reproduce HDR content for an amazing visual performance, Plus hog support
Digital video processing — Real-time, 12-bit analog-to-digital video processing for smooth tonal transitions; helps eliminate banding, blocking and other compression artifacts from the final visual performance
Sale
Bestseller No. 8
4K Projector, Anker Nebula Cosmos Max 4K UHD TV Home Theater/Entertainment Projector, Android TV 9.0...
True Cinema Experience: Watch your favorite movies, sports events, games, and more in astonishing quality with Cosmos Max's 4K UHD image.
A New Dimension of Sound: With Dolby Digital Plus and Sound Dimension, Cosmos's speakers have been optimized to deliver 360° of true 3D audio.
Adjustable Image Size: Change the size of Cosmos Max's image without ever having to move the projector courtesy of the built-in digital zoom. Max out your movies at 150 inches, or scale things down for a more intimate affair—all with a simple tap of the remote.
Upscale Everything: Cosmos Max breathes new life into your old DVDs, videos, and even live TV broadcasts thanks to Hybrid Log Gamma (HLG). It automatically detects when you're watching non-HDR content and upscales it in real-time so everything you watch looks sensational.
Endless Entertainment: Whether you want to indulge in an ice-cream-fueled Prime Video binge or watch the big game via the ESPN app, Cosmos has you covered. Choose from over 5000 apps including Hulu, Disney+, HBO, and many more with Android TV. Note: For peak performance, please update to the latest firmware.
Sale
Bestseller No. 9
Pyle 3D Surround Bluetooth Soundbar - Sound System Bass Speakers Compatible to TV, USB, SD, FM Radio...
BLUETOOTH CONNECTIVITY (5.2version): Stream music wirelessly with this sound bar that has Bluetooth connectivity of 3.1 plus EDR within 100 ft. range. Compatible to iPhone, Android, smartphone, iPad, tablet, computer and other Bluetooth devices
SURROUND SOUND SYSTEM: A complete 3D Dolby 5.1 channel surround sound system with a total of 5 subwoofer speakers to produce a full range stereo reproduction. It also has a ported enclosure for impressive bass response when watching movies or listening to music
MULTIPLE COMPATIBILITY: It has MP3 digital audio file compatibility that can connect to external devices like USB flash drives, SD memory card readers. It can also connect to FM radio with 30 station memory.Do not use liquid cleansers or aerosol cleansers. Use a dry cloth for cleaning
HOME THEATER EXPERIENCE: Offers outstanding entertainment experience because this speaker sound base is compatible to TV, Home Theater and other speaker systems. It also has Aux 3.5mm input connector and (2) pair RCA (L/R) audio input jacks
SOUND AMPLIFIER: This soundbar comes with a sound amplifier and EQ audio configuration for an unmatched resonance. It also comes with a front panel control center, LCD display and wireless remote control
Sale
Bestseller No. 10
1000W Bluetooth Home Theater Receiver - 5.2-Ch Surround Sound Stereo Amplifier System with 4K Ultra...
1000W PEAK POWER: The Pyle 5. 2 channel hi-fi home theater receiver is perfect for your home entertainment system. Gives you 1000W peak power to be used for speakers and subwoofers w/ 4-16 ohms impedance, lets you enjoy high quality amplified audio
BLUETOOTH CONNECTIVITY: The professional integrated high powered stereo receiver is equipped w/ Bluetooth wireless music streaming. Works with today's latest devices including Smartphones, iPhone, iPad and computers with hassle Free receiver pairing
4K UHD TV SUPPORT: The AV digital amp box is equipped w/ 4K Ultra HD TV, 3D and Blu ray video pass-through support w/ dedicated RCA subwoofer output; Connect and stream audio/video from external devices via USB, RCA, HDMI, optical/digital audio
EQ CONTROLS: The home amplifier with Bluetooth has 2 ¼" mic inputs with independent input source selection. Equipped w/ next-gen audio DSP sound processing technology and controls for echo, bass, treble, microphone, and volume adjustments
DIGITAL VFD Display: The home theater surround sound receiver system has a built-in VFD display w/ AM/FM radio. Features front panel control center & integrated over the current, short circuit and over-voltage protection; includes a remote control
Last update on 2022-09-16