In the movie theater, 3D glasses allow viewers to fully immerse themselves in their favorite films, giving the impression that everything is real and occurring right in front of them. Being able to watch your favorite movie while wearing these glasses is very amazing.
You may also utilize them to get the most out of your time at your own house. The 3D glasses you bought at the cinema may not be compatible with your home entertainment system. Many people have inquired about this, so I decided to look at it more.
As far as 3D glasses go, can they be used in the comfort of your own home? Real 3D glasses, which are passive 3D glasses, are often used in movie theaters and will operate flawlessly with your home 3D system if it also supports passive 3D technology. If you have a passive 3D system, movie theater glasses will operate in your house.
Activated 3D technology is the most prevalent variety. It may come as a shock to learn that the solution is so straightforward. However, if you want to get the most out of these glasses and know what passive 3D technology means, it's worth investing in the correct equipment. Those are the topics I'll be discussing in this essay.
Using Movie Theater 3D Glasses at Home
Seeing a movie in a theater is one of the finest ways to immerse yourself in the experience. Movie theaters make use of the most advanced technology to provide that degree of immersion. Many of the technologies we take for granted at home were originally designed for use in movie theaters.
3D technology, in particular 3D projectors, exemplifies this. Passive technology, which is far more costly, is used in movie theaters. This, on the other hand, lowers the cost of the glasses, making them more attractive to movie theaters as a business model.
They often employ RealD 3D glasses, which are billed as cinema-quality technology. These are 3D polarized, polarized lenses. The fact that they are passive 3D glasses is what matters most. As with any other passive home theater system, this implies that no external power source is required for it to function.
Learn the difference between active and passive 3D by watching this one-minute video.
Despite the fact that home theater systems employ active 3D technology, passive 3D glasses may be used if you have a passive 3D projector or TV at home. On the other hand, these devices aren't compatible with all TVs and monitors because of the technologies they use.
What really matters is what kind of television or monitor you have. For the RealD 3D glasses to operate at home, you'll need an LCD or LED TV. Sadly, they aren't compatible with plasma displays due to the fact that the 3D technology used by plasma displays is different.
Make sure your 3D TV or projector supports passive 3D technology if you wish to utilize movie theater 3D glasses at home. Assuming you've previously invested in 3D glasses, you should already know what type of 3D technology your system employs, But if you are doubtful, it won't take you long to find out whether it's right for you!
Whether or whether you should utilize 3D glasses from the movie theater at home is a personal choice that is likely to be influenced by your financial situation. To be honest, the 3D glasses used in movie theaters aren't exactly cheap, but they are of high quality.
Which Is Better, Active or Passive 3D?
As previously said, 3D technology may be divided into two categories: active and passive. This language pertains to the spectacles, but it also has an influence on the way the picture is generated, which is evident. But what exactly do these phrases signify, and which is the superior term?
Unlike the passive polarized glasses that are commonly used in movie theaters, the RealD 3D glasses in use are active polarized glasses. These are essentially the same kind of technology as the red and blue 3D glasses that you were undoubtedly familiar with as a youngster. In essence, they filter the picture such that each eye only sees half of what is being shown. When you look at it in 3D, your brain is tricked into believing it is when it isn't.
At passive 3D at 1080 resolution, for example, there are 540 lines of pixels for each eye while you're viewing a movie in that quality. Passive 3D technology is significantly more widely accessible and is often less expensive than active 3D technology. Because 3D glasses are simple plastic frames with lenses inside, they don't have to be prohibitively costly to be effective.
The cost of 3D technology is borne by the projectors or televisions that use it. Since it relies heavily on the projector for most of its functionality, this kind of system is perfect for movie theaters but is less prevalent in residential settings.
Active 3d technology, on the other hand, requires the usage of more complex spectacles. Like other home theater technologies, active technologies are distinguished by the fact that a source of electricity powers them. In this instance, the power source is a battery that is built within the glasses themselves.
As opposed to passive glasses, active glasses have a shutter built into them, rather than polarizing the picture so that each eye only sees half of it.This time, they switch between each eye at a very quick pace, which again fools your brain into believing that the picture is three-dimensional. Additionally, you will be able to view the whole 1080 picture rather than just half of it.
The final result is that projectors and television sets that generate active 3D pictures will be far less expensive, making them more accessible to the home market. If you have an active 3D system, movie theater glasses will not operate since they interfere with the signal.
Active vs Passive 3D Glasses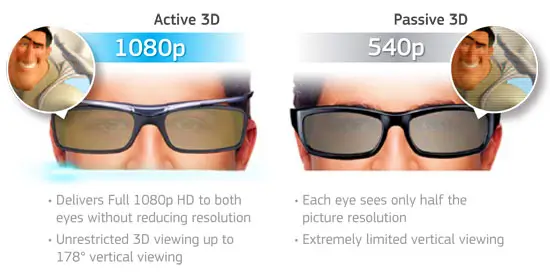 Price
Passive 3D glasses are less expensive; however, the key distinction between them is whether they're active or passive. Because passive 3D glasses don't require a lot of technology, they're quite inexpensive. If you're willing to shell out a few more bucks, you can get yourself a pair of active glasses.
Accessibility
Other than that, there's the matter of ease of use. Active 3D technology is more widely accessible since projectors are less expensive, but glasses are more expensive. It's a better option for home theaters since you'll only need one or two pairs.
More people can see the same movie at the same time using passive 3D glasses. We've previously established that moviegoers may carry their passive 3D glasses from the theater, which operate in the house as well. Because active 3D glasses are so expensive, you're unlikely to possess more than two, which severely restricts the number of individuals who can benefit from them.
Comfort
Then there's the matter of ease. Most of the functional electronics in active 3D glasses are housed in the spectacles themselves, making them heavy. The lenses are also thicker, so they may not be as pleasant to wear. If you're planning to watch a lot of 3D movies at once, passive 3D is the superior option.
Image quality
Finally, there's the matter of picture quality to consider. Some people find the flashing of active 3D glasses to be annoying. On the other hand, passive glasses provide images of poorer quality, making them seem lifeless.
It is far more affordable to employ active 3D technology at home, and it also creates superior photographs. Unlike the projectors, which may be rather costly, passive 3D glasses are quite affordable. As you can see, everything is subject to change based on your financial situation.
How to Get the Most Out of 3D Viewing Experience?
If you have 3D glasses, it's time to learn how to utilize them to their fullest potential in the comfort of your own home. While it's easy to unpack your TV and start watching simply, there are a few things to keep in mind before you do.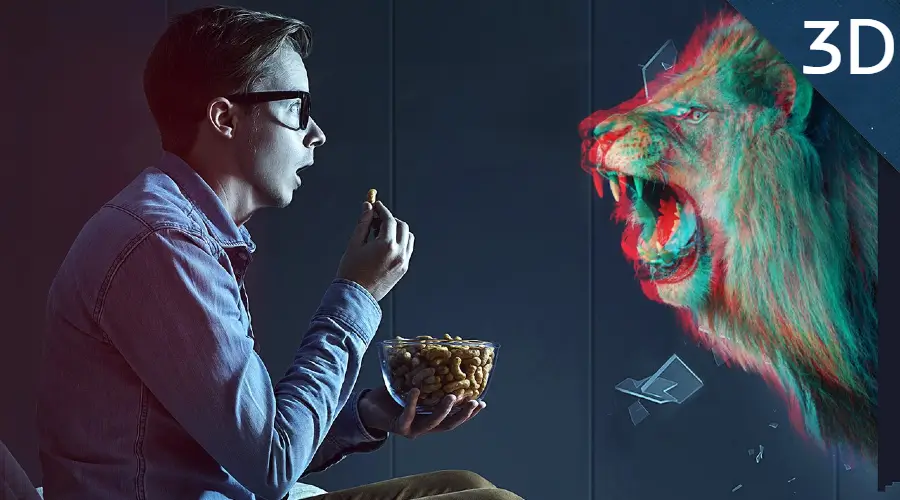 1. Make Sure You Use Backlight
To achieve a genuine movie theater experience, you may want to view your 3D in a dark room. However, this might be a poor idea. To compensate for the passive tinted glasses, 3D TVs often produce brighter visuals. Because of this, you're more prone to have headaches and fatigued eyes.
Set a desk light behind your TV and aim it towards the wall to solve this issue. The quality of the picture is unaffected, but the light behind the TV helps to alleviate eye fatigue by providing a point of reference in the room, which minimizes the amount of contraction and expansion.
2. Pay Attention to Your Display Settings
Look at your TV display settings if you haven't previously. There's virtually no reason to believe that they'd be optimized for your specific system at all, much less optimized for it. However, you may have been satisfied with your settings until you really looked at them and realized they could be so much better. Using a calibration media, such as this Blu-Ray from Spears and Munsil, would be the ideal option (Amazon). It's a terrific way to see how excellent your TV really is. There are plenty of options available online for those who don't own a Blu-Ray player.
3. Have a Look at the Depth Intensity Settings
Keep in mind that most 3D objects act differently than 2D objects. For example, whereas 3D depth settings in games are often dynamic, they are typically fixed in films.
You should pay close attention to your settings if you're often switching between the two modes. However, playing games or watching movies with lower depth intensity may be more fun in the short term, but doing so on a regular basis may be exhausting. Take the plunge and give it your best shot.
Final Thoughts
If you have the right equipment, it is certainly feasible to use 3D glasses from a movie theater at home. Although it is important to ensure that you have the proper configuration in order for them to work together, this is not always possible. It's fortunately not too difficult to figure out which sort of glasses you're wearing depending on your prescription.
Best Seller List of 3D Glasses:
Bestseller No. 1
Sale
Bestseller No. 2
2 Pieces 3D Movie Game Glasses 3D Red Blue Glasses 3D Style Glasses for 3D Movies Games, 3D Viewing...
What you will get: package contains 2 pieces of 3D style glasses, enough quantity can meet your various viewing demands and replacement, and you can share them with your friends and family
Multiple applications: these red blue 3D glasses are suitable for most kinds of red-blue mode's three-dimensional film, 3D games, 3D picture appreciation, bring you nice using experience
Compatible with most devices: the simple red-blue 3D glasses can be applied in general computer monitor, laptops, projectors, computers and most display devices
Durable material: these simple style 3D glasses adopt black PC frame and red and blue quality AC lens, which are flexible and reliable, not easy to break, light in weight and portable, can serve you for a long time
Nice performance: the 3D movie game glasses can also be applied by myopic friends, proper size provides comfortable using experience, stylish and comfortable; Moreover, it can be served as practical gifts for people who love watching movie and playing games, suitable for most people
Bestseller No. 3
ZiYan- 50 Pairs - Flat- 3D Glasses Red and Cyan White Frame Anaglyph Cardboard
White cardboard frames with temples for a low-cost solution of your anaglyph needs. With red and cyan filters, the glasses can be used for either red left or red right depending on which way you fold the temples. Two different fold-scores allow you to fit the glasses to smaller or larger viewer's heads
To be used for Anaglyph Internet images, 3D Anaglyph DVDs (movies), Anaglyph Prints and wherever red/cyan images are to be found.
Used for 3D (Red and CYAN) viewing on internet, DVDs, VHS tapes and broadcast TV (anaglyph)
This listing is for (50) Pair - White Frame
These 3D Glasses Come in Bulk and are very easy to fold.
Bestseller No. 4
Red & Blue White Cardboard Glasses (3 Pairs) MADE IN US
White cardboard frames with temples for a low-cost solution of your RED & BLUE anaglyph needs
Two different fold-scores allow you to fit the glasses to smaller or larger viewer's heads.
These RED & BLUE anaglyph white cardboard glasses are unusually a one-time use.
RED & BLUE were used in older comic boooks, print books - more modern comic books and prints use the RED & CYAN glasses.
Sale
Bestseller No. 5
50 Pairs - Flat- 3D Glasses Red and Cyan White Frame Anaglyph Cardboard (Set of 50)
High Quality & Inexpensive - White cardboard frames with temples for a low-cost solution of your anaglyph needs. With red and cyan filters, the glasses can be used for either red left or red right depending on which way you fold the temples.
Widely Use - Used for Anaglyph Internet images, 3D Anaglyph DVDs (movies), Anaglyph Prints and wherever red/cyan images are found.
Fits well - Two different fold-scores allow you to fit the glasses to smaller or larger viewer's heads.
Convenient - These 3D Glasses are paper card glasses that are very easy to fold. So you can carry them around with you wherever you go.
Enjoy your Feast of Vision - You can use them for viewing 3D prints, television, anaglyph videos, photos on the Internet and videos on YouTube, a lot of other publications and, above all, your favorite movies.
Bestseller No. 6
BIAL Red-Blue 3D Glasses/Cyan Anaglyph Simple Style 3D Glasses 3D Movie Game-Extra Upgrade Style
100% Brand new high quality 3D glasses.
Made of black plastic frame and red and cyan high quality resin lens. It is durable fashionable and cool.
It is suitable for watching such stereo movies as The Adventures of Shark Boy and Lava Girl in 3D, Shrek 3D, Spy Kids 3D.etc.
It could be used to view 3D print, magazines, comic books, TV ,Anaglyph photos on the internet and publications as well.
Packing included:1 x 3D Vision Myopia General Glasses + case + BIAL glasses cloth
Bestseller No. 7
Active Shutter 3D Glasses 4 Pack, Rechargeable Bluetooth 3D Glasses Compatible with Epson 3D...
High-tech light-speed LCD shutter technology, compatible with 3D LCD projector, like Epson, Sony; (Note: can't used for all 3D DLP Projectors)
Bluetooth signal transmission, compatible with Sony/Panasonic/Samsung/Sharp 3D Active TVs
Super high refresh rate, high contrast and brightness, providing vivid 1080P Full HD 3D viewing experience as you want.
Built in rechargeable battery for added convenience, Charge 2 hours, can work for approximately 60 hours; Auto power off function, energy efficiency.
Super Soft, Durable, and Foldable bracket, Lightweight, suitable for all age groups and offering you a comfortable wearing experience.
Bestseller No. 8
Bestseller No. 9
Spectacles 3 — 3D Camera Glasses, Made by Snapchat (60fps HD Action Camera)
3D VIDEO & PHOTO: Meet Spectacles 3 — camera glasses that capture your world in 3D. Two HD cameras record 3D videos and photos at 60 fps, and four built-in microphones capture immersive, high-fidelity audio.
CHARGING CASE: Recharge Spectacles 3 on the go in their included leather Charging Case, which can store up to four charges at a time — featuring a collapsible design that can fold flat when not in use.
3D EFFECTS & 3D VIEWING: Reimagine the moment with a suite of 3D Effects on Snapchat, or relive it using the included 3D Viewer. You can even invite a friend to experience it on YouTube VR.
SHARE ANYWHERE: Send your favorite moments on Snapchat, or export and share them anywhere you'd like. You can even create 3D Prints with Pops to have a memory you can hold onto.
WHAT'S INSIDE: Spectacles 3, Charging Case, Charging Cable, 3D Viewer, Cleaning Cloth.
Bestseller No. 10
4 Pieces 3D Movie Game Glasses 3D Style Glasses for 3D Movies Games Light Simple Design, 3D Viewing...
Package includes: you will get 4 pieces of 3D style glasses, sufficient quantity can meet your various viewing demands and replacement, and you can share them with your friends and family
Wide range of use: these red blue 3D glasses are suitable for most kinds of red-blue mode's three-dimensional film, 3D games, 3D picture appreciation, bring you nice using experience
Compatible with multiple devices: the simple red-blue 3D glasses can be applied in general computer monitor, laptops, projectors, computers and most display devices
Quality material: these simple style 3D glasses adopt black plastic frame and red and blue quality resin lens, which are durable and reliable, not easy to break, light in weight and portable, can serve you for a long time
Suitable size: the total width of the 3D movie style glasses is approx. 15.5 cm/ 6.1 inch, its leg length is about 13.2 cm/ 5.2 inch, suitable for most people, stylish and comfortable
Last update on 2022-05-21