When you buy a new TV, you get excited. You become busy setting it up. But when you find the built-in audio system is low grade and unsatisfied, you don't feel good. Even it can happen with a person who has the best TV in his home. So, what should you do at this moment?
If your built-in audio system is low grade, then a soundbar will be the best option to replace it and solve your problem. Nowadays, a soundbar has become quite popular. It is the easiest way to fix your audio system, and you can also purchase it at a reasonable price. There are many soundbars on the market. So, which one will be the perfect one for you or which one will be the best option for your sound system?
A 2.1 or 3.1 soundbar can be the best starter option for your sound system. So, what is the difference between a 2.1 and 3.1 soundbar?
A 2.1 soundbar comes with two channels which are a left and a right channel. A 3.1 soundbar comes with three channels; left, right and center. Both of the soundbars contain a subwoofer. A 3.1 will perform better than a 2.1 soundbar as it has a center channel.
Keep reading to have a clear conception of the differences between these two soundbars.
Differences Between 2.1 and 3.1 Soundbars
2.1 Soundbar Setup
A few moments ago, we told you a 2.1 soundbar contains a left and a right channel and a subwoofer. The two different channels are built into the soundbar, and the subwoofer is external. External subwoofers are made to produce low-frequency sounds that soundbars aren't able to produce. You will get a clear right and left speaker sound.
But if you want to hear a high dynamic sound, then a 2.1 soundbar won't be able to provide it because it doesn't have a central speaker. But if you are looking for a small upgrade to your TV's built-in sound system, a 2.1 will be a perfect choice.
3.1 Soundbar Setup
A 3.1 soundbar has three different channels. It is a little different than a 2.1 soundbar which has two channels. A 3.1 soundbar has an extra center channel.
This extra center channel gives you dialogues and dynamic sounds. This central speaker gets you a surround sound feel.
A 3.1 soundbar also comes with an external subwoofer. It doesn't give rear speakers as a 5.1 soundbar. But it provides much better sound quality than a 2.1 soundbar.
Soundbar Channels Explained: 2.1, 3.1, 5.1, etc.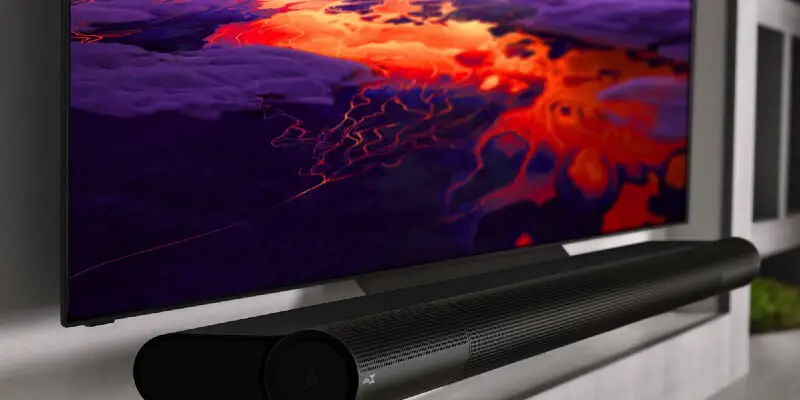 A 2.1 Soundbar – two different channels, left and right, an external subwoofer. A 2.1 soundbar can be purchased at a reasonable price.
A 3.1 Soundbar – three different channels, left, right, and central. It also has an external subwoofer. They give a better sound quality and dynamic sound and protect dialogues from mixing with the music and sounds.
A 5.1 Soundbar – five different channels, left, right, center, surround right, and surround left with subwoofer. The left and right surround channels give the system a traditional surround sound experience. As they contain two additional channels, you need to consume more money than a 2.1 or 3.1 soundbar. 5.1 soundbars are generally much different from both 2.1 and 3.1 soundbars
Benefits of Soundbar Systems
The Soundbar systems are the best option to solve your TV's low-grade audio system. It has become quite popular recently. With the soundbars, you can have a dynamic sound. You can simply use them and set them up. They are also budget-friendly.
High-Quality Sound
Whenever you buy something, you always probably look for a trusted brand or product. In the case of speakers, you look for top manufacturers, cause the industry experts to trust them. It is the same case for soundbars.
Trusted industry-leading brands are providing amazing soundbars which give a dynamic sound experience. The lesser-known brands aren't lagging behind in the market. It isn't easy to gain room-filling sound, the multi-dimensional sound that conventional surround audio systems provide. In that case, soundbars are becoming very close and comparable. They are making it difficult to solve the problem of custom building a costly and complicated surround sound system.
Simple and Easy to Use for Almost Anyone
The easy and simple setup and the simple utilization make a soundbar perfect. Soundbars don't make things difficult. They help you to give a great sound quality for your TV. The best thing about soundbars is they easily implement with your TV and other instruments, and many of them update automatically to make sure that your device is up-to-date with the latest technology. Though they are simple, they ensure a long-time warranty.
They Are Extremely Compact
Conventional sound systems are considered as huge. They need a lot of components in order to gain a proper surround sound feel. But sometimes, those components can make a big mess. Another problem is they have large and unruly wiring that you won't like.
If you want to get rid of this traditional sound system, then switch to soundbars. They save you from this big mess. They easily adjust with your room and keep your room tidy and clean.
Stylish and Modern Designs
The soundbars provide a solid sound system and a stylish looking. If you want to set up your soundbar in your main room, then it will be a great choice. If you want the attraction of the people, you need to set up your soundbar next to your TV by following our guide. If you do so, you will probably get people's compliments, and you will feel better.
Soundbars Are Typically Budget-Friendly
So, it might be best if you had a soundbar to get rid of the low-grade audio system of your TV. You always want the best product at a reasonable or budget-friendly price. You will find the perfect soundbar according to your audio problem and budget.
You may find many soundbars on the market. Each of them has different qualities and uses; you need to find the perfect one for your TV's audio problem.
Suppose, if you don't want to get dynamic sound with your soundbar, then you can purchase a 2.1 soundbar at a very low price. But if you want dynamic sound or surround sound system, you have to consume much more money. You can buy a 3.1 or 5.1 soundbar for your sound system.
Choosing the Right Soundbar for You
Which soundbar would you buy or which soundbar would be the best one for your sound system? These all depend on your budget and your preferences. Whether you want to buy a 2.1 soundbar or a 3.1 soundbar, first, you have to decide your budget and give priority to your preferences.
Recommended 2.1 Soundbars
If your intention is to spend money around $100-$200 and you don't want to have any dynamic or surround sound system, then a 2.1 soundbar will be a great choice for your TV's audio system. You can purchase a 2.1 soundbar at a price of $100-$200. Check out these three options you may like:
VIZIO Sound Bar for TV with Wireless Subwoofer, 2.1 Home Audio Sound Bar with Bluetooth 38"...
Enjoy 100 dB of room filling, crystal clear sound with less than 1 percent total harmonic distortion
Wireless subwoofer adds rich bass from anywhere in the room
Built in Bluetooth lets you lose the wires and listen to your music with a tap of a finger with built in Bluetooth. Sound pressure level - 100 dB. Sound bar frequency - 50 hertz - 19 hertz
Premium audio with Dolby digital decoding, plus DTS TruVolume and DTS audio post processing
Wireless remote for convenient volume, input and audio controls; Wireless subwoofer range approximately 60 feet – line of sight from sound bar
VIZIO SB3821 (on Amazon) -The VIZIO SB3821 contains 100 dB of sound. It has a wireless subwoofer, and the range of the subwoofer is 60 feet. Bluetooth technology is also inserted into it so that you can easily control it. Dolby Digital decoding, DTS audio post-processing, and DTS TruVolume are also found in it.
Wohome TV Soundbar with Built-in Subwoofers 38-Inch 120W Support HDMI-ARC, Bluetooth 5.0, AUX USB...
Ultra Slim TV Soundbar: with fashionable and classic design, 3.2 inches high could fit easily under your TV and desktop monitor, great 38inches suit for 40 inch-75 inch traditional TV or smart TVs, mount kit supplied
2.1 CH with Powerful Bass: with built-in 2 subwoofers, 1 bass reflex tubes and 4 full range speakers, could produces deep bass and crystal clear sound for all your movies, music, gaming and TV shows, enhance your hearing experience, enjoy 110dB room fulling sound, suit for big space such as living room
Clear Voice: designed with DSP Technology for amazing clarity and precision, support 4 equalizer modes including movie, news, music and 3D sound mode, bass and treble adjustable
Bluetooth 5.0; wired connection support Aux, HDMI-ARC, USB and optical input, what's more, ARC connection support the TV remote and cable remote
APP Control: except traditional remote and buttons control, Wohome S9930 support smart App control, very simple to use and operate
Wohome 2.1 Channel Soundbar S28 (on Amazon) -The Wohome 2.1 Channel Soundbar S28 comes with exquisite features. It contains six drivers, two built-in subwoofers, two tweeter speakers, and two full-range speakers. It provides 105 dB of sound in order to fill the room. It also has Bluetooth technology to facilitate your control system, a built-in DSP chip.
Soundbar Bestisan Bluetooth TV Sound Bar 60W 24-Inch with 3 Equalizer Modes, Remote Control,...
Premium Audio Equipment: 110 dB and 140 Watts 2 .1 channel Powerful Stereo Audio Sound Bar brings you a fantastic home theater surround sound experience.
POWERFUL BASS: 6.5-inch wired subwoofer, bring rich, powerful bass, let you enjoy the explosive experience from your movie, TV shows, music and gaming, in addition, the bass is adjustable.
Bluetooth 5.0, The Superb Sound Quality: Our newest sound bar adopts Bluetooth 5.0 & DSP technology to ensure faster transmission speeds, stable connectivity, and smooth transmission in long distance with low consumption.
Three EQ Audio Modes: Transforms movies, TV shows or music into immersive audio that envelops the listener with crystal-clear dialogue, louder sound and high power
Great Customer Service: we offer 100% satisfaction service and lifetime technical support, any questions, please feel free to contact us via Amazon message or contact info on the service card.
BYL Channel Soundbar (on Amazon) -The BYL 2.1 Channel Soundbar has a 6.5″ subwoofer, which is wireless, and the range of the subwoofer is up to 60 feet. It provides 110 dB of sound in order to fill your home entertainment room. It also has Bluetooth technology. DSP technology is also found in it to support music, dialogue, and movies.
Recommended 3.1 Soundbars
If you are searching for a dynamic sound and you are going to spend around $200-$500, then you can purchase a 3.1 soundbar. A 3.1 soundbar comes with an extra center channel that gives you a much better sound experience than a 2.1 soundbar. When you are going to buy a 3.1 soundbar, then you should buy one of these three:
LG SL6Y 3.1 (on Amazon) -The LG SL6Y 3.1 soundbar system has three channels: the left, right, and center. It has a wireless subwoofer and DTS Virtual:X that gives you three-dimensional surround sound without the help of any extra speaker. The external subwoofer creates a great bass. The LG SL6Y 3.1 soundbar is one of the most high rated soundbars.
Samsung MM55 Series 3.1 Channel Wireless Sound Bar
3.1 Channel with center channel - enjoy a dynamic home audio experience with 3.1 Channel surround sound
Wireless active subwoofer - feel The action of your favorite movies, shows, and sports with dynamic, powerful bass
Bluetooth connectivity - connect wireless for one-touch control of your soundbar from Bluetooth compatible devices. Simply select the sound bar for pairing and power It on automatically to play all your favorite music services and more
Hdmi - enjoy your favorite movies, shows, and sports with higher quality audio. The HDMI connection transmits digital video and audio over a single cable, delivering a superior entertainment experience
Surround sound expansion - experience the full power and depth of your favorite movies and TV shows with a wholly optimized audio experience. Frequency Response (amp):40Hz~20KHz
Samsung MM55 (on Amazon) -The Samsung MM55 has three built-in speakers and a subwoofer. It also has Bluetooth technology. By using this technology, you can easily play many kinds of music, movies, etc. But you won't be able to play music through AUX and Bluetooth at the same time. It connects your media with the help of one HDMI cord. It provides a great sound experience.
JBL Bar 3.1 - Channel 4K Ultra HD Soundbar with Wireless Subwoofer
JBL Surround sound makes movies come alive
JBL Surround sound with 450W of power. Max SPL - 103db. Frequency Response - 35Hz to 20KHz
Thrilling bass from a 10" (250mm) wireless subwoofer
Wireless music streaming with Bluetooth
True 4K connectivity with 3 HDMI in/1 HDMI out (ARC)
JBL Bar 3.1 (on Amazon) -The JBL Bar 3.1 comes with 450 watts of sound and an 11″ wireless subwoofer. It has three built-in front speakers. Through Bluetooth technology, you can play music, videos, etc. You can get a true connection to 4KTVs with the help of 3 HDMI in/ 1 HDMI ARC out.
If you want our full list of recommended soundbars, then check here. We wish you a happy shopping!
-our editorial board has reviewed this article and has been approved for publication according to our editorial policy.
Best Seller List Of Sound Bars:
Sale
Bestseller No. 1
Sony S100F 2.0ch Soundbar with Bass Reflex Speaker, Integrated Tweeter and Bluetooth, (HTS100F),...
Straight from the theater to your home: easy set-up, built-in tweeter, 2-ch speaker with simple Bluetooth connection
Deep sound with Bass Reflex speaker
High power with a slim design that matches any room and is perfect for small living spaces
Voice enhancement feature is great for TV content with hushed dialogue, or to make conference call participants easier to hear
Easy TV set up with HDMI ARC
Bestseller No. 2
VIZIO V-Series 2.1 Channel Soundbar System with 5-inch Wireless Subwoofer - Black (Renewed)
Turn your living room into a captivating home theater. DTS Virtual:X sound enhancement adds room-filling, floor-to-ceiling virtualized 3D sound.
3 full-range speakers in the sound-bar create brilliant clarity. Place the 5" wireless subwoofer anywhere in the room to add deep booming bass.
With HDMI cable, use the highest-quality audio available and allows you to control the soundbar with your TV remote.
Connect Alexa, Siri, or Google Assistant devices. Pair with any device via Bluetooth.
US Warranty. Package Includes: SoundBar, Subwoofer, HDMI Cable, Digital Optical Cable, 3.5mm to 3.5mm, Stereo RCA to 3.5mm, Power Cable, Subwoofer Power Cable, Remote Control, User Manual, Wall Mounting Screws, Wall Mounting Template.
Sale
Bestseller No. 3
TCL Alto 6+ 2.1 Channel Dolby Audio Sound Bar with Wireless Subwoofer, Bluetooth – TS6110, 240W,...
DOLBY DIGITAL: Dolby Digital decoding maximizes sound clarity and creates incredible room-filling virtual surround sound.
DEEP BASS WITH WIRELESS SUBWOOFER: Experience deep, rich bass to make movies and music truly come to life.
STREAM MUSIC WIRELESSLY: You can use your Bluetooth-enabled device to wirelessly stream music on your sound bar.
SPECIALIZED SOUND MODES: Specialized sound modes bring Movies, Music, and News to life.
QUICK AND HASSLE-FREE SETUP: With HDMI, optical, or Bluetooth connections, you can go from unboxing to listening in minutes.
Sale
Bestseller No. 4
Sonos Playbar - The Mountable Sound Bar for TV, Movies, Music, and More - Black
The mountable soundbar for TV, movies, music, and more
Enjoy crisp dialogue and impressive bass from wall to wall with Playbar. Control it with the Sonos app, your remote, and more
Whether you mount it on the wall or place it below your TV on a stand or console, Playbar automatically tunes itself for the best possible sound
Playbar was specially tuned by Oscar-winning sound engineers to emphasize the sound of the human voice so you can always follow the story
Easily connect Sonos speakers in different rooms over WiFi to create a home sound system that brings every room and everyone together
Sale
Bestseller No. 5
LG S65Q 3.1ch High-Res Audio Sound Bar with DTS Virtual:X, Synergy with LG TV, Meridian, HDMI, and...
[Immersive 3.1ch Powerful Sound] 3.1 Channel audio with 400W power
[Premium Sound Solutions] DTS Virtual:X for an immersive sound experience. Meridian Audio Technology partnering up to advance sound. High-Res Audio for more accurate sound and a more enjoyable listening experience.
[Best Match for LG TVs] LG Sound Bars are engineered to seamlessly enhance LG TV performance and designed to match LG TV. Control the Sound bar with LG TV remote controller and generate high quality sound by LG TV's sound engine.
[HDMI, Bluetooth] Powerful connectivity with Bluetooth and HDMI in/out
[Eco Friendly] Eco friendly product in the entire process of manufacturing, using, disposal. Using recycled resin coming from plastic bottle and eliminate the styrofoam, vinyl bag in packaging
Sale
Bestseller No. 6
Sale
Bestseller No. 7
Sale
Bestseller No. 8
VIZIO M-Series 5.1 Premium Sound Bar with Dolby Atmos, DTS:X, Bluetooth, Wireless Subwoofer, Voice...
Low-Profile Modern Design Seamlessly blends into any environment and ingeniously attaches to select VIZIO M-Series TV stands for quick, clean tabletop or wall-mount installation.
Immersive Performance Experience immersive, cinematic 3D surround sound powered by Dolby Atmos and DTS:X.
Advanced Connectivity & Control The latest HDMI eARC connectivity enables state-of-the-art 4K Dolby Vision pass-through to the TV and lets you control the sound bar using your TV remote.
5.1-Channel Sound Experience a powerful room-filling, surround sound experience.
9 High-Performance Speakers Featuring Separate Tweeters & Woofers Provide pristine clarity and rich sound
Sale
Bestseller No. 9
Sale
Bestseller No. 10
Philips B8905 Soundbar 3.1.2 with Wireless Subwoofer, Dolby Atmos, Compatible with DTS Play-Fi,...
UNLEASH EPIC SOUND: With 600 W of max output power and 360 W RMS, this 3.1.2 soundbar fills the room with rich, nuanced soundtrack and thunderous effects. The dedicated center speaker delivers crystal clear dialogue.
HEIGHTEN THE EXCITEMENT with Dolby Atmos' unique 3D sound technology. The two upfiring speakers create a dome of sound, so you feel soundwaves ripple above your head every time a helicopter passes on screen.
EXPAND INTO A TRUE SURROUND-SOUND SYSTEM by setting up additional Play-Fi speakers (sold separately). You can sync and group your devices with the DTS Play-Fi app and stream your favorite playlist to every room without dropping a beat.
STREAM HIGH QUALITY MUSIC WIRELESSLY WITH EASE: You can stream your favorite songs and playlists from your mobile devices through Spotify Connect, Chromecast, and Apple AirPlay 2 via Wi-Fi. Or enjoy total compatibility with Bluetooth streaming too.
CONNECT WITH AMAZON ECHO OR DIGITAL ASSISTANT DEVICES: Ask Alexa-enabled devices or any speaker that works with Google Assistant to play music through the soundbar. Skip tracks and control playback hands-free. This works with Apple AirPlay 2 too.
You May Also Like…
Last update on 2022-06-28