When you buy a new TV, you get excited. You become busy setting it up. But when you find the built-in audio system is low grade and unsatisfied, you don't feel good. Even it can happen with a person who has the best TV in his home. So, what should you do at this moment?
If your built-in audio system is low grade, then a soundbar will be the best option to replace it and solve your problem. Nowadays, a soundbar has become quite popular. It is the easiest way to fix your audio system, and you can also purchase it at a reasonable price. There are many soundbars on the market. So, which one will be the perfect one for you or which one will be the best option for your sound system?
A 2.1 or 3.1 soundbar can be the best starter option for your sound system. So, what is the difference between a 2.1 and 3.1 soundbar?
A 2.1 soundbar comes with two channels which are a left and a right channel. A 3.1 soundbar comes with three channels; left, right and center. Both of the soundbars contain a subwoofer. A 3.1 will perform better than a 2.1 soundbar as it has a center channel.
Keep reading to have a clear conception of the differences between these two soundbars.
Differences Between 2.1 and 3.1 Soundbars
2.1 Soundbar Setup
A few moments ago, we told you a 2.1 soundbar contains a left and a right channel and a subwoofer. The two different channels are built into the soundbar, and the subwoofer is external. External subwoofers are made to produce low-frequency sounds that soundbars aren't able to produce. You will get a clear right and left speaker sound.
But if you want to hear a high dynamic sound, then a 2.1 soundbar won't be able to provide it because it doesn't have a central speaker. But if you are looking for a small upgrade to your TV's built-in sound system, a 2.1 will be a perfect choice.  
3.1 Soundbar Setup
A 3.1 soundbar has three different channels. It is a little different than a 2.1 soundbar which has two channels. A 3.1 soundbar has an extra center channel.
 This extra center channel gives you dialogues and dynamic sounds. This central speaker gets you a surround sound feel.
A 3.1 soundbar also comes with an external subwoofer. It doesn't give rear speakers as a 5.1 soundbar. But it provides much better sound quality than a 2.1 soundbar.
Soundbar Channels Explained: 2.1, 3.1, 5.1, etc.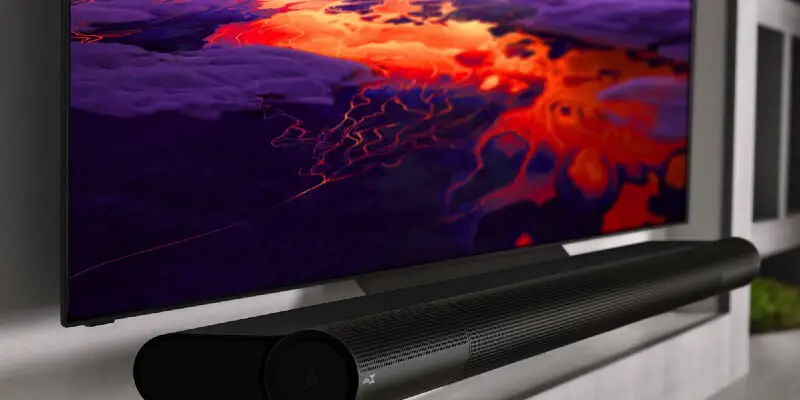 A 2.1 Soundbar – two different channels, left and right, an external subwoofer. A 2.1 soundbar can be purchased at a reasonable price.
A 3.1 Soundbar – three different channels, left, right, and central. It also has an external subwoofer. They give a better sound quality and dynamic sound and protect dialogues from mixing with the music and sounds.
A 5.1 Soundbar – five different channels, left, right, center, surround right, and surround left with subwoofer. The left and right surround channels give the system a traditional surround sound experience. As they contain two additional channels, you need to consume more money than a 2.1 or 3.1 soundbar. 5.1 soundbars are generally much different from both 2.1 and 3.1 soundbars
Benefits of Soundbar Systems
The Soundbar systems are the best option to solve your TV's low-grade audio system. It has become quite popular recently. With the soundbars, you can have a dynamic sound. You can simply use them and set them up. They are also budget-friendly.
High-Quality Sound
Whenever you buy something, you always probably look for a trusted brand or product. In the case of speakers, you look for top manufacturers, cause the industry experts to trust them. It is the same case for soundbars.
 Trusted industry-leading brands are providing amazing soundbars which give a dynamic sound experience. The lesser-known brands aren't lagging behind in the market. It isn't easy to gain room-filling sound, the multi-dimensional sound that conventional surround audio systems provide. In that case, soundbars are becoming very close and comparable. They are making it difficult to solve the problem of custom building a costly and complicated surround sound system.
Simple and Easy to Use for Almost Anyone
The easy and simple setup and the simple utilization make a soundbar perfect. Soundbars don't make things difficult. They help you to give a great sound quality for your TV. The best thing about soundbars is they easily implement with your TV and other instruments, and many of them update automatically to make sure that your device is up-to-date with the latest technology. Though they are simple, they ensure a long-time warranty.
They Are Extremely Compact
Conventional sound systems are considered as huge. They need a lot of components in order to gain a proper surround sound feel. But sometimes, those components can make a big mess. Another problem is they have large and unruly wiring that you won't like.
If you want to get rid of this traditional sound system, then switch to soundbars. They save you from this big mess. They easily adjust with your room and keep your room tidy and clean.
Stylish and Modern Designs
The soundbars provide a solid sound system and a stylish looking. If you want to set up your soundbar in your main room, then it will be a great choice. If you want the attraction of the people, you need to set up your soundbar next to your TV by following our guide. If you do so, you will probably get people's compliments, and you will feel better.
Soundbars Are Typically Budget-Friendly
So, it might be best if you had a soundbar to get rid of the low-grade audio system of your TV. You always want the best product at a reasonable or budget-friendly price. You will find the perfect soundbar according to your audio problem and budget.
You may find many soundbars on the market. Each of them has different qualities and uses; you need to find the perfect one for your TV's audio problem.
Suppose, if you don't want to get dynamic sound with your soundbar, then you can purchase a 2.1 soundbar at a very low price. But if you want dynamic sound or surround sound system, you have to consume much more money. You can buy a 3.1 or 5.1 soundbar for your sound system.
Choosing the Right Soundbar for You
Which soundbar would you buy or which soundbar would be the best one for your sound system? These all depend on your budget and your preferences. Whether you want to buy a 2.1 soundbar or a 3.1 soundbar, first, you have to decide your budget and give priority to your preferences.
Recommended 2.1 Soundbars
If your intention is to spend money around $100-$200 and you don't want to have any dynamic or surround sound system, then a 2.1 soundbar will be a great choice for your TV's audio system. You can purchase a 2.1 soundbar at a price of $100-$200. Check out these three options you may like:
VIZIO SB3821 (on Amazon) -The VIZIO SB3821 contains 100 dB of sound. It has a wireless subwoofer, and the range of the subwoofer is 60 feet. Bluetooth technology is also inserted into it so that you can easily control it. Dolby Digital decoding, DTS audio post-processing, and DTS TruVolume are also found in it.
Wohome Sound Bars for TV, Colorful LED Light Bar Speakers, 2.2ch 32 Inches Detachable Soundbar...
👉Immersive Sound Experience: The fierce fighting sound and the roar of machines in movies; the sound of drums and bass in music all come from 2 full-range speakers and 2 built-in subwoofers. Surround sound system brings a immersive home theater experience, any detail will not be missed.
👉Colorful Light Bar: Solid color static light as background light can protect your eyes when you watch TV programs. Dynamic light especially suitable for parties and bars, the combination of music and lighting brings a wonderful experience.
👉Detachable Soundbar: The sound bar can be separated into two small tower speakers connected with a base, you can also combine the two parts to become a regular long soundbar, and it is very convenient to disassemble; this is an excellent home theater system, also an elegant piece of decoration.
👉3 EQ Mode: DSP technology deliver 3 Equalized mode; music mode with distinct high and low pitches, movie mode that allows you to be on the scene, and news mode with clear vocals; the bass can be adjusted by the remote control.
👉Compatible with All Your Device: This tv speaker support HDMI-ARC, BT 5.0, Optical, AUX, USB connection; compatible with your smart TV, 4K and traditional TV, computer, projector, phone, tablet and so on.
Wohome 2.1 Channel Soundbar S28 (on Amazon) -The Wohome 2.1 Channel Soundbar S28 comes with exquisite features. It contains six drivers, two built-in subwoofers, two tweeter speakers, and two full-range speakers. It provides 105 dB of sound in order to fill the room. It also has Bluetooth technology to facilitate your control system, a built-in DSP chip.
BYL Channel Soundbar (on Amazon) -The BYL 2.1 Channel Soundbar has a 6.5″ subwoofer, which is wireless, and the range of the subwoofer is up to 60 feet. It provides 110 dB of sound in order to fill your home entertainment room. It also has Bluetooth technology. DSP technology is also found in it to support music, dialogue, and movies.
Recommended 3.1 Soundbars
If you are searching for a dynamic sound and you are going to spend around $200-$500, then you can purchase a 3.1 soundbar. A 3.1 soundbar comes with an extra center channel that gives you a much better sound experience than a 2.1 soundbar. When you are going to buy a 3.1 soundbar, then you should buy one of these three:
LG SL6Y 3.1 (on Amazon) -The LG SL6Y 3.1 soundbar system has three channels: the left, right, and center. It has a wireless subwoofer and DTS Virtual:X that gives you three-dimensional surround sound without the help of any extra speaker. The external subwoofer creates a great bass. The LG SL6Y 3.1 soundbar is one of the most high rated soundbars.
Samsung MM55 (on Amazon) -The Samsung MM55 has three built-in speakers and a subwoofer. It also has Bluetooth technology. By using this technology, you can easily play many kinds of music, movies, etc. But you won't be able to play music through AUX and Bluetooth at the same time. It connects your media with the help of one HDMI cord. It provides a great sound experience.
JBL Bar 3.1 (on Amazon) -The JBL Bar 3.1 comes with 450 watts of sound and an 11″ wireless subwoofer. It has three built-in front speakers. Through Bluetooth technology, you can play music, videos, etc. You can get a true connection to 4KTVs with the help of 3 HDMI in/ 1 HDMI ARC out.
If you want our full list of recommended soundbars, then check here. We wish you a happy shopping!
-our editorial board has reviewed this article and has been approved for publication according to our editorial policy.
Best Seller List of Soundbars:

Sale
Bestseller No. 1
Sony S100F 2.0ch Soundbar with Bass Reflex Speaker, Integrated Tweeter and Bluetooth, (HTS100F),...
Straight from the theater to your home: easy set-up, built-in tweeter, 2-ch speaker with simple Bluetooth connection
Deep sound with Bass Reflex speaker
High power with a slim design that matches any room and is perfect for small living spaces
Voice enhancement feature is great for TV content with hushed dialogue, or to make conference call participants easier to hear
Easy TV set up with HDMI ARC
Sale
Bestseller No. 2
Sonos Playbar - The Mountable Sound Bar for TV, Movies, Music, and More - Black
The mountable soundbar for TV, movies, music, and more
Enjoy crisp dialogue and impressive bass from wall to wall with Playbar. Control it with the Sonos app, your remote, and more
Whether you mount it on the wall or place it below your TV on a stand or console, Playbar automatically tunes itself for the best possible sound
Playbar was specially tuned by Oscar-winning sound engineers to emphasize the sound of the human voice so you can always follow the story
Easily connect Sonos speakers in different rooms over WiFi to create a home sound system that brings every room and everyone together
Sale
Bestseller No. 3
TCL Alto R1 Wireless 2.0 Channel Sound Bar for Roku TV, Bluetooth,Wifi– TSR1-NA 31.5-inch, Black
EXCLUSIVELY FOR ROKU TV: Requires a Roku TV. Expandable with Roku Wireless Subwoofer. Does not work with Roku Wireless Speakers.
SIMPLE WIRELESS SETUP WITH ANY ROKU TV: The simple wireless setup means no running cables or drilling holes in your wall. Just plug it into power and pair it for clearer, louder TV sound.
UNBOXING TO LISTENING IN MINUTES: Inside the box you'll find a quick start guide, power cable, and sound bar.
ONE REMOTE IS ALL YOU NEED: There's no need to juggle an additional remote every time you want to adjust the volume or sound settings. Just use your existing Roku TV remote.
QUICK ACCESS TO SOUND SETTINGS: Press the star button on your Roku TV remote to access your sound bar and Roku TV settings all in one place.
Sale
Bestseller No. 4
Introducing Amazon Fire TV Soundbar, 2.0 speaker with DTS Virtual:X and Dolby Audio, Bluetooth...
Amp up your audio - Fire TV Soundbar enhances TV audio with dual speakers for fuller sound, clearer dialogue, and deeper bass—all in a compact design.
Immersive sound - Enjoy a three-dimensional virtual surround sound experience with DTS Virtual:X and more detail with Dolby Audio.
Easy setup - Just plug in the included HDMI cable to the HDMI eARC/ARC port on your TV to instantly enjoy audio that's always in sync.
Compact design - With a length of 24" and a height of just 2.5", Fire TV Soundbar fits most entertainment consoles and TV stands.
Stream audio with Bluetooth - Connect your phone or tablet via Bluetooth to fill the room with your favorite music.
Sale
Bestseller No. 5
MZEIBO Sound Bars for TV, Bluetooth Soundbar for TV, 50W TV Sound Bar with 4 Drivers and Remote...
🍀Premium 360° Stereo Sound TV Sound Bar: Unleash powerful 50W dynamic audio, 4 drivers for crystal-clear sound reproduction, experience the thrill of cinema at home. Feel the action, drama, and suspense as if you're right there.
🍀Unmatched DSP Technology: Indulge in a captivating audio-visual journey with our top-notch DSP technology. Experience every note and beat with our advanced sound technology, meticulously designed to replicate each sound accurately, ensuring minimal distortion.
🍀lnnovative Design Sound Bar: Soundbar boasts aninnovative detachable design that that can be easily transformed into two compact tower speakers.offering you the flexibility to your audio setup.Place the two tower speakers on either side ofyour TV to create a dynamic and immersive surround soundeffect that puts you right in the middle of the action.
🍀4 Ways to Connect : Our soundbar supports an extensive array of connections including Optical, hdmi-ARC, AUX, and the latest Bluetooth 5.0, compatibility with nearly all devices.We provide illustrated instructions, videos, and all the necessary mounting accessories to make the setup process a breeze.
🍀Responsive Customer Support: Our team is committed to resolving any issues within 48 hours, offer 36 months warranty and support 60 days unconditional replacement. ensuring you enjoy a hassle-free audio experience. The package comes complete with the TV Soundbar, a user-friendly Remote Controller, a reliable Power Adapter, and versatile hdmi/Optical/3.5mm audio cables for seamless connectivity.(Tips: This Version not include the rca cable)
Sale
Bestseller No. 6
VIZIO V-Series All-in-One 2.1 Home Theater Sound Bar with DTS Virtual:X, Bluetooth, Built-in...
America's #1 Sound Bar* - VIZIO has been filling homes with truly immersive audio for over 10 years, and our sound bars just keep getting better. We are proud to provide our customers with top-tier audio products that bring movies, shows, podcasts, music, and more to life like never before. (*#1 Sound Bar Brand in 1H 2022 Source: The NPD Group/Retail Tracking Service, U.S., based on units, Jan. - June 2022 combined.).Waterproof : No
Complete, All-in-One Design - Experience the performance and features of a traditional home theater system in a simple, all-in-one solution designed to blend seamlessly into any home.
Striking Performance - Brilliant clarity, startling dynamics, and Dolby Audio and DTS Digital Surround support combine for performance that defies its size.
Simple Setup, Streaming & Control -Get setup and listening in minutes with HDMI ARC and Bluetooth connectivity for unparalleled ease of use, control, and access to your content.
Minimal Modern Design - A clean, angular, low-profile silhouette seamlessly blends into any environment.
Sale
Bestseller No. 7
LG Sound Bar and Wireless Subwoofer S40Q - 2.1 Channel, 300 Watts Output, Home Theater Audio Black
Transform your TV into a home theater setup with this sound bar's 300 watts of power, 2.1 channels, and booming bass via a wireless subwoofer.Waterproof : No
LG's AI Sound Pro uses deep learning algorithms to automatically adjust sound levels based on the viewed content type—clear vocals in sports, thunderous bass in live music, and dynamic sound in action movies
Made to work with your LG TV, this sound bar system taps into your TV's processing power to automatically optimize sound quality via TV Sound Mode Share—Compatible with 2022 LG TVs and select 2021 LG TVs.
Eliminate tangles of messy cables with a single connection between your TV and sound bar with HDMI Arc. Stream from your phone or tablet via Bluetooth
Sound bar, wireless subwoofer, remote control with batteries, and wall mount bracket are included.
You May Also Like…
Last update on 2023-12-01