If you are a new soundbar user and you are finding a way to make the controlling simpler of your TV and soundbar, then there is good news for you. You will be able to control both your TV and soundbar with just one remote. It is a good way to avoid dealing with many remote and simplify your whole entertainment system.
If you want to control your soundbar with your TV remote, then you just have to follow these steps:-
Find the optical or HDMI ARC connection port on both your TV and soundbar.
Connect the optical or HDMI cable to each
Turn on the TV and soundbar
Test and Troubleshoot Any Connection Issues
Adjust and Optimize Your Sound
The process of connecting and controlling your soundbar with your TV remote mostly depends on the brand of your TV. You have to follow different ways to connect your soundbar for different TV brands. In this article, you will get to know that what you have to do to command a soundbar with your TV remote.
Find the Optical or HDMI ARC Connection on both the Soundbar and TV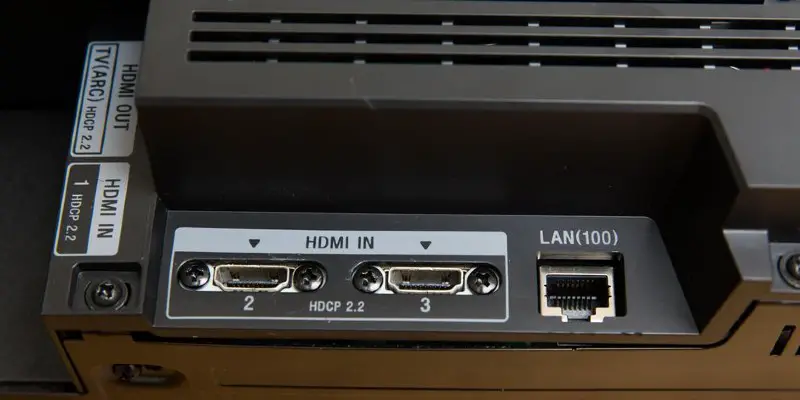 Firstly you have to check out your TV and soundbar to see the type of inputs you have available. The best way to connect is HDMI ARC. Now many TVs and soundbars come with this feature. If you don't have HDMI ARC available, then you can look for a digital optical cable connection. It is really a good option.
If your TV and soundbar have both possibilities, you may be confused about which one you should use. You do not have to consider much you can use any of them. After you decide which one you are going to use, you just have to follow the instructions below.
If you will connect your TV and soundbar via HDMI ARC, you have to connect your soundbar's 'HDMI OUT' or 'HDMI OUT' to the 'HDMI IN (ARC)' on your TV.
Again if you want to connect your TV and soundbar by Using a Digital Fiber Optical Cable, or you can call it just optical cable. Then you have to find out the 'DIGITAL AUDIO OUT (OPTICAL)' or 'DIGITAL OPTICAL OUT' on your Television and also the 'DIGITAL AUDIO IN (OPTICAL)' or 'OPTICAL IN' on your soundbar.
Connect an Optical or HDMI Cable to Each Device
Whether you are using HDMI ARC or an optical connection, you might need the right cables. The soundbar manufacturer might provide you with the correct cable. You just have to plug those cables in the right port.
And if you have an old HDMI Arc cable and a question had come to your mind, can you use the cable? And the answer is yes. Any HDMI cable with the 2.0 standard or more upgraded will work well. But some options on Amazon reassuringly call out the ARC capability right in the listing, like the AmazonBasics Premium HDMI Cable (on Amazon).
Sale
Amazon Basics Flexible and Durable Premium HDMI Cable - Supports Ethernet, 3D, 4K HDR and ARC...
Flexible, lightweight HDMI cable for connecting media devices to playback display such as HDTVs, projectors, and more
Compatible with Blu-Ray players, computers, Apple TV, Roku, cable, PS4, Xbox One, and other HDMI-compatible devices
Solid copper conductors and full metal jacket shielding for durability and high-performance connectivity
Supports Ethernet, 3D, 4K video and Audio Return Channel (ARC) and meets the latest HDMI standards
Supports bandwidth up to 18Gbps and is backwards compatible with earlier versions
When you use an optical cable, you have to make sure that the small plastic caps on the ends are taken off. Then you have to keep pushing each side into the TV and soundbar tightly till you hear or feel a click. But do not have any optical cable, or if the fiber optics in your cable have been damaged, you can easily get a cable like the iVANKY Optical Cable Digital Audio Cable for Home Theater for a reasonable price.
iVANKY Digital Optical Audio Cable 6ft/1.8M, Slim Nylon Braided Audio Optical Cord Toslink Cable for...
【For Immersive Sound Experience】iVANKY digital optical audio cable is Made from Japan Toray's core, this optical cable allows you to connect soundbars and home theatres to TVs/PS4/Xbox/Blu-Ray Players, providing greater clarity and richer sound for an immersive sound experience while gaming or watching movies.
【Unparalleled Sound Quality】iVANKY optical audio cable is compatible with uncompressed PCM audio and compressed 5.1 to 7.1 surround sound systems including Dolby Digital Plus, DTS-HD High Resolution and LPCM, delivering stunning sound with wide dynamic range to your living room.
【Outstanding Flexibility & Durability】This extra flexible fabric braided nylon optic cable for soundbar can make loops as small as 5cm across without risking damage to the wire, which is ideal for complex set-ups and wiring systems. Gold-plated connectors won't tarnish and decrease conductivity over time.
【Considerate Design】Precisely designed cuboid connectors make this digital audio optical cable easier to identify the installation angle and fits snugly. Removable rubber caps can prevent dust and oxidation when not plugged in.
【Extended Warranty】For the benefits of our customers, we extend the 18-month Warranty to total of 54 months (18+36 months) for customers who have registered their products on our website. Feel free to contact our top-notch customer support team with any questions or concerns.
Turn the TV and Soundbar On
After connecting your soundbar with your TV via an HDMI ARC or optical connection, you have to turn them on. You can turn on your devices by using its own remote or by using the buttons on the devices themselves.
Test and Troubleshoot Any Connection Issues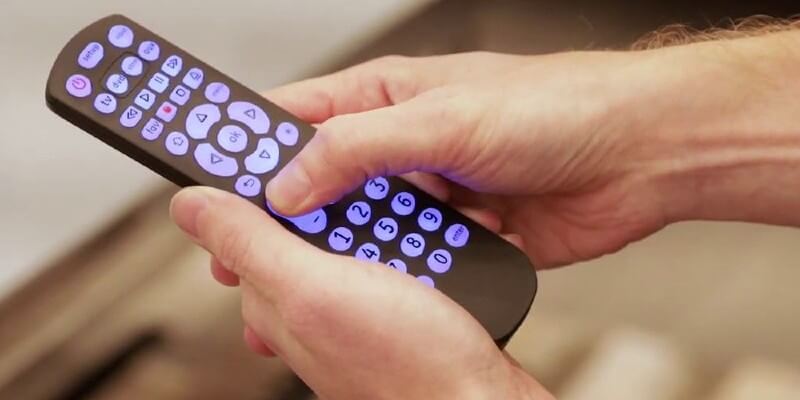 When Using HDMI ARC:
An HDMI ARC connection makes it simpler to control your soundbar from your TV remote. After connecting your soundbar with your TV via HDMI ARC cable, you will be able to hear your TV's Sound through your soundbar.
But in fact, if you do not hear any sound, then you have to make some settings. You have to turn off your TV speaker from your TV's Sound or audio settings. You will also see an option for "HDMI Arc" or something else like this on that settings. Select that option and give your TV the command to route the audio channel through the soundbar.
When Using Optical:
When you use an optical cable to connect your soundbar with your TV, there's a little possibility that the Television will know to use the soundbar automatically. So you likely have to find the right settings and set everything up.
Now you have to find the 'Source' or 'Input' button by using your soundbar's remote. Look at the display on your soundbar and set the input to 'OPTICAL' or an abbreviated version such as 'OPT.'
Adjust and Optimize Your Sound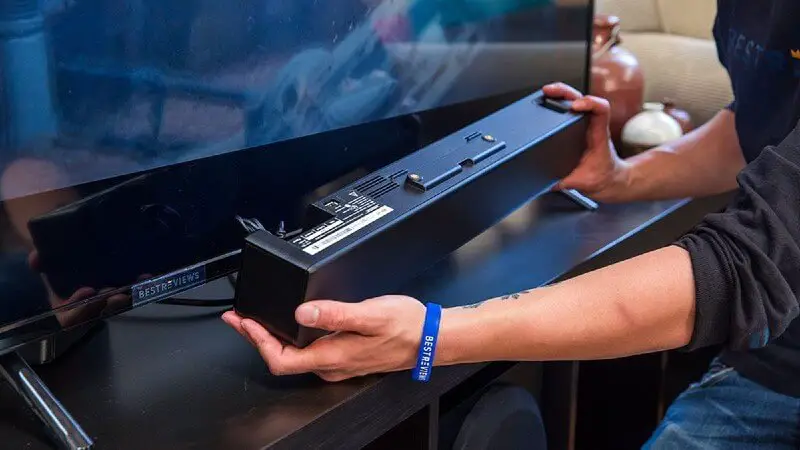 After successfully connecting everything and adjusting all the settings, now you have to adjust the soundbar's volume to optimize the Sound. You have to control it from your TV.
Firstly, you have to start the process by turning the volume of the soundbar down by using your soundbar's remote. Then play audio in different sound settings to find the best settings for you.
If you want to find a range to use the TV remote for the volume most of the time, you have to set the soundbar somewhere between 50-80% of its maximum volume output.
Controlling a Soundbar With a TV Remote – Instructions by TV Brand
The mentioned instructions above are a general way to connect your devices and control your soundbar with your TV. But many TVs from different manufacturers come with different ways of connection. Here you can find some instructions for different TV manufacturers; you can find your listed brand and follow the instructions.

Samsung
You can easily connect your Samsung TV with your soundbar with either a digital optical connection or an HDMI ARC connection. You have to use the right cable to connect your TV with the soundbar, and also, you have to change the source of your soundbar to 'D.IN.'
Use a digital optical connection to the soundbar from your Samsung TV. You can hold the left direction on the Samsung TV remote's direction pad to activate or deactivate Auto Power Link. This feature only works with an optical connection. Make sure that you have changed the TV's audio output settings so that you can control your soundbar by your TV remote.
But use an HDMI ARC connection. The source of your soundbar will automatically change to TV ARC, and you will be able to use the TV remote's right direction on the direction pad to activate/deactivate Anynet+. This feature only works with an HDMI ARC connection.
You can get more information on Samsung support.
LG
If you have an LG TV. You can connect your soundbar with your TV in many ways. Such as you can Sound Sync via Bluetooth, a digital optical connection, or an HDMI ARC connection. Moreover, LG TVs also come with Magic Remote.
If you want to use the Bluetooth wireless connection, you have to follow the given instructions:-
Go to TV settings
Then find the sound section
Then select the Sound Out
At last, you have to click on LG Sound Sync (Wireless).
After doing these, The Device Selection button will appear and look for your soundbar. So make sure that the Bluetooth of your soundbar is turned on. Then select your soundbar and pair them.
If you want to connect via the digital optical and HDMI ARC connection, the process is also the same. You'll use the Sound> Sound Out area to change the output to HDMI or optical.
You can get more information by visiting LG support.
VIZIO
VIZIO TVs also use the same process as the instructions above to connect your soundbar with the TV through an optical or HDMI connection. The port for an optical connection on the VIZIO TV may be called 'S/PDIF,' and for an HDMI ARC connection, use 'HDMI 1', which is the ARC port.
When you use the HDMI ARC, your TV may automatically recognize your connection after inserting the cable. If it won't, then you have to do it manually. For this, you use the menu on your VIZIO remote and go to System > CEC, then change the setting to 'Disabled,' 'Enabled,' or 'ARC only,' whatever you wish.
You can get more information by visiting VIZIO support.
Sony
You can easily connect your soundbar by using both the HDMI ARC connection and an optical digital audio cable. The setup process is also the same as the instructions listed above. When you will switch the audio output setting, make sure you select 'Audio System' for all setups.
One important thing you should know that Sony support said that when using an optical cable, you will not be able to manage functions that require an HDMI connection like power interlock and volume with the remote of your TV.
You can get more information by visiting Sony support.
Hitachi
Hitachi is a very well-known electronic manufacturer. They are well known because of their low-priced smart TVs. These TVs also come with Roku TV built-in. You can connect your soundbar to a Hitachi Roku TV and use your Roku remote to control all of your TV and media devices.
But if you want to use the HDMI ARC connection, you have to go to TV settings > Audio > Audio Preferences. And set 'Audio Mode' to 'Auto (DTS)' to connect to your soundbar automatically. You also have to select 'Auto-detect' in the S/PDIF and ARC settings.
After doing all these, you have to go back to 'System' on the main settings menu, then go to 'CEC' and click the checkboxes for HDMI ARC to give your Roku remote the ability to control your soundbar.
You can get more information by visiting Hitachi support.
Panasonic
Panasonic TVs are also able to connect to your soundbar for controls via the HDMI or digital optical connection. When you use the HDMI connection, you'll find the 'HDMI2 (ARC)' input on your Panasonic TV. Fortunately, an app in Panasonic TV allows you to easily switch between your TV's speakers and soundbar for audio if you connect via HDMI ARC.
But if you want to use the optical connection, the setup will be the same as above. You have to connect both your devices by an optical cable, and then you have to go to the TV settings, turn off the TV speaker, and change the source to 'Optical.'
You can get more information by visiting Panasonic's support page.
TCL
Most of the TCL TVs are compatible with the HDMI ARC connection. So you can use this connection for connecting and controlling your soundbar with a TCL TV remote. You should use a high-speed HDMI cable that supports ARC and CEC control.
After connecting HDMI ARC, you have to set everything up. For this, you have to go to Home > Settings > System > Control other devices (CEC) > HDMI ARC and Select the button to enable 'HDMI ARC.' Moreover, you also have to disable 'System audio' by unchecking the box by this feature.
You can get more information by visiting TCL support.
Hisense
Most of the TCL TVs are compatible with the HDMI ARC connection. So you can use this connection to connect and control your soundbar; you can control your soundbar from your Hisense TV. You just have to connect your soundbar with your TV by using an HDMI-certified High-Speed 2.0 cable. Then go to your TV Settings > Sound > Speakers > ARC and turn off your TV's speaker, and enable HDMI ARC.
To enjoy the best quality audio, you can also change the 'Digital Audio Out.' Go to Settings > Sound > Advanced Settings > Digital Audio Out > Dolby Digital Plus, and then connect using an optical cable.
You can get more information on the Nakamichi Help Desk.
Conclusion
After reading this article now, you know that controlling your soundbar with your TV remote is not a hard task. You just have to connect your TV with the soundbar and adjust your settings and Sound as necessary. Among the optical connection and HDMI ARC connection, the HDMI ARC connection is the easiest way to do it.
-our editorial board has reviewed this article and has been approved for publication according to our editorial policy.
Best Seller List Of Sound Bars:
Bestseller No. 1
Soundbar, TaoTronics Three Equalizer Mode Audio Speaker for TV, 32-Inch Wired & Wireless Bluetooth...
Room-filling sound: powerful speakers deliver a round, high-end audio experience
Multiple wireless and wired connections: easily connect to the sound bar via Bluetooth 5.0 or standard audio cable Connection, RCA, and optical input
3 different equalizer modes: fine tune your sound bar with 3 distinct equalizer modes (games mode, music mode, movie mode) via the remote control to match your favorite sound
Control your sound bar Remotely: handle your sound bar from the comfort of your couch or directly on the device; a repeat click of the power button switches through the functions, the LED screen will show the current function
Slim to save space: slick 32-Inch design pleases the eye and slim Dimensions save valuable space
Sale
Bestseller No. 2
Samsung HW-A450/ZA 2.1ch Soundbar with Dolby Audio (2021) , Black
SUBWOOFER INCLUDED - Wireless subwoofer is included so you can enjoy deep bass right out of the box All-in-one
BASS BOOST - Give your bass an instant boost with the push of a button on the soundbar
ADAPTIVE SOUND LITE - Enhanced audio tracking for your content in real time, with technology that equalizes background music and consistent volume control
BLUETOOTH TV CONNECTION - Set up is a breeze. Easily connect your soundbar to your TV by connecting wirelessly
GAME MODE - Boost your gaming experience with perfectly synced directional audio that moves with the action on-screen and crosstalk cancellation that minimizes distractions
Bestseller No. 3
TOPVISION 50W Soundbar, 16-Inch Small Sound Bars for TV, 3 Equalizer Modes, Wireless Bluetooth 5.0,...
🔊[50W Power & 2 Full-range drivers]This small soundbar is equipped with 50W output power. Paired with your TV, the sound bar creates a louder, more immersive listening experience than through your TV speakers alone. Dual powerful full-range speakers provide hifi audio, making comfortable bedrooms and compact spaces full of extensive stereo effects.
🔊[Built-in DSP & 3 EQ modes]Soundbar built-in DSP technology ensured sound output is more stable and accurate. 3 Equalizer modes (Music, Movie, News) to match your favorite voice. Movie Mode: You'll hear every rip and rumble from your favorite action film, with deeper bass and loud, room-filling sound; Music mode Add clarity and pleasant sound; while it's News mode pulls out every word and expression from movies or commentary, to ensure that conversations sound crisp and clean.
🔊[Wireless Bluetooth 5.0]Wireless Bluetooth 5.0 can realize fast connection between mobile phone and sound bar, efficient and stable transmission, and strong anti-interference. Pair the sound bar to your phone via Bluetooth to soundtrack your next party, or to set the mood for when you want to relax with a good album in rich, audiophile quality.
🔊[EASY TO SET UP]The Soundbar supports 3.5mm (AUX&RCA) and optical wired audio input, support for use with mobile phones, tablets, TVs, computers, projectors, set-top boxes, etc. Please make sure your TV audio setting to PCM for ARC/optical input before use.
🔊[Stylish appearance & service]This 16-Inch mini soundbar is stylish and compact, and their more compact form makes them easier to travel with or set up wherever you'd like.At the same time we provide lifetime technical support. If you have any problems with your tv soundbar, you can contact us via Amazon, We will offer you a replacement or refund.
Sale
Bestseller No. 4
VIZIO Sound Bar for TV, 29" Surround Sound System for TV, Home Audio Sound Bar, 2.0 Channel Home...
2.0 Premium Audio The VIZIO 2.0 Sound Bar is an easy way to enhance your audio experience when watching your favorite content on the TV. The full-range stereo speakers boost your audio, while DTS technologies simulate incredible surround sound
Bluetooth Streaming Lose the wires and listen to your music with a tap of a finger from anywhere in the room. (Performance and compatibility among Bluetooth devices may vary.)
Easy Setup With everything you need for a quick and easy setup, upgrading to a powerful audio experience has never been easier. Connect the Sound Bar to your TV using one of the included cables, sit back and enjoy
Features DTS Studio Sound, DTS TruVolume and DTS TruSurround
Ergonomic Remote for convenient access to volume, input and audio controls
Sale
Bestseller No. 5
Majority Bowfell Small Sound Bar for TV with Bluetooth, RCA, USB, Opt, AUX Connection, Mini...
Compact, slim design, enhanced HD sound quality: With new and improved sound drivers, the Bowfell sound bar has a slim design and thin profile with a built-in subwoofer and a 50 watt output providing high quality, cinematic sound. The Bowfell is a small but mighty addition to the Majority range.
Connect to your TV or phone: The Bowfell can be connected to most types of TVs and monitors including Smart TVs using the Optical connection (Optical cable included), RCA connection (RCA cable included), or Bluetooth connection. The Bowfell also features Bluetooth so you can also connect wireless Bluetooth devices to the sound bar. The Bowfell can also be connected to your laptop, desktop, or computer monitor.
USB and AUX connection & large remote control: Use an AUX cable (3.5mm jack cable included) to connect to older style devices with an AUX port. The Bowfell also includes a USB input, allowing you to insert a USB stick to play audio from. With the easy to use remote, you can select a music mode that heightens music, movies or dialogue to be played at their best.
Slim profile ** AUX ** USB ** Optical ** Bluetooth ** RCA & Optical cables included ** Remote control ** adjustable treble & bass settings ** Measurements 15.28 x 2.13 x 2.83 inches ** Built-in subwoofer ** 50 watt output ** weighs 53oz ** New & improved sound drivers **
In the Box: Majority Bowfell Soundbar, Remote control, Power adaptor, 3.5mm to 3.5mm Audio cable, 3.5mm to RCA Audio cable, Optical cable, Instructions manual
Bestseller No. 6
TCL Alto 6+ 2.1 Channel Dolby Audio Sound Bar with Wireless Subwoofer, Bluetooth – TS6110, 240W,...
DOLBY DIGITAL: Dolby Digital decoding maximizes sound clarity and creates incredible room-filling virtual surround sound.
DEEP BASS WITH WIRELESS SUBWOOFER: Experience deep, rich bass to make movies and music truly come to life.
STREAM MUSIC WIRELESSLY: You can use your Bluetooth-enabled device to wirelessly stream music on your sound bar.
SPECIALIZED SOUND MODES: Specialized sound modes bring Movies, Music, and News to life.
QUICK AND HASSLE-FREE SETUP: With HDMI, optical, or Bluetooth connections, you can go from unboxing to listening in minutes.
Bestseller No. 7
Vizio V51-H6 36" 5.1 Channel Home Theater Soundbar System (Renewed)
Low-Profile Design and Brilliant Clarity with 6 Full-range Speakers
Powerful 5" Wireless Subwoofer and Bluetooth Music Streaming
Complete Immersion with Discreet Volume Adjustable Surround Speakers
Optimized for 4K TVs with Dolby Audio 5.1 and HDMI (Cable Included)
Control with TV Remote using HDMI, Audio Cables Included for Easy Setup
Bestseller No. 8
Bose TV Speaker- Small Soundbar with Bluetooth and HDMI-ARC Connectivity, Black, Includes Remote...
Hear your TV better: Designed with simplicity in mind, the Bose TV Speaker is a small soundbar that clarifies speech and is a simple fix for better TV sound.
Wide, natural sound: 2 angled full-range drivers deliver a more realistic, spatial audio experience for overall better TV sound from a small soundbar.
Enhanced dialogue: This TV speaker is designed to specifically focus on clarifying and elevating vocals and pronunciation.
Bluetooth TV speaker: Pair your device to this Bluetooth soundbar to wirelessly stream your favorite music and podcasts.
Simple setup: A single connection from this compact soundbar to the TV via an optical audio cable (included) or an HDMI cable (sold separately) has you up and running in minutes.
Bestseller No. 9
Sale
Bestseller No. 10
JBL Bar 2.1 - Channel Soundbar with Wireless Subwoofer
Designed with a slimmer profile, the full–featured, easy–to–use JBL bar 2. 1 features Dolby digital, JBL Surround sound, 300W system power and a wireless 6. 5" subwoofer to provide balanced sound and deep bass for your movies, music and even video games
Full featured in every sense of the word, it has an HDMI input as well as aux and USB wired connections that enable you to round out your home entertainment options even more
You can Moreover control the soundbar with your existing TV remote control, The JBL bar 2. 1 clearly raises the bar for Soundbars
The 300W of power output ensures great audio performance for your movies and music
Enjoy rich, Deep bass from the 6. 5" (165mm) wireless subwoofer, as well as the convenience of flexible placement without the hassle of wires
You May Also Like…
Last update on 2021-06-10