CRT (cathode-ray tube) TVs from the past were able to accommodate high-quality speakers in their thin, flat screens.
It may be some time before we see genuinely sophisticated flat-TV speakers since the TV industry is so focused on display size and pixels. It seems that until then, the only option is a soundbar and a decent one at that, but where does it go?
Although it's more common to position a soundbar below a television, it may also be mounted higher up. Depending on the model, the soundbar's performance and appearance may be affected by where it is placed. In order to have the best sound quality, it's best to mount the soundbar above the TV, with the speakers pointing upward.
Continue reading to find out how the placement of a soundbar concerning a TV (above or below) might affect the sound quality. In addition, you'll learn why placing the soundbar vertically is a horrible choice.
Soundbars: A General Overview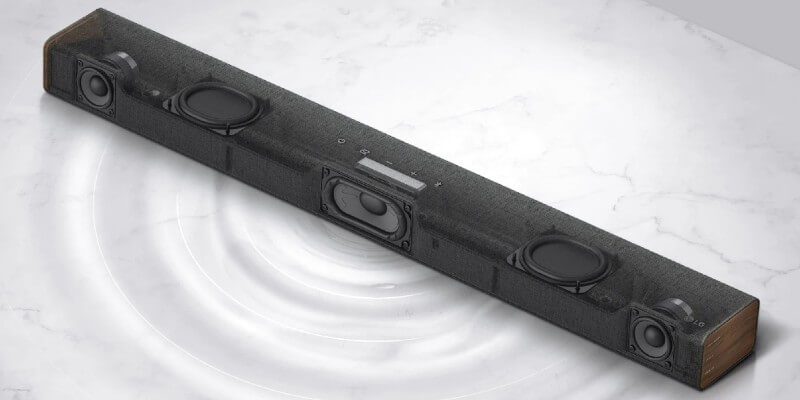 A soundbar is more than simply a flat piece of metal with a bunch of speakers attached to it. The audio device's performance, appearance, and location are all influenced by a variety of design considerations. A television or other display-equipped device may be mounted below or above it, although the extra width is also for acoustic reasons.
TVs with flat screens don't have the room to hold CRT televisions' powerful audio technology. Soundbars fill that gap. Even while soundbars don't sound as well as more powerful speakers, they nevertheless beat over the TV's built-in speakers when it comes to music.
If you're looking for stereo or surround sound, you'll often find many speakers in the soundbar's cabinet. A separate subwoofer might be added to the box to enhance the soundbar's performance. Soundbars featuring right, center, and left speakers are available from various manufacturers.
Adding a soundbar to a flat-screen TV isn't the only way to improve its audio quality. A traditional home theater system might, in fact, be connected to your television through an audio cable.
Because soundbars are easier to install, take up less room, and are less costly than other comparable goods, most purchasers choose soundbars over other similar products.
Positioning Your Soundbar
It is critical to situate a soundbar correctly in order to have the best possible sound quality and audio output. Alternatively, you might mount the soundbar to the wall above or below your television and set the audio device on a table, stand, cabinet, or another piece of furniture.
The location of the audio device is determined by a number of factors, not only the soundbar type and design. Several aspects might influence your decision, such as your room's environment or design, your own preferences, etc.
Reasons You Should Place the Soundbar Below TV
You can either place the soundbar directly in front of a television or mount a soundbar directly below your television. For these reasons, it's so commonplace.
Aesthetically Pleasing
The majority of soundbars are designed to be placed directly below a television. In this case, the layout will not be aesthetically correct if these speakers are placed above the television. If the device's speakers are aimed upwards, you may think the sound is blown over your head.
Superior Audio Performance
If you install a soundbar below your TV, it will likely be at or slightly below your eye level while you listen to it. As a result, you'll be hearing the music in its entirety.
Less echo and a better audio experience are achieved since there is no scattering or reflection from the ceiling. All of this is included, and the soundbar can be mounted beneath a TV or have front-firing speakers as an option.
Easy Wiring
Wireless and cable soundbars are also options. The soundbar may be positioned as far away from the television as the length of the cable allows. 33 feet is the typical length of the wire (10 meters). Glass fiber cables have the potential to reach lengths more than ten meters. It's possible to get up to 20 feet of shielded cable length when connecting using a 3.5mm copper connector. Connectors are often located at the bottom of the TV. Soundbar setup and wiring get easier when it is positioned beneath a television. When the soundbar is put in front of or beneath the television, hiding the cables is a breeze. For example, the cable might be routed via a concealing channel.
If you're placing the soundbar behind the TV and need assistance concealing the soundbar's cords without damaging them, check out this video.
No Mounting Needed
In theory, a soundbar should be portable. You shouldn't install it against your wall, if at all possible. Soundbars don't need to be mounted if they're put on a stand underneath the TV. This isn't the case if the soundbar is placed on the TV.
Mounting the stand is required even in the case of a simple glass or wood stand above the TV.
As a result, if you're using a flat-screen TV, you don't have to worry about a piece of hardware being stuck. Moving the music player forward or backward is a simple matter of pushing or pulling on the gadget.
Choosing the appropriate location for a soundbar above a television is essential. This requires extensive experimentation to find the ideal location. Not to mention the time and effort required to put up the mount.
Reasons You Should Mount the Soundbar Above TV
A soundbar, as previously said, is often positioned beneath a television. Placing a soundbar underneath the television may not be the best option in certain cases.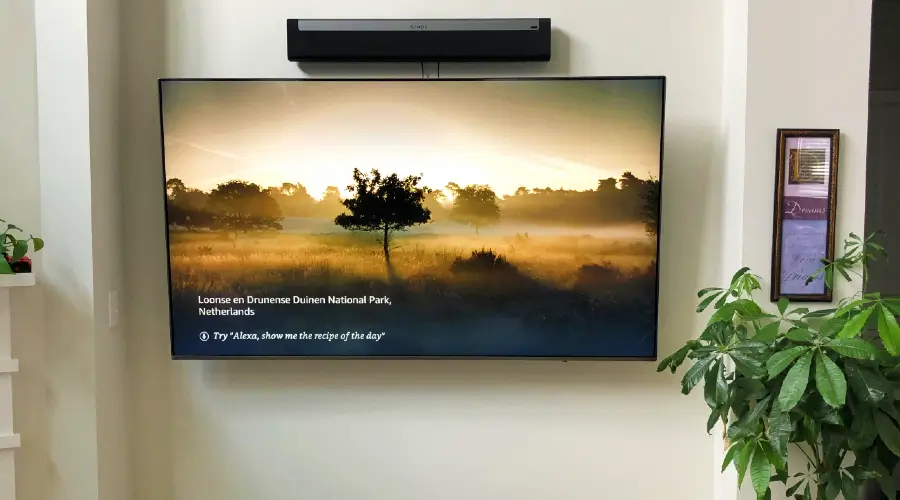 Upward-Firing Soundbar Speakers Must Go Above the TV
Using soundbars with upward-firing speakers should not be positioned below or in front of a flat-screen television. To get the most out of the room's acoustics, these soundbars need to be positioned in a certain manner.
These models have indeed been developed to utilize the walls and ceilings of a whole room to create a more immersive sound stage. Dolby Atmos technology is almost always included.
In order to get the intended effect, the sound would have to travel to the ceiling and bounce off of it; therefore, placing the soundbar below the TV is not an option. You should ensure that the soundbar is not placed too near to the ceiling of your room, as this might cause sound to not bounce back properly.
No Remote Sensor Blocking Issues
Especially if it's located extremely near to the TV's bottom bezel, a soundbar placed below it might get in the way of your TV remote's sensor. This problem may be avoided if the external speaker was placed on top of the TV. Make sure the soundbar is small enough, or the TV is placed high enough if you insist on putting it below its speaker grille.
The TV's stand height may be adjusted, or the TV can be raised to a more comfortable viewing height. The soundbar's thickness may be an issue if the TV can only be tilted vertically to a certain degree or if mounting the TV is not an option.
Every time you want to adjust the station or TV settings, you shouldn't have to get up from the sofa or raise your arm.
Ideal for Low-Lying Seating or TV Stand
Mounting a soundbar over a lower-than-eye-level television would be aesthetically and acoustically appealing. You may lower your television if you have a sofa or chair that is near to floor level. In these cases, placing the soundbar underneath the TV isn't the best option.
Anti-Kids and Pets
Placing a soundbar beneath a television might be difficult if the TV stand or table isn't deep enough. It's possible that putting the soundbar on the table will make it too simple for children to reach the audio equipment and mess with it.
Can You Position the Soundbar Vertically?
It's OK to place a soundbar vertically on a few instances, but it's not a good idea. Soundbars are speakers that are specifically designed to guide sound in a certain direction. Right, and left speakers may sound like they are coming from the floor or ceiling when a soundbar is turned 90 degrees or to its side.
If this were to happen, the audio would be entirely ruined. The possibility of installing a soundbar vertically was previously proposed. When all other placement methods have failed, you may want to consider this alternative as a last-ditch effort.
There are certain folks who have no choice but to place their soundbars vertically, whether for aesthetic or space reasons. A soundbar may not be able to be placed horizontally in certain cases due to the placement of the wall mount and other furniture. When it comes to such situations, it's best to conduct a little home improvement job or change around the furniture rather than relying on vertical speakers.
A soundbar's horizontal placement is sometimes a problem when audio equipment is acquired without much consideration for the room's existing furniture and decor. A soundbar shouldn't cost a lot of money, but you shouldn't skimp on it to the point where you wind up with a piece of audio equipment that isn't appropriate for your room.
A soundbar's vertical location becomes much more critical if you want to attach it. This is largely due to the absence of soundbar mounts that are able to extend vertically. No soundbar mount maker even considers developing a vertical mount since manufacturers prefer horizontal positioning by default.
The horizontal mount may be turned vertical by 90 degrees by simply tilting it. Soundbar mounts are specially built to distribute the soundbar's weight horizontally; thus, this isn't an actual option. Not only will an upside-down or vertically-mounted soundbar be damaged, but so will the wall.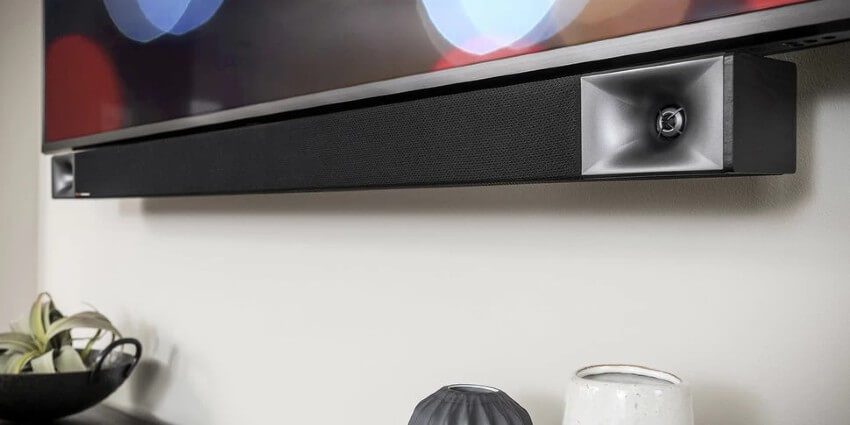 Soundbar Shopping/Placement Considerations
It's much simpler to browse for a soundbar if you know ahead of time or have already selected where it will go next to the TV.
If you're thinking of putting your soundbar, be sure it has specialized mounting features, such as keyholes for brackets that are rear-positioned. Instead of installing it, mounting-friendly qualities are not necessary. It would be sufficient to use a simple long bar with no keyholes.
When you're purchasing for or installing the soundbar, here are some additional considerations:
Keep the soundbar's power wire and the outlet it plugs into in close proximity. As a result, there should be no difficulties with audio output or electrical power.
The soundbar cables mustn't be located near any power lines. This is to verify that there is no or little interference with the power supply.
The soundbar's back must be completely free of any obstructions. Anything and everything should be at least a centimeter away from the item you're using. The soundbar's acoustics are improved if the area behind it is filled up.
There must be a gap between the soundbar and a wall in order for it to work properly. It should also not be placed in front of a television.
To minimize wireless interference, make sure no wireless equipment is placed next to the soundbar. However, a distance of two to three feet from the soundbar is sufficient.
Avoid placing the soundbar on flat surfaces such as polished wood or glass. As a result, the soundbar might wreak havoc on the smartphone by causing it to shake. As a result, placing it directly on your table is not suggested; instead, place it on a rubber mat for further stability and support.
Ensure that you don't lay your soundbar on any lacquered or fragile furniture. Place the soundbar on top of a rubber sheet placed on the furniture.
To get the optimum sound, use the soundbar in a room with good acoustics that is not too cramped. Even the greatest soundbars may not provide their full potential if the space itself is physically constrained.
Make sure the soundbar is correctly aligned with your television, whether it is placed below or above the screen. There's no need to reposition it if its length is the same as your television. For a long piece of furniture, make sure it covers the width of the TV on all sides. The cinema engineer intended for this kind of center alignment to produce an image and sounds that emanate from the same spatial point source.
Make sure you are at least 3 meters (300 cm) away from the audio device in order to have the best surround sound experience. 5 to 8 meters is a good distance for a conversation (500 to 800 cm). To avoid video-audio delay difficulties, you'll need to place your soundbar closer to the television.
While TV stands are convenient, mounting the TV and soundbar on the wall is preferable. If you don't plan on attaching your TV or soundbar, be sure they're on the same or separate stands.
It's best to leave at least a 10-centimeter (4-inch) spacing between two wall-mounted devices. This would simplify accessing the many settings and connection options on either device.
Curtains and rugs may help create a more realistic sound or reduce noise reflections. When it comes to soundproofing, echo foam pads might be a lifesaver.
Keep your soundbar out of the way of the television. In such a case, take steps to conceal the ugly cables. If you can't conceal them, consider a Bluetooth soundbar. Not only can hiding a soundbar result in poor audio quality, but it will also make it impossible to adjust the soundbar's settings.
In addition, you should not put your soundbar in front of or behind your sofa. The soundbar's output might be obstructed if the sofa is in the way. Apart from that, they should be positioned directly in front of the spectator rather than behind them.
As a rule of thumb, don't put your soundbar on the floor, as this will impede your ability to hear the music. Instead of mounting the soundbar and also not having enough room on the TV stand, you may install it somewhere elevated like a platform or raised surface.
Conclusion
Most individuals want their soundbar to be positioned somewhat below their ear level and their television slightly above their eye level. However, the inverse may provide the best results in theaters with slanted floors or chairs. There shouldn't be any debate over whether the soundbar should be placed below or above the TV.
Consider and verify whether or not your soundbar is supposed to be placed beneath or below your television. The soundbar should be positioned above the television to include speakers that project upward. You may still place the speaker underneath the television, but the audio quality may suffer.
Always check the product's user handbook to see what it recommends regarding positioning. A product's technical documentation would have stated whether the soundbar had special criteria. Place the bar on the television stand if nothing else is specified.
Best Seller List of Sound Bars:
Sale
Bestseller No. 1
Sony S100F 2.0ch Soundbar with Bass Reflex Speaker, Integrated Tweeter and Bluetooth, (HTS100F),...
Straight from the theater to your home: easy set-up, built-in tweeter, 2-ch speaker with simple Bluetooth connection
Deep sound with Bass Reflex speaker
High power with a slim design that matches any room and is perfect for small living spaces
Voice enhancement feature is great for TV content with hushed dialogue, or to make conference call participants easier to hear
Easy TV set up with HDMI ARC
Sale
Bestseller No. 2
Larksound Sound Bar for TV, 35 Inch TV Speaker, Surround Sound System, TV Soundbar with...
Exclusively Soundbar for TV - 70W maximum output power. Powerful drivers deliver high-end acoustic sound effect with built-in reflex tubes for left and right channels, which greatly enhances the bass effect to bring sound to life for a fantastically dynamic audio experience
Multi Connection - Supports optical fiber, HDMI(ARC), AUX, and USB, compatible with TV, projector, computer, blu-ray player, tablet, XBOX, PS5, MP3 player, etc. (The package contains high-quality 4.92 ft HDMI(ARC) cable, 4.92 ft Optical cable, and 4.92 ft AUX cable)Multiple connections to play music freely
Bluetooth 5.0 Wireless Connection - Bluetooth 5.0, more stable and faster transmission, and the latest technology greatly increases the transmission range up to 33 feet. Easily connect with most devices, such as iPhone, iPad, tablet, computer, TV, laptop, etc. Powerful anti-interference lossless transmission technology ensures perfect sound quality, enjoy music anytime, anywhere
Home Theater System - The exclusive left and right channel independent cavity design improves the separation of the left and right channels compared with the ordinary design, and sound field positioning is more excellent. Spacious and dynamic sound effects give you an immersive 3D surround experience
Easy to set Up - Soundbar: 35.4*2.36* 3.54 inch. The slim form factor of this soundbar allows it to subtly tuck under your TV. No matter it is placed flat on the table or mounted on any wall; it will not take up your precious space
Bestseller No. 3
VIZIO 2.0 Home Theater Sound Bar with DTS Virtual:X, Bluetooth, Voice Assistant Compatible, Includes...
Ultra-Compact 2.0 Design Experience the performance of larger, more complex home theater systems in a simple, ultra-compact solution designed fit anywhere and blend seamlessly into any environment.
Bold Performance Experience rich, clear sound with up to 91dB of total SPL output for performance that belies its size.
Essential Connectivity & Control Get setup and listening in seconds with the included cables plus Bluetooth connectivity for wireless streaming of your favorite music and podcasts.
2.0-Channel Sound Experience a powerful room-filling, true stereo experience ideal for movies, music, and gaming.
Full-Range Speakers 2 full-range speakers in the sound bar provide rich, clear sound.
Sale
Bestseller No. 4
Bose TV Speaker - Soundbar for TV with Bluetooth and HDMI-ARC Connectivity, Black, Includes Remote...
Hear your TV better: Designed with simplicity in mind, the Bose TV Speaker is a small soundbar that clarifies speech and is a simple fix for better TV sound.
Wide, natural sound: 2 angled full-range drivers deliver a more realistic, spatial audio experience for overall better TV sound from a small soundbar.
Enhanced dialogue: This TV speaker is designed to specifically focus on clarifying and elevating vocals and pronunciation.
Bluetooth TV speaker: Pair your device to this Bluetooth soundbar to wirelessly stream your favorite music and podcasts.
Simple setup: A single connection from this compact soundbar to the TV via an optical audio cable (included) or an HDMI cable (sold separately) has you up and running in minutes.
Bestseller No. 5
Sonos Playbar - The Mountable Sound Bar for TV, Movies, Music, and More - Black
The mountable soundbar for TV, movies, music, and more
Enjoy crisp dialogue and impressive bass from wall to wall with Playbar. Control it with the Sonos app, your remote, and more
Whether you mount it on the wall or place it below your TV on a stand or console, Playbar automatically tunes itself for the best possible sound
Playbar was specially tuned by Oscar-winning sound engineers to emphasize the sound of the human voice so you can always follow the story
Easily connect Sonos speakers in different rooms over WiFi to create a home sound system that brings every room and everyone together
Sale
Bestseller No. 6
SAMSUNG HW-B450 2.1ch Soundbar w/Dolby Audio, Subwoofer Included, Bass Boosted, Wireless Bluetooth...
SUBWOOFER INCLUDED: Experience the intensity of action movies or the excitement of sports with the rich, powerful bass coming from the included subwoofer*
BASS BOOST: Feel the rumble of distant thunder as your listening experience is taken to another level; Give your bass an instant boost with the push of a button
BLUETOOTH TV CONNECTION: Set up is a breeze; Easily connect your soundbar to your TV wirelessly**
ADAPTIVE SOUND LITE: Enjoy dynamically optimized audio with enhanced voice clarity so you can follow along with action-packed games and blockbuster films
GAME MODE: Game Mode optimizes your gaming experience with synced, directional audio that moves with the onscreen action***
Bestseller No. 7
PHEANOO 2.1 Compact Sound Bars for TV with Subwoofer, HDMI ARC/Bluetooth 5.0/Optical/AUX/RCA...
Small Design, Big Sound: Only the size of a keyboard, the PHEANOO P15 sound bar offers louder, more powerful TV sounds with up to 107 dB of total SPL output and 140W maximum audio output. Significantly improve dialogue clarity and broaden your TV's soundstage a lot. It can easily make an impactful change to your TV sound and film-watching experience.
Deep Bass with Dedicated Subwoofer: A dedicated subwoofer delivers punchy, rich bass to get a more engaging and immersive listening experience in movies, music, and games. Undoubtedly, the dedicated subwoofer cavity space is big enough to reproduce deeper, richer bass than most systems with a built-in subwoofer. We also developed a subwoofer extension cable (sold separately), which you can use to make the subwoofer placement more flexible.
Set Up with Multiple Options: The HDMI ARC connection allows you to control the volume on the soundbar with the TV remote control, and the Optical and RCA connections ensure compatibility with all the older TV models. There's also a 3.5 mm AUX input for connecting external devices.
Professionally Tuned EQ Modes: To suit different audio needs, the PHEANOO P15 features a variety of preset EQ modes including Dialogue, Movie, and Music creating suitable individual sound curves matched to the content type to boost the sound quality and enhance your viewing experience.
Wireless Streaming with Bluetooth: Easily stream all your favorite music, podcasts, or audiobooks from your smartphone, tablet, or any smart device via Bluetooth 5.0 connectivity to the TV soundbar.
Sale
Bestseller No. 8
Majority Bowfell Small Sound Bar for TV with Bluetooth, RCA, USB, Opt, AUX Connection, Mini...
CRYSTAL CLEAR SOUND QUALITY: The Majority Bowfell is a powerful TV sound bar packed with the latest audio technology and compatible with a wide range of household items such as your phone, TV, PC, laptop, projector, monitor, Blu-Ray or DVD player. Feel true cinematic surround sound in your own home and enjoy an immersive listening experience when connecting via AUX, Optical or Bluetooth.
POWERFUL COMPACT SPEAKERS: The Bowfell with inbuilt subwoofer delivers an outstanding cinematic sound experience. Powerful 50 watt speakers can pack a punch for any avid gamer or simply enhance your TV experience with clean and crisp audio. Music, radio, gaming, movies, live sport - listen to audio the way its meant to be heard.
PACKED FULL OF FEATURES: Our Majority soundbar has been designed with ease of use in mind - simply plug in, and play using the wide range of connections. Listen to your playlists straight from your phone through the latest Bluetooth technology, plug in your MP3 player to the AUX input, connect to your TV in lightning speed by using the optical input or just plug in your USB device straight into the Bowfell.
COMPACT BUT MIGHTY: The Bowfell is a compact, slim audio sound bar device that fits perfectly on desks and sits comfortably under your TV. Use the buttons on the side of the soundbar or the supplied remote to go truly wireless and adjust the volume, equaliser settings, source and much more. An ideal sound bar for TV or PC, fill your room and immerse yourself with cinematic sound in your very own home.
TRUSTWORTHY AUDIO: Majority are a Cambridge based home audio brand with an experienced and friendly customer service department. We are proud to offer a 3-year extended warranty on all our products (registration required) and a hassle-free return policy. This package contains 1x Bowfell, 1x Remote, 1x RCA cable, 1x Power cable, 1x AUX cable and a user manual. Developed and designed in Cambridge UK. Product Dimensions: 15.28 x 2.13 x 2.83 inches Product Weight: 1.8 pounds.
Bestseller No. 9
VIZIO V-Series 2.1 Channel Soundbar System with 5-inch Wireless Subwoofer - Black (Renewed)
Turn your living room into a captivating home theater. DTS Virtual:X sound enhancement adds room-filling, floor-to-ceiling virtualized 3D sound.
3 full-range speakers in the sound-bar create brilliant clarity. Place the 5" wireless subwoofer anywhere in the room to add deep booming bass.
With HDMI cable, use the highest-quality audio available and allows you to control the soundbar with your TV remote.
Connect Alexa, Siri, or Google Assistant devices. Pair with any device via Bluetooth.
US Warranty. Package Includes: SoundBar, Subwoofer, HDMI Cable, Digital Optical Cable, 3.5mm to 3.5mm, Stereo RCA to 3.5mm, Power Cable, Subwoofer Power Cable, Remote Control, User Manual, Wall Mounting Screws, Wall Mounting Template.
Sale
Bestseller No. 10
BESTISAN Soundbar, TV Sound Bar with Dual Bass Ports Wired HDMI and Wireless Bluetooth 5.0 Home...
Room-filling sound: powerful speakers deliver a round, high-end audio experience for bed room and apartment.
Enhanced bass: 3 inches full range drivers and dual bass ports that bring the richer and deeper bass, boost A loud sound that fills the room without distortion.
Multiple wireless and wired connections: easily connect to the sound bar via Bluetooth 5. 0 or standard audio cable Connection, RCA, HDMI(ARC) and optical input.
3 different equalizer modes: fine tune your sound bar with 3 distinct equalizer modes (movie, music, dialogue) via the remote control to match your favorite sound.
Multiple Setups, multiple options: sits flat below the TV screen or securely mounts on the wall for a sleek, elegant home theater setup
Last update on 2022-09-16