If you've Home Theater Systems, it looks like you've never had enough HDMI holes on your TV. It has a cable box, a DVD player, a play console, and a Fire TV stick. Maximum people don't know how to connect on Fire TV stick. We might think of HDMI Splitter for this, but there is always some question stuck around our head: will this give us an extra port? Most importantly, is Fire TV stick support HDMI Splitter?
Use HDMI Splitter to install Amazon Fire TV stick will not work because there is no port. Splitter accepts only one output of 2 different displays, so using an HDMI switch is the best option. There are obstacles to using the HDMI switch.
It's not an appropriate way to use an HDMI splitter to connect the Fire TV stick, although an HDMI splitter can connect a TV. You can get an extra port for the Firestick if you choose a better way using an HDMI switch. It is not encouraged to use an HDMI splitter to connect a Fire TV Stick to a TV because of many technical shortcomings.
Don't Use an HDMI Splitter to Connect a Fire TV Stick to a TV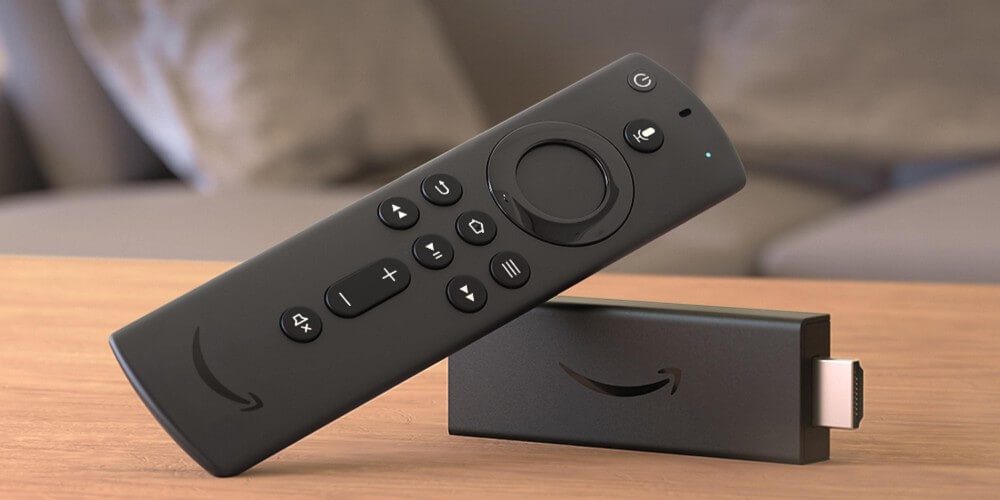 If different people want to watch different shows in your home, then HDMI Splitter can't help you. The splitter is manufactured in a way that sends the same content to a different device. For example, if you have connected to a TV using Firestick in the guest room, you have to watch the same show in the living room because a splitter divides the signal, not the content.
HDMI splitters are available in the market; most do the same thing that divides the signal and helps you watch it on two screens. You can purchase some more expensive splitters than others can divide the signal on multiple screens, but these HDMI splitters also have the same working procedure. They can't help you to watch different content on all the connected devices.
Use an HDMI Switch to Connect a Fire TV Stick to a TV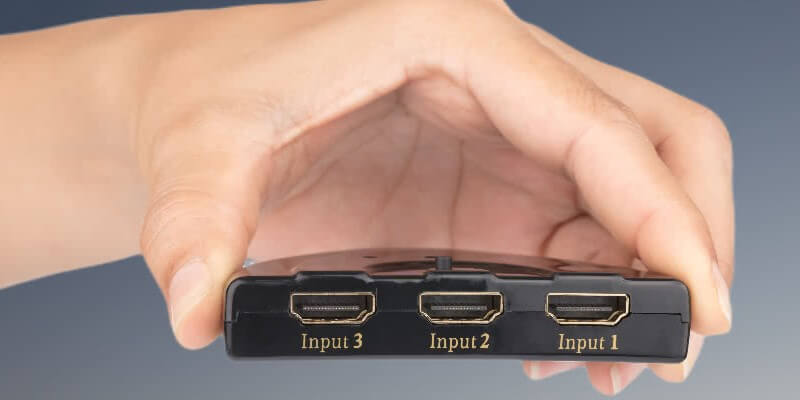 It is suitable to use an HDMI switch to connect a Fire TV Stick with a television that has only one or two ports. An HDMI switch has a different working procedure than HDMI splitters. A switch doesn't change the signal, but it gives you at least one extra HDMI hole to connect Fire TV. Then you can switch from one mode to another without plug out the other mode. in fact, it makes you more independent and hassle-free.
It becomes difficult for the users to connect require every hardware cleanly and perfectly. Every time you will feel a shortage of an extra port to connect another hardware. If you have to connect a gaming console, a cable box, and Fire TV Stick, and your television only has two parts, you have a big problem to make you a headache. Nothing but an HDMI switch can help you by giving an extra port. Now, to play a game or watch a movie, you won't have to disconnect any device and plug in another one every time.
How to Connect an HDMI Switches
HDMI switching is easy to use easily. Connecting one is very easy. Later or some time on your TV, you will see a panel with a limited number of ports. Put a switch on one of the ports. Yes, you lost one, but you got it by replacing it with the Switch.
Television with only two ports, you now have three options to connect all the hardware. You can connect the device to the entire port on the TV. Your Firestick and other item are connected to ports in HDMI Switch. You can switch between different modes using your TV remote with different inputs as needed.
Recommended Small HDMI Switches
There are hundreds of HDMI Switches available in the online and local electronic store. You can find these little devices everywhere, and you have lots of options to buy one. That's why it's difficult the right and best one for you. Here, I will give you the three most recommended HDMI Switch models that are available on Amazon. You can check out these products description and purchase them by clicking the product.
GANA Gold Plated 3-Port HDMI Switch
GANA HDMI Switch (on Amazon) comes with Smart Manual Operation Switch contains the key pressing switching function. You have options for three inputs, and it boasts plug-n-play functionality. It is very much easy to connect with the devices. You have to connect the Switch to the TV and plug in the other three devices in the Switch. There are no extra cords needed for the external power source. That's why it will make your setup look very tidy and clean.
It has 24K gold plated corrosion-resistant connectors that ensure superior signal transfer. It ensures that the Switch is worth the purchase price by its performance. Although it's cheaper than any other HDMI Switches, you don't have to change the Switches every few years. The gold coating prevents rust and other daily wear and improves the efficiency of transmission.
Fosmon 2-Port HDMI Switch
If you want to watch high-definition movies or play video games with a smooth frame rate @60fps frame rate, this Fosmon 2-port HDMI Switch (on Amazon) is perfect for you. A few HDMI Switches that a gamer can take advantage of and have the best video gaming experience. This Switch ensures a high frame rate because of having the latest HDMI 2.0 standards. You barely experience problems of signal loss and drop of frame rate. In the case of audio files, it supports both compressed and non-compressed files. 
Sale
Fosmon 3-Port HDMI 2.0 Auto Switch 4K 60Hz, 3x1 Switcher Automatic UHD 3D HDR Full HD 1080P 60Hz...
[HDMI SWITCH WITH HDR AND 4K@60HZ SUPPORT] Fosmon's 3x1 HDMI 2.0 switch supports the latest HDMI standards. It also supports HDR and 4K@60Hz allowing the highest quality resolution.
[AUTOMATIC INPUT SWITCHING] Fosmon's HDMI switch is designed to intelligently switch between input devices automatically when they are powered on and off. Up to 3 input devices may be connected.
[POWERED FROM CONNECTED DEVICES] This HDMI switch is powered from its input sources. If an additional power source is needed, an optional micro-USB port is available for power.
[METALLIC ALLOY PLUG AND BRAIDED OUTER CABLE] The metallic alloy plug resists corrosion and reduces tarnish, and the braided outer cable protects the inner wiring from damage. The extra long 3ft cable is easy for installation and organization.
[LIMITED LIFETIME WARRANTY] Join millions of satisfied customers with our limited lifetime warranty, backed by our experienced and dedicated USA based customer service.
Fosmon's 2×1 HDMI Switch allows you to connect up to 2 different HDMI input devices to your TV, monitor, or projector. There are two ways you can switch HDMI sources: 2 input to 1 output or 1 input 2 output (not simultaneously). Like other HDMI Switch, it doesn't use any external power source, so there are no extra cords.
GANA Intelligent 3-Port HDMI Switcher
The GANA Intelligent 3-Port HDMI Switcher (on Amazon) gives you to expand the capabilities of your HDTV, and you can connect 3 HDMI compatible devices. You can easily install it with the process called Plug & Play. It has manual switching using the supplied IR wireless remote or the button on the device. 24K gold connector ensures long-lasting durability. You can make a connection with most common devices, like PlayStations, Xboxes, Blu-ray, and CDC disc players, and many others. There is also 4K and 3D support.
Sale
HDMI Switch 4K, GANA Intelligent 3-Port HDMI Switcher, Splitter, Supports 4K, Full HD1080p, 3D with...
3 INPUT PORTS: Expand the capabilities of your HDTV, connect up to 3 HDMI compatible devices for seamless transitions.
4K RESOLUTION SUPPORTED – This updated HDMI switch can transmit video of 4K @30Hz, HDCP 1.4 deep color and 3D as well.
REMOTE CONTROL – Switch easily between devices by using infrared remote control while sitting in your sofa or lying in bed.
WIDE RANGE COMPATIBILITY – with 5V power port and USB power cable(included), Gana HDMI switches are compatible with Blue-ray, PS4, PS3, Xbox, HD-DVD, Xbo360 and most of the other audio and video devices with HDMI port.
PACKAGE INCLUDE – 1* HDMI switch; 1*infrared receiver; 1*remote control; 1*USB power cable
Conclusion
Understandably, you don't want to use HDMI Splitter to connect a Firestick to a TV. It is highly recommended to use its close relative: the HDMI Switch. It easily solves your problem of shortage of ports and allows you to connect Firestick and also other external components. Moreover, HDMI Switch is available everywhere and on Amazon also. You won't have to face any problem finding one that is perfect for your home entertainment setup.
Fire TV Stick 4K streaming device with Alexa Voice Remote (includes TV controls) | Dolby Vision
Cinematic experience - Watch in vibrant 4K Ultra HD with support for Dolby Vision, HDR, and HDR10+.
Home theater audio with Dolby Atmos - Feel scenes come to life with support for immersive Dolby Atmos audio on select titles with compatible home audio systems.
Endless entertainment - Stream more than 1 million movies and TV episodes from Netflix, Prime Video, Disney+, Peacock, and more, plus listen to millions of songs. Subscription fees may apply.
Live and free TV - Watch live TV, news, and sports with subscriptions to SLING TV, YouTube TV, and others. Stream for free with Pluto TV, IMDb TV, YouTube and more.
Alexa Voice Remote lets you use your voice to search and launch shows across apps. Plus, control power and volume on your TV and soundbar with a single remote.
-our editorial board has reviewed this article and has been approved for publication according to our editorial policy.
Best Seller List of HDMI Splitters:
Sale
Bestseller No. 1
HDMI Switch 4k@60hz Splitter, GANA Aluminum Bidirectional HDMI Switcher 2 in 1 Out, Manual HDMI Hub...
【Bidirectional HDMI Switcher】This HDMI Switch offer 3 HDMI Ports, so you could connect two HDMI sources to one HDMI display, or connect one HDMI source to toggle between two displays, With 2 LED indicators, you can easily know which port is active from the LED light (Only 1 of the 2 displays works at a time)
【4K High Resolution】Support 4k@60Hz and backward compatible with 2k/1080p. Enjoy 3D visual and experience immersive scenery as cinema. Note: please use standard HDMI 2.0 Cable, the total length of hdmi cable is no more than 3M if you need to get vivid 4K video.
【Fast and Stable Transmission】This aluminum HDMI AB Switcher not only support high bandwidth 3.4Gbps data transmission, but also ensure stable and high-definition display of audio and video, reduce data transmission loss and improve signal transmission efficiency. HDMI Cable NOT Included
【Broad Compatibility】 HDMI Splitter Switcher compatible for most standard HDMI port devices. Support Input: computer, XBox 360, XBox One, PS3 / PS4 ,Blu-Ray DVD player etc. Output: HD-Ready or Full HD TVs, monitors, projectors etc.
【No External Power Needed】 This 4k HDMI Switch Box is easy to use, no external power is required, just simply press the button on the HDMI switch box to make shift of input or output source. It comes with lifetime technical support & friendly customer service and would solve your problem within 12 hours. So just feel free to contact us by message-centre if you encounter any problem while during the use.
Sale
Bestseller No. 2
avedio links HDMI Splitter 1 in 2 Out, 4K HDMI Splitter for Dual Monitors Duplicate/Mirror Only, 1x2...
1x2 HDMI SPLITTRE DUPLICATE/MIRROR ONLY - Powered HDMI Splitter can distribute one HDMI input signal to two HDMI displays, transmit video and audio simultaneously, no loss, no lag (NOTE: just Duplicate/Mirror screens, 🔥Not Extend)(the unit does comes with a USB-micro USB cable, But does not come with a 110v power source)
PORTABLE - 4K HDMI Splitter 1 in 2 out, size: 2.5x2.1x0.5 inches/ 6.3X5.3X1.2 cm ( L X W X H ), easy to use and carry, travel friendly. USB cable included(it needs to be powered via usb), no need external driver, safety and Eco-friendly (Seller recommend 25ft long hdmi cable(max))
4K ULTRA HD RESOLUTION - HDMI Splitter for dual monitor support 4K, 3840x2160p, 3D, and 480i@60Hz/ 480p@60Hz/ 576i@50Hz/ 576p@50Hz/ 720p@50/ 60Hz/ 1080i@50/60Hz/ 1080p@50/60Hz/ 1080P 24Hz 3D/720 60Hz /4K@30HZ [For 4K resolution, the frequency can't above 30Hz].NOTE:Not Compatible With HDCP2.2.
SUPPORT - 4K HDMI Splitter one input to two outputs support HDMI v1.3/1.4, HDCP compliant ( version 1.2). Support deep color 30 bit/36 bit. Support audio format: DTS-HD/Dobly-true HD/LPCM7.1/DTS/Dobly-AC3/DSD/HD(HBR)
PACKAGE INCLUDED - 1 * [ 1 in 2 out HDMI Splitter], 1 * [USB cable(usb power adapter not included,Please plug the usb into a wall outlet,not a cable box etc...)],1*High Speed HDMI Cable.
Bestseller No. 3
HDMI Splitter Cable Male 1080P to Dual HDMI Female 1 to 2 Way HDMI Splitter Adapter Cable for HDTV...
Function: This product can operate as a signal router,you may have a TV in two separate rooms,you can have a TV on in one room and when you want to switch room and keep watching the TV,you just need to switch one TV off and switch the other TV on,and then the signal is routed to the TV in the other room.
Feature: It takes a signal from one device such as a Bluray player and will direct to one of two output devices that are plugged into it. This HDMI splitter cable is great for connecting one HDMI compatible device (Xbox,Blueray,DVD players,for PS3) to two visual output devises.
Suitable for:High Definition image resolutions such as 720p,1080i,and 1080p. Package Include: 1 x HDMI Cable. Length: 11.8 inch (30 cm).
Note:ONLY 1 output device should be active at any time. UNLESS both TVs are of the same size,then both TV will show the images when connected.
Package Include: 1 x HDMI Male to 2 HDMI Female 1 in 2 out Splitter Cable ; Length: 11.8 inch (30 cm);
Sale
Bestseller No. 4
KELIIYO Hdmi Splitter 1 in 4 Out V1.4b Powered Hdmi Video Splitter with AC Adaptor Duplicate/Mirror...
【1x4 Hdmi Splitter】This Hdmi splitter 1 input 4 output duplicate 1 HDMI input signal to 4 identical HDMI output signals, transmit video and audio simultaneously without any quality loss. ✅ NOT hdmi switch 4 input 1 output, can't switch 4 signal source on one display.
【High Compability】Keliiyo 4 way Hdmi Splitter supports full HD 1080P and 3D resolutions, it can reach up to 4K@30Hz, deep color 408i/576i/576p/720p/1080i/1080P, worked perfectly with computer, laptop, PS3 game, Blu-ray DVD, tablet pc, projectors, full HD TVs, etc. ✅Please make sure the resolution of both output devices is the same to ensure normal operation.
【Material& Transmission】Keliiyo hdmi audio splitter made of tough metal material, anti-oxidation & anti-corrosion input and output port give stable signal transmissions. Use the AWG26 HDMI standard cable and AC adapter to connect your HDMI devices,the transmission distance can up to 100ft(Input 40 ft and output 60ft ✅HDMI cable NOT included)
【Wide Application】HDCP V1.4 Powered hdmi splitters 4 port can use for shopping mall super market, data control center, information distribution, HDTV, STB, DVD, projector factory, corporation show room; home theater, education and training; conference room presentation.✅Can NOT extend monitors
【Simple to Use】This hdmi splitter 1x4 is easy to setup and operate. Just connect your HDMI devices and the AC adaptor, then you can share the most luxurious video and audio with your friends or families.
Bestseller No. 5
MT-VIKI 8x8 HDMI Matrix Switch 4K@30Hz, Rack Mount Switcher & Splitter with Backlit RS232 LAN Port...
MT-VIKI HD0808, 4K 8x8 HDMI matrix switch allows you to send any input to any output without the need to change any wires arround. It also can work as switch & splitter.
This hdmi matrix 8 in 8 out supports resolution up to 4K 3840*2160@30Hz, 8KV ESD protection. Support Local LAN control from other computer by installing MatrixController (CD driver included)
Switching options by: button, IR remote control, RS232 or Lan port without delay. Supports PCM, Dolby AC3, DTS5.1, DTS7.1 and DSD audio format.
HDMI Matrix switcher 8x8 fits for standard 1U 19-inch Cabinet/Rack. Built-with Acrylic crystal button and LED backlit. 8 in 8 out hdmi matrix switcher and splitter
This is a standard unit without web control, If you need WEB control, pls search ASIN: B098NP9SLL . MT-VIKI provides 2 years warranty and lifetime tech.
Bestseller No. 6
HDMI Splitter Adapter Cable - HDMI Splitter 1 in 2 Out HDMI Male to Dual HDMI Female 1 to 2 Way for...
♥Function: This product can operate as a signal router,you may have a TV in two separate rooms,you can have a TV on in one room and when you want to switch room and keep watching the TV,you just need to switch one TV off and switch the other TV on,and then the signal is routed to the TV in the other room.
♥ Ideal for connecting one HDMI compatible device (Such as, hd - dvd, blue - ray dvd, Xbox, xbox360, ps3, stb, notebook, HD TV )to two visual output devises (such as, HDTV, Monitor, etc.).
♥ Allow to connect HDMI devices that have Build-in HDMI ports, like HDTV, PlayStation 3, Upconvertor DVD Player, LCD Monitor and projectors.
♥Gold_plated connectors for better signal transfer.Allow to connect HDMI devices that have Build-in HDMI ports, like HDTV, PlayStation 3, Upconvertor DVD Player, LCD Monitor and projectors.hdmi splitter 1 in 2 out 4k hdmi splitter
♥Package Include: 1 x HDMI Male to 2 HDMI Female 1 in 2 out Splitter Cable ; Length: 11.8 inch (30 cm); Weight: 52.00g.- ONLY 1 output device should be active at any time UNLESS both TVs are of the same size,then both TV will show the images when connected.
Sale
Bestseller No. 7
HDMI Switch, GANA 3 Port 4K HDMI Switch, 3 In 1 Out HDMI Splitter with Pigtail Cable Supports Full...
Smart operation - has the key-press-switching function
3-Port HDMI switch - 3 HDMI ports in and 1 HDMI out for various HDMI devices, such as Xbox one S, Xbox 360, PS5/4/3, beamer, DVB receivers, Blu-ray player, Apple TV, laptop, HDTV/HD monitor.
Hdtv 4K (3840x2160p) resolution, 3D display supported.
One fixed 1. 8ft HDMI cable (pigtail) provided, Plug and play. Support video formats: full HD-HDTV, 2160p, 1080p, 720p, 720i, 576p, 480p, 576i, 480i
HD audio and HDCP compliant- Audio formats: LPCM, Dolby AC3, DTS7. 1, direct stream digital. No distortion of Audio or video, no delay in signal transference
Bestseller No. 8
HDMI Switch 4K@60Hz【Upgraded】3 in 1 Out HDMI Switch Splitter, 3 Port Hdmi Switch Box Supports...
🌀【3 in 1 Out HDMI Switch】-- This HDMI switch can easily transfer video and audio from 3 HDMI devices to an HDMI screen. You can easily switch between three HDMI input sources without having to plug or remove devices(With manual switching).
🌀【4K@60Hz Resolution Support】-- HDMI switch box supports resolutions of 4K@60Hz/30Hz, 2K/60Hz/30Hz, 1080p @ 60Hz, 1080p @ 30Hz, 1080i, 720p, 576p, 576i, 480p, 480i etc. Input: PC, Laptops, Xbox 360, PS3/PS4/PS5, Roku Express, Amazon Fire TV Stick, Blu-ray DVD, etc; Output: Full HD TVs, projectors, monitors and more.
🌀【Plug and Play】-- Easy to set up and use, no external driver required. Simply connect your HDMI devices and simply press the switch button to change the signal within a second. It is Ideal for trade show, conference room, bedding room, living room, kitchen room and backyard.【ATTENTION: For some devices, the HDMI selector switch may not work(lose signal) when only one input device is power on due to insufficient power. In this case, please turn on two or all the three source devices to try.
🌀【Fast, Stable and Full HD Transmission】-- 24K Gold Plated corrosion-resistant connectors to ensure superior signal transfer, High performance up to 18Gbps and high bandwidth, No delay, No loss of picture or sound quality. Let you enjoy high-definition movie-like vision and smooth comfort.
🌀【365 DAYS REFUND ❗】Allows you to try our HDMI Switch for one full year. Our products are rigorously tested and made with love because we believe that you deserve the best. We remove all risk. 💝We'll guarantee that you'll be satisfied and your HDMI Switch WON'T break or STOP working, OR you get your money back.If you have any questions, please feel free to contact us through amazon!
Sale
Bestseller No. 9
HDMI Switch 3 in 1 Out 4K UHD HDMI Switcher Splitter, Automatic Switch with Remote Metal HDMI Switch...
📍3-Port HDMI Switch: This aluminum HDMI switch 3 in 1 out supports connecting 3 HDMI devices (gaming consoles, TV box, DVD player etc.) to 1 HDMI display and toggle between them. Release you from plugging and unplugging HDMI cables. No lag, No drop in quality.
📍Convenient Remote Control: Come with an IR remote control; enable to swap video sources without leaving a comfortable couch. And it can automatically switch to the device turned on, hassle-free. LED indicates which port is active. Plug and play set up, no driver needed.
📍Support 4K Resolution: Durable HDMI Switch supports 4K, 3840x2160p@30Hz, 3D display, Full-HD 1080P, the picture quality remains crisp and clear. Support HDCP 1.4, LPCM, DOLBY AC3,DTS7.1, deep color 24bit, 30bit, 26bit.
📍Wide Compatibility: This HDMI switch is compatible with most HDMI source devices. Including Blu-ray players, DVD players, Xbox 360, PS3, PS4, PS5, Nintendo Switch, Receivers, Apple TV, Fire TV stick, Roku Stick, PC, Laptop, HDTV, HD Monitor, Projector.
📍Fast & Stable Transmission: This compact HDMI switcher with gold plated connector provides high bandwidth 3.4Gbps data transmission, Input and output AWG26 HDMI standard cable length could reach up to 5m. Powered by USB (USB cable included), ensures stable video transmission and better performance.
Sale
Bestseller No. 10
OREI HDMI Splitter 1 in 2 Out 4K - 1x2 HDMI Display Duplicate/Mirror - Powered Splitter Full HD...
HDMI Splitter 1 in 2 Out: THIS UNIT DOES NOT EXTEND MONITORS - ONLY Split one HDMI input signal to two HDMI output signals identical to the input signal
Fully Compatible with any HDMI 1.4/ 1.3/ 1.2 version, support HDCP 1.4(NOTE: Will Not BYPASS HDCP), Easily Split Signal for devices with standard HDMI interface. Input: Computer, XBox 360, XBox one, PS3, PS4 Pro, Fire Stick, Blu-Ray DVD player, Satellite Receiver, Route Roku, Chromecast, PC, Projectors etc. Output: Apple TV, HD-Ready, Full HsD TVs, HD Monitors, Samsung TV, and more.
Maximum HDMI Cable Use - 30 Feet. For Best Picture quality do not use with cables over 30 Feet. The heavy-duty cool metal enclosure protects the insides and keeps the unit cool by aiding in quick heat absorption and dissipation. Operating temperature is 0°C ~ 40°C / 32°F ~ 104°F . Power Consumption (Max): 5W
Full Video format 3D, 4K x 2K@30hz, 1080P @30hz, 1080P @60hz. Deep Color 4K @ 30Hz / 480i/ 576i/ 480p/ 576p/ 720p/ 1080i/ 1080p/ 1440i/ 1440p eidi duration 6 seconds. DOES NOT SUPPORT HDCP 2.0 & 2.2
Package includes - 1 - 4K 1x2 Splitter, 1 - USB Power Cable, 1 - User Manual (Power Adapter not Required) If you have any questions regarding our splitters please feel free to contact us through support
You May Also Like…
Last update on 2022-06-28