The HDMI video cable has become necessary for homes or any business with HD televisions, media players, or audio systems of any kind. The use of these types of cables is expanding. That's why variations have emerged to allow for more devices to become HDMI compatible. But why should you care about these types of cables? Why is there no HDMI Type-B cable? If you want to know these details, then keep reading.
HDMI Type-A, Type-C, Type-D all these three types of cables have 19 pins and can transfer High-Definition audios and videos. The Micro HDMI and Mini HDMI connectors take up 72% and 60% less area than the standard Type-A connector respectively.
If you are not familiar with HDMI, you are not alone. Many people don't have a crystal-clear idea about HDMI. The full form of HDMI is "High-Definition Multimedia Interface." The standard HDMI is known as HDMI Type-A. When you think of HDMI, a Type-A HDMI cable is what comes to your mind. We use this cable for most monitors, TVs, PCs, etc. There are also HDMI Type-C and Type-D. Type-C is known as mini-HDMI.HDMI Type-D is called micro-HDMI.
HDMI/Type-A
Sale
Amazon Basics High-Speed HDMI Cable, A Male to A Male, 18 Gbps, 4K/60Hz, 25 Feet, Black
IN THE BOX: 25-foot high-speed HDMI cable (A Male to A Male) for connecting 2 HDMI-enabled devices; black
DEVICE COMPATIBILITY: Ideal for connecting Blu-ray players, Fire TV, Apple TV, PS4, PS3, XBox One, Xbox 360, and computers to TVs, displays, and A/V receivers
4K VIDEO: Meets HDMI standards (4K Video at 60 Hz, 2160p, 48 bit/px color depth); also supports 3D, ARC, and bandwidth up to 18 Gbps
BACKWARDS COMPATIBLE: Works with earlier versions to allow for use with a wide range of HDMI-enabled devices
ETHERNET READY: Built-in Ethernet allows for sharing an Internet connection among multiple devices (no need for a separate Ethernet cable)
HDMI Type-A standard is the one that comes to your mind first when you hear about HDMI. Type-A cable is the inclusive cable packaged with most DVD players, TVs, PCs, and other video and audio equipment. There are 19 pins organized along the top and bottom of the connector. This 19-pin design is the center of all various kinds of HDMI connectors. What type of HDMI cable you use doesn't matter; there will always be 19 tips. These 19 tips permit everything that HDMI can do.
This multipurpose connector helps all your devices communicate, and there is a robust set of ancillary tools that permit you to do genius things with HDMI.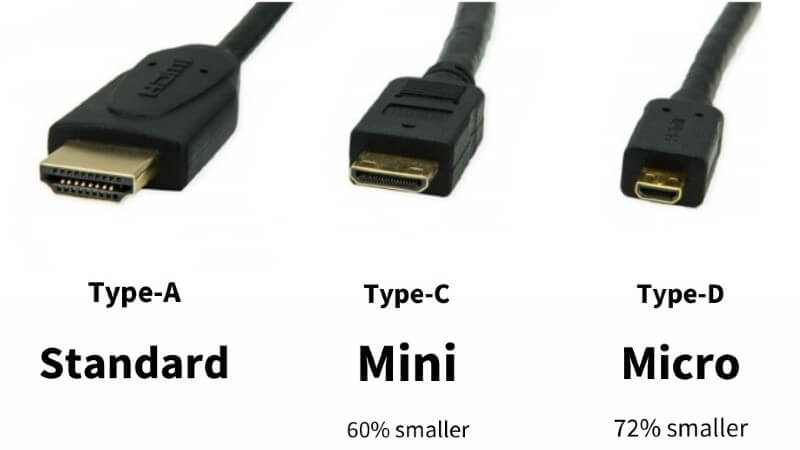 What Do Those 19 Pins Do?
We told you ago this 19-pin design is the center of all different types of HDMI connectors. These 19 tips give a permit to do everything that HDMI can do. Certainly, it transmits video. So, three tips are belonging to each channel. This thing is also the same for audio. There are extra channels known as clock channels. They don't carry any useful data. They must keep the other channels in sync.
A channel that's work is to communicate between devices gives a permit to control each in few cases. There's also a channel that carries a 5-volt power supply so that HDMI can power some devices.
There's a pin which is called pin 14. It is used as a kind of "Swing Pin," Different applications should use it for different things. If you want to transfer an ethernet signal, for instance, you can use it.
Mini HDMI/Type-C
Sale
Rankie Mini HDMI to HDMI Cable, High Speed Supports Ethernet 3D and Audio Return (6 Feet)
The 6 feet Mini HDMI to HDMI cable connects a Mini HDMI-enabled device to an HDTV, monitor, and projector with HDMI input. (Note: There is another smaller type: Micro HDMI. Please check your device and make sure it is Mini HDMI port)
The gold-plated conductors resist corrosion and increase connectivity. The inner braided foil shielding reduces interference and improves signal quality
It meets the latest HDMI standards (4K Video @ 30 Hz, 2160p, 48 bit/px color depth) that supports bandwidth up to 18Gbps and backwards compatible with earlier versions
Supports Ethernet, 3D, and Audio Return (no need for separate cables)
customer service from Rankie
The mini-HDMI connector is smaller than the HDMI Type-A. The mini-HDMI connector is also known as HDMI Type-C. The HDMI Type-A connector is made up of a rectangular shape of 14 x 4.55 mm, but at only 10.42 x 2.42 mm, the Type-C connector takes up 60% less area than the Type-A connector. This quality makes it easier to use for small devices that don't have enough space for the full-sized HDMI Type-A connector.
A few moments earlier, we have told you that HDMI Type-A needs plenty of room. DVD Players, Televisions, PCs, etc., have enough space for that. So, what types of devices are suitable for HDMI Type-C connectors.
We all are familiar with DSLR cameras and camcorders. But the cables that come with these devices usually have a Type-A port on the other end of the cord so that you can hook them up to larger screens.
Mini HDMI ports are also sometimes found on tablets. Many times, such as some iPads, you get a standard HDMI dongle along with the device. If you don't get a standard HDMI dongle along with the device, you will need to buy your own adapter. Adapters are very reasonably priced because it's the same cable with the same capability.
Micro HDMI/Type-D
Sale
Rankie Micro HDMI to HDMI Cable, Supports Ethernet, 3D, Audio Return, 6FT
The 6 feet cable connects tablets and smartphones with Micro HDMI port to HDTV or computer monitor with HDMI port for video and audio streaming. Type D to Type A. (Note: Please check your device to make sure you are using MICRO HDMI port. There is another larger type: MINI HDMI. Also, this item does NOT work with Kindle Fire devices which have a different port connectivity.)
Gold-plated connectors for superior connectivity, PVC outer coating increases durability. Backwards compatible with all earlier HDMI standards
Delivers both high-definition video (up to 4K Resolution @30Hz) and uncompressed multichannel digital audio
Built-in Ethernet and Audio Return, supports 3D television functionality
customer service from Rankie
Micro HDMI, which is known as HDMI Type-D, is the latest version of HDMI connectors. Like mini-HDMI and HDMI Type-A, it also has 19 pins. Micro HDMI has a plug size of 6.4 x 2.8 mm. That's why it is 72% smaller than the HDMI Type-A connector.
Which devices are suitable for an HDMI Type-D connector? We already know that the original HDMI or HDMI Type-A connector is suitable for DVD Players, TVs, PCs, etc. Mini HDMI connector is used in DSLR cameras and camcorders. So, where is it used?
Micro HDMI provides far better 4K playback than an HDMI Type-C connector. That's why many HDMI action cameras still consume an HDMI Type-D connector. Micro HDMI has also been used in GoPro cameras for some time, but now they are starting to use mini-HDMI instead of micro-HDMI. You can finally tell that you are unlikely to face a product that you need a micro-HDMI connector.
What About Type-B?
Amazon Basics USB 2.0 Printer Cable - A-Male to B-Male Cord - 6 Feet (1.8 Meters), Black
IN THE BOX: (1) 6-foot-long (1.8 meters) high-speed multi-shielded USB 2.0 A-Male to B-Male cable
EASY CONNECTION: Connects mice, keyboards, and speed-critical devices, such as external hard drives, printers, and cameras to your computer
GOLD-PLATED CONNECTORS: Constructed with corrosion-resistant, gold-plated connectors for optimal signal clarity and shielding to minimize interference
ULTRA FAST SPEED: Full 2.0 USB capability/480 Mbps transfer speed
FRUSTRATION-FREE PACKAGING: Ships in Certified Frustration-Free Packaging for easy access to batteries
You may be thinking about the Type-B connector. It was planned to be part of the HDMI port group. It was pretty stranger than the micro-HDMI and mini-HDMI ports. The "HDMI Dual Link" was planned to provide higher speeds across its additional channels, and it should have had 29 pins. But the progress of the standard HDMI connector was really fast. That's why Dual Link Type-B was extinct before being produced and used in a product.
We want to add Type-E, which is the 5th connector of the HDMI port group. You will have heard this connector rarely because it is designed for automotive utilization. It also has a waterproofing and clip-on/clip-of design to reduce vibration issues.
Conclusion
So, we think we have been able to give you a crystal clear idea about the HDMI Type-A, HDMI Type-B, HDMI Type-C or mini HDMI, HDMI Type-D, or micro HDMI, and HDMI Type-E. Nowadays, these HDMI ports are given to your compatible devices. But if you want to make content with DSLR cameras and Go Pros, you will find Type-C and Type-D connectors pretty cheaply on Amazon.
-our editorial board has reviewed this article and has been approved for publication according to our editorial policy.
You May Also Like…
Last update on 2022-11-17