One interesting fact is one out of every three homes has a smart TV. But not everyone has access to a Wi-Fi connection from their TV. It can create a problem. But this does not signify that you will get a blank screen when the TV's turned on or if it's not receiving an internet signal. Sometimes people can ask that is it even possible to use a Smart TV without the internet?
YES. A smart TV will only work for regular TV without any connections to WiFi. This means you can't access any services that require the internet, such as streaming platforms, voice assistants, or app downloads.
You will be able to use a smart TV without the internet. But the thing is, it's harder to access the content you want, mostly from streaming applications that won't work without a connection. There are also some other exciting features that you will miss out on if you do not connect your smart TV with an internet connection.
As we have mentioned above, you will be able to use a smart TV without an internet connection. But you will miss some of its features and capabilities. So what are those? If you want to know, you have to read this article. Here you will get a better idea of what your TV can and cannot do without Wi-Fi. Along with downloading apps and receiving firmware updates, among other features.
Using a Smart TV Without Wi-Fi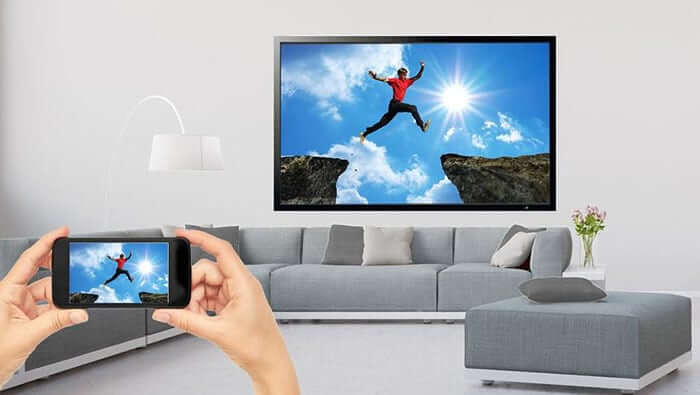 You can think that there's not much you can do with a smart TV if you do not have any internet connection to it. But it is not necessarily true. You will get a better picture quality than standard basic television. Moreover, smart TVs always come with many ports. So you can connect your pen drive, mobile phone, or laptop with it and can enjoy videos or any movies.
Stream Content
You cannot download streaming apps without Wi-Fi, so you may think that you have to be stuck with only local television stations. But actually, that's not correct. You can link your phone or laptop with your TV and can stream a limited amount of content. Moreover, you can also enjoy movies on discs via a DVD player connected to your TV. You can also connect any Blu-ray players and gaming consoles with your smart TV. Again you can also use the hot spot to connect the TV with the internet.
PlayOnPlus
It is a useful software that helps you to enjoy Netflix and other streaming content without an internet connection. You just have to select the show or movie you want to watch with your Wi-Fi-connected mobile phone or laptop. You have to connect your device through an HDMI port with your TV so that you can watch the content on your smart TV. The process is so simple. It is as easy as mirroring content from your mobile phone.
How to Mirror a Smartphone to a Smart TV
As we have mentioned above, if you don't have a home internet connection but still want to stream content to your smart TV, then you can use your mobile phone or laptop to stream the content. But first, you should make sure that if your phone and TV both have settings that allow the two devices to sync via HDMI cable. If your smart TV does not have this feature, then you will have no choice but the local stations and DVDs.
Moreover, not all Android phones are compatible with mirror casting. So always check first. If your smart TV can recognize your phone's internet signal, then connect both devices with the help of HDMI cables. You will have a wire extending across the room from your phone to your smart TV, but you can now enjoy your mirrored content. It's not a great solution, but it will work well until you get them supporting the function.
Capabilities of Smart TVs
A smart TV is a great device. It comes with many useful features. Many people connect it with the internet while others watch movies, shows, or sports. But one of the great features of a smart TV is that it comes with many ports, while on a standard television, you will find only one HDMI port which you have to share for all of your devices.
But with a smart TV, you can connect everything from DVD players to soundbars like the Sonos Five (on Amazon) and gaming consoles. You do not have to switch the connections every time you want to watch a movie or play a game which is also a great feature as the ability to stream content.
Streaming Content and Local Channels
The most exciting feature of a smart TV is you can download the same streaming apps you watch on your laptop or PC. You will be able to watch Netflix, Hulu, or use other apps without the help of an external device. Moreover, smart TVs are also compatible with streaming products like Roku, Apple TV, Chromecast, and Amazon Fire Stick.
So if you want to get free from cables and upgrade to less-expensive streaming apps, you will still have access to local television stations. You just have to set up an antenna to catch the station's signal without any cable, but this process will not cost you much. If you are worried about how it will look after installing a set of antennas on top of your smart TV, then you will be happy to know that antennas are now designed to be sleek and discrete.
Voice-Control
Some of the available smart TVs even come with voice control capability. So that if you do not find the remote, you will be able to control it via voice commands. Also, you will be able to turn the TV on and off or adjust the volume and switch channels hands-free.
Enhanced Image Quality
Another great feature of a smart TV is its screen. Smart TVs can give you very excellent picture quality. The picture quality is not dependent on the internet connection. Improved picture quality is its built-in technology. The picture will appear brighter, more transparent, with more accurate colors, even if you are streaming videos online.
Smart TV Features That Won't Work Without Wi-Fi
If you do not have any internet connection in your house, buying a smart TV can feel like wasting money. There are some reasons behind this. Although, if you use it correctly, this will not happen. It isn't really true that a Smart TV, without the internet, is useless, and we'll explain why in a minute.
Smart TVs are becoming more popular day by day. More manufacturers are making smart TVs. That's why the price of smart TVs is dropping. Manufacturers are making smart TVs priced similar to standard models and making them more affordable so that everyone can buy a smart TV. But without WIFI or any internet connection, you will miss out on some of its features. Let's see what those are.
Download Apps and Streaming Content
One of the great features of smart TVs is that they can access the internet so that you can stream online movies and web series. If you want to watch any show on Disney+, Hulu, or YouTube, then you will need an internet connection. Moreover, if you buy anything from an online streaming provider like Fire Stick or Roku, you will still need the internet to download the apps.
Receive Firmware Updates
In many ways, a smart TV is similar to your laptop or PC. A smart TV also requires periodic firmware updates so that the owner does not face any problems. Firmware updates generally come when the manufacturer had to add a new function to the TV or fix a bug. Here are some frequent reasons why firmware update is needed
Improve the TV's performance.
Prevent the TV from automatically restarting when the "home" key is pressed on the remote.
Improve the home screen for easier navigation.
If your TV is connected to an internet connection or Wi-Fi, the firmware will be installed automatically. On the other hand, if your TV is not connected to Wi-Fi, you will not receive any updates, but this does not mean that you will not be able to use your TV. Most of these updates are for improving the user experience on streaming content.
Account Set-Up
Nowadays, some of the available smart TVs require you to set up an account. But without an internet connection, sometimes it will not feel easy to complete some of the steps. Some TVs have a software update ready to be installed once after the account is created, and without an internet connection, you can not finish that step. You can still use some features without setting up your account, but you will face performance issues.
Direct Connection
If you want to play any content from your mobile phone on your smart TV, you without an internet connection will not be able to do that. You can try Apple's peer-to-peer airplay or another type of direct connection feature to connect your phone with your smart TV, but the video quality is often compromised. Moreover, you will also face issues with slow internet speeds and data usage.
Summary
You can do different kinds of things with your smart TV if you do not have any Wi-Fi connection. Such as you can watch local stations or play discs on a connected device. There are many HDMI ports in a smart TV. So you can connect your disc players, gaming consoles, and cable boxes. And you do not need a Wi-Fi connection to watch local cable channels.
You can also use your smartphone as a hot spot. Even though having some limitations on what you can do with a smart TV, it is not mandatory to have Wi-Fi to use a smart TV.
Nowadays, finding an "old school" TV is difficult than a smart TV. Moreover, these two are also comparable, but smart TVs are still a little higher priced. But it would be best if you considered that smart TVs come with many exciting features. And without an internet connection, you can still enjoy improved picture quality. They also come with many HDMI ports.
-our editorial board has reviewed this article and has been approved for publication according to our editorial policy.
Best Seller List of Smart TV:
Bestseller No. 1
Amazon Fire TV 43" 4-Series 4K UHD smart TV
Brilliant 4K entertainment - Bring movies and shows to life with support for vivid 4K Ultra HD, HDR 10, HLG, and Dolby Digital Plus.
Scenes that leap off the screen - 4K Ultra HD, HDR 10, and HLG deliver a clearer and more vibrant picture with brighter colors compared to 1080p Full HD.
Fire TV Alexa Voice Remote - Press and ask to find favorite apps, movies, and shows, plus check the weather, sports scores, and more.
Watch what you want - Stream over 1 million movies and TV episodes. Watch favorites with subscriptions to Netflix, Prime Video, Disney+, and more.
All your entertainment in one place - Watch live and free TV, play video games, and stream music.
Sale
Bestseller No. 2
LG 86NANO90UPA Alexa Built-In NanoCell 90 Series 86" 4K Smart UHD NanoCell TV (2021)
REAL 4K NANOCELL DISPLAY: Bring your favorite shows to life with a billion rich colors. Get deep blacks and enhanced contrast for a more detailed picture with Full Array Dimming.
A7 GEN 4 AI PROCESSOR 4K: Catch every detail with the smooth, crisp picture brought to you by our a7 Gen 4 AI Processor 4K. It adjusts your viewing and audio settings automatically with AI Picture and AI Sound, while AI 4K Upscaling authentically calibrates every scene.
HOME CINEMA EXPERIENCE: Get breathtaking picture and audio that makes you feel like you're in the action with Cinema HDR, Dolby Vision IQ and Dolby Atmos. See movies exactly how directors intended with Filmmaker Mode. And with built-in access to Netflix, Prime Video, Apple TV plus, Disney plus and LG channels, your favorite content is at your fingertips.
ULTIMATE GAMEPLAY: Stay a step ahead, where milliseconds make all the difference. FreeSync Premium Compatible for real-time action and virtually no tearing coupled with fluid 120Hz refresh rate. Game Optimizer gives you easier access to all your game settings, while the latest HDMI delivers a fast connection. Plus, you'll get low input lag and fast response times with Auto Low-Latency Mode and HGiG.
GOOGLE ASSISTANT AND ALEXA BUILT IN: There's no need for an extra device – just ask your TV for music, weather, news, your Amazon shopping list, and more. Plus, conveniently control your connected home and smart devices.
Bestseller No. 3
LG 65-Inch Class UQ9000 Series Alexa Built-in 4K Smart TV (3840 x 2160), 60Hz Refresh Rate,...
VOICE CONTROL: Use your voice to control your TV and connected devices with built-in support for Google Assistant, Amazon Alexa, Apple AirPlay, HomeKit, and many more
a5 GEN5 AI PROCESSOR 4K: Enhance your picture and sound with AI from the a5 Gen 5 AI Processor 4K
WebOS: Customize your viewing experience with separate accounts and personalized recommendations for every member of your family
ULTIMATE STREAMING: Find your faves fast with built-in access to Netflix, Prime Video, Apple TV app, Disney+, HBO Max and instant access to over 300+ free LG Channels with everything from comedy to movies to sports
MAGIC REMOTE: Quickly point, click, scroll or use voice control to find your favorite content faster with the LG Magic Remote
Sale
Bestseller No. 4
Hisense A6 Series 75-Inch 4K UHD Smart Google TV with Voice Remote, Dolby Vision HDR, DTS Virtual X,...
4K Ultra High Definition: More pixels on the screen produces a more clear and succinct picture making content look more realistic and true to life. Combined with Hisense's AI UHD Upscaler , non 4K content will get enhanced to near 4K quality.
Google TV: The entertainment you love. With a little help from Google. Google TV brings together movies, shows, live TV and more from across your apps and subscriptions and organizes them just for you.
Dolby Vision HDR and HDR10: Innovative visual technology, Dolby Vision, brings the characters to life with darker darks, brighter brights , and a remarkable color range you can't get anywhere else. HDR10 is an HDR format that delivers HDR content via compatible over the air signals.
Game Mode Plus: A collection of technologies come together to create a dynamic gaming experience. A 60Hz panel, variable refresh rate, and auto low latency mode makes sure that the television can handle the rigors of next generation gaming consoles.
Sports Mode: With sports mode's preset settings, the television automatically adjusts itself to optimize sports content. Motion is smoother and color is adjusted for the best sports experience the television is capable of.
Bestseller No. 5
All-New Toshiba 65-inch Class M550 Series LED 4K UHD Smart Fire TV with Hands-Free with Alexa...
Wide color gamut delivers an expanded spectrum of color that TV's with smaller color palettes can't match, thus providing a more colorful and vibrant picture. Plus Dolby Vision HDR and HDR10+ to help transform your TV experience.
Full Array Local Dimming - The M550 backlight panel with full array local dimming. This technology separates the LEDs into smaller, more tightly controlled lighting areas giving the television more control over the parts of the picture that need more or less lighting without affecting the other areas.
Hands-free TV with Alexa - There's no need to use a remote just use your voice from anywhere in the room to control the TV and smart home devices, access your favorite entertainment, and more. The built-in microphone lets you say things like, "Alexa, play something on Netflix".
480 Motion Rate - Experience incredible clarity in motion with a 480 Motion Rate panel, giving you smooth, fluid movement from all of your fast-action content.
Auto Low Latency Game Mode Enjoy a better gaming experience. In Game Mode, input lag is significantly improved, so your commands from the controller are virtually instantaneous on the screen. The M550 is ready for the whatever the latest generation gaming consoles can throw at it.
Bestseller No. 6
SAMSUNG 65-Inch Class Crystal UHD AU8000 Series - 4K UHD HDR Smart TV with Alexa Built-in...
HANDPICKED BY AMAZON: They did the research so you don't have to.
DYNAMIC CRYSTAL COLOR: Witness millions of shades of color through powerful Dynamic Crystal technology
CRYSTAL PROCESSOR 4K: See every detail with stunning clarity; The powerful processor, specifically tuned for Crystal Displays, converts what you're watching to 4K
BUILT-IN VOICE ASSISTANTS: Access a world of content beyond streaming; Schedule recordings, search, auto-adjust gaming settings, seamlessly connect with a host of compatible devices, and control your smart TV with your voice, all with one remote
HDR: Enjoy a whole new world of vivid color and detail found in newer films and streaming service content with HDR, also known as High Dynamic Range*
Bestseller No. 7
Sony 55 Inch 4K Ultra HD TV X80K Series: LED Smart Google TV with Dolby Vision HDR KD55X80K- 2022...
INTELLIGENT TV PROCESSING– The 4K HDR Processor X1 delivers a picture that is smooth and clear, full of rich colors and detailed contrast.
WIDE SPECTRUM OF COLORS- Reproduces over a billion accurate colors resulting in picture quality that is natural and precise, and closer than ever to real life, enhanced by TRILUMINOS Pro.
PREMIUM SMART TV– Google TV with Google Assistant organizes your favorite content all in one place. Stream from Prime Video, Netflix, Disney+, Apple TV, HBO Max, Peacock and many more. Also, stream from your Apple device with AirPlay 2 support.
ENHANCED ENTERTAINMENT– Experience immersive and engaging cinematic content as the creator intended with support for Dolby Vision & Atmos.
WORKS WITH ALEXA – Through an Alexa enabled device, ask Alexa to change channels, adjust volume, and turn your TV on/off.
Bestseller No. 8
SAMSUNG 85-Inch Class Neo QLED 8K QN800A Series - 8K UHD Quantum HDR 32x Smart TV with Alexa...
QUANTUM MATRIX TECHNOLOGY WITH MINI LED: A brilliantly intense picture powered by tiny hyper-focused light cells.
SAMSUNG NEO QUANTUM PROCESSOR 8K: Upgrade every picture to 8K with multi-layered neural networks.
INFINITY ONE DESIGN: Beauty derived from simplicity of design.
OBJECT TRACKING SOUND+: Dynamic sound that tracks and follows on screen action.
QUANTUM HDR 32X: Spectacular clarity brings the director's vision to life.* *The range of Quantum HDR claims luminance based on internal testing standards and is subject to change according to viewing environment or specific conditions.
Bestseller No. 9
Sony X90J 75 Inch TV: BRAVIA XR Full Array LED 4K Ultra HD Smart Google TV with Dolby Vision HDR and...
COGNITIVE PROCESSOR XR – Revolutionary TV processing technology that understands how humans see and hear to deliver intense contrast with pure blacks, high peak brightness, and natural colors.
XR TRILUMINOS PRO - Rediscover everything you watch with billions of accurate colors and see impressive picture quality that is natural and beautiful to the human eye.
FULL ARRAY LED & XR CONTRAST BOOSTER – Precisely controlled backlighting brings out real-life depth and detail with deep blacks and high peak brightness.
GOOGLE TV – Seamlessly browse 700,000+ movies and TV episodes from across your favorite streaming services, all in one place. Watch content from Netflix, Amazon Prime Video, Disney+, YouTube, the Apple TV app, and many more.
BRAVIA CORE – Bring the cinematic experience home. Enjoy streaming high-quality movies included with BRAVIA CORE, exclusively on select Sony TVs.
Bestseller No. 10
TCL 50" Class 4-Series 4K UHD HDR Smart Google TV – 50S446, 2022 Model
Stunning 4K Ultra HD: 4K resolution delivers stunning detail and remarkable visual experience.
High Dynamic Range: HDR delivers bright and accurate colors for a lifelike viewing experience.
Google Assistant Built-in: Your TV is more helpful than ever. Use your voice to find movies, stream apps, play music, and control the TV. Ask Google to find a specific title, search by genre, or get personalized recommendations by saying, "what should I watch" Even get answers like sports scores, control smart home devices, and more. Press the Google Assistant button on the remote to get started.
What you want to watch, all in one place: Choose from 700,000+ movies and shows from across your favorite apps, intelligently organized just for you. Tune into live shows, curate watchlists, and get recommendations based on what you have watched and what interests you. Finding what to watch has never been easier with TCL Google TV.
Thousands of Streaming Apps: Enjoy thousands of movies and shows available to stream including sports, news, music, kids and family, food, science and tech, fitness, foreign language and so much more with the Google TV OS.
Last update on 2022-06-28