Nowadays, if zoom meetings are becoming a regular affair, then you may want to use your smart TV to get a bigger and better image quality. You will feel great to know that "YES," you can use your smart TV for ZOOM. By connecting some modern devices with your smart TV, you will be able to do that.
There are many ways that you can use your smart TV as a screen for your zoom meeting. Some of the smart TVs come with the zoom app pre-installed, and your smartphone also might be able to share its screen with your TV. You can also use an HDMI connection with your laptop, but it will require a camera.
Among all of these solutions, the easiest way to use your smart TV as a screen for your Zoom meetings is to have access to the Zoom app on your smart TV, but it will also require access to a microphone and webcam built-in. The other techniques will require some extra hardware or software but still can have more issues than the best solution. So let's see how you can use your smart TV for Zoom.
Using a Smart TV for Zoom vs. Mirroring
All the smart TVs usually have access to an app store, and it may have the Zoom app. So, in place of using Bluetooth on your smart TV, you can get the Zoom app from the app store. The only difficulty you may face with this technique is that the Zoom app may require access to a camera and microphone for better quality.
But if you don't have a TV with these functions, then you may be hitting a wall while joining a Zoom meeting. No one will see or hear you, but you will see them. So you may want to use the screen mirroring technique. Here are some following reasons why you may want to use screen mirroring, among the other techniques:
This technique uses your smartphone/laptop and your smart TV.
It is a wireless option.
Screen mirroring also solves the problem of not having a camera and microphone
It can be convenient to use and setup
While screen mirroring, you may also face many problems. You may run into streaming issues such as latency because of poor internet connection. That's why you should have access to the Zoom app on your smart TV. Which is an excellent solution. It can still be a great solution as long as you can solve out how to get access to camera and microphone capabilities in your smart TV. Here some reasons why you should use the zoom app on your smart TV:
It gives you a more stable and secure connection.
Make the process a hands-free experience.
It can provide you with access to your smartphone or laptop while in a meeting.
When you are using the screen mirroring functions on your smartphone or laptop, you will not be able to do anything with your device only to operate Zoom. This means that if you want to answer any text messages or calls, you will not be able to do that. So if you install the Zoom app on your smart TV, then you will not face any limitations like these.
Using Zoom with a Dedicated Smart TV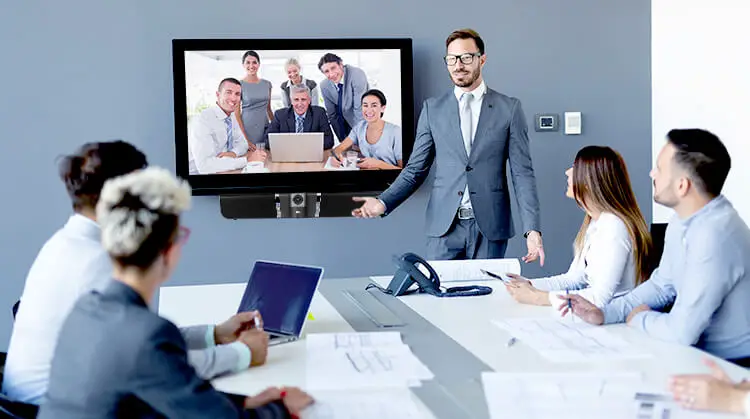 If you have a smart TV that has access to the Zoom app, including webcam and microphone capabilities built-in, then we hope that you are having a great experience with that. But finding a smart that comes with a webcam and a microphone built-in is not an easy task. Moreover, most manufacturers are also excluding these features. Here are some TVs that have a webcam and microphone built-in:
LG LA8600 55-inch Smart TV
Samsung F8000 55-inch Smart TV
LG LA9600 55-inch Smart TV
Samsung F7500 55-inch Smart TV
But unfortunately, these TV models are discontinued by the manufacturer, so you will not be able to get any of them brand new. So, these TVs are not unavailable, though. If you are lucky, you can find and buy one of them from an auction site like eBay. But before you buy, you have to make sure that the webcam and the microphone are working well.
TVs with a camera and microphone will be the best solution for you if you want to use a TV for zoom meetings but do not want to buy any additional equipment or make any extra set up. But if you're going to connect a USB webcam to your smart TV and then use it for your zoom meetings, unfortunately, you have to follow a different process for that.
The reason is the API (Application Programming Interface) for the apps on your smart TV (in the case of Zoom) is based on mobile API, so you will not easily be able to connect your TV to the webcam. While apps can connect to your webcam with your smart TV, you may not likely use Zoom with the camera.
This can be harmful to doing these to use your smart TV for zoom. You may be able to get it to work successfully. But it depends on the brand of your TV. And this kind of setup will not be supported by most of the manufacturers. So if you are in this type of situation, the best solution will be for you to either try to use a laptop and connect the TV as a second monitor, otherwise use the screen mirroring.
Screen Mirroring Zoom to a Smart TV
When you allow your phone or computers to share the screen with your smart TV, which is called screen mirroring, this feature is available on almost every device. Those who do not have this feature in their device can use many additional screens mirroring software. You can find some techniques that you can use based on different software to get Zoom on your smart TV.
Using Airplay
If you have an iPhone, iMac, or iPad, then you can use Airplay to connect your screen with your Apple TV. Moreover, if you are using an Apple TV, you can find this function built-in. Smart TVs from some other manufacturers like some Samsung TVs also support this function. If you want to mirror your screen with Apple Airplay, you have to follow the steps below.
At first, you have to connect both devices to the same wifi network.
Then go to the Action Center, you can find it at the top right corner of the screen on the Apple device from which you want to mirror the screen.
Then look for the screen Mirroring and enter it by tapping on it.
You will see your Apple TV is available for screen mirroring. Select your TV.
After connecting your device correctly, you can now open Zoom and use it on your TV.
Using Chromecast
If you have a Chromecast on your TV, you can easily use it for screen mirroring. For this, you have to have an Android phone or have the Google Home app installed on your phone. If you want to mirror your screen by using Chromecast, you just have to follow these steps:
Make sure your Chromecast is all set and all your devices are connected to the same wifi connection.
Then look for the screen mirroring option on your phone's settings or computer. Where this setting is situated, it actually depends on the brand of your device.
Then Tap the Chromecast device where you want to cast.
After connecting your device correctly, you can now open Zoom and use it on your TV.
Using Roku
If you want to stream your screen on your TV by using the Roku streaming device, you have to follow these steps:
Make sure your Roku is all set and all your devices are connected to the same wifi connection.
Then find the cast or mirror option on your device and look for available devices.
When you find your Roku device, try to connect to it.
You have to allow your devices to connect. So you have to grant permission to the devices.
After connecting your device correctly, you can now open Zoom and use it on your TV.
Using the Smart TV As a Second Monitor for Zoom
If you want to add higher quality video and audio to your Zoom setup, then you can use your smart TV as a second monitor. For this, you will need a little bit more set up and some hardware also. But the setup process is not so hard, and you will be able to complete that by following these steps easily.
Firstly connect your computer to your TV with an HDMI cable.
Then go to the display setting on your computer.
Set up your smart TV as your second display.
When you will open Zoom, you have to move it over to the second display, I mean in your smart TV.
Now you will be able to see your zoom screen on your TV.
One interesting fact is if you use this setup, then you will be able to use higher quality webcams and microphones with your Zoom call and get a chance to improve the quality. So if you want a professional setting, then this one will be the best for you. Sometimes you may face some issues, so you should be wary of this dicey setup.
Conclusion
So using a smart TV for making Zoom meetings is obviously possible. But we suggest you to use the smart TV as a second monitor. That will make your meetings a lot easier. Moreover, you can also use screen mirroring software like AirPlay. But in this way, sometimes you may face latency.
-our editorial board has reviewed this article and has been approved for publication according to our editorial policy.
Best Seller List of Smart TV:
Bestseller No. 1
Amazon Fire TV 43" 4-Series 4K UHD smart TV
Brilliant 4K entertainment - Bring movies and shows to life with support for vivid 4K Ultra HD, HDR 10, HLG, and Dolby Digital Plus.
Scenes that leap off the screen - 4K Ultra HD, HDR 10, and HLG deliver a clearer and more vibrant picture with brighter colors compared to 1080p Full HD.
Fire TV Alexa Voice Remote - Press and ask to find favorite apps, movies, and shows, plus check the weather, sports scores, and more.
Watch what you want - Stream over 1 million movies and TV episodes. Watch favorites with subscriptions to Netflix, Prime Video, Disney+, and more.
All your entertainment in one place - Watch live and free TV, play video games, and stream music.
Bestseller No. 2
LG 65-Inch Class UQ9000 Series Alexa Built-in 4K Smart TV (3840 x 2160), 60Hz Refresh Rate,...
VOICE CONTROL: Use your voice to control your TV and connected devices with built-in support for Google Assistant, Amazon Alexa, Apple AirPlay, HomeKit, and many more
a5 GEN5 AI PROCESSOR 4K: Enhance your picture and sound with AI from the a5 Gen 5 AI Processor 4K
WebOS: Customize your viewing experience with separate accounts and personalized recommendations for every member of your family
ULTIMATE STREAMING: Find your faves fast with built-in access to Netflix, Prime Video, Apple TV app, Disney+, HBO Max and instant access to over 300+ free LG Channels with everything from comedy to movies to sports
MAGIC REMOTE: Quickly point, click, scroll or use voice control to find your favorite content faster with the LG Magic Remote
Bestseller No. 3
All-New Hisense U6 Series 50-Inch 4K Quantum Dot QLED Smart Fire TV with Dolby Vision (50U6HF, 2022...
4K ULED: Like great, but better. The 50U6HF has our exclusive ULED technologies. They boost color, contrast, brightness, motion… we could go on. It's the TV your old TV wants to be.
Quantum Dot Wide Color Gamut: Quantum Dot produces purer, richer, more brilliant and accurate colors than a regular LED TV. Creating over a billion color combinations brings vibrant images to life in a way non-QLED TVs can't.
Fire TV Built-in: With Fire TV built-in, you can enjoy a world of entertainment from apps like Prime Video, Netflix, Disney+, Hulu, and HBO Max. Plus, stream for free with Freevee, Pluto TV, Tubi, and more. Subscription may be required.
Peak Brightness/Full Array Local Dimming Zones: This television offers up-to-600 nits peak brightness across up to 32 local dimming zones. Above average peak brightness and local dimming are critical to correctly reproducing HDR content.
Dolby Vision HDR, HDR10, and HDR10+: Transform your TV into an entertainment powerhouse. The image technology from cinemas, now brought directly to your home, provide amazing realism that you'll experience like never before.
Bestseller No. 4
All-New Toshiba 65-inch Class M550 Series LED 4K UHD Smart Fire TV with Hands-Free with Alexa...
Wide color gamut delivers an expanded spectrum of color that TV's with smaller color palettes can't match, thus providing a more colorful and vibrant picture. Plus Dolby Vision HDR and HDR10+ to help transform your TV experience.
Full Array Local Dimming - The M550 backlight panel with full array local dimming. This technology separates the LEDs into smaller, more tightly controlled lighting areas giving the television more control over the parts of the picture that need more or less lighting without affecting the other areas.
Hands-free TV with Alexa - There's no need to use a remote just use your voice from anywhere in the room to control the TV and smart home devices, access your favorite entertainment, and more. The built-in microphone lets you say things like, "Alexa, play something on Netflix".
480 Motion Rate - Experience incredible clarity in motion with a 480 Motion Rate panel, giving you smooth, fluid movement from all of your fast-action content.
Auto Low Latency Game Mode Enjoy a better gaming experience. In Game Mode, input lag is significantly improved, so your commands from the controller are virtually instantaneous on the screen. The M550 is ready for the whatever the latest generation gaming consoles can throw at it.
Bestseller No. 5
LG 65QNED90UPA Alexa Built-in QNED MiniLED 90 Series 65" 4K Smart UHD NanoCell TV (2021)
QNED MINI LED DISPLAY: The LG Quantum Dot NanoCell display combines NanoCell and miniLED technology for brilliantly bright colors and a higher contrast ratio for deeper blacks.
QUANTUM DOT NANOCELL COLOR TECHNOLOGY: A color innovation that needs to be seen. Two color technologies – Quantum Dot and NanoCell Plus – combine to deliver a more stunning picture with richer, more accurate colors.
MINI LED BACKLIGHT: New MiniLED technology is a giant leap forward in LCD TV. Tiny LEDs offer a more detailed control, a brighter picture and an ultra-high contrast ratio for smooth, life-like images that seem to jump out of the screen and into your room.
120HZ REFRESH RATE: LG TVs are great for watching your favorite sports or playing your favorite games thanks to a 120Hz native refresh rate – the highest native rate for 4K.
FULL ARRAY DIMMING PRO: Catch every detail. Full Array Dimming Pro's unique dimming zones deliver precise backlight control and an ultra-high contrast ratio for deeper blacks and more vivid colors for an impeccable picture.
Bestseller No. 6
Hisense A6 Series 75-Inch 4K UHD Smart Google TV with Voice Remote, Dolby Vision HDR, DTS Virtual X,...
4K Ultra High Definition: More pixels on the screen produces a more clear and succinct picture making content look more realistic and true to life. Combined with Hisense's AI UHD Upscaler , non 4K content will get enhanced to near 4K quality.
Google TV: The entertainment you love. With a little help from Google. Google TV brings together movies, shows, live TV and more from across your apps and subscriptions and organizes them just for you.
Dolby Vision HDR and HDR10: Innovative visual technology, Dolby Vision, brings the characters to life with darker darks, brighter brights , and a remarkable color range you can't get anywhere else. HDR10 is an HDR format that delivers HDR content via compatible over the air signals.
Game Mode Plus: A collection of technologies come together to create a dynamic gaming experience. A 60Hz panel, variable refresh rate, and auto low latency mode makes sure that the television can handle the rigors of next generation gaming consoles.
Sports Mode: With sports mode's preset settings, the television automatically adjusts itself to optimize sports content. Motion is smoother and color is adjusted for the best sports experience the television is capable of.
Sale
Bestseller No. 7
SAMSUNG 50-Inch Class Neo QLED QN90A Series - 4K UHD Quantum HDR 24x Smart TV with Alexa Built-in...
QUANTUM MATRIX TECHNOLOGY WITH MINI LED - Ultra-precise contract with game-changing mesh light control
NEO QUANTUM PROCESSOR 4K - Upgrade every picture to 4K with AI based processing.
QUANTUM HDR 32X | 24X - Spectacularly vibrant colors bring the director's vision to life. Slim Gender Cable : Yes
OBJECT TRACKING SOUND plus - Dynamic sound that tracks and follows on screen action.
MOTION XCELERATOR TURBO plus - Exceptional motion enhancements up to 4K 120Hz.
Sale
Bestseller No. 8
SAMSUNG 65-Inch Class Crystal UHD AU8000 Series - 4K UHD HDR Smart TV with Alexa Built-in...
HANDPICKED BY AMAZON: They did the research so you don't have to.
DYNAMIC CRYSTAL COLOR: Witness millions of shades of color through powerful Dynamic Crystal technology
CRYSTAL PROCESSOR 4K: See every detail with stunning clarity; The powerful processor, specifically tuned for Crystal Displays, converts what you're watching to 4K
BUILT-IN VOICE ASSISTANTS: Access a world of content beyond streaming; Schedule recordings, search, auto-adjust gaming settings, seamlessly connect with a host of compatible devices, and control your smart TV with your voice, all with one remote
HDR: Enjoy a whole new world of vivid color and detail found in newer films and streaming service content with HDR, also known as High Dynamic Range*
Bestseller No. 9
SAMSUNG 65-Inch Class QLED Q60A Series - 4K UHD Dual LED Quantum HDR Smart TV with Alexa Built-in...
A BILLION BRILLIANT COLORS: Enjoy vivid, lifelike color, regardless of brightness from 100% Color Volume with Quantum Dot
DYNAMIC CONTRAST: See bold detail delivered by dedicated warm and cool Dual LED backlights that adjust in real time
EXPANDED COLOR RANGE: Go beyond HDTV with Quantum HDR that delivers a vivid spectrum of color and contrast to your Smart TV
AIR SLIM DESIGN: Elevate your space with a sleek TV aesthetic
4K UPSCALING: Whatever you watch, the Quantum Processor 4K transforms it to 4K through machine learning-based AI
Sale
Bestseller No. 10
LG 65NANO90UPA Alexa Built-In NanoCell 90 Series 65" 4K Smart UHD NanoCell TV (2021)
REAL 4K NANOCELL DISPLAY: Bring your favorite shows to life with a billion rich colors. Get deep blacks and enhanced contrast for a more detailed picture with Full Array Dimming.
A7 GEN 4 AI PROCESSOR 4K: Catch every detail with the smooth, crisp picture brought to you by our a7 Gen 4 AI Processor 4K. It adjusts your viewing and audio settings automatically with AI Picture and AI Sound, while AI 4K Upscaling authentically calibrates every scene.
HOME CINEMA EXPERIENCE: Get breathtaking picture and audio that makes you feel like you're in the action with Cinema HDR, Dolby Vision IQ and Dolby Atmos. See movies exactly how directors intended with Filmmaker Mode. And with built-in access to Netflix, Prime Video, Apple TV plus, Disney plus and LG channels, your favorite content is at your fingertips.
ULTIMATE GAMEPLAY: Stay a step ahead, where milliseconds make all the difference. FreeSync Premium Compatible for real-time action and virtually no tearing coupled with fluid 120Hz refresh rate. Game Optimizer gives you easier access to all your game settings, while the latest HDMI delivers a fast connection. Plus, you'll get low input lag and fast response times with Auto Low-Latency Mode and HGiG.
GOOGLE ASSISTANT AND ALEXA BUILT IN: There's no need for an extra device – just ask your TV for music, weather, news, your Amazon shopping list, and more. Plus, conveniently control your connected home and smart devices.
Last update on 2022-07-05