When we find the right tool or center for our entertainment, it can be pretty exciting. Not just because it minimizes our budget, but it also reorganizes the decor, the design, space, and durability.
Television is sitting on the top in terms of our entertainment, but we have to reconsider the TV's width and weight while mounting this on a wall. And talking about the options, those are almost unlimited. Now we are talking about the best options available for entertainment centers for wall-mounted Televisions?
So, if you are looking forward to a brand new entertainment center, we have a certain list that may meet your interest. And the list shows you the best possible results that meet your need according to your interest this year.
If you need more specialized and certain models for your entertainment center, you also have made arrangements for that. We have places that have the best entertainment centers for small rooms and built-in fireplaces.
1. Furinno Turn-N-Tube Grand Entertainment Center
Some of us are very frugal, and some are very spendthrift when making a budget for something. And if someone is finding that it is fun to use, which is not surplus to your budget and easy to assemble, then you have the right choice. The FURINNO Turn-N-Tube will meet all your needs.
The Furinno cable has multipurpose, which makes it a multi versatile cable. It has no doors, and it is designed as an open-shelved entertainment center. The entertainment center is made of particle boards and PVC pipes available in espresso, black, and french oak grey. This tube is extremely lightweight, and it is very easy to install this cable alone. We have to twist the poles into the allotted holes into the pre-drilled holes into the boards to install this.
It has nine different-sized shelves, which allows the FURINNO cables to provide plenty of storage and ventilation for the electronics and other accessories.
Measurements:
The measurements of the Furinno Turn-N-tube, aka the great entertainment center, are approximately 36.6 inches high, 77.6 inches wide, and 13.4 inches wide. And it just weighs under 41 pounds which makes it very easy to put it together alone. The center module of the shelve can alone support 30 pounds, the square shelve on both sides support 10 pounds each, and the rectangular shelve can support up to 15 pounds each.
Pros:
Furinno entertainment center is all you need when you are on a tight budget, and this FURINNO entertainment center gives you an enormous amount of storage and display options.
It is super minimalistic and mischievous, and this FURINNO entertainment center will not fly off the face of your home theatre.
The special materials make it extremely lightweight, so putting the module together or moving it to places doesn't need additional help.
Cons:
But as personal preferences vary, it could appear as a cheap option compared to the other wood models.
And when the question arises about the durability of this entertainment center, it might not be as durable as the other solidly constructed entertainment center available.
As there are no doors, it may obscure some items you want to remain out of the vision.
FURINNO Turn-N-Tube Grand Entertainment Center, Espresso/Black
Multipurpose entertainment center that hold up to 48-inch TV
Comes with two color options: Espresso and French oak grey
Made of engineered wood and PVC poles; manufactured in Malaysia
Assembly is easy, just turn and twist the poles against the boards.
Item weight: 40.7 lbs; Weight capacity: 30 lbs (center top panel), 10 lbs (Top panel), 15 lbs (Shelf panel)
2. Martin Furniture Asymmetrical Floating Wall Mounted TV Console
As wall-mounted TVs are mainstream these days, you might have a wall-mounted TV. So if you have a wall set up with a TV, you might want an entertainment center that can also mount on the wall. This will save the floor space and create some planes and make the visual more attractive. And that's where the Martin Furniture Asymmetrical Floating Wall Mounted TV Console comes in handy.
By seeing the implication from the name, we can understand that the entertainment center is asymmetrical, which has a giant center unit console and two cantilevered edges on both sides, top, and bottom. These cantilevered edges are available in two lengths which are 60 and 72 inches. The martin floating furniture panel comes in six colors: black, Burba bank, Columbian Walnut, light brown, skyline walnut, and stone gray.
And it is vigorous enough to support up to 70 pounds of weight, and this panel is made of manufactured wood and is topped with a glazed end. (Enhanced wall implementation infrastructure for wood studs has been added!)
Measurements:
The martin furniture asymmetrical floating wall-mounted panel measurements are 8.5 inches high, 60 to 72 inches wide, and 11.8 inches deep. When the console's width is 72 inches, it weighs around 52 pounds.
Pros:
Robust build and proper support make it extremely durable as an entertainment center.
As we are mounting this entertainment center into the wall, we can pick any height as high.
It is great for people with dust allergies because as the entertainment center is mounted in the wall, it has better dust accumulations than the standard floor-based entertainment center.
Its simplicity and its elegance help it to blend with any minimalistic decor.
And lastly, it has a hidden cord management system that helps keep the cables out of sight.
Cons:
Installation instruction should be very distinct for those doing this for the first time, but the people who have assembled furniture before should not have any problem.
There is no option to reverse the shelf, and the top piece must propagate to the central module to the right while the bottom piece must do the same.
3. Meble Furniture & Rugs Wall Mounted Floating Modern Entertainment Center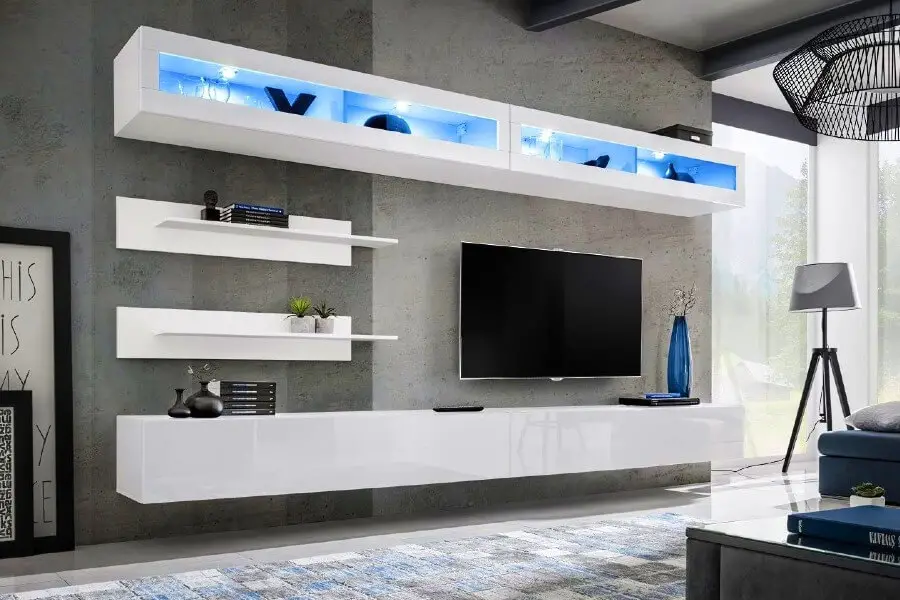 Suppose you are looking for an entertainment center that packs all the bells and whistles, then the  MEBLE Wall-mounted Floating Modern Entertainment Center is for you. And you are a person who is very much fond of sleek, eye-catching, sexy, and ultra-cool things; then this console is very much for you.
While making this entertainment center, the main purpose of this specific console was to support a 70 inch TV while looking eye-catching and giving a very minimalistic look. As any of the components can be placed anywhere around the TV and the best part is this unit is designed to meet anyone's needs and interests. This console is available in white, black, oak, and white and black in two combinations. And this console can fit into any decor like a lizard.
Measurements:
Being a six-piece module, the measurements for each piece varies if each box is standing at 12 inches in height, 63 inches wide in addition to 15.75 inches deep. As for the wall cabinets that jump, they will be 12 inches tall with a width of 63 inches in addition to 11.5 inches deep once it's assembled. The shelves that are floating are 8 inches tall and wide. And 8 inches deep. So the measurement differs in different stages.
Pros:
Its beauty will blow your mind, and it has the most unique visual amongst the entertainment center on the list.
It has various color options, but specifically, the white, black, and oak will go with any decor.
And as each of the parts of this module is mounted separately, you can easily configure these parts according to your satisfaction.
Cons:
As this weighs around 300 pounds, you will probably need help to move around these modules or hanging in the wall.
Every beautiful kind of stuff comes with certain expenses. Although it is a very fabulous module, it is one of the costly modules on the list.
And the seller doesn't attach the material that is used while constructing these modules.
MEBLE FURNITURE & RUGS Wall Mounted Floating Modern Entertainment Center Fly I (White, I2)
Wall Mounted Floating Modern Entertainment Center for up to 70" TV
Perfect for those in need of living room storage space.
Easy wall installation with included wall brackets. High gloss fronts with a matte body and LED lights system.
High quality product manufactured and imported from the European Union.Curbside delivery only, assembly required
Set Dimensions: 126" W x 75" H x 15.75" D, Two TV Stands 63" W x 15.75" D x 12" H, Two Wall Cabinets 63" W x 11.5" D x 12" H, Two Shelves 47.5" W x 8" H x 8" D.
4. Monarch Specialties TV Stand
ART-DECO inspires the Monarch Specialties TV Stand. And the materials that are used while building this console is veneer and particle board, and the color options for the TV stand are available in dark taupe, cappuccino, and white. 
Among the specialties of the monarch TV stand, it comes with one drawer and open-ended and floating shelves, which gives it a very coeval feel. Like the TV stand is sleek and modern, at the same time, this TV stand is also capable of holding plenty of electronics into it. This has an open configuration shelve which ensures proper ventilation, and if there are any DVD players or gaming consoles, it ensures that those devices don't overheat during usage.
It is known that any size of TV will look great over this TV stand because of its minimalistic appearance, but it bears great significance that it can support up to 47 inches flat-screen TV on its top-shelf.
Measurements:
The estimated measurements of this console are that the height is 24 inches, it has 60 inches width, and the deepness of this console is 16 inches. And this tv stand weighs around 64 pounds, so one person can carry this and assemble it by himself.
Pros:
This design is inspired by art deco, which is immensely fun, beautiful, and appealing, and it makes it entertainment without making this over intrusive.
Instruction is attached to it, which makes it super easy to assemble.
As we mentioned before, we have a floating shelve, which produces ample ventilation for the devices.
Cons:
Complaints came from a small number of users that the veneer peeling peels off.
when it comes to looking and feels the two attached legs look cheap. (However, they give a certain amount of support for this).
Sale
Monarch Specialties TV Stand with 1 Drawer, 60"W, Dark Taupe
Unique Art-Deco inspired TV table accommodates all TV sizes equipped with a center pedestal stand
Convenient storage drawer on the right of the entertainment center to keep certain books, cables or accessories at bay
This TV stand features three levels of wide and spacious thick panel table tops to place any decorative items, TV boxes, gaming consoles or more
The full media stand features a durable composite finish in dark taupe on all sides for a complete and rich look
Product Dimensions: 60"W x 16"D x 24"H | Drawer Dimensions: 15"W x 11"D x 9"H | Top-Mid Shelf: 6.5", Mid-Bottom Shelf: 9.5"
5. Pamari Wrangler Sliding Barn Door TV Stand: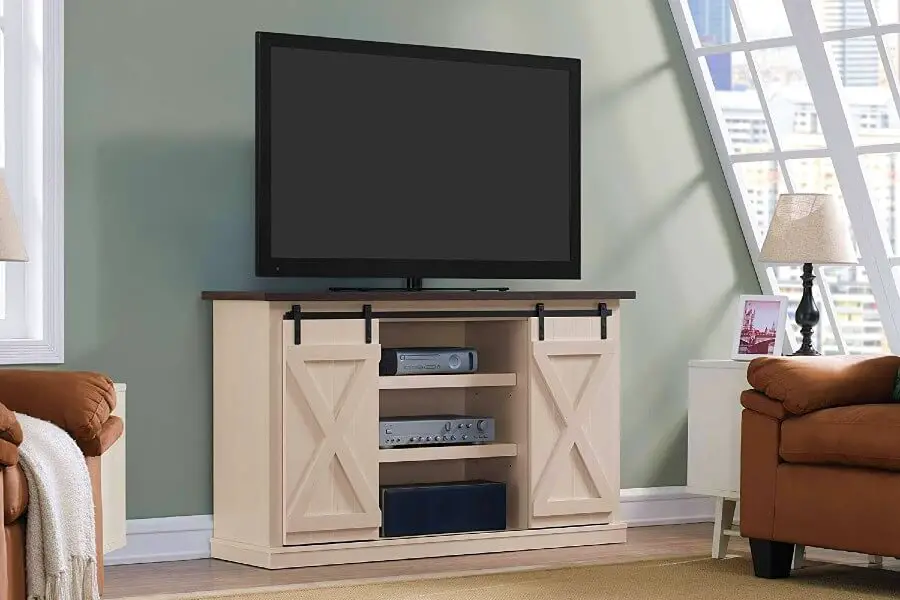 For people looking for an entertainment center that gives a vintage look, then the Pamari Wrangler Sliding Barn Door TV Stand is for you. The main element of this construction center while making this is manufactured wood and topped with wood veneer. And the color options for this center are: Ashland pine, off-white, Sargent oak, and saw cut espresso.
The main attraction of this Pamari wrangler sliding barn door stand is that it has two sliding barn doors, making it exquisite. And this entertainment center features three enormous shelves, which are located in the middle of this shelf, three fixed shelves are located on the other side of the stand. This barn door works perfectly with hiding the side doors to cover up the entire shelf when closed. And now the question arises should you choose this option while you can wall mounts your TV. This center can support flat 60 inches TV or 75 pounds. 
Measurements:
The measurements for this entertainment center are 32 inches high, 54 inches wide, and 15.5 inches in depth. And this weighs around 99 pounds so that one can person can move this around.
Pros:
The sliding doors of this entertainment center make it stand out and unique.
The construction of this center is robust, and it has plenty of spaces for display.
As it has multiple color options, it can easily blend into any aesthetic decor.
Wall anchors are attached to the TV stand to make sure that the module doesn't topple over.
Cons:
The center shelves, including the cord cutouts, can only limit how many devices can be directly connected.
All the shelves are limited, which makes it limited the devices which can be placed into it.
Pamari Wrangler Sliding Barn Door TV Stand, Off-White
Accommodates most flat screen TVs up to 60" and up to 50 lbs.
Barn style doors suspended on a metal rail system slide to conceal a storage space to keep small items organized and out of sight
An integrated CMS Cable Management System hides and manages unsightly wires and cables
Easy to assemble, includes an owner's manual and easy-to-follow instructions
Old Wood White finish with a Canyon Lake Pine plank top
6. Prepac Altus Wall Mounted Audio\Video Console
 We have another floating center on the list: Prepac Altus Wall Mounted Audio/Video Console made out of a non-toxic laminated composite wood. The color options for this entertainment center are available in four colors: black, drifted gray, espresso, and white. It also has different lengths, which are 48 inches, 58 inches, and 70 inches.
The Prepac Altus Console is built with a simple design which makes it very appealing. It has a larger central shelf with a smaller top and bottom shelves, enabling ample room for DVD players, gaming consoles, and much more. And the important part it is built to support 75 pounds of weight, and it has a unique feature for cable management, which helps to put the cable out of sight.
Measurements:
The measurements of this module are that it is 16 inches high (48/58/70), inches in width, and 16.8 inches in depth. And based on the length you select, the entertainment module weighs around 59 pounds more or less.
Pros:
Its minimalistic colors and simple design make it a versatile choice for any decor.
Its unique cable management system helps get the vision out of sight and minimalizes it with any decor.
It has a robust built and instructions attached, which makes it very easy to assemble.
Cons:
As the dividers are fixed, there are no options to rearrange.
The wall is visible from the top corner of the shelf, and some people find it distracting.
Sale
PREPAC Black Altus Plus 58" Floating TV Stand
Designed for use with flat panel plasma/lcd tvs up to 75 lbs
Three upper compartments for audio/video components
Lower shelf media capacity: 137 Blu-ray discs/93 cds or dvds
Cables neatly concealed for clean, modern look
Console mounts easily to wall at any height with our innovative hanging rail system
7. SimpliHome Artisan Contemporary TV Media Stand
Last but not least in the list, we have  Simpli Home Artisan Contemporary Media Stand made out of particleboard, topped with wood veneer and glass. It is very synchronous, and at the same time, this piece has a classical feel to it. This module contains two drawers and two adjustable shelves with cord cutouts in the center of it. And it has two enclosed cabinets on each side which features three adjustable shelves as well. It is generally higher than our traditional entertainment center, which allows it to provide ample space for all our needs. This stand is designed to support flat 55 inches TV on the wall, and if you are interested in remote your TV on the wall, and this entertainment center provides the best height for the watching experience. The simpli home artisan contemporary media stand has vigorous built. It is available in seven colors: black, distressed grey, farmhouse grey, honey brown, medium auburn brown, russet brown, and tobacco brown.
Measurements:
The measurements of the homestand are that its height is 34.8 inches and 53 inches wide, and 16.5 inches in width. And this module weighs around 86.4 pounds.
Pros:
It is designed well thoughtful,
fabulously, classy and at the same time, it has strong built.
The diverse color options give it an immense advantage to blend with any decor.
Instructions are distinct to make the assembly easy.
Cons:
It is marketed as a solid wood unit, but the module has particle board and wood veneer.
Sale
SIMPLIHOME Artisan SOLID WOOD Universal TV Media Stand, 53 inch Wide, Contemporary, Living Room...
DIMENSIONS: 16.5" D x 53" W x 35" H
SOLID WOOD: Handcrafted with care using the finest quality Pine
HAND FINISHED with a Russet Brown stained and glazed finish with a protective NC lacquer to accentuate and highlight the grain and the uniqueness of each piece of furniture
MULTIPURPOSE CABINET can be used as a TV stand for TV's up to 60 inches, as an accent storage cabinet, or buffet sideboard. Looks great in your living room, great room, bedroom or dining room.
Functional and versatile TV Stand features two central drawers with metal glides, open center area with adjustable shelf and two (2) side tempered glass framed doors that open to large storage spaces with two (2) shelves each
-our editorial board has reviewed this article and has been approved for publication according to our editorial policy.
Best Seller List for Entertainment Centers:
Sale
Bestseller No. 1
Furinno Turn-S-Tube Wide TV Entertainment Center, Black/Grey
Simple stylish design comes in multiple color options, is functional and suitable for any room
Material: engineered wood, PVC tubes.
Fits in your space, fits on your budget; Green label product
Sturdy on flat surface; Easy no hassle no tools 10-minutes assembly even a kid can accomplish
Holds up to 55-inch flat screen panel up to 40 lbs. Product Dimension: 47.25(W)x13.8(D)x15.7(H).
Bestseller No. 2
Farmhouse TV Stand for 65+ inch TV, White Entertainment Center Barn Door Television Stands for 75...
WHITE TV STANDS FOR FLAT SCREENS 65: Farmhouse TV stand equipped with a wide table top, 2 open center shelf and 2 cabinets. Spacious table top is perfect for 65 inch TV, photo frames, plants and others. Each cabinet with adjustable shelf could store cable boxes, DVD, game consoles, and other audio visual equipment.
WHITE TV STAND WITH BARN DOORS: Smooth-sliding barn doors make it easier to fetch your items. Keeping storage hidden or reveal home accents you wish to show off. 2 cable management cutouts in the back help you keep your space tidy
STURDY AND DURABLE STRUCTURE: White farmhouse TV stand adopts strong frame structure to ensure the stability and large weight capacity. Top board of farmhouse entertainment center with storage can hold up to 150 lbs, middle shelves can hold 22 lbs. Foot pads protect stand legs to increase stability
WHITE TV STAND FOR 65 INCH TV: Farmhouse TV stand with sliding barn doors create an elegant, farmhouse ambiance in your living space. Farmhouse TV stand white finish is beautiful and suitable to your bedroom or living room
EASY ASSEMBLY AND PROFESSIONAL SERVICE: Within 30 minutes to assemble for one person. Recommend two people to cooperate. If you have any other questions about the white entertainment center, please email us and we will reply as soon as possible within 24h
Bestseller No. 3
SHA CERLIN 58 Inches TV Stand, Farmhouse Entertainment Center for TVs Up to 65 Inches, Classic Media...
Widely Used Design:Classic and modern design with eight different color choices can meet the different needs and various uses. Works as a console table for your living room, bedroom, media room, entryway and kitchen.
Sturdy & Practical: Thickened board top surface supports up to 200 Ibs and adjustable shelves support up to 30 Ibs. 4 cord management holes on the back of TV cabinet can make your messy wires tidy. Waterproof wood surface for easy cleaning.
3-Level Adjustable Shelves: Three holes on each side panel allow the shelf to be adjusted to three different heights. You can adjust the shelves freely according to your needs
Ample storage space: TV cabinet is equipped with full spaces for storage. 2 adjustable shelves[13.4"x25.8"(L x W)] offer you enough spaces to put your DVDs, books, cable box, decor and other odds and ends, let your room say goodbye to mess.
Easy assembly: All the parts are packed in one box. In order to assemble the TV table quickly and accurately, every part is numbered,and a clear product manual is also prepared for you.Product Dimensions: 58.1"x 15.7"x 23.6"(L x W x H), this television stand is ideal for TVs up to 65".
Bestseller No. 4
WLIVE Modern TV Stand for 55 60 inch TV, Entertainment Center TV Console with Storage Cabinets &...
【MODERN TV STAND】Stylish and modern, this black tv stand features a unique embossed wood grain. This TV console for 55 inch TV can fit in well with most style of home decors.
【SOFT CLOSE DOOR】Equipped with soft-close hinge, this entertainment center is safe, don't need to worry about hurting your fingers, it only takes a gentle push to close the door without pinching hands or making noise.
【LARGE STORAGE SPACE】Along with an open-layer frame, each black TV console with 2 storage cabinets is perfect for storing video games, remote controls and more, keep items orderly and organized.
【3-LEVEL ADJUSTABLE SHELVES】Removable open shelf can be adjusted according to the tv box, router, game console and other TV components accommodated.
【CABLE MANAGEMENT】Holes in the back allow cables for various devices to pass through. Crafted from engineered wood, this wood TV stand is stable and durable, foot pads on the legs avoid scratching your floor.
Sale
Bestseller No. 5
OKD Modern TV Stand for 70 Inch TV with LED Lights, Black Entertainment Center Media Console...
DIMENSION: 66" W x 16" D x 25" H, fits TVs up to 75 Inch. ( A high gloss black finish TV stands, for 75 70 65 60 Inch TV, etc.)
RGB MID-CENTURY ENTERTAINMENT STAND: Equipped with a REMOTE CONTROL, features 12 colors, 4 light modes, customize your space and atmosphere freely. Mirror texture adds appeal and vibes to your modern living room
TV CABINET with MAGNETIC GLASS DOORS: Easily push to close and open, add detail charm to the modern style. The doors are made of safety tempered glass. 2 Enclosed cabinets and 2 open shelves offer plenty of storage underneath for gaming collectibles
STURDY CONSTRUCTION: 5 Metal legs to support, the middle metal leg prevents sagging. 3 cable management holes in the back panel help the easy organization and hiding wires. Glass shelves are adjustable, offer an easily organized space
CLEAR INSTRUCTION FOR EASY ASSEMBLY: All parts, and instructions are in one package, 1 person can complete the assembly in about 45 mins. Shipped in a very secure box that has foam and protective boards surrounding to avoid any damage being done to your actual TV furniture
Sale
Bestseller No. 6
YESHOMY Modern Farmhouse TV Stand with Sliding Barn Door and Storage Cabinet, Entertainment Center...
TV Stand Size: The size of this TV stand is 27.6" H x 15.5" D x 58" L, and can hold up to 65 inches of TV sets.
Convenient Sliding Door: Two sliding doors can slide on metal rails to hide the storage cabinet or the central shelf, even if the inside of your TV stand is messy, it can be easily hidden
Circular Drilling Design: In order to make your TV or other electronic equipment power supplies neatly arranged, the back of the TV stand is designed with a drilling design, which allows your electronic equipment power supplies to be easily connected without messy placement.
Large Storage Space: The TV stand has a large storage space. In addition to storing some electronic devices, it can also store some items that you can use at any time, which is convenient for you to access.
Variety of Styles: In addition to the function of placing TV and objects, the locker also has good decoration functions. We share three styles. You can choose according to your living room style, and every one can create a more welcoming environment for your family.
Bestseller No. 7
Amerlife TV Stand Sliding Barn Door Modern&Farmhouse Wood Entertainment Center, Storage Cabinet...
【Sliding Barn Doors】: Two movable barn doors on the TV stand for convenient access to cabinets. Designed-in screws for smooth slide.
【Dimensions】: 28" H x 59" W x 15.6" D. For flat curved screenTVs up to 65".
【Farmhouse Classic Design】: 25MM solid classic top and distressed aging texture white stand combine a modern and traditional farmhouse style, suitable for all the decor style and increase aesthetic for the living room.
【Multipile Use】: Performs as a display table in bedroom or a storage cabinet in kitchen as well.
【Shelves and Cable Holes】All three adjustable shelves for flexible to use. Cable management features easy organization and hiding wires.
Bestseller No. 8
FITUEYES TV Stand with Mount for 32-70 inch TVs, Entertainment Center with Wood Console Holds Up to...
👍【MAX 70 inch TV STAND】This wood TV stand with mount & storage (brown & black) fit most 32 37 40 42 43 46 47 50 55 60 65 70 inch PlasmaLEDLCD flat panel or curved screens, compatible with Samsung, Sony, LG, TCL, Hisens, Sharp, Insignia, Vizio, Haier, Toshiba, Element, Westinghouse, Curtis, Dynex and so on. To make sure if wood TV stand is fit, choose right TV's VESA (mounting holes at back of TV) : 200mm x 200mm - 600mm x 400mm.
👍【2-in-1 ENTERTAINMENT CENTER with TV MOUNT】 Can't bear floor TV stands with no storage? Afraid of TV mount being falling off the table? Pick this new corner TV stand with storage!Inspired by barn doors, it brings an elegant countryside/ mid-century feel to your living room/ bedroom. Crafted with steel mount, it fits big display for 70/ 65 /55 inch flat screen TVs. JUST ONE TV STAND with MOUNT, GET a stunning display & ample space for all !
👍【SWIVEL & HEIGHT ADJUSTMENT】 Swivel TV stand mount comes with an awesome swivel and height adjustment feature. You can watch TV from any angle with a each 25 degree swivel angle that will make moving your TV a breeze. 2 levels height adjust options with the hooks adjustable, make total height change from 51.5"-53.85" off the floor.
👍【A WEALTH of STORAGE SPACE】 Swivel television stands, beautiful as entertainment center / TV console. 33/33/55 lbs capacity for media shelf, 110lbs for TV mount. Practical corner TV stand for 55/ 65 /70 inch TV. Wooden storage shelf suitable DVD players, DVRs, HD recorders, Cable TV Boxes, AV components, DVDs, etc. To meet your different storage needs, the middle and side wooden shelf has 3 adjustable height and also can be removed.
👍【UNIQUE DESIGN for CONVENIENCE】 Bottom legs of wood TV stand with mount can be slightly adjusted to make it stand evenly on floor, even on the carpet or uneven ground. Back metal tube equipped with cable rings for cable management, to keep cables and power cords controlled and out of sight. This TV mount stand is a perfect one to mount your 65 inch / 70 inch TV with ultra safety. It's technically perfect television stand.
Bestseller No. 9
GAZHOME Modern Farmhouse TV Stand with Sliding Barn Doors, Media Entertainment Center Console Table...
📺SIMPLE & RUSTIC FARMHOUSE STYLE – If you are a fan of rustic farmhouse style and love to add some natural sense to your living room, then this farmhouse style TV stand with sliding barn doors is your best choice. The simple yet stylish barndoor and farmhouse design is perfect for all home décor styles!
📺PREMIUM MATERIAL WITH VIVID WOOD GRAIN – Made of high-quality MDF material and covered by premium ABS finish with vivid wood grain, this wooden TV stand and media center is built not only for the long-lasting service but also for decorative and stylish purpose. It is safe for home and friendly to the human body.
📺STRONG & DURABLE STEEL SLIDING RAIL – The two rustic barndoor on the front of this TV stand for consoles and media players are hung on a metal sliding rail made of selected steel, ensuring smooth and jamming-free sliding. The rail is covered by corrosion resistant paint to prevent rust, and to prolong the service life.
📺LARGE STORAGE ROOM – With a size of 14.5x23.5x58 inch, this TV console stand table is suitable for TVs up to 65". There is a 2-tier shelf in the TV stand for storing CDs, gaming cards, VCDs, media players, remote controls, gaming consoles, gamepads and more. The sliding barndoors also hide two large storage cabinets for more stuffs to keep your living room neat and tidy.
📺GAZHOME, A COMPANY YOU CAN TRUST – We are a company with years of professional experience in designing, developing and manufacturing furniture with the best quality. If you have any question about this wooden TV stand, please feel free to contact us, we are always ready to help you!
Sale
Bestseller No. 10
OKD Farmhouse TV Stand Tall for 65 Inch TV Entertainment Center Media Console Cabinet Highboy Wood...
SLIDING BARN DOORS: Easy access to cabinets and shelves via metal sliding track, designed for smooth and quiet slide. Special barn-door patterns are on front and two sides
STURDY TV CONSOLE TABLE: Featuring with 3-1/3" HIGH wooden support base and 1" thick classic tabletop, covered with high-level 3D woodgrain paper (including back panels), has the look of oak wood
SOUNDBAR SHELF: 8" high extra shelf above the cabinet can adopt soundbar, gaming hosts, DVDs, CDs, open shelves guarantee heat dissipation
DIMENSION: 33" H x 60" W x 16" D. Fits TVs up to 70 inches (farmhouse tv stand for 70 65 55 inch TVs etc.)
MODERN RUSTIC CLASSIC AESTHETIC: The television stands perfectly combine modern, and rustic farmhouse style, a great way to add personality and charm to your living room. The interior adjustable shelves and several cable management holes help the easy organization and hiding wires
Last update on 2022-06-28